You guys!  First, Kate and I want to extend our heartfelt thanks for making the opening week of The OBB Shop a smashing success.  We have had so much fun watching orders roll in from all over the country and as far away as Puerto Rico!  We sure hope those packages are making it safely to each of you and that you love our cooking products as much as we do!  Thanks for your continued support; we're so excited about extending our line in 2014 and can't wait to show you what we've been up to. If you haven't checked out the shop yet, you can read more about our product line here, and check out the actual shop, here.
Now, Brownies. Heavenly Christmasy brownies. This recipe should look familiar to lots of you; it's been on our site for 5 years now.  Strangely enough, even though is one of my top, TOP favorite recipes, that I make every year, the photos (up until now) haven't been updated since I originally took them with a little point-and-shoot years ago.  I've gone several times to link this recipe on Facebook, or recommend it to someone, and then stopped dead in my tracks when I remember how hideous the photos were.  It goes to show how awesome these taste considering all of you have still been making them despite the sub-par photography.  So on that note…
I made a jumbo batch of these yesterday to deliver to neighbors and think it's worth the highlight here.  These brownies have a few steps, and take a little extra planning, but they're so, so worth it.  You can even make them all the way, or part of the way, a day ahead of time and spread out the work.  This is my Mother's recipe, and something I requested from her often, so I have tender memories associated with it.
You'll start by making the brownie layer. You want to use unsweetened baking chocolate, which is sold in bars by the chocolate chips. Make sure it is unsweetened.  Place it in a microwave-safe bowl along with 2 sticks of butter that you've chopped up.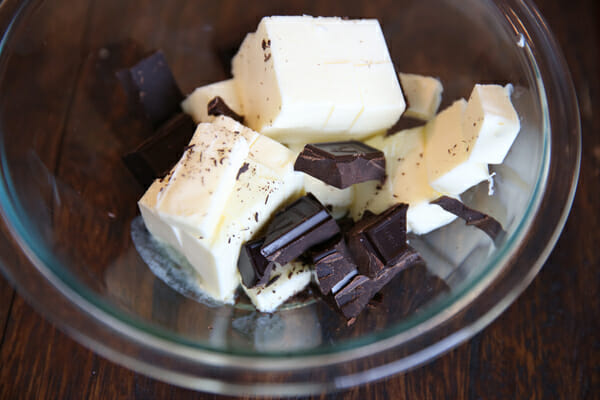 Melt in 30-45 second intervals, stirring in between, until melted and smooth. Set aside. Don't accidentally stick your finger in the melted butter and chocolate combo because it will laugh at you for forgetting that it is unsweetened.  I do it every. single. time.
Beat eggs and sugar for a minute, until they're nice and smooth.  Then slowly pour in your chocolaty butter mixture and mix just until it's combined.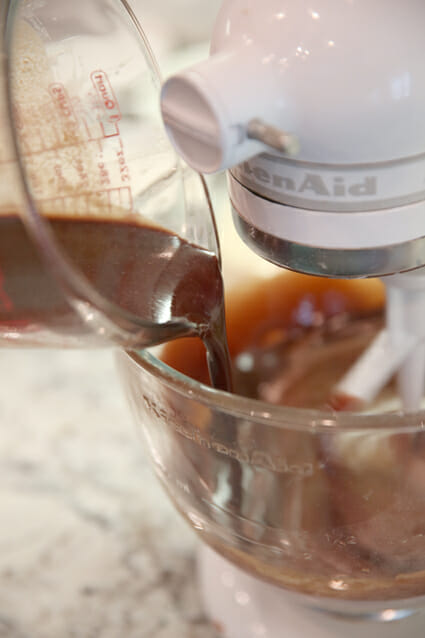 You'll add a bit of flour and baking powder, and again just mix until it's combined.  You never want to over-mix brownies.  I also always sift my flour for this recipe.  You can just put it in a mesh strainer and shake it right into the batter.  I've noticed when I don't, I sometimes get little visible flour spots in my brownies.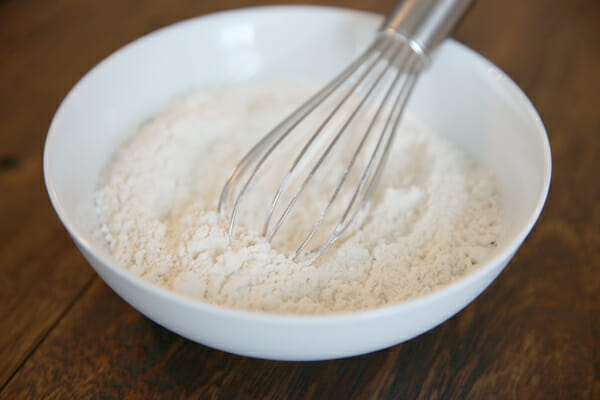 Bake those until a knife comes out clean.  I've found that baking time really varies on these, so make sure to do the knife test. And I always line my pan with foil because it makes cutting and serving so much easier when you can just lift the whole sheet right out of there.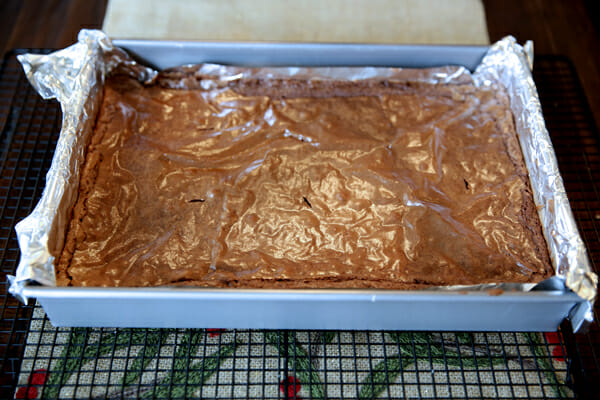 Let those cool all the way.  If it's cold out, pop them outside, otherwise after they've cooled to room temp, I pop them in the fridge.
Next layer is the frosting.  Whip up some butter (real butter!) and then add powdered sugar.
You'll add a little milk (this frosting is on the firm side, don't go crazy with the milk),

and quite a lot of peppermint extract.  It will probably seem like too much, but it's purposely strong.  This is the only peppermint going into the brownies, and it's a thin layer.  So that one cool, creamy layer has to be enough to contrast all of the rich chocolate.
Whip, whip, whip,
to creamy perfection.
Add a couple drops of red food coloring.  I'm thinking Christmas Red is appropriate here!  By the way, these AmeriColors gel colors are my new fave.  I LOVE that they conveniently squirt out instead of me having to get out a toothpick to dip into the little jar and then inevitably getting it all over my hands and counter.  You can buy any color ever imagined from Orson Gygi.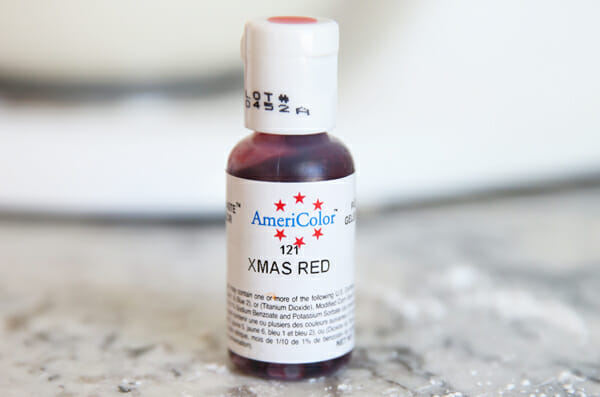 A couple of drops will do it.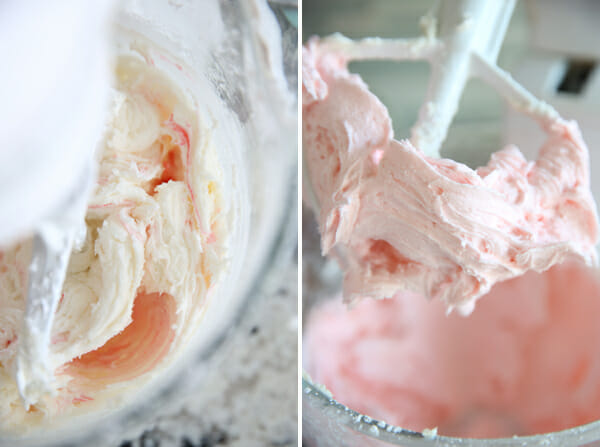 Then carefully spread the frosting on your cooled brownies.  You have to use a soft hand in order to not tear up the top of the brownie layer.  If you get a few bits in there it's okay though, because we're going to cover that up anyway.
Pop that in the fridge again to chill.  And while that's happening, melt some semi-sweet (or dark) chocolate chips and more butter.  I prefer to use unsalted in this top layer, but you can use either.
Melt it until it's smooth and creamy.
While we're talking about microwaving…I get a lot of questions from when I wrote this post all about the appliances I put in my kitchen about whether or not I like my drawer microwave.  We've been in our house for a little over a year now and I'm so happy with the Thermador appliances we chose.  The microwave is literally right at my fingertips at the counter where I do most of my food prep so it's so great.  I also like that I feel it's actually safer for my older kids to use because they're not trying to lift hot stuff over their heads!  It's easy to open and shut and I'm happy we decided to get it.
But back to chocolate.  Remember in the first step when I told you to not accidentally let your finger fall in the chocolate butter mixture? Totally doesn't apply to this chocolate butter mixture.
Let it cool off so it's still super spreadable, but not hot (if it's hot it will melt your frosting and make a big gooey mess.
Just spread it on quickly and evenly.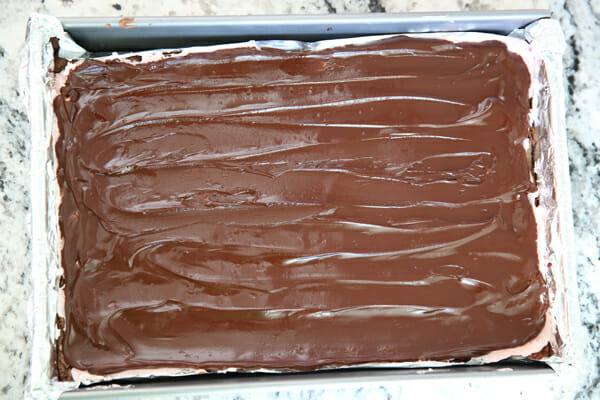 While it's still wet, sprinkle on some crushed candy cane.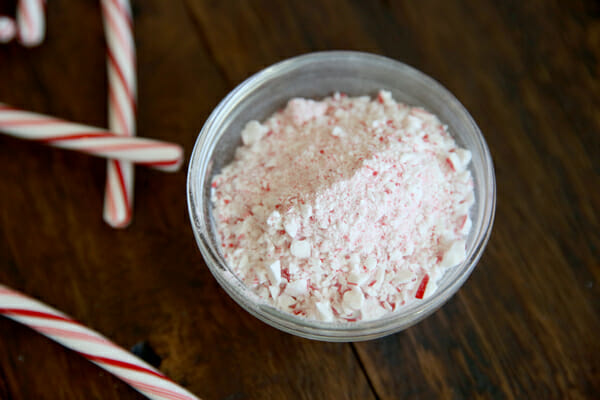 A little, a lot, whatever floats your boat.
You can make this whole pan a day ahead of time.  Just cover well and place in the fridge (uncut) overnight.)  When you're ready to serve, pull the foil out so you remove the whole sheet of brownies and cutting is a cinch.
You get three distinct layers here of rich and fudgy brownie, cool creamy frosting, and smooth decadent chocolate.
The little bits of candy cane are icing on the cake.  Or topping on the brownie. Whatever.
Peppermint Candy Cane Brownies
Recipe by ourbestbites.com

Brownies:
4 ounces unsweetened chocolate
1 C butter (2 sticks)
4 eggs
2 cups sugar
1 teaspoon vanilla
1 1/4 C flour
1/2 teaspoon baking powder
Frosting:
2 C powdered sugar
4 tablespoons butter, softened
1 1/2 teaspoons peppermint extract
1 T milk
pink food coloring

Chocolate Glaze:
6 oz (about a cup) semi-sweet chocolate chips ,you could also use dark
6 tablespoons real butter (I suggest unsalted just for this step)
Additional:
1/2-1 C crushed candy canes (Use Bob's or Brach's, I don't recommend Spanglers)
First, the Brownies:
Preheat oven to 350 degrees.
Roughly chop baking squares so they'll be easier to melt, then place them in a microwave-safe bowl along with the 2 sticks of butter (also chopped).
Melt in 30-45 second intervals, stirring in between, until melted and smooth. Set aside. Don't accidentally stick your finger in the melted butter and chocolate combo because it will laugh at you for forgetting that it is unsweetened.
In a stand mixer or with electric beaters, beat eggs for about 3 minutes until thick and frothy.  Add sugar and vanilla and beat to combine. Then add in the melted chocolate and butter that you set aside. Combine flour and baking powder and whisk into brownie batter by hand until just combined. Pour into a lightly greased 9×13 pan. If you want to make the job much easier, line your pan with foil first.
Bake for 20-25 minutes. Test with a toothpick for doneness and don't over bake! When brownies are done, cool on a cooling rack. When completely cool, pop in the fridge to chill. (makes the frosting spreading easier).
Next layer is the frosting:
Combine all frosting ingredients and beat until light and fluffy. Add extra milk by teaspoonful if you need a little more. Spread evenly over cooled/chilled brownies and place back in the fridge to chill again while you do the final step.
Chocolate Glaze:
Place chocolate chips and butter in a microwave-safe bowl and cook in 30 second intervals until smooth.
Set aside for a few minutes, stirring occasionally, so it can cool off just a bit. Remember in the first step when I told you to not accidentally let your finger fall in the chocolate butter mixture? Totally doesn't apply to this chocolate butter mixture. Quickly spread on top of brownies. I say quickly because the frosting is cool and the chocolate is hot. If you take your sweet time and over do it, you'll make a big gooey mess. Just spread it on quick.
Sprinkle the crushed candy canes on top and return to the fridge until chocolate is set on top.
Remove from fridge a few minutes before serving. Cut into squares, eat, ooh and ahh, and then eat another one. Or two.