I thought it made sense to post a nice light, healthy meal today, considering the sugar-shock most people are probably experiencing from the weekend, but then I thought- eh, let's go with cheesecake.
Last Thanksgiving I posted a photo on Instagram of the dessert I made for my family dinner and sooo many people asked for the recipe. I actually made it up as I was doing it, so I promised to re-make it this year and share it in time for you to actually plan. So here we are!
Pies seem to be standard fare on the holiday table, so I love to bring cheesecake to mix it up. Plus the other main reason I often do cheesecake is because it has to be made a day ahead of time, which is awesome because you can check it off your list and have one less thing to do on the actual holiday. Lots and lots of you make our Pumpkin Cheesecake with Gingersnap crust every year and that continues to be a favorite. I wanted something with a different flavor profile, but still festive, and this fits the bill so beautifully. I am so in love with this one.
I spiked the graham cracker crust with warm notes of cinnamon, nutmeg, and cloves and then brightened the creamy cheesecake with tons of fresh orange zest. Before baking, I swirl on a layer of sweet and tart homemade cranberry spread and then garnish it with these gorgeous and sparkly Sugared Cranberries and Candied Orange Slices. This is such a show-stopper!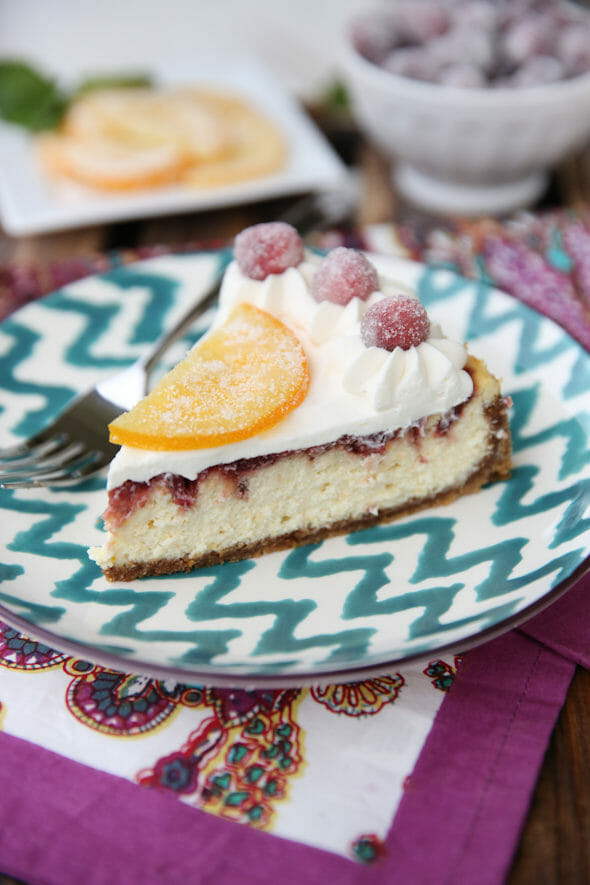 Now, I don't want you to be scared off by the long to-do list here. The great thing about cheesecakes, especially for a busy holiday, is that you can make them ahead of time. There are a few extra steps here that make this cheesecake really shine, and the great part is that you can do them either earlier in the day, or even a day ahead of time. And I definitely recommend you do that or you might feel overwhelmed. But I promise it's worth it! Both the Sugared Cranberries and Candied Orange Slices can be made ahead of time and also the cranberry layer in the cheesecake (which is a tweaked version of this recipe). I love, love, love baking with fresh cranberries during this time of year.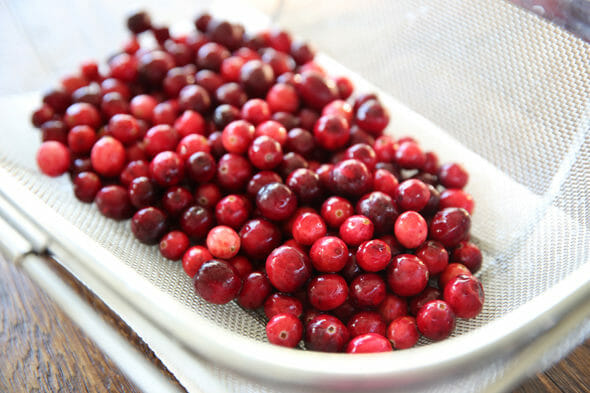 Everyone knows one of the best parts about cheesecake is the crust, so I do nice generous one. I like to pat it down on the bottom, and also about an inch up the sides. The sides don't need to be perfect; I actually love the look of a rustic-edge crust.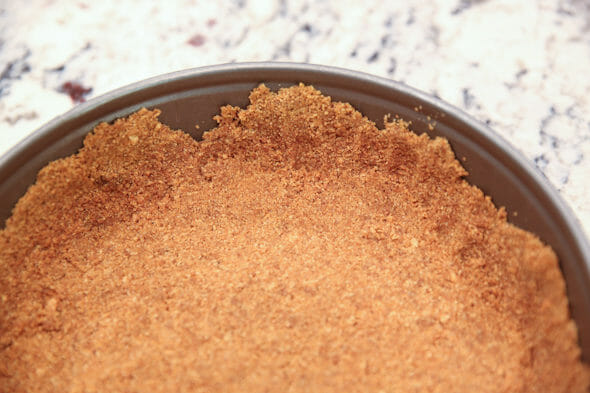 In the actual cheesecake layer, I load it with fresh orange zest. (You can then juice those oranges to use in the cranberry sauce.) It brightens the flavor so much and goes perfectly with the cranberries and spices.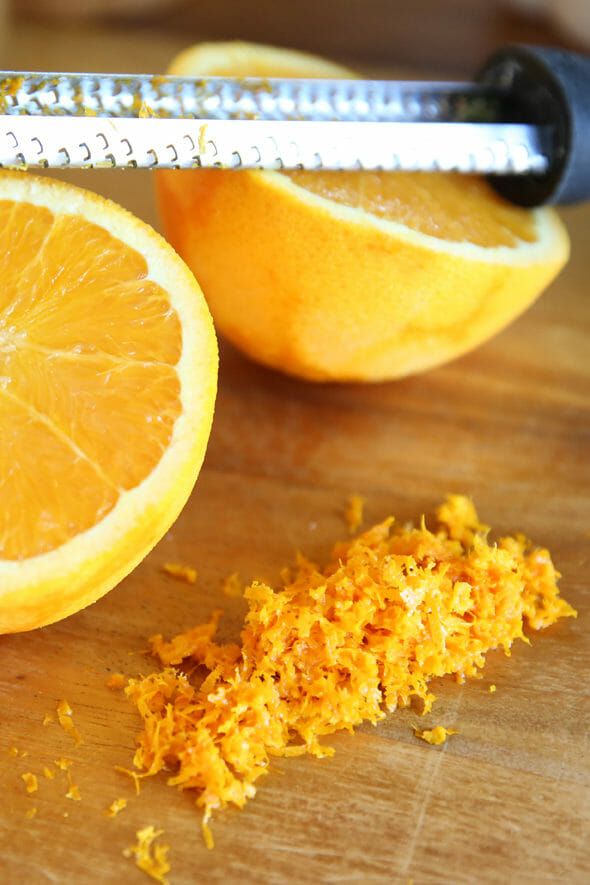 The cranberry layer gets spread on top of the cheesecake and I just use a butter knife to swirl it all around. You can't really mess it up, honestly.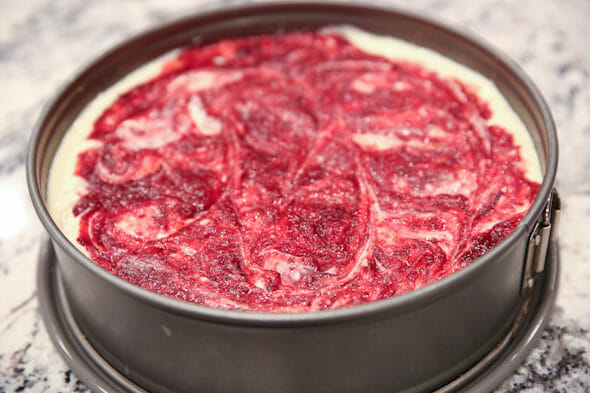 Once it cools you can chill it up to a couple of days, really. And I'm going to show you a trick next week to make it so your whipped cream lasts a long time too, so you can even finish decorating it early.
Cheesecake doesn't need a whole lot of whipped cream, so I spread a thin layer on top,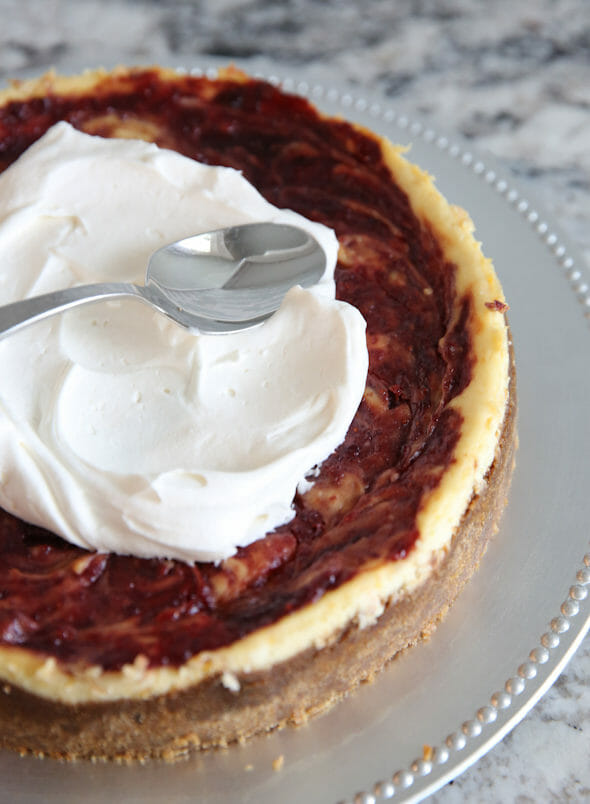 and then I fill up a piping bag with a jumbo star tip to pipe a decorative edge. If you want a nice, stable whipped cream that will not fall flat, I suggest using this tutorial for stabilized whipped cream. If you use this method, you can decorate the cheesecake with the whipped cream ahead of time and it will still look gorgeous when it's time to eat!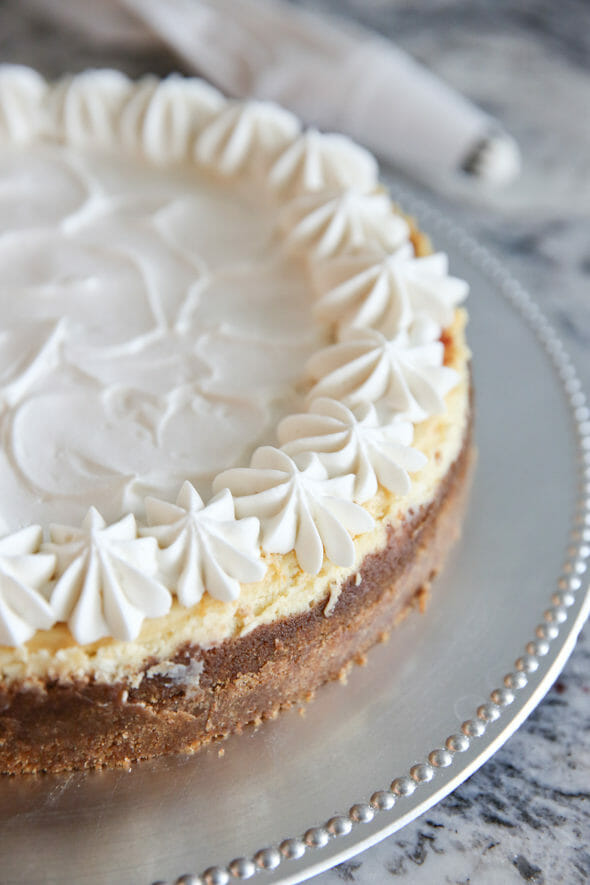 I looooove these Sparkly Sugared Cranberries; they look like little frosted jewels. If you make a batch, you'll have plenty to snack on, too! AND, if you make the beautiful candied orange slices, you can use the syrup from that recipe in place of the syrup in the cranberry recipe. Remember that tip!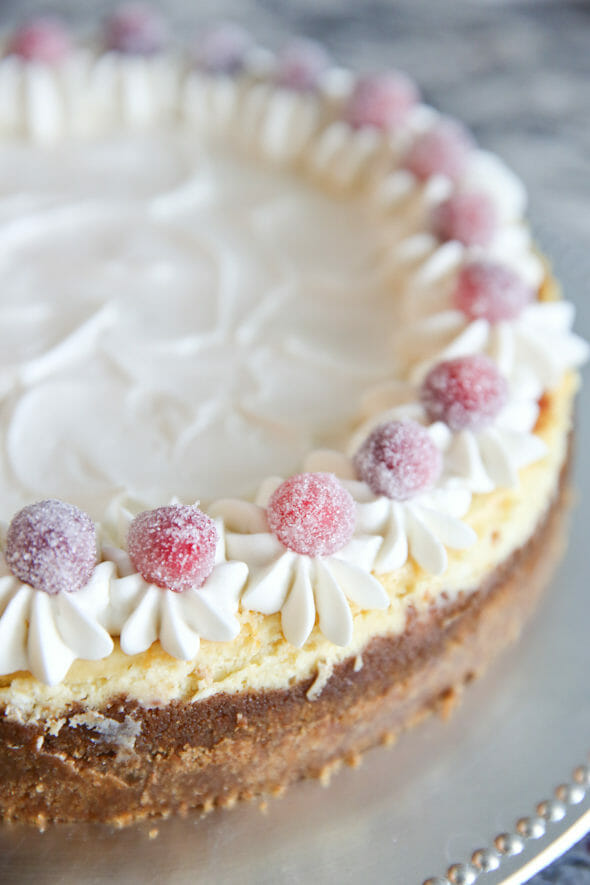 Isn't this gorgeous?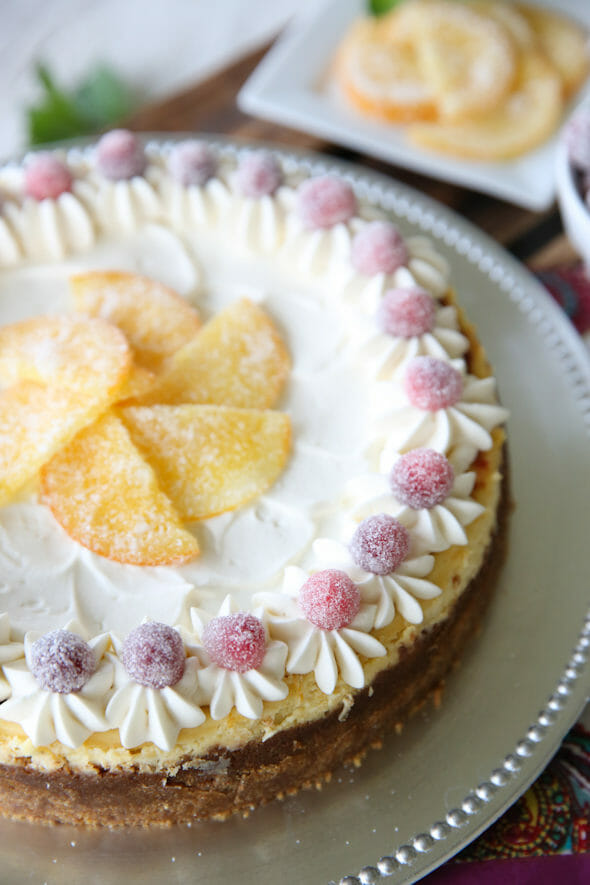 I promise it tastes as good as it looks, too.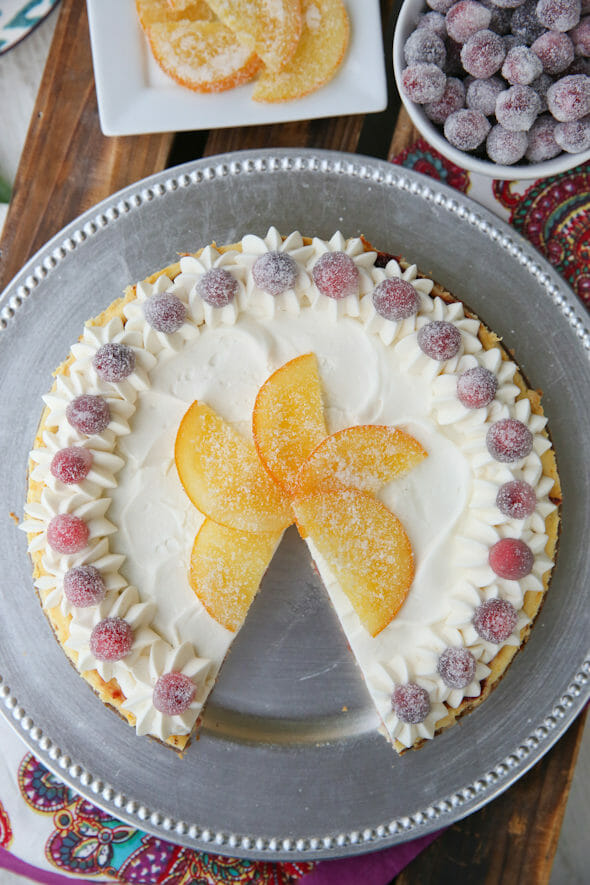 In the center you get that creamy cheesecake with just the right amount of cranberry coming through.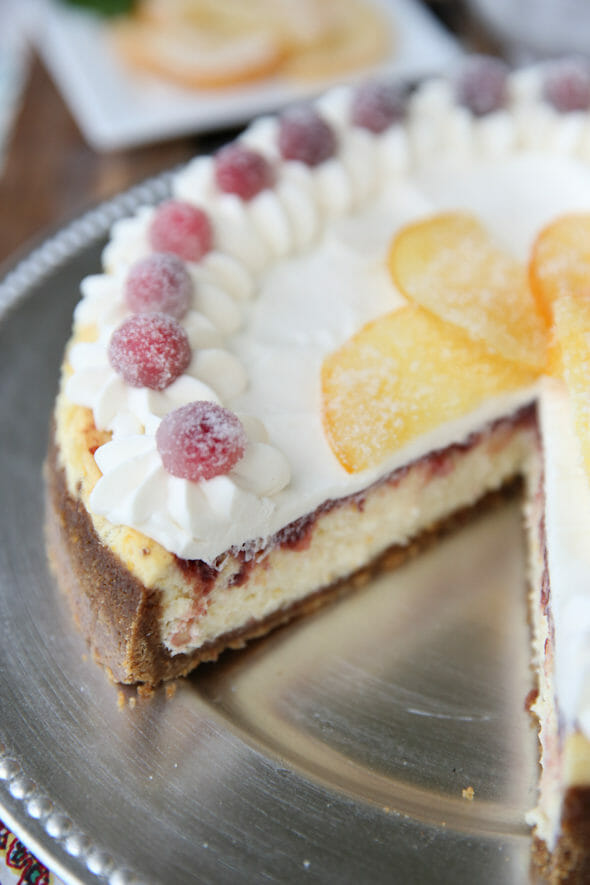 The flavors in the crust bring it all together. You could bring extra orange slices to put one on every piece because they are so, so yummy.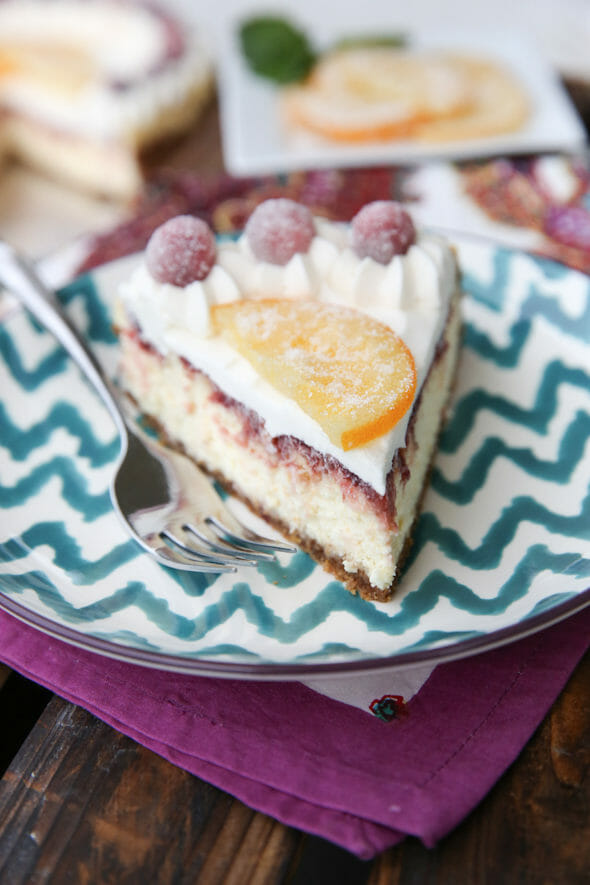 Even if you're refusing to think about Thanksgiving this early, make sure to Pin this so you can remember when you need it!
TIPS!
---
Tip: to quickly get your eggs to room temperature, place in a bowl of warm water for 5-10 minutes.
Tip: This recipe requires one 12-ounce bag of fresh cranberries, which you can find in the produce department of the grocery store during fall and winter months. You will use half the bag for the sauce, and the other half for the sugared cranberries on top.
Tip: Make your sugared oranges first, and then use the leftover syrup to make the sugared cranberries.
Orange Cranberry Cheesecake
Creamy cheesecake with a spiced crust and the perfect blend of bright citrus and sweet and tangy cranberries. A show-stopping dessert worthy of the holiday table!
Ingredients
2

cups graham cracker crumbs

6

tablespoons brown sugar

1 1/2

tablespoons cinnamon

1/4

teaspoon ground ginger

1/8

teaspoon ground cloves

1/8

teaspoon ground nutmeg

8

tablespoons butter (1 stick, or 1/2 cup), melted

3 8

oz packages cream cheese, softened

1

C sugar

3

eggs at room temperature

1 1/2

tsp vanilla extract

2-3

tablespoons fresh orange zest (use a microplane zester!)

1/2

cup full fat sour cream

6

ounces fresh cranberries (that's about 1 1/2 cups, or half of a standard size 12-oz bag from the produce department.)

3/4

cup sugar

1/2

cup orange juice

1/2

cup water

pinch of cinnamon and cloves

1

cup heavy whipping cream, sweetened to taste and whipped.
Instructions
If you are making sugared cranberries or candied orange slices, feel free to make them 1-2 days ahead of time and simply store in a covered container in the fridge.
Cranberry Layer: (Can also be made several days in advance. It will thicken in the fridge from the natural pectin. Simply add a small amount of hot water while stirring to thin back to sauce consistency.
To make cranberry layer, place berries, sugar, orange juice, water, and spices in an 8x8 pan. Stir together and then bake at 350 for 45 minutes. Let cool until warm and then place in blender or food processor and process until semi-smooth (or very smooth, if you prefer). Set aside or store in fridge.
Preheat oven to 350 degrees. Place a 9 or 10 inch springform pan on a double layer of heavy duty foil. Wrap the foil up around the sides of the pan and set aside.
Combine graham cracker crumbs, brown sugar and spices in a bowl and stir with a fork. Add melted butter and stir until it is all incorporated. Press into a 9 or 10 inch cheesecake springform pan. Press down to flatten crust on the bottom of pan, and about 1-inch up the sides. Set aside.
Cheesecake: For best success, make sure all ingredients are at room temperature.
Beat cream cheese and sugar until creamy. Add eggs, one at a time, beating after each addition. Add vanilla and zest and beat to combine. Add sour cream and beat until incorporated. Pour batter into prepared crust and spread into an even layer.
Dollop cranberry sauce over cheesecake and very gently spread out with a spoon into an even layer on top. Using a butter knife, swirl through the top of the cheesecake, swirling the cranberry and cheeecake layers together.
Place foil-wrapped pan in a larger roasting pan and place in oven. Use a tea kettle or microwave-save liquid measuring container to pour hot (or boiling) water into the roasting pan, so it surrounds the cheesecake pan about half way up the sides of the pan. Bake for about 1 hour. Cheesecake should be firm, yet slightly jiggly (think jell-o) when wiggled or gently shaken. When done, turn off oven heat, crack door, and let cheesecake sit for about 30 minutes. Remove from oven and cool completely. Refrigerate overnight before serving.
Spread whipped cream on top to cover about 1/4 inch on top and then pipe decoratively around edges. (You can certainly just spread it all on top if you prefer.) Decorate with sugared cranberries and candied oranges and graciously accept all praise when served. 😉