I love it when Valentine's Day falls on the weekend. My kids have come to expect something fun and festive to eat on most holidays, and while apparently everyone on Instagram can whip out a color coordinated themed breakfast at 8am, the best I usually do on a school morning is pour some strawberry milk to go with their cereal. But a weekend is a whole other story. You can sleep in, prep a fun brunch the day before, and enjoy some time with your sweetheart or little sweetie pies. I actually thought of this recipe while I was working out yesterday. I literally spent my time at the gym thinking about it and when I came home and tried them, they were just as delicious as I imagined. I used our perfect Blueberry Muffin recipe as a jumping off point, so these will taste similar, with a few extra special tweaks. They store well, too, so whip up a batch on Friday and they'll be all ready to pull out Saturday morning!
Start by making the crumb topping. I took the traditional streusel, and since I had the little bite of cheesecake happening, I added graham cracker crumbs.
Turns out that was an awesome move. I shall now put graham-streusel on everything forever more.
For the filling, you just need a half of a block of cream cheese (regular or low fat, I would avoid non-fat), an egg yolk, a little sugar, and a few pinches of orange zest.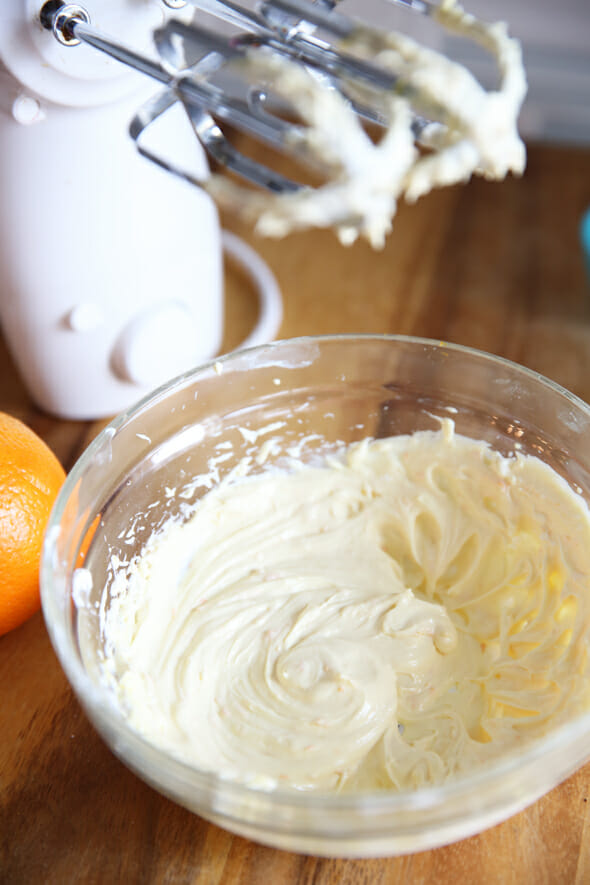 I hit the dry ingredients with some orange zest too. Citrus zest just has a way of brightening everything up and adding subtle flavor that you just can't get any other way. If you don't yet own a microplane zester, definitely grab one! It's a staple in my kitchen, and the absolute best thing for zesting citrus.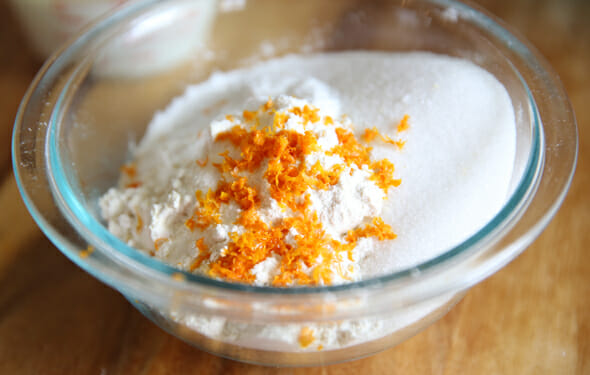 You can use fresh or frozen berries. I use frozen berries in baking about 95% of the time. They're so much cheaper than fresh berries and they turn out great when used in baked goods. Just don't defrost them, you always want to keep berries frozen when baking.
I really love the foil-lined liners, lots of brands make them now, including both Wilton and Reynolds (you can usually find the Reynolds ones in the grocery store). They're different than a standard foil liner, it's more of a combination of paper and foil and they're especially strong. These muffins are pretty hefty, so they do well in the extra sturdy liner.
The muffin cups will be quite full. I like to put the cheesecake filling in a ziplock bag and squeeze a little into each muffin. You can put the cheesecake filling in the center and then cover it up with another dollop of muffin batter, like this photo shows, or what I find easier is to is actually fill up the muffins entirely with batter first, and then stick the tip of your ziplock bag right in the top and squeeze it in. You'll want to put about 2 teaspoons in each one, and it's kind of a guessing game if you're squeezing in without being able to see it, but just do your best!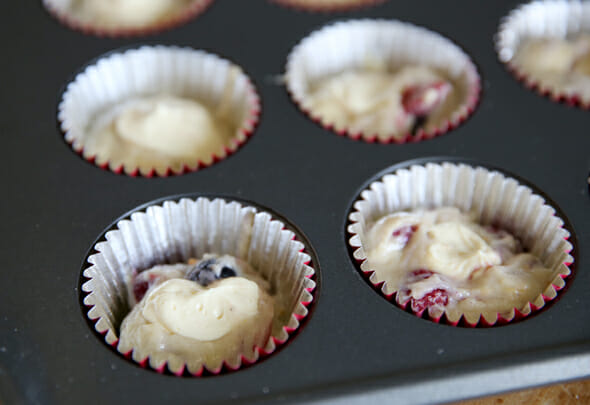 Then sprinkle on the streusel.
And pop them in the oven.
The crumbly topping is amazing and this batter yields muffins that are SO soft and so flavorful.
The creamy surprise in the center makes them extra special.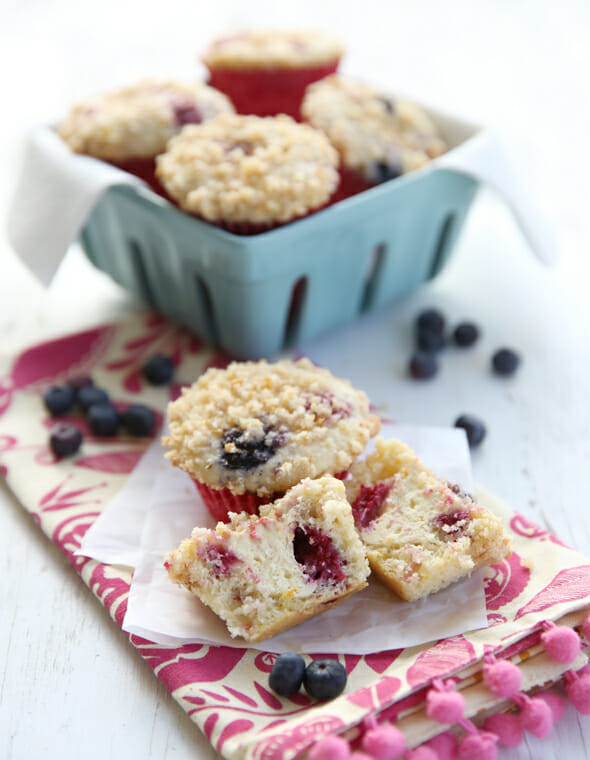 These muffins do great when stored overnight, so whip up a batch on Friday so you can pull them out Saturday morning!
Berry Cheesecake Muffins
Recipe by Our Best Bites
Streusel Topping
1/4 cup sugar
2 1/2 tablespoons flour
1 graham cracker, crushed to crumbs (a heaping 2 tablespoons)
2 tablespoons cold butter
Cheesecake Filling
4 ounces cream cheese (low-fat is fine)
1 tablespoon sugar
1/4 teaspoon orange zest
1 egg yolk
Muffins
1 3/4 cups + 1 tablespoon flour, divided
2 1/2 teaspoons baking powder
3/4 teaspoons table salt
1/2 cup plus 1 tablespoon sugar, divided
2 teaspoons orange zest
1 large egg
3/4 cup buttermilk
1/3 cup canola oil
1 teaspoon vanilla
1 cup fresh or frozen berries (raspberries or blueberries, avoid strawberries)
Instructions
Preheat oven to 350 degrees. Line a 12-cup muffin tin with cupcake liners.
In a small bowl prepare streusel: combine sugar, flour and graham cracker crumbs. Cut butter in small chunks and toss with streusel ingredients. Use a fork, or clean hands, to crumble it together, breaking up the butter into small crumbly pieces. Place streusel mixture in fridge.
Prepare cheesecake filling: Beat all cheesecake ingredients together until smooth. Set aside.
To make muffins, combine 1 3/4 cup flour, baking powder, salt, 1/2 cup sugar, and orange zest in a bowl. Whisk to combine. In a separate bowl, combine egg, buttermilk, oil, and vanilla. Add wet ingredients to dry ingredients and stir until just combined. Do not over-beat. Place berries in a bowl (do not thaw frozen berries) and sprinkle over remaining 1 tablespoon flour and 1 tablespoon sugar. Toss together and then add to muffin mix. Gently stir just until distributed.
Fill muffin cups with batter. Place cheesecake mixture in a zip-top bag and snip on the corner. Gently squeeze about 2 teaspoons of filling directly into the batter. It's okay if it's visible on the top. Evenly divide streusel topping on muffins. Bake for 15-20 minutes, or until a toothpick inserted in the muffin part comes out with just loose crumbs attached. Let cool for 5 minutes, then remove from muffin tin and place on cooling rack. Let cool to room temperature. Yields 12 muffins.