First of all, you guys kind of knocked our Mother's Day sale out of the park yesterday! If you didn't get everything you wanted, don't worry–we have a big shipment coming in today and everything should be back in stock, so stay tuned and we'll get you taken of! The 15% off code is good through Friday, so you've still got plenty of time to make sure all the moms in your life are taken care of (including you!)
Last month, I shared my 7-year-old daughter's favorite book series and it was SO much fun to talk kid books with all of you! One of the most common requests was to do the same for boys. For me, boy book series are so much easier–in my experience, it's been much harder finding age-appropriate books that will challenge my daughter that aren't too scary.  So I apologize if the stuff I'm posting isn't earth-shattering; these are the suggestions we have for books for middle school age boys. My 10-year-old son LOVES them!
1. Harry Potter, by J.K. Rowling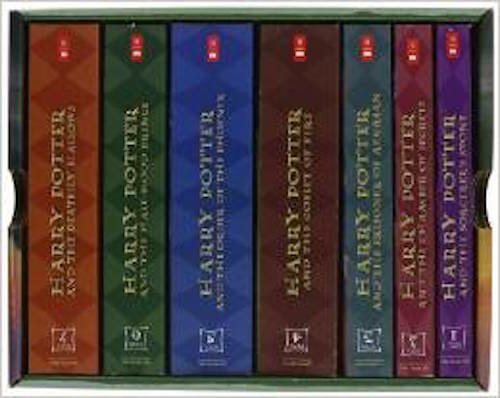 Because, you know, we've gotta get the obvious one out of the way early, right? Not that I'm sad he loves the Harry Potter books; they've long been a favorite of mine, and I still read and re-read them frequently, so being able to share that with him has been so much fun. It's opened up the doors to deeper conversations–you know, magic…witchcraft…genocide. Kidding. But I love that it's opened up the door to talking about love and friendship and sacrifice and life and death. Someday he might not want to talk about that stuff with me, but I'm going to pretend that's not going to happen as long as we have Harry Potter.
2. Hatchet (The Brian's Saga Series), by Gary Paulsen
I remember reading Hatchet in 5th grade (which I liked, but I was kind of obsessed with Canyons.) A couple of years ago when Clark kind of graduated to big kid books, I got a whole bunch of books from authors I remembered loving as a kid and for him, the Hatchet series was what stuck (the subsequent books are The River, Brian's Winter, Brian's Return, and Brian's Hunt. Adventure-y but not too intense or scary, he really loved these books and comes back to them again and again.
3. The Heroes of Olympus, by Rick Riordan
Clark read these and the Percy Jackson books back to back (don't worry, that one's up next), so for awhile there, we were lost in a sea of Greek mythology obsession and I can't quite tell you which one is which. He was hesitant to dive into these because he was afraid they wouldn't live up to Percy Jackson and friends, but he loved them even more. Also, he knows way more about Greek mythology than I did when I was 10 (or, let's face it, than I do now.)
4. Percy Jackson, by Rick Riordan
The Percy Jackson series precedes The Heroes of Olympus series, so if you're looking for a place to get started, this is probably it. Much like the Harry Potter series that has one foot in reality and one in fantasy, part of these books take place in the present real world and part of them take place with Greek mythological creatures. I haven't actually read these, but I also haven't met a 10-year-old boy who has read them that doesn't absolutely love them.
5. The Fudge Series, by Judy Blume
This is another series of books I snagged when I was collecting old favorites. Clark first read these when he was in first or second grade, but he still loves reading them now (it can't always be Horcruxes and manticores, right?) I think he likes the humor and the family dynamic, especially since he has a naughty little brother that he adores.
What's up Next? 
Waiting in the wings, we have The Kane Chronicles (also by Rick Riordan–these involve Egyptian mythology), the Fablehaven series, and The Maze Runner series. Hopefully you found these helpful and can snag some books for your middle school boys that they will love!
P.S. While we're talking books, if you haven't picked up our new book (or if you want to snag one for the moms in your life), now's the perfect time! Click on the picture below to pick one up from Amazon.