I drive my husband crazy because we have three kids and probably (at least) 12 lunchboxes. I didn't buy them all at once, but how could I possibly resist this one for my cat-obsessed daughter?? For the record, I don't have as many for my 11-year-old son. Things like lunchboxes get a lot less exciting (for both of us) as he get older. I have a wide assortment of reusable containers, bento boxes, and silicone baking molds for keeping things separate. I have an entire drawer in my kitchen devoted to all this stuff, but let's be real here–sometimes I pack adorable things in there, but that usually happens in September and October. By January, my kids are experts in eating PB&J out of adorable bento boxes.
That said, even though I'm that mom practically throwing fast food condiments and bread heels into their lunchboxes in May, I still pack them lunch probably 98% of the time, mostly because they're so picky that they will literally not eat school lunch. So. I'm always on the lookout for products to make things easier.
I was excited to find these Cheese Dippers from The Laughing Cow–it was like breadsticks and cheese from my childhood, only for adults. They taste fantastic, they have 4 grams of protein, and are an excellent source of calcium, so they're a total win for snacking and lunch box-ing around our house.
Plus, my kids love them. LOVE them. Like, I-had-to-put-a-moratorium-on-the-Cheese-Dippers-until-I-could-write-this-blog-post love them. I love how easy they are to grab as a snack or into a lunchbox and that they don't have artificial stuff in them.
For this lunchbox, I made a wrap with a whole wheat tortilla, a little bit of mayo, honey mustard, spinach, ham, and shredded cheddar. Then I rounded it out with baby cucumber slices, raspberries, almonds, a little ranch dressing for the cucumbers, and a package of Cheese Dippers.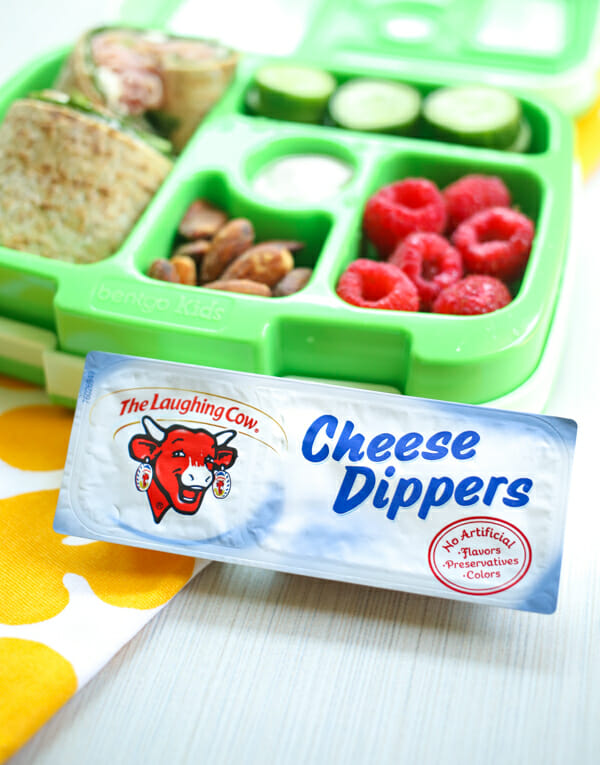 We also love them around here for breakfast/snacks. I feel like we are constantly on the run right now and it's about to get worse when school starts on Friday (yes, on Friday. No, I don't understand.) Between school, church activities, my daughter's guitar/ukulele lessons, and my son's stint as Michael in a local production of Peter Pan, I feel like we're always running to or from something (and that's just with two kids in one extracurricular activity at a time each, plus a preschooler along for the ride–I literally don't get how some people have their kids in more than that and aren't huddling in a corner somewhere!) So having grab-and-go boxes of balanced snacks help stave off the hanger.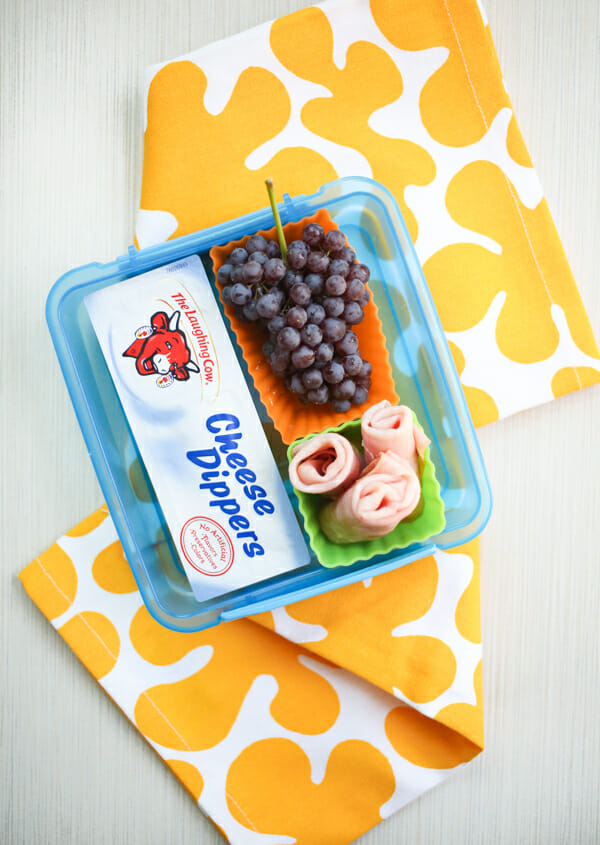 This is just a reusable sandwich container with a pack of Cheese Dippers, grapes, and some rolled up ham. Some natural sugar from the fruit, some protein (7 from the ham, 4 from the Cheese Dippers), and we're good to go. I can make a whole bunch of them with different varieties (roast beef or turkey; apple slices, cherries, or berries; carrots, baby peppers, grape tomatoes, or sugar snap peas with ranch or hummus, etc.) and then we can just grab one one for breakfast or as a snack to eat in the car or while they're waiting or have a break.
I found these Cheese Dippers over by other The Laughing Cow cheeses (so usually kind of in the deli section of the grocery store–if you've ever made this omelet, you know where to find them.) But you can use this locator to see where to find them near you!
This post was sponsored by The Laughing Cow, but all ideas, photos, and opinions are our own.