Good news, peeps!  Our super popular Flavor Variety Gift Sets are back in stock!  We had these back at Mother's Day and they sold out in about 24 hours.  We've had tons of emails asking when they'd be back in stock and they're here!  But this is another limited run, so if you want one, I'd snag it quickly because these will sell out again.  These are currently IN-STOCK.
Now, can we talk about Father's Day coming up?  Or any day, really? Because we have something perfect, for him, for you, for anyone.  Yes, we're actually doing this.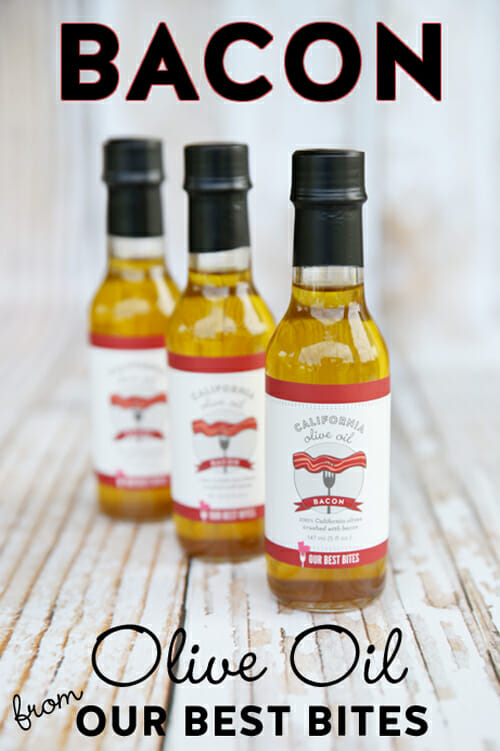 Note:  This is now sold out.  Sheesh!  We knew it would go fast, but we had no idea it would go THAT fast.  You guys are serious about bacon.  Don't worry- since you loved it so much, we'll bring it back and let you know as soon as we do!  
Now, you might be thinking this is some sort of novelty gag gift, like bacon chapstick (ew) or bacon suckers, or bacon whatever else you can think of.  Think again.  This stuff is amazing.  It's culinary genius (if we don't say so ourselves.)
And we're not talking about bacon flavor #472 that comes in a syringe in a chem lab.  This is genuine 100% Cold-Pressed Extra Virgin Olive Oil with smokey goodness from 100% real bacon.  Two of our favorite things, married together in perfect harmony.  I told you, genius.
The number one question we get when we tell people about our bacon olive oil is, "How do you use it?"  Like all of our other flavors, you use this just as you would any regular olive oil, but here are some of our favorites:
– Scrambled Eggs.  Gives them that yummy bacon flavor, without bacon!
– Saute Veggies for your omelette
– Oven roasted vegetables.  Just toss veggies in Bacon oil, season with salt and pepper and roast until perfection in the oven.
– Drizzle it on steak and ribs and then season and grill your meat.  Give it an extra drizzle at the end.
– Use it to cook chicken and fish
– Add a tablespoon or so to hamburgers and meatballs before shaping
– Make a quick salad dressing by whisking in a little vinegar and toss it over spinach, red onions, feta, apples and chicken
– Use it to cook hashbrowns.
– Saute your veggies for soup, or drizzle on top
– Make oven roasted potatoes by tossing baby potatoes in Bacon Olive Oil, minced garlic, salt and pepper.
-Drizzle a little on top of your favorite sandwich
– Brush it on pizza crust before cooking
Since Father's Day is coming up, we have a great printable to go along with this!
I mean, c'mon, right?  True love.  Bacon.  They just go together.
We've got a set that says "Hey Dad" and also one that says, "Hey Babe," for any special person in your life.  Download the "Hey Dad" Tags, here.  And download the "Hey Babe" tags, here.
This is a very specialty item.  It takes quite a process to blend premium olive oil with real bacon, and our oil producers make this exclusively for us!  It's made in small batches and every one is hand-bottled.  This is good stuff.  Premium stuff.  And it won't be here forever!
You can grab it right now in our Shop.  We've also created a special Bacon Bundle, where you can pair a little bottle of Bacon, with a standard bottle of our Premium Flavored Oil in any flavor (Garlic, Lemon, Chili, or Basil) for just $25. Use code BACON at check-out!
You don't want to miss out on this one- they'll go fast!  Also, I want to note for our CANADIAN friends:  If you're interested in ordering, just email [email protected] and they can take care of you there!
Who wants to try this out?  Do you have any great ideas on how you'd use it in the kitchen? Tell us what you think and we'll send a bottle to one lucky commenter!