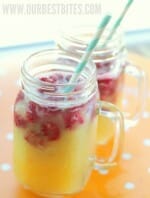 But I do have the abstract memories–the way their house smelled and the steep linoleum steps (which seemed much steeper than they probably were in reality) and the graham crackers. My grandma always had a "back to school" party for each grandkid when they went to kindergarten–all the cousins and aunts and uncles would bring backpacks and school supplies for the kindergartner and we'd have a party in their backyard. Whether it was back to school parties or Thanksgiving or Easter, there were always lots of old-fashioned, incredibly delicious treats (like homemade, home-canned grape juice lemonade with real grapes in the canning jars–never seen it before or since but if it's half as delicious as I remember it, I'd die of happiness if I ever found a recipe for it). And like Banana Slush Punch. It's probably been, oh, 25 years since I had my grandma's Banana Slush Punch, but I can still taste it.
With Easter coming up, I've been thinking a lot about food and traditions and the kinds of food memories I have and what I want to share with my own kids. We had this slushy punch at every Grandma Randle Easter party that I can remember from my early childhood and even though I don't have tons and tons of memories of my grandparents, I want this to be one of the recipes my kids take with them in their own lives.
Ingredient Notes
Ripe Bananas – When I say ripe, I mean it! They should look brown all over and ready for banana bread, but some good spots on the peel indicate your bananas will be nice and sweet, with a good texture for this punch.
Juice Concentrates – This punch uses lemonade and orange juice concentrate and also calls for pineapple juice. Since the frozen pineapple juice concentrate will be right there in the freezer aisle, it's the easiest to grab that. But if you prefer, many stores now sell fresh pineapple juice in the produce section by the fresh juices and smoothies.
Sprite or Ginger Ale – Take your pick between the two of these. There are so many other flavors in this punch, that either one will provide a satisfying sparkle to the finished product. Diet soda is fine.
How to Make Banana Slush Punch
First, you'll place some ripe bananas and water in a blender and sprinkle them with some sugar. Blend until smooth and then set aside.
Then, in a large bowl or pot, you'll combine some pineapple juice, orange juice concentrate, a can of lemonade (pink or yellow) concentrate, and some more water. Mix well. If you didn't think ahead (like me) to thaw out the concentrates, pop an immersion blender into the mixture and mix until it's smooth. Add the banana mixture and mix well.
Pour the banana mixture into 3 separate freezer-safe containers or gallon-sized Ziploc bags. Freeze several hours or overnight (at least). When ready to serve, place one frozen bag of banana mixture into a punch bowl or serving jar and pour 1 liter of Sprite or ginger ale over the mixture.
Break up with a spoon or ladle (or whip out that immersion blender again) and serve. You can garnish it with frozen raspberries or frozen sliced strawberries if you want.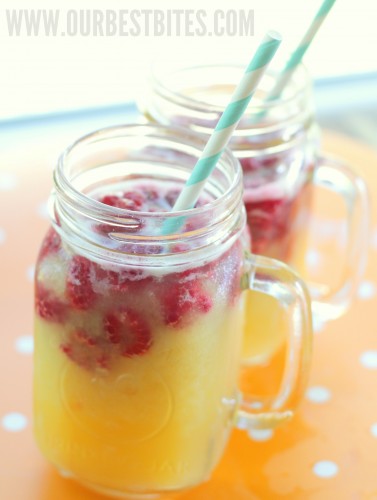 This yields about 7 1/2 quarts (about 40 8-ounce servings to 60 4-ounce servings), so feel free to cut the recipe in half if you're not interested in feeding a small army!
Serving Suggestions
This punch is great as a stand-alone refreshment on a hot day. It could also be served along side some easy desserts or a fruit or veggie platter. Its tropical flavors would pair well with other island-inspired dishes like Huli Huli Chicken, Hawaiian Macaroni Salad, Kalua Pork Sliders, or Hawaiian Style BBQ Ribs with Grilled Pineapple.
If you're interested in other beverages, consider some of these:
FAQs
How far in advance can I make this Banana Slush Punch? This is one drink that is perfect for prepping ahead! Those frozen bags will keep well in the freezer for several weeks. If you need to transport them to an event, pack the frozen bags in a cooler and pop your soda in there as well. They should blend up perfectly if used within a couple of hours.
Did You Make This?
I'd love to hear from you! Snap a picture and tag me on Instagram, and then come back and give this recipe a rating!
Print
Banana Slush Punch
Prep Time:

10 minutes

Freezer time:

4+ hours

Total Time:

4+hours

Yield:

7.5 quarts, serves 40-60
---
Description
This slushy tropical punch is refreshing and beautiful. Perfect for large gatherings, as it serves a small army!
---
6 cups water, divided
4 very ripe bananas
1  1/2 cups white sugar
6 cups (48 ounces) pineapple juice
2  12- ounce cans orange juice concentrate
1  12-ounce can lemonade concentrate (pink or yellow)
3  liters Sprite or ginger ale
---
Instructions
In the jar of a blender, combine 3 cups water, bananas, and sugar. Blend until smooth and set aside.
In a large bowl or pot, combine remaining water, pineapple juice, orange juice concentrate, and lemonade concentrate and mix well or blend with an immersion blender. Add banana mixture.
Divide the mixture evenly among 3 freezer-safe containers or gallon-sized Ziploc bags and freeze for several hours or overnight (at least). When ready to serve, place 1 container of banana mixture at a time into a drink bowl or jar and pour 1 liter of chilled ginger ale or Sprite over the banana mixture. Mix with a spoon (or immersion blender) and serve immediately. If desired, you can garnish with frozen berries.
---
Notes
Makes about 30 8-ounce servings to 60 4-ounce servings. Feel free to cut it in half if needed, or simply prepare just one bag and 1 liter of soda and save the rest for another occasion.