Is it just me or are the men in your life the hardest to shop for??  I'm always on the lookout for fun gifts for guys so I started keeping notes this year so I had some things to share with you!  I've rounded up some of the best gifts for guys.  You'll find a variety of price points here.  I think you guys can handle your own stocking stuffers, so I'm really focusing here on unique, interesting, nice gifts.  If you have ideas of your own to share- leave a comment, we'd love to hear about them!
RETRO NINTENDO
---
Since Nintendo released their Classic NES last year, they've been both expensive and hard to get your hands on.  My husband found this version for about $30!  Yes, it's a knock-off.  But they are SO FUN.  This little thing is light and takes up hardly any space.  It's pre-loaded with 600 games.  Yes, you read that right.  Many of which you've never heard of but all the great, nostalgic games you and your man grew up with are on there:  old school Mario (like 30 versions of it), Donkey Kong, RBI Baseball, Rampage, Double Dragon, Super Contra and more.  It's the old graphics, the classic music, it's fantastic.  My kids and all the grown men who come to our house LOVE it.  And there's no signing in, no creating accounts, you literally just plug it in and start playing.  We've made multiple orders through this ebay listing and they've always come much faster than it says.  I would say if you order ASAP you will probably get it in time for Christmas.  I can't guarantee that so don't get mad at me if it doesn't work out, but from my experience I feel pretty good about saying that!  Click here to see a video review of mine, click here to buy one.
VINTAGE BASEBALL GLOVE LEATHER WALLET
---
Butterbean Leather Co. is a small shop run by a husband-wife duo in Salt Lake City.  I started following them because I knew Brooke and her family growing up.  I think specialty hand-made items are always a good gift idea because you get things that are one-of-a-kind and just extra special.  Butterbean Leather Co creates a lot of really cool hand-made wallets, but when the photo of this particular one came up in my Instagram feed, I thought it was SUCH a cool idea.  They turned the leather from beautiful, worn, vintage baseball gloves into wallets.  How cool is that??  I love all the details that come through, and the feeling that such a useful item like a wallet now has this great story behind it.  This would be such a cool gift idea for a baseball lover.  I almost didn't include this in my list because it looks like there's just one left in their shop (I hope one of you grabs it!) but there's so many other great things that I think it's worth browsing around.  They also have darling little bows for girls and other great unique, handmade leather items.  Click Here to check them out.
RIPPED KIT
---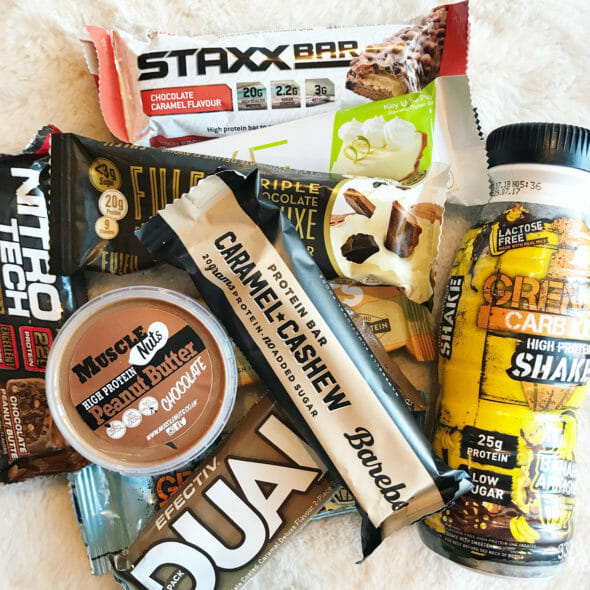 I'm a fan of subscription boxes, I think they're especially fun for spouses because you're not stuck paying for it forever if you both decide you want to cancel at some point AND you can enjoy it, too!  We've been getting this monthly box for a while now and it's awesome for people into health and fitness.  This monthly box contains a variety of high protein snacks.  We've had everything from bars, shakes, powders, cookies, candies, jerkeys, and more!  It's a GREAT way to try new products, I've discovered so many things I've then re-ordered elsewhere since then.  Don't be turned off by the fact that these guys are out of the UK.  Shipping is totally reasonable and it arrives on schedule every month.  PLUS it comes with a stamp that says "Royal Mail" and you feel like the Queen herself is sending you snacks.  We super love this one!  You can save 10% off your first box when you use my code BESTBITES .  Click Here to check them out! 
MY MEDIC
---
I kept seeing ads for these stylishly rugged first aid kits popping up in my Instagram ads and I admit it totally caught my eye.  They looked…cool.  Like, I wanted one, and that says something.  The company actually has a really touching story and I love that they used the tragic death of a loved one to start a company to help others.  These are NOT your average first aid kits.  This is not comparable to something you'd run over to Target and grab.  These would be an amazing gift for anyone who's an avid outdoorsman- think hunting, camping, fishing, boating, RV'ing, etc.  Or someone who simply drives a lot in their car.  Honestly, anyone could use a good first aid kit like this.  You'll find soooo much more than band-aids.  I have the MYFAK and I was amazed at how much they packed in that small container.  Check out all their products here, and if you click here, there's a video where I show you my kit.
JERKY BOX
---
We've shared these premium Jerky Boxes before, and we still love them!  I mean, I feel like you just can't go wrong gifting a guy a box of cured meat, ya know?  Check them out, here.  
DRONE
---
I almost didn't include this on my list because whenever we talk about expensive items there's always people out there who gift-shame us.  (Are you insane??  Who buys a gift that costs that much money?!  You should be donating all your money to fight world hunger!  You're so out of touch!  I can never look at your recipes the same way again! Your hair is dumb!)  Okay, so I'm including gifts at ALL price levels here, and this is a big one.  This is when you are the type of person with a larger budget and you want to knock it out of the park.   My husband LOVES his drone.  In fact, the whole family does.  If you didn't know, drones are not all created equal. Yes you can grab a drone for 100 bucks but there is a huge difference between that and what I'm showing you.  DJI Drones are the cream of the crop.  The best.  These babies come at a variety of price points and depending on what model you're looking at.  They all have slightly different uses.  You can compare the 3 main series (as shown in the photos above) when you click here. We own a Phantom, which shoots 4K video, 12MP photos and can fly almost 3 miles away and find its way back home.  It's incredible.   It's the largest of their drones and fits in a case the size of a backpack.  If you're looking for something smaller and more portable, they have The Spark, which is a terrific hobby drone. It comes in fun colors and it's easy to pack on a hike or take on a trip and you can even launch it from your hand or fly it indoors. My husband just told me about an amazing deal he just found on ebay for this one- Click here to see it!   That's almost half off- killer deal.  Right in between the Phantom and the Spark is the Mavick (on my husband's wish list). It's larger and more powerful than the spark, but smaller and more portable than the Phantom.  Click here to compare them all and win Christmas.
 I'll keep adding to this list, so check back!  If this helps even one person find something to cross of their list I'll consider it a success!  Also- if you haven't heard, we're doing an awesome 12 Days of Deals in Our Shop!  Every single day is a different flash sale and it's been so much fun.  We're only on Day 3 so make sure to follow us on Instagram or Facebook, so you can keep up with the deals.  We post them there first thing in the morning!  Today's deal is on our x-tra large bottles of Garlic Olive Oil.  It's the only bottle we sell in a JUMBO size because people can't get enough!! Click here to shop!