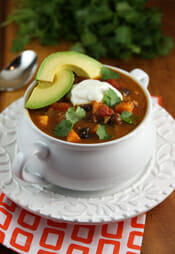 So last week I explained a new feature you'll be seeing pop up around here every once and a while called "Friday Faves."  You can click on my last post and read the intro to see what it's all about.  While these totally aren't meant to be *giveaway* posts, that's not to say we can't give anything away every once and a while.  I just wanted to say thanks to everyone who jumped on that post and left comments, because as bloggers, that's really how we connect with all of you out there and we love hearing your thoughts, ideas, and funny stories!  To say thanks, I used random.org to pick one of the comments from that post and it was lucky number 17, Michele.  Michele- I'm going to send you a big ol' box of some of the goodies featured in that post, so check your email!
Now onto today's recipe.  Somehow in the last couple of weeks fall has arrived in Boise.  It's suddenly very chilly in the mornings, and gloriously sunny in the afternoons.  The perfect sweater-but-no-coat weather for most of the day and I love it.  I spent a large portion of my last week trudging through nurseries and tree farms, picking landscape plants for the house we're building and it has reminded me why (especially as a horticulturist at heart) I love this season so much!  And when fall arrives, my slow-cooker makes more appearances on my counter (much to my grill's dismay.)  I'd been thinking about this chili in my head for a long time and finally thought I'd start throwing it together.  It's definitely a little different than the other chili recipes on our site.  You might be surprised by some of the ingredients, but don't be scared.  We're friends, remember?  Tender sweet potatoes actually pair really well with black beans, and this chili might be super low in calories but it's crazy high in flavor and heartiness.  Chock full of veggies and perfect for topping, this is a great fall slow-cooker meal that will make your house smell awesome.
We're going to start by sauteing some vegetables.  I know people love to just throw everything in a crock pot, but I'm telling you right now, for most crock pot recipes it's worth the extra step of sauteing veggies, or searing meat, etc.  You'll get deeper flavor, better texture, and overall better dishes when you follow full instructions that call for cooking things before tossing them in the slow-cooker.  Okay, I'll hop off the soap box now.  Saute some diced onion, garlic, jalapeno, and bell pepper for about 5 minutes, until veggies are soft and fragrant.  You don't need 2 peppers like you see in my photo- you just need one bell pepper and I happened to have both a yellow and a red so I used half of each.  Because I thought it looked pretty.  I definitely prefer sweet peppers (red, yellow, or orange) but if they're just too pricey, or unavailable, go ahead and use a green bell pepper.  When those are cooked, place them in your slow-cooker.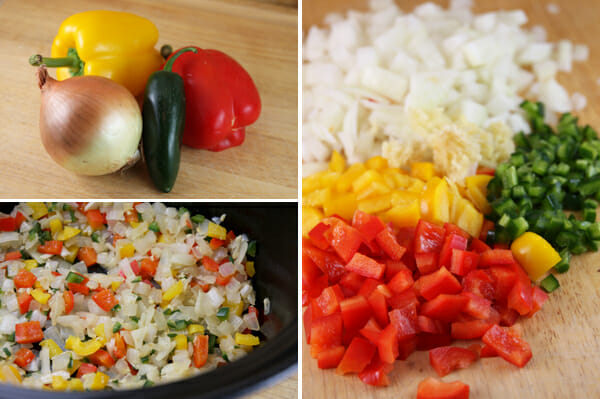 Next up, ground turkey breast.  I created this recipe using 20 ounces because the packs from the grocery store like this photo below are always 20 ounces (why?  I don't know, it's kind of a strange number…)  If you're not using a package like my photo, you can use a pound if that's easier to buy.
Now here's a little trick I use often to either lighten recipes that use ground meat, or to stretch a small amount of meat and make it go further in a recipe (good for money-saving, too).  I've said it before- I don't love mushrooms, so if you're like me- rest assured, you probably won't even know they're in here.  That's the point!  I mince up mushrooms and toss them right in with the ground meat.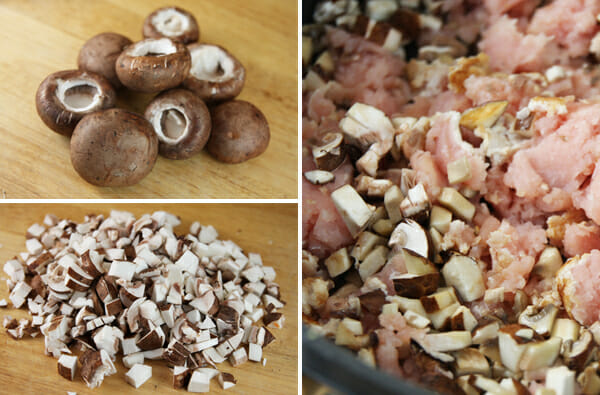 What happens is they take on the flavors and seasonings of the meat (in this case, cumin, smoked paprika, oregano, chili powder, salt and pepper)  and since they cook along with it they just sort of disguise themselves in there. Since they have a soft texture, you don't really notice them in the final product, but it makes it seems like there's more meat than there is.  In this case, it was more a matter of bulking up the chili and adding secret veggies.  Add the turkey mushroom mixture to the slow-cooker with the vegetables.
Next up is the sweet potatoes.  I use a vegetable peeler to peel the skin off and then dice them into 1/2 inch cubes.  Since sweet potatoes are never uniform in size, just weigh them at the store; I shoot for about 1 1/2 pounds.  It doesn't have to be exact; a little less is certainly fine.  You can even buy pre-chopped sweet potatoes in many produce departments.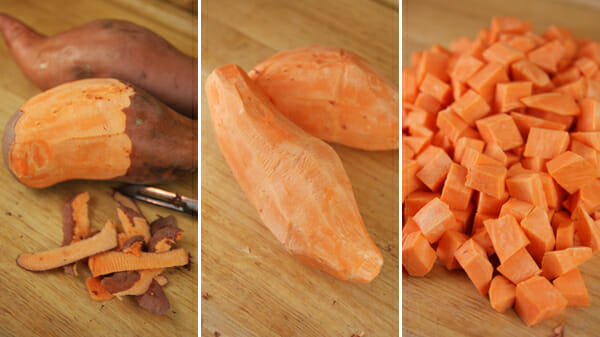 Add in some black beans
and canned tomatoes
and then another secret ingredient: pumpkin puree!  It may seem strange, but it adds a velvety texture and gives the chili body and richness.  Plus it packs in lots of good-for-you vitamins and the flavor blends really well with the sweetness of the sweet potatoes.  Just pretty pretty please, make sure your can doesn't say "Pumpkin Pie" flavored… (and click here for a recipe for homemade pumpkin)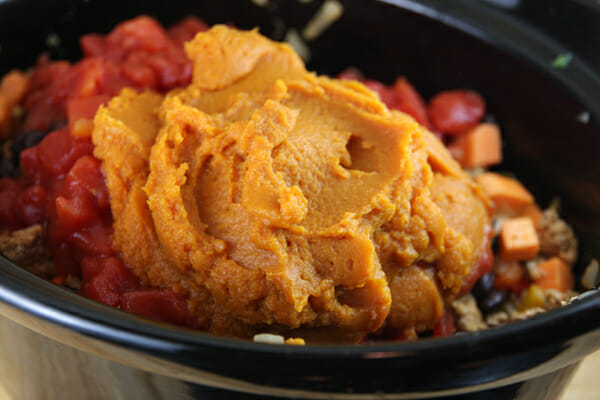 But we're not stopping there.  Just when you thought this chili couldn't get any crazier, we've got 2 front-seat tickets on the crazy train.  (I don't even know what that means.  Things like that come out of my mouth when I write my posts at midnight…)  2 more seasonings give this chili a mellow warmth:  just a touch of cinnamon and a little unsweetened cocoa powder.  They're not uncommon ingredients in chili, but still ones you don't see very often.  The trick is not overdoing those types of flavors, and I put in just enough that it gives flavor, but not enough to overwhelm it.
Stir everything up with some beef broth and let that slow cooker do its thing.
When it's all done, it's thick and rich and super hearty.   I like to stir in a big handful of chopped cilantro before serving, but that's totally optional.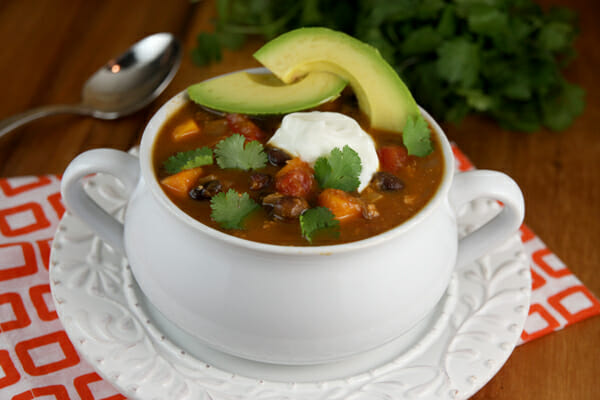 There's so many good things in there, and when you get them all in one bite it's a great mix of both flavors and textures.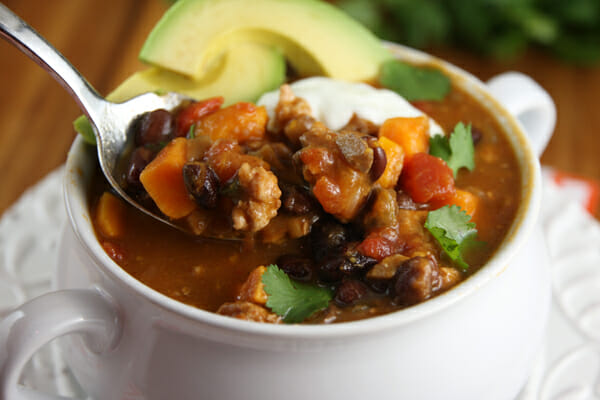 You can top this with any traditional chili toppings you like, however, I like to keep it simple so I can still taste the unique flavor.  A dollop of sour cream and a couple slices of avocado are perfect.  You can however, load anything on there.  And if you make this and have some eaters that aren't too fond of the unique flavor, just squeeze a bunch of lime juice in there and add cheese and sour cream on top and it will actually mask the subtle sweetness and taste more like a traditional chili.
Print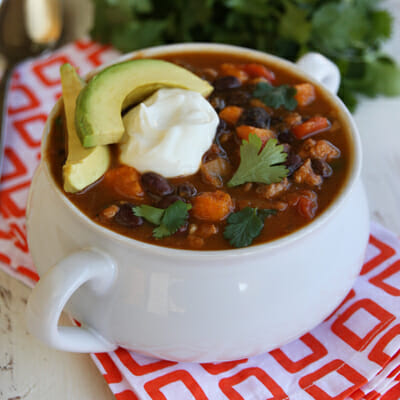 Black Bean and Sweet Potato Turkey Chili
---
1 tablespoon

olive oil, divided

1

medium onion, diced (any color)

4

cloves garlic, peeled and minced

1

bell pepper, diced

1

–

2

jalapenos, minced

20 ounces

ground turkey breast

8 ounces

mushrooms, minced (about

2

heaping cups)

2 teaspoons

cumin

2 teaspoons

kosher salt

1/2 teaspoons

pepper

1 teaspoon

oregano

1 teaspoon

chili powder

1 1/2 teaspoons

smoked paprika

1 1/2

lbs sweet potatoes, peeled and diced into

1/2

inch cubes

1

28 ounce can tomatoes (not drained)

2

15 ounce can black beans, drained and rinsed

32 ounces

beef broth (

one

box/carton)

1

15 ounce can pumpkin puree (make sure you're not using pumpkin pie filling :))

1/2 tsp

cinnamon

1 tablespoons

unsweetened cocoa powder
optional: sour cream, sliced avocado, chopped cilantro or green onion, and fresh lime juice for serving
---
Instructions
Heat a large skillet to medium-high heat.  Add 1 1/2 teaspoons olive oil and add onion, garlic, bell pepper, and jalapenos.  Saute for about 5 minutes, until veggies are tender and fragrant.  Add to slow cooker.
In same skillet, heat remaining 1 1/2 teaspoons olive oil.  Add turkey and mushrooms and stir to combine.  Sprinkle in cumin, salt, pepper, oregano, chili powder and smoked paprika.  (note: the meat will taste very seasoned when done.  Keep in mind these seasonings are not to flavor just the meat, they will season the entire pot of chili, so they are intentionally strong!)  Add turkey mixture to slow cooker.
Add sweet potatoes, tomatoes, beans, broth, pumpkin, cinnamon, and cocoa powder to slow cooker and stir til combine.  Place lid on pot and cook for  4-6 hours on high, or 8-10 on low.   Slow-cookers vary greatly in temperature and cooking times, but really, the important thing to note is if the sweet potatoes are tender.
When done, turn off heat and let chili sit with lid off for 10-15 minutes to thicken.  Season with additional salt to taste before serving.  If desired, serve with sour cream, sliced avocados, and a small squirt of fresh lime juice, and any other toppings desired.
---
Notes
*"Sweet potatoes" and "yams" are often sold interchangeably depending on what part of the country you live in.  Just buy whichever one is orange 🙂
It freezes beautifully, so I like to make the recipe and then freeze half for another night.  You can certainly halve the recipe as well, which I recommend if you have a small slow cooker.
---
Nutrition
Serving Size:

16

Calories:

185kcal

Sugar:

5g

Sodium:

534mg

Fat:

4g

Saturated Fat:

1g

Trans Fat:

0

Carbohydrates:

24g

Fiber:

8g

Protein:

14g

Cholesterol:

23mg