I'm just going to get right to it. I love Pumpkin Spice. (What? You guessed that?) Always have. You know when imagine those people in marketing meetings saying "Who cares what it is- slap a pumpkin spice label on there and people will buy it!" They're talking about me. I'm the people. And I did something this season that I've wanted to do every year on this blog. Buy ALL THE PUMPKIN THINGS.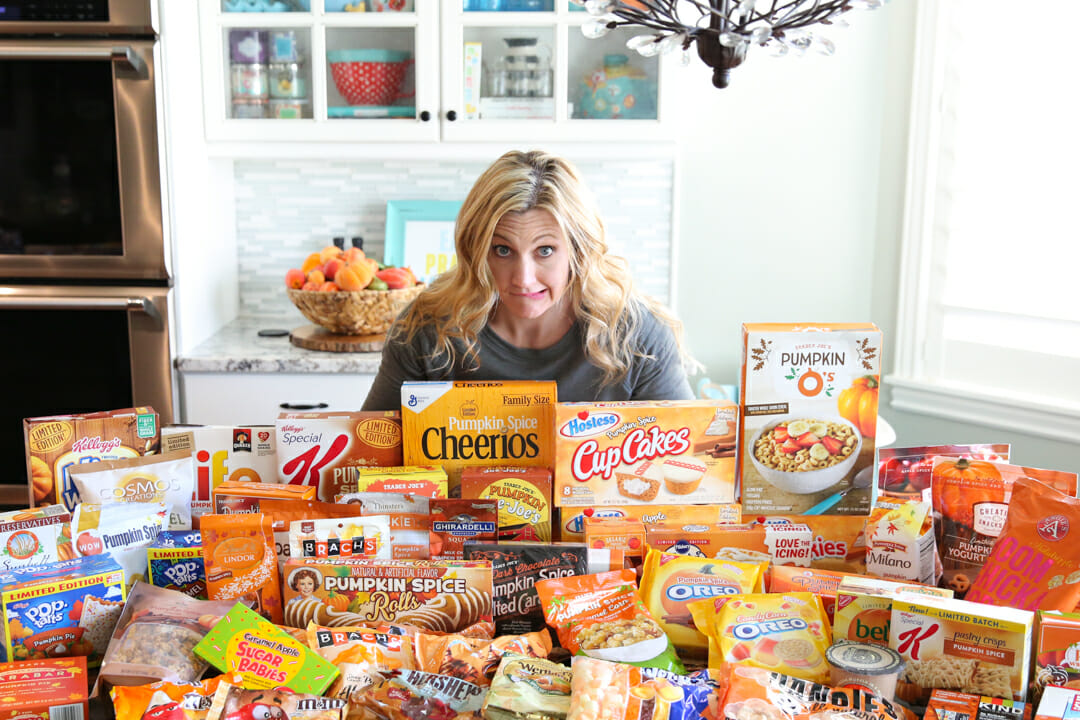 That's just some of these things, pictured. There are still things I've missed, mostly because they just weren't available where I am, and I didn't go into beverages at all. And I only bought about 1/4 of everything available at Trader Joes. But. Here's a ton of fun stuff for you to keep your eyes out for! I bought all of this stuff at normal stores like Target, Walmart, Fred Meyer and Winco. I'm including mostly pumpkin spice, but also some caramel apple, maple, and other fall flavors. I grabbed anything and everything I spotted. (And because I know someone might make a comment about it- most of these things are non-perishable and I can save them for my family to enjoy over time. I also shared quite a bit of this with friends, family, those in need, and my kid's school classes and sports teams.)
I have to say, though, I feel like I have a knack for great grocery store finds and I started an Instagram account just to share stuff like that. You can follow it, here! I'll post limited edition holiday products, but also great all-around things you might want to pick up on your next grocery trip.
Now. Here's my very scientific rating scale for the things I tried. There were a few things I didn't open, just because I didn't want to be wasteful. I chose to include them in gift boxes, donate, or pass along to friends!
Heck yes: Love it, want it, find it, buy it.
Pretty Good: Tasty, but not the BEST thing I've ever eaten.
Just Okay: Meh. Not memorable, but not horrible.
Blech: Save your money.
I've placed a * next to anything that I think is extra delicious in a given category, and when you see pink text, those things are linked so you can find them online if you'd like to.
I had several friends come over and blind taste-test these ice creams, but it told me one thing; everyone has a different preference when it comes to pumpkin spice. They ALL had different top choices! So I'll just rate them according to my own taste and try to explain the flavor as best I can. Every one of these ice creams are good, it was only after tasting them all and comparing them back to back that it was easy to tell where some were lacking.
Dreyers Pumpkin Patch: Pretty Good. Fairly mild flavor, but good crowd-pleaser.
Tillamook Pumpkin Cookie Butter: Heck Yes. Has the most unique flavor but every tester loved the creamy texture and cookie chunks. My husband's #1 pick.
Talenti Pumpkin Pie Gelato: Heck Yes. The only flavors in this are pumpkin and nutmeg, so if you like nutmeg, you'll love this. Tasted like pie ala mode.
Albertson's Signature Select: Heck Yes. This was a very surprise favorite for me. I actually ranked it on top! This has swirls of cream and big chunks of pie crust. It's super creamy and has a very traditional, classic pumpkin pie flavor.
Trader Joe's Pumpkin Ice Cream: Pretty Good. A couple people chose this as their top choice. I thought it tasted very distinctly like egg nog.
Private Selection Pumpkin Cheesecake: Just Okay. This was a surprising LOW ranker. I love Private Selection; I'm a huge fan of their ice cream. If you taste this all by itself you'll probably love it (I did) but when compared to all of the others it was incredibly bland.
Ben & Jerry's Pumpkin Cheesecake: (not pictured) Heck Yes. from my memories of year's past!
DQ Pumpkin Pie Blizzard (not pictured) Heck Yes!
Trader Joes Pumpkin O's: Pretty Good. lighter, crispier & milder than the Cheerios.
Pumpkin Spice Life: Just Okay. Very tasty, but not enough pumpkin flavor for me.
*Pumpkin Spice Cheerios: Heck Yes
Pumpkin Spice Special K: Pretty Good. Would get a heck yes if the amount of pumpkin spice yogurt balls was quadrupled.
Pumpkin Spice Mini Wheats: Just Okay. Not enough pumpkin flavor for me.
Chobani Lowfat: Pretty Good
*Noosa: Heck Yes. Heck Yes. Heck Yes. You could basically put this in a pie crust.
Chobani Pumpkin Harvest Crisp: Heck Yes I also love the apple version of this
Dannon Light & Fit Greek: My 6 year old ate this one before I could try it!
Kodiak Cakes Chocolate Pumpkin Minute-Muffin: Heck Yes.
Trader Joe's Organic Toaster Pastries: Pretty Good.
Quaker Pumpkin Spice Oatmeal: Just realized I forgot to try this. Stay Tuned.
*Belvita Pumpkin Spice: Heck Yes. Love these so much.
Pumpkin Pie Pop Tarts: Pretty Good. I liked the Trader Joes one better.
Pumpkin Spice Granola: Didn't open this yet!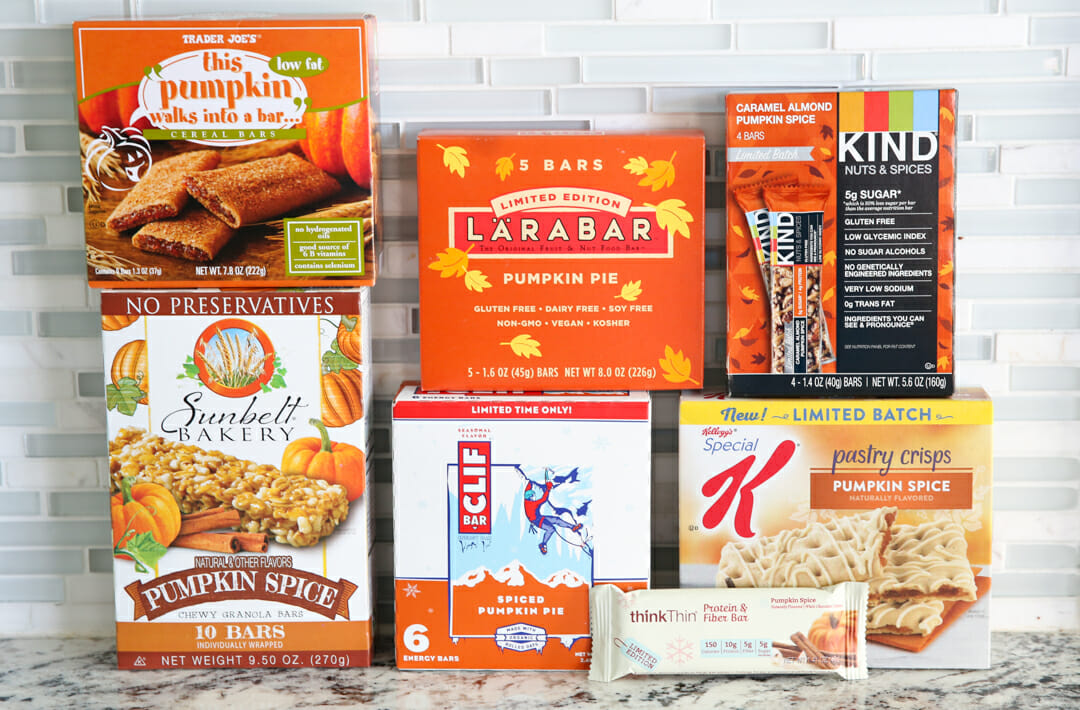 Trader Joe's Pumpkin Bars: Just okay. If you like this type of bar you'd probably rate it higher than me. I don't like these to begin with, so…
Sunbelt Granola Bars: Just okay. Not super pumpkin-spice-y though.
LaraBar Pumpkin Pie: Just Okay. I don't really like these to begin with though…
Clif Bar Spiced Pumpkin Pie: Pretty Good
Kind Bar Caramel Almond Pumpkin Spice: Heck Yes. BUT, doesn't taste significantly pumpkin-spicy. Mostly just really great nuts and caramel and cinnamon. But still tastes fantastic so I gave it a heck yes. But if you're expecting pumpkin spice you'll be disappointed.
Special K Pastry Crisps: Pretty Good!
Think Thin Bar, Pumpkin Spice: Blech I didn't like these at all.
Little Debbie Caramel Apple Oatmeal Cream Pies: Pretty Good. Taste a lot like regular oatmeal cream pies.
*Hostess Pumpkin Spice Cupcakes: Pretty Good! FOR a Hostess Cupcake, ya know? Surprisingly tasty. It's still a Hostess Cupcake, but I was pleasantly surprised. Honestly almost rated these as Heck Yes.
Hostess Caramel Apple Cupcakes: Pretty Good! Again, relatively speaking. My family loved these ones.
Little Debbie Pumpkin Spice Rolls: Blech. Didn't like these.
Hostess Pumpkin Spice Twinkies: Pretty Good. Not afraid to say it. I totally liked the Twinkies.
Pepperidge Farm Pumpkin Cheesecake Cookies: Just Okay. Wouldn't buy them again.
Pepperidge Farm Pumpkin Spice Milanos: Pretty Good. I have yet to meet a Milano I didn't get along with.
Pumpkin Spice Wafer Cookies (Winco): Heck Yes! I have these in Apple Spice as well, and they are both REALLY good! I love love wafer cookies.
Pumpkin Spice Fudge Stripes: Haven't actually opened these yet.
Pumpkin Spice Oreos: Heck Yes.
TJ's Pumpkin Biscotti: Have any of you tried this one yet?
TJ's Pumpkin Joe-Joe's: Heck Yes. These have a very strong Ginger flavor, the Oreos are definitely more of a traditional pumpkin spice flavor.
*Mrs. Thinsters Cookie Thins: HECK YES x 10. Love these.
Gluten Free Pumpkin Spice Cookies (Target): Pretty Good. FOR a gluten free cookie. They are very soft, but do have kind of a funny texture thing at the end. But I'm assuming people that eat gluten free are kind of used to that. Flavor is great.
Pumpkin Spice Lindor Truffles: Pretty Good. I thought the chocolate overpowered the pumpkin spice filling. I was a little underwhelmed.
Pumpkin Spice Caramel Ghirardelli Squares: Just Okay. Again, not much of a pumpkin spice flavor comes through.
Pumpkin Seed Bark Thins: Heck Yes. Not pumpkin spice flavored, but I do love the crunchy little seeds. I'm a big fan of all the Bark Thins.
TJ's Pumpkin Spice Salted Caramels: Heck Yes. To be fair, my husband hates these. But I happen to love them. They're very dark with a hefty sprinkle of salt.
*Pumpkin Seed Brittle: HECK YES x 1000. If you buy one pumpkin spice thing at TJ's, let it be this.
Pumpkin Pie Almonds: TBD
Pumpkin Spice Candy Corn: TBD
Pumpkin Spice Kisses: Pretty Good!
Pumpkin Spice Almonds from Costco (not pictured, still looking!) Heck Yes
Pumpkin Pie Toaster Strudel: Heck Yes. I'll take a strudel over a pop-tart any day.
TJ's Pumpkin Waffles: HECK YES. Fluffy, flavorful, delicious with cinnamon-butter. We love these.
*Pumpkin Caramel Danish (TJ's): HECK YES. These freeze beautifully, grab some for holiday breakfasts! Soooo good.
Thomas English Muffins (Salted Caramel and Pumpkin Spice): Just Okay.
Franz Pumpkin Spice Bread: Just Okay. Tastes like regular ol' cinnamon bread.
TJ's Pumpkin Rolls: Just Okay. Not bad, but tastes very tub-o-dough-like.
TJ's Pumpkin Spice Caramel Corn: Heck Yes.
Angies Boom Chicka Pop Pumpkin Spice Kettle Corn: HECK YES. I am COMPLETELY in love with both this one, and the candy corn version below. I wasn't able to find these in-store, so I ordered from their website!
Pumpkin Spice Yogurt Pretzels (Target) Heck Yes. These were a surprise hit. Loved both these ones, and the apple cider ones below.
Apple Cider Yogurt Pretzels: Heck Yes. Loved these! Great apple flavor.
Caramel Apple Cosmos Creations: Heck Yes. Cosmos can do no wrong in my book.
Candy Corn Boom Chicka Pop: Heck Yes. Better than I expected. SO good.

Caramel Apple Sugar Babies: TBD
Candy Corn Hershey's: Just Okay.
Candy Corn M&M's: Just Okay/Blech. Not a fan.
M&M's White Butterscotch: TBD
Werther's Caramel Apple: Just Okay
Brach's Maple Almonds: TBD
Hershey's Caramel Apple Chocolates: Pretty Good!
Caramel Apple Milky Way: Pretty Good!
TJ's Maple Leaf Cookies: Heck Yes. Although I wish the cookie part was more buttery.
Apple Crisp Wafer Cookies (Winco): Heck Yes. Loved these!
Candy Corn Oreo's: Meh. Not a huge fan of these.
You guys MUST leave me a comment if I've missed anything I need to try! Tell me what your favorites are!
AND I've taken a lot of yummy stuff and packed them lovingly into some gift boxes and I want to send one to YOU, and YOU, and ALL OF YOU! But I can't. I have a few though. THREE chances to win!
1. Use this Rafflecopter and then leave a comment telling me about your Favorite Pumpkin Spice flavored thing- recipe, limited edition, whatever.
2. SHARE the post on our Facebook page. I'm going to pick one winner just from people who share the post from Facebook, it's pinned to the top of the page, here!
3. I'm also going to pick another winner from THIS Instagram account. Follow and stay tuned for giveaway post!
Then I'll write you a note and pop one of these babies in the mail for you- who wants one?? The only requirement is that you LOVE pumpkin spice! I'd sure love it if you pinned this, too! Just hover your mouse over this image: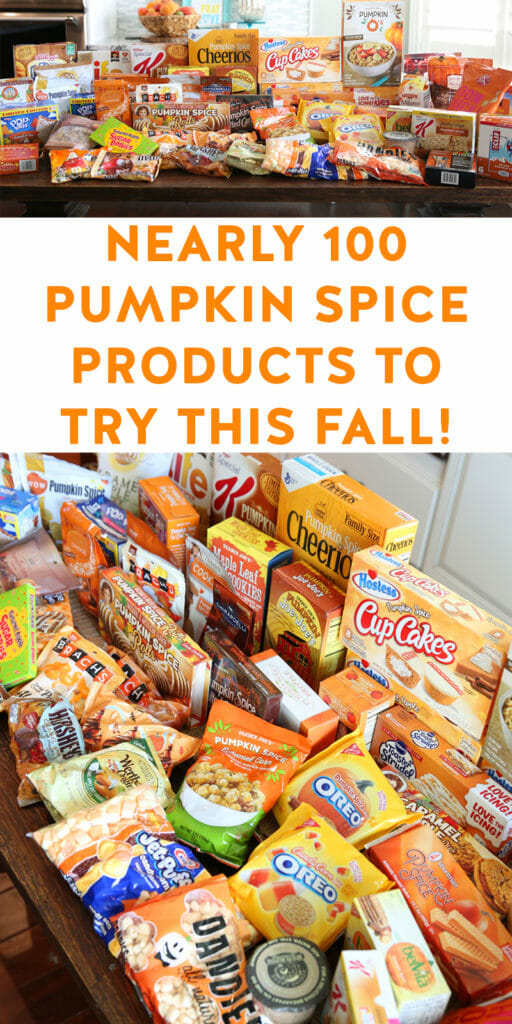 and now enter to win!
Need Pumpkin Recipes to try?? Click Here for Pumpkin Central!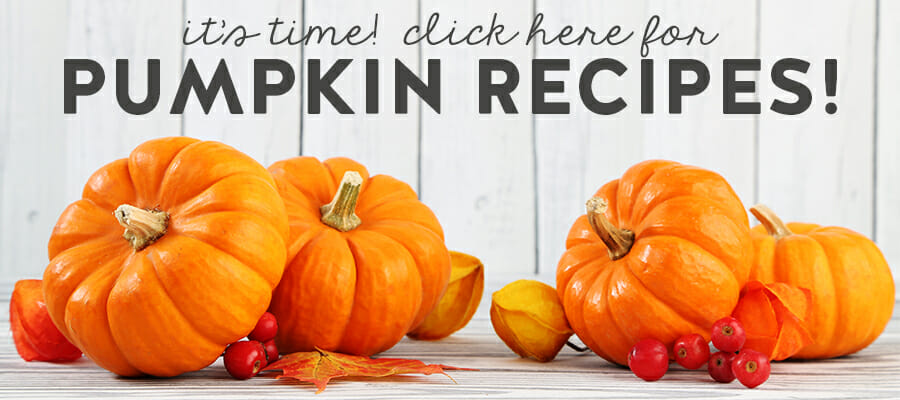 *This post contains affiliate links. To learn more about them, click here.
Save