My kids have this dream that I will be the cool breakfast mom. I am a cool mom in a lot of ways. Okay. Maybe not a lot of ways, and I'm pretty sure I think I'm cooler than my kids think I am. But I am not the coolest breakfast mom. We eat a lot of cold cereal. Sometimes scrambled eggs. Pancakes, waffles, all that good stuff is pretty much saved for dinner, birthdays, and the first in a series of snow days (the third and fourth snow days are not nearly as celebratory. For anyone.)
Have you seen these little Eggo Bites? Apparently they have made me a much cooler mom.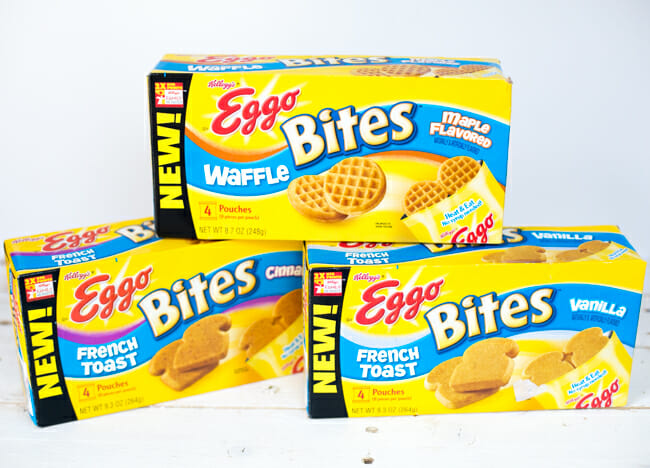 They're these pouches of little waffles or French toast. You can pop them in the microwave or the toaster and you can eat them on the go.
Which is awesome.
But. My kids have a long way to go from breakfast until lunch and they need a little bulking up to give the waffles some staying power, so I came up with a few ideas to dress them up a little. And seriously…you guys…all of these concoctions were all delicious and I would serve any of them to overnight guests in my home or at a brunch with fancy friends or eat them for lunch. And they're all super easy–like 5 minutes or less.
First up? The Mini Maple Waffle Bacon, Egg, & Cheese Bite. This was my husband's favorite.
You'll need a couple of scrambled eggs, some shredded cheddar cheese, and a slice of precooked bacon for each pair of bite-sized waffles. While the eggs are scrambling, toast the waffles in the toaster, then break them apart. Break each piece of bacon in half and put two halves on one little waffle, add some eggs, sprinkle with cheese, and top with another waffle and serve. Each pouch makes 4 sandwiches.
For the Mini Peanut Butter- Banana French Toastwiches, you'll need the Bite-Sized Cinnamon French Toast. Heat it in the toaster, then break the pieces apart and spread each side with peanut butter (I used fresh-ground honey roasted peanut butter from the grocery store). I placed a banana on one peanut-buttered side and then topped it with the other piece. Each pouch  makes 4 sandwiches..
The last thing I made was Yogurt, Honey, and Berry French Toast Bites. I toasted the vanilla French toast bites in my toaster (but the cinnamon would work, too!) Then I broke them apart and spread 1 1/2 teaspoons of honey Greek yogurt on each piece, then topped them with strawberry slices, blueberries, and a little drizzle of honey. Each pouch makes 8 bites.
We loved all of these! They're totally joining our breakfast (and, let's face it, lunch and dinner) rotation. If you want to try them, too, we have some coupons for free products to give away! Just leave us a comment and tell us which recipe you want to try! We'll pick a winner on Tuesday night and announce it on Wednesday!
This post was sponsored by Eggo Bites, but all ideas and opinions are completely our own.