It's no secret that Sara and I love grilling. I love to eat grilled food. I love to grill grilled food, I love cooking outside, I love eating outside. My dad was the king of Dutch Ovens (like the heavy cast iron pots that you cook in using hot coals, not my pretty Le Creuset that is sheltered from scary things like hot coals) and many of my happiest memories are of eating those meals in the canyon near my home growing up or in our backyard.
But.
I've always gotten cheap grills on clearance at Walmart at the end of the season. They have warped under high heat, they haven't heated evenly, they've been difficult to clean, and thrice now they've bitten the dust disappointingly early in our relationships.
So I've been in the market for a serious grill/outdoor cooking system for awhile now. We have a long-standing relationship with Outdoor Cooking and Camp Chef products (like this time Sara reviewed their Italia Artisan Pizza Oven or that other time we tried out their Smoke Vault smoker.) We love that they're a small business providing incredible products and when we had the chance to partner up with them again on an outdoor cooking range, we jumped at it.
Now…this isn't exactly a grill. It's better. The main part of this is a 4-burner outdoor propane stove that is WAY more powerful than anything I have in my kitchen–each burner can produce 30,000 BTUs of heat and one brought a big pot of water to boiling in just a few minutes, then there's a removable grill box (you can find this particular set-up here.)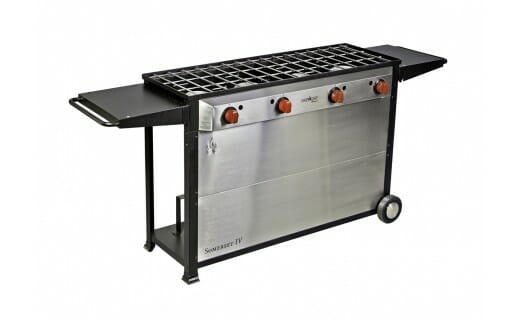 This means you have a lot of flexibility regarding what you can put on top. For this particular post, I'm whipping up some burgers with toasted buns (this is my dad's burger "recipe"–hamburger patties seasoned with onion powder, garlic powder, salt, pepper, and Worcestershire sauce), grilled asparagus (just some OBB garlic olive oil, salt, and pepper), and boiled corn on the cob (I love it grilled, but I'm showing off the stovetop feature here).
For the burgers and asparagus, I'm  using their stainless steel grill box on two of the burners…
and then in the middle, I'm using their cast-iron griddle to toast buns (but you could use it to make pancakes, fry bacon and eggs, warm tortillas, pretty much anything you can think of) and on the end, I'm boiling the water for the corn.
But it's totally modular and interchangeable–you could use two grill boxes, one grill box and 2 griddles, a grill box and a pizza oven, etc. The versatility is probably my favorite thing about it.
As far as the grill box goes, it's pretty amazing. It heats up super quickly (in fact, you pretty much want to keep it on the low/medium-low settings; going up to high will get your grill WAY hotter than you would ever need or want it to be) and it doesn't flare up at all, resulting in very even heat. The grates are cast-iron and pretty close together,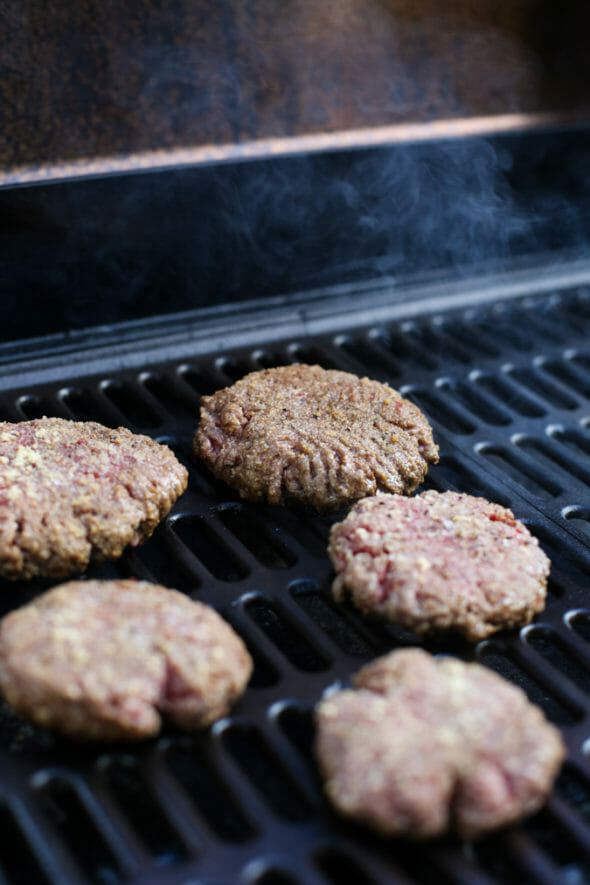 so you can easily toss things like veggies or shrimp onto the grill without having to worry about a grill basket. Also, the cast iron grates retain a lot of heat, which also contributes to the slow, even cooking.
Because the grates are cast iron, you just need to heat up the grill for a few minutes after you're done cooking, then let it cool, gently scrape off any crispy bits of food, wipe the grates, and season them with cooking oil to protect them from rust. As time goes by, this (like with other cast iron cookware) will result in super flavorful food and a non-stick surface.
This is definitely the real deal and perfect if you're in the market for a long-term outdoor cooking solution (so not like that time we bought our first clearance grill when we were married students and had 6 months left of school and we knew the grill would likely not make or survive the move. It made the move, but the poor thing was never the same.)
These are the products that I used here:
Somerset IV Outdoor Range with Stainless Steel BBQ Box (it's on sale right now for 38% off the list price! Happy Father's Day!)
Cast Iron Fry Griddle
Professional Chef Spatula Set
Because they're awesome, Outdoor Cooking is throwing in a 5-piece knife set to OBB readers with the purchase of a Somerset stove, so be sure to use the code OBB2015 when you're checking out!
If you have any questions, please let us know and if it's something that we can't answer, we'll ask someone who does! And we're going to be grilling it up all summer long, so be sure to follow along on Instagram (I'm here and Sara's here). We'll be using the hashtag #obbgirlsgrill, so if you want to see what we're firing up, just follow the hashtag. And if YOU grill something amazing, we want to see you use #obbgirlsgrill, too! Happy weekend!
The fine print: Outdoor Cooking provided us with these products to try, but all the opinions are completely mine.