This easy tortilla soup has been a staple at both of our houses and was in dire need of a makeover so you guys can all see how beautifully delicious it is!  This isn't like the thick chicken tortilla soup that they have at Chili's; it's brothier (is that a word?) a la Cafe Rio or Costa Vida. It's super healthy and low in calories, full of fresh, nutritious ingredients and we actually prefer it to traditional chicken soup at our house when we're stuffed up because of the garlic, lime, and the spiciness that the jalapenos add, helping clear our heads.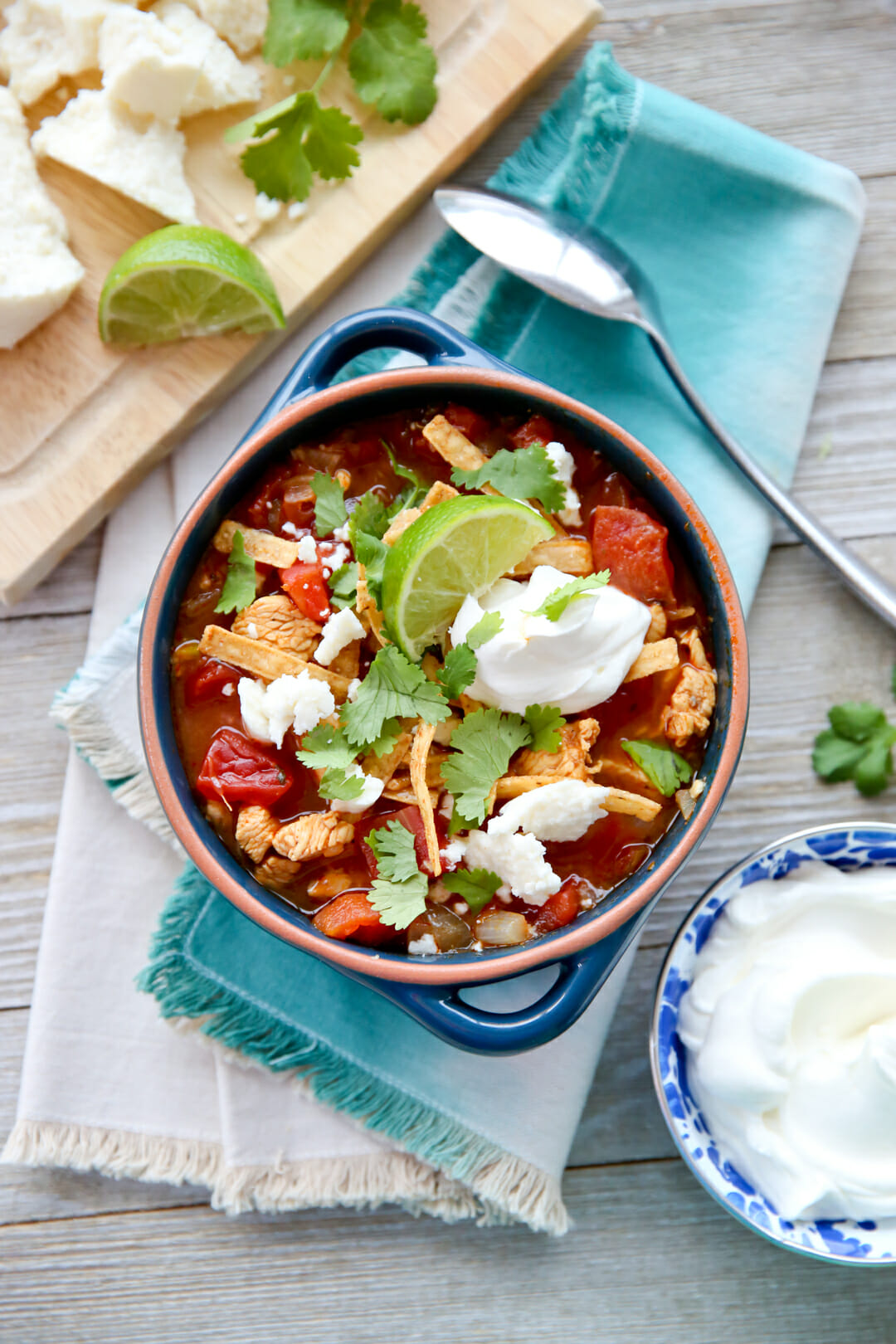 A beautifully healthy soup like this is amazing because it leaves so much room for tasty toppings.  If you use and love our Taco Chicken recipe, you can easily make that one night and just cook extra to save for this soup.  The directions call for marinating this chicken earlier in the day and then grilling it as you are preparing the soup.  I've done that lots of times, but I've also found that I like this soup even more if I don't use leftover chicken or bother with thinking ahead to marinade and instead add all the flavors of the chicken marinade right into the soup pot.  My trick is to cut up my chicken into bitesized pieces and let it sit in the marinade, which is a flavorful mixture of lime juice and seasonings while you prep other ingredients.  I'm going to show you this version in the photos and include this option in the original recipe, below!
So while your chicken is hanging out in those flavors, start by sautéing onion and jalapeno.
That will cook for just a few minutes and then you add in your chicken that was marinating.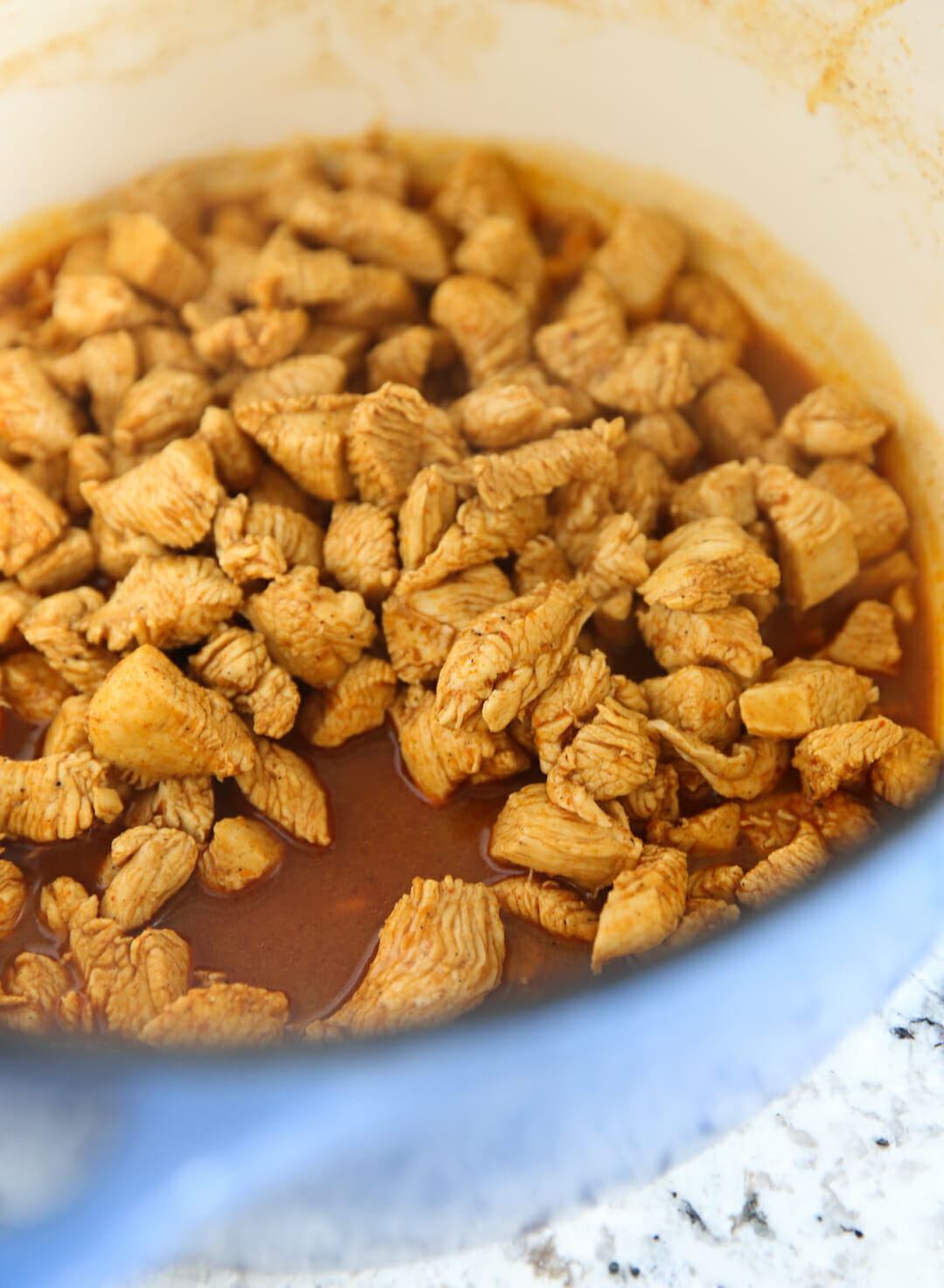 A quick addition of some canned fire-roasted tomatoes and chicken broth are all you need to finish it up.  Let it simmer for a bit for all the flavors to blend together and you're done!  You could easily add additional vegetables if you want, like corn and beans, but simple is totally fine here and it leaves a great canvas for toppings.  Load those bowls with anything you like.
We love tortilla strips, cilantro, queso fresco, and avocado.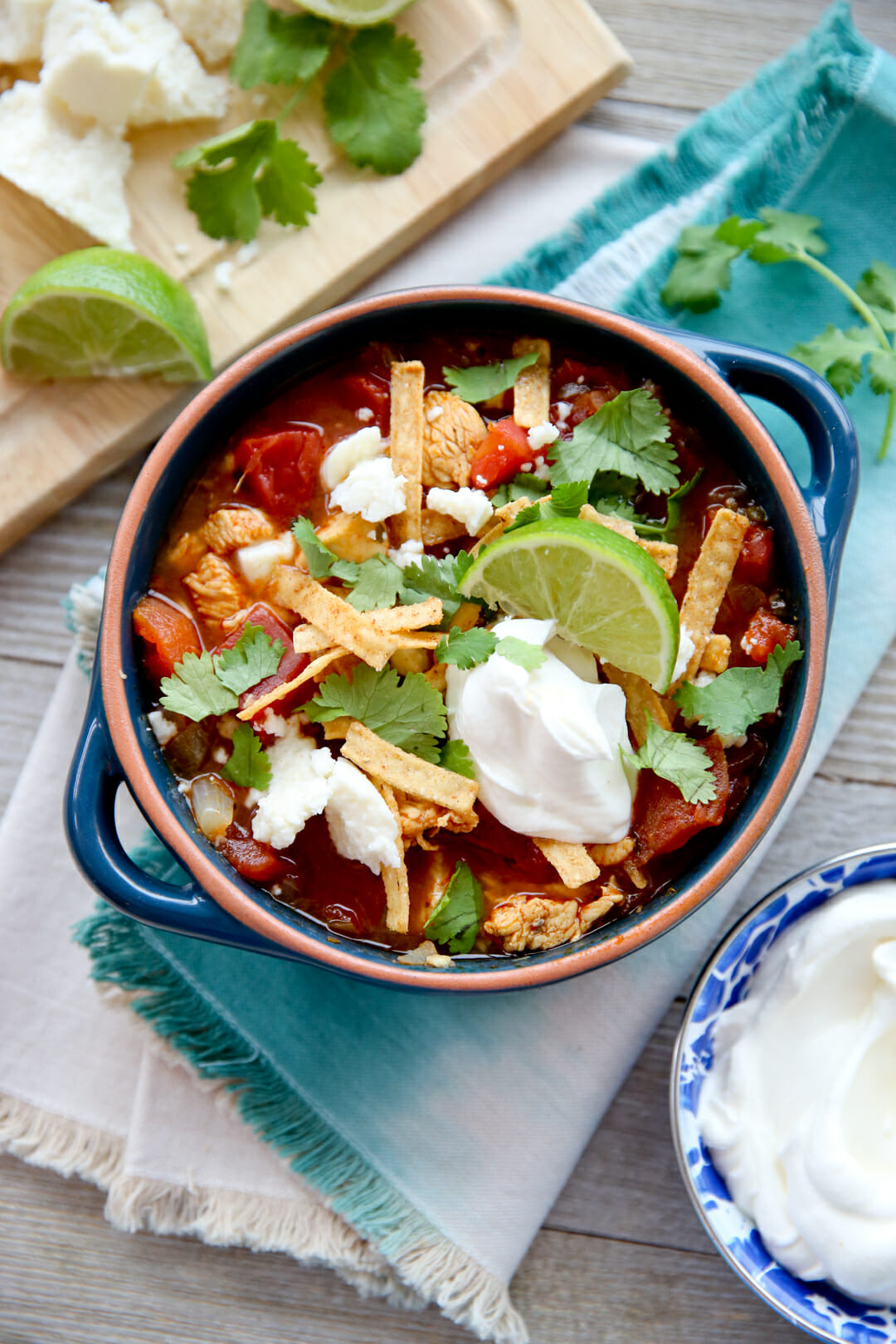 Perfectly easy weeknight meal!
Print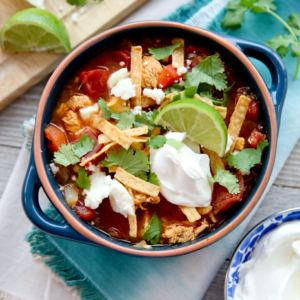 ---
Description
A simple and delicious chicken soup packed with Latin flavors and healthy ingredients!
---
1

recipe Taco Chicken

2 teaspoons

olive oil

1

large onion, chopped

2

jalapenos, membranes and seeds removed if you don't want it too spicy

6

cloves garlic, minced or pressed

4

cans chicken broth (or

1

carton)

1

15oz can diced tomatoes (we suggest fire roasted)

1/4 cup

fresh lime juice

1 teaspoon

kosher salt

1/4 teaspoon

black pepper
Optional topping suggestions:
tortilla strips or chips
guacamole or avocado
cotija cheese
sour cream
cilantro
green onions
---
Instructions
Click here for the link to the Taco Chicken Recipe.
1. Early in the day, begin marinating the chicken. Right before you start preparing the soup, start grilling it (to make it all at the same time in one pot, see notes section)
2. In a large stockpot, heat olive oil over medium heat. Add chopped onion and saute 3-4 minutes. Add garlic and minced jalapeno and cook a few minutes more until pepper is softened and garlic is fragrant.
3. Add chicken broth and tomatoes and bring to a boil. Reduce heat and allow to simmer 15-20 minutes.
4. While soup is simmering, juice the limes and set aside.  Start preparing the toppings: grate the cheese, chop the cilantro, cut up the avocado or prepare the guacamole, and fry the tortillas.
5.  Right before serving, add lime juice and chicken to the soup. Season with salt and pepper to taste. Ladle soup into the bowls and add desired toppings.
---
Notes
If you'd like to make the chicken all at the same time in one pot, follow these adaptations!
– Dice raw chicken into bite-sized pieces and combine in a bowl with marinade ingredients, including all seasonings, but omitting garlic and pepper. Let sit while you prep other ingredients.
– After step 2, push onion mixture to side of pan and transfer chicken to pot, including all juices/marinade.  Stir and cook until chicken is mostly cooked through and then proceed with step 3 in recipe.
–  You might want to taste the soup before adding the final lime juice in step 5 and add to taste.