---
Have you ever seen those healthy eating plans that start like, "Breakfast: one poached egg on top of sautéed tomatoes and zoodles, sliced avocado, and Italian roasted mushrooms." Okay. Let's just stop right there. If y'all are like me, unless I have a personal chef, that is never going to happen. Just reading those words make me feel like this whole new lifestyle change isn't going to happen because while I would LOVE to eat that for breakfast, I'm lucky if my breakfast options come from a blender and really, they're more likely to come from a package in the form of some kind of protein bar that I'm convincing myself is healthy.
My typical morning starts at 6. I start the washing machine, pack lunches (I know, I know…pack them the night before. That's hilarious. After we clean up after dinner and get the kids in bed, I'm pretty much crashed out on the couch in the middle of iZombie by 8:30. My husband keeps saying, "Kate. Kate. KATE. You're missing it!"), take the big dog out, take the little dog out (they can't be trusted to go out together when time is of the essence), wake up the big kids, wake up the little guy and get him dressed, feed him breakfast, help make sure my children don't look like orphans, out the door by 7:40, then it's either to the gym or Little Man to preschool and then me to the gym. And while on paper, it looks like I should have plenty of time to eat my own breakfast, it pretty much never ends up happening. Something happens. Shoes get lost. Unsigned graded papers magically appear. Someone's pants are cold, socks are sad, hair hurts (actually, "someone" is pretty much always means the three-year-old.)
And really, it doesn't stop. Three hours of preschool is done in the blink of an eye; errands, blog stuff, church stuff, carpools, sick kids, helping out in classrooms, ukulele lessons, drama class, cub scouts, my own social life. Life is crazy. I feel like I'm always on the run and it's hard to eat the way I know I should when I'm always on the run because I don't have time to grind my own quinoa flour and poach my backyard chicken eggs in the tears of a virgin unicorn.
I've loved Chobani Flips for a long time; I'm pretty sure both Sara and I have consumed enough Almond Coco Loco Flips to earn us some kind of lifetime achievement award. But when Weight Watchers changed their program late last year, my beloved Almond Coco Loco suddenly jumped to 10 points. Ten. Insert crying cat emoji here. That's 1/3 of my daily points. So while I still keep them in my fridge and indulge in a once in awhile treat, I needed another grab-and-go solution for my crazy mornings/afternoons/"I-can't-adult-anymore-let's-sit-on-the-couch-and-watch-The-Bachelor" moments.
Enter the Chobani's new Simply 100 Crunch.
All 3 flavors have 100 calories, 10 grams of protein, and 7 grams of sugar (they're sweetened with stevia, monk fruit, and evaporated cane juice)–I can do 3 Weight Watchers Points. Heck, I can do 3 Weight Watchers Points 10 times a day. Literally. I probably wouldn't. But I could.
They come in amazing flavors. Everyone in my house went for the Strawberry Chocolate Truffle first…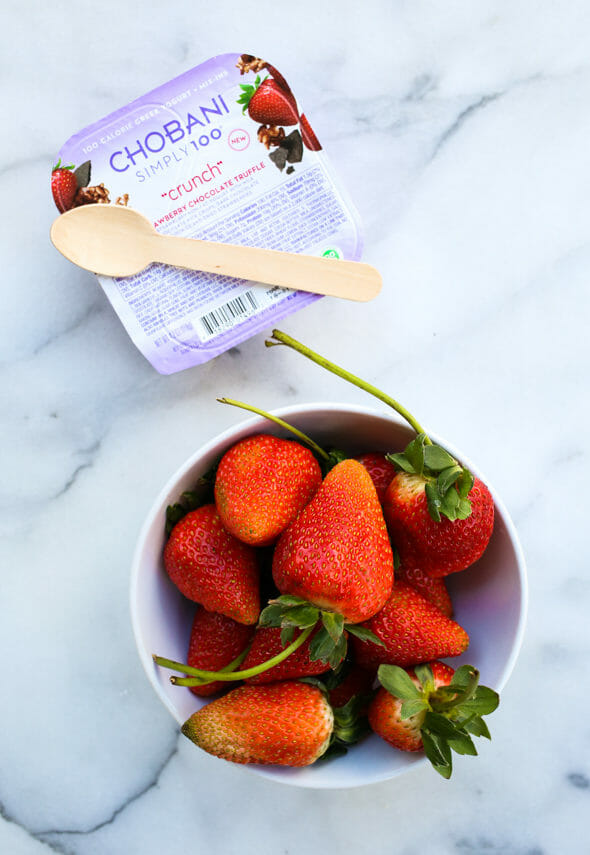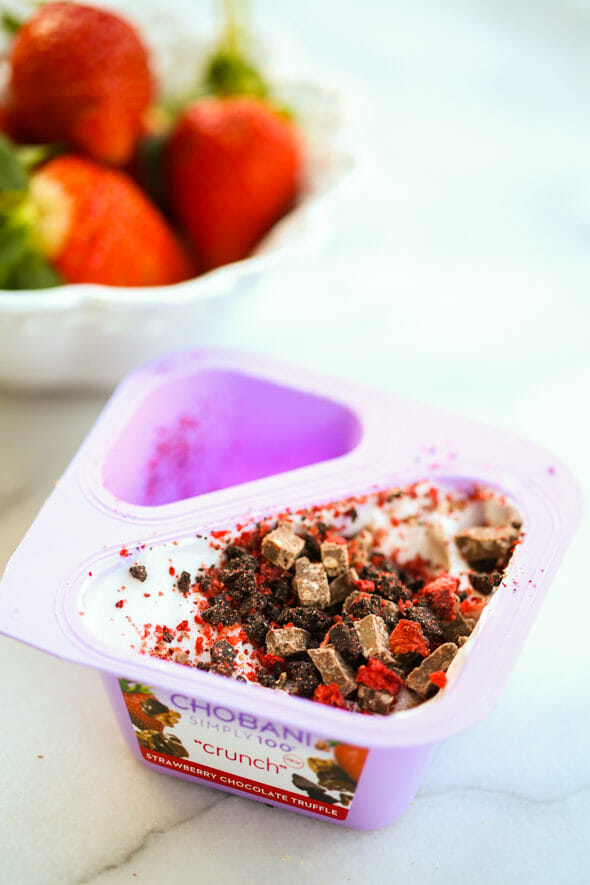 Freeze-dried strawberries, chocolate cookies, and chocolate chunks in strawberry yogurt.
We also loved the Mango Cone Crisp.
mango yogurt with pieces of dried mango (one of my favorite treats in the world) and pieces of waffle cone.
But everyone's favorite in my house is the Blueberry Cookie Crumble.

Blueberry yogurt with dried blueberries and crunchy pieces of oatmeal cookies.
The flavors, the texture, everything is perfection.
If I eat one of these for breakfast, I usually round it out with something to make it a little more substantial–a couple of clementines or a banana and a small handful of almonds end up being kind of the perfect breakfast, and one I can eat on the fly. But as far as a snack goes, it's perfect just by itself as post-workout fuel or a mid-afternoon (and mid-Bachelor) pick-me-up.
While my kids like Simply 100, they tend to reach for yogurt that's more…them. Last year, Chobani unveiled pouches and tubes, Greek Yogurt specially designed for kids and tots.
We're fans of Doc McStuffin's and Stuffy but since I have a kid named Clark, you've gotta know that the Justice League-flavored tubes win out in our house (because, you know, Justice League is totally a flavor):
We're fans of Doc McStuffins and Stuffy, but since I have a kid named Clark, you've gotta know that the Justice League-flavored tubes wins at our house (because, you know, it's a flavor):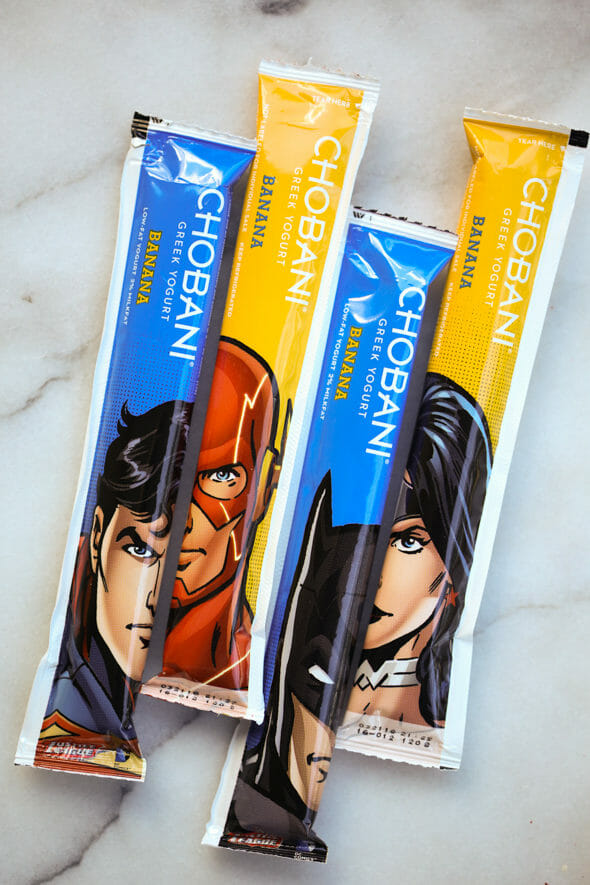 My kids found it particularly hilarious to mis-match the faces. It's yogurt AND a puzzle, people.
Also, just in case you were wondering, Strawberry Spiderman yogurt is delicious for both children and adults. Not that I would know. Who am I kidding? You could pretty much consider me an expert in this strawberry yogurt and my expert opinion is that it is amazing.
While I'm coolly snacking on my Simply 100 Blueberry Cookie Crumble, my kids are madly requesting yogurt tubes with their breakfasts and in their lunchboxes and for their after school snacks.
Little do they know that they have less sugar (25% less, to be exact) than the other yogurt they love, only natural ingredients, and have 5 grams of protein.

We can't make your lives less busy, but we can help you make good food choices along the way. We're excited to be teaming up with Chobani this year to show you how eating well (and feeding your kids well) doesn't have to be hard or involve zoodling at 6:00 am–grabbing and going doesn't have to mean food that tastes like pine shavings (or drive-thru breakfast sandwiches…just me? Got it.) Have you guys tried the new Simply 100 Crunch? The kids' yogurt? What do you think
This post was written in partnership with Chobani and my role as a Chobani Family Club member. All of my delicious reviews are my own. #ChobaniFamily