It's officially fall when you've made your first loaf of pumpkin bread!  I've made a lot of pumpkin bread recipes over the years and this Chocolate Chip Pumpkin Bread is my absolute favorite.  It uses 1 whole can of pumpkin, it makes 2 loaves, and it's got some healthier ingredients in it, but you would never know it!  This pumpkin bread recipe includes a small container of yogurt, but you can also use sour cream or even apple sauce if you don't have yogurt in your fridge.  It also uses both all purpose and a little whole wheat flour.  I love the combination, but you can just use all-purpose if you prefer.  It's incredibly soft and fluffy, even after cooling completely, and I can pretty much guarantee you'll love it.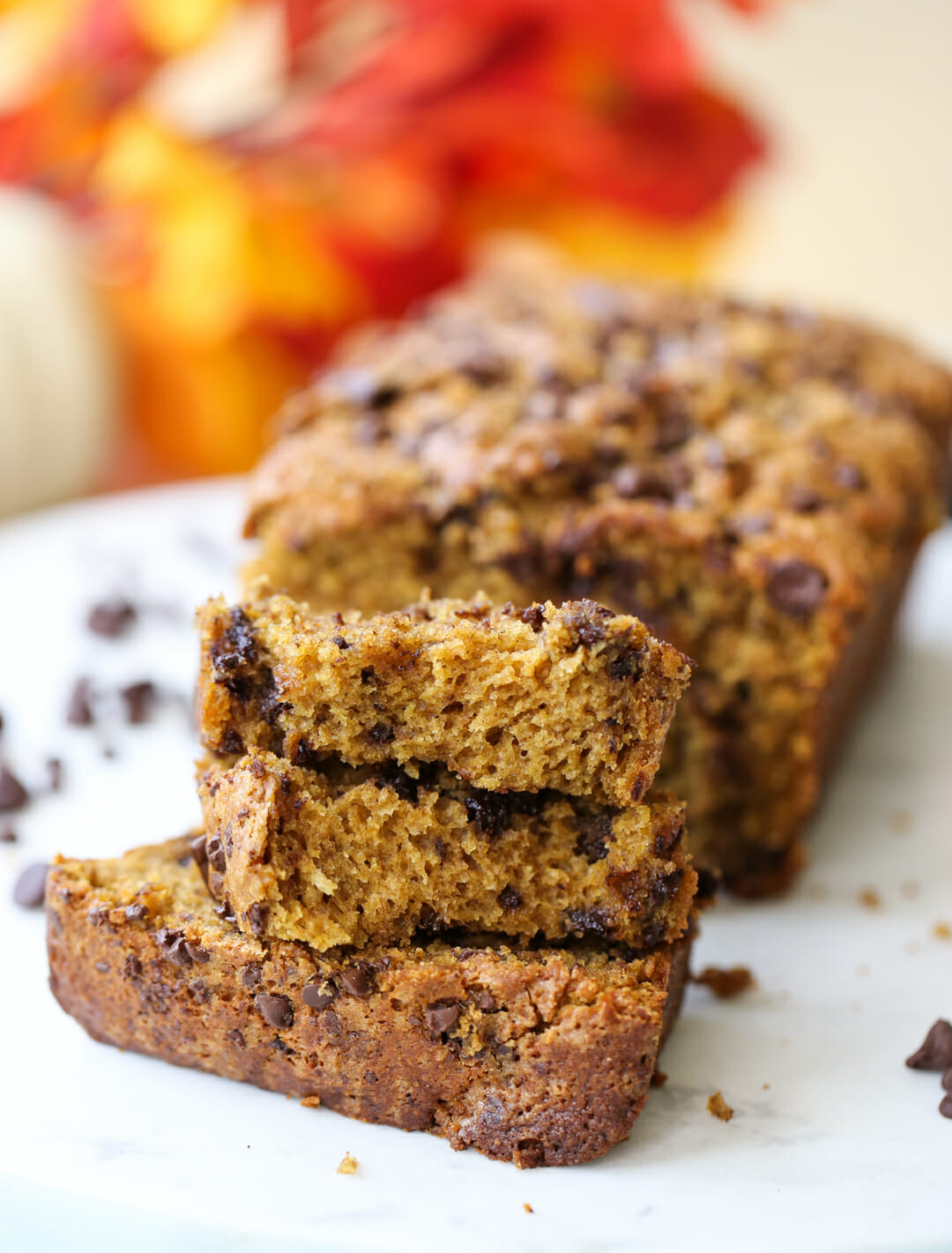 How do you make Pumpkin Bread?
These are ingredients I pretty much always have on hand.  If I don't have vanilla yogurt, I've even used lemon, orange, plain, banana or honey flavored.  It can be low-fat, high-fat, greek, whatever. As I mentioned before, you could also sub sour cream here.  The yogurt adds moisture that creates a really soft texture, without using too much oil.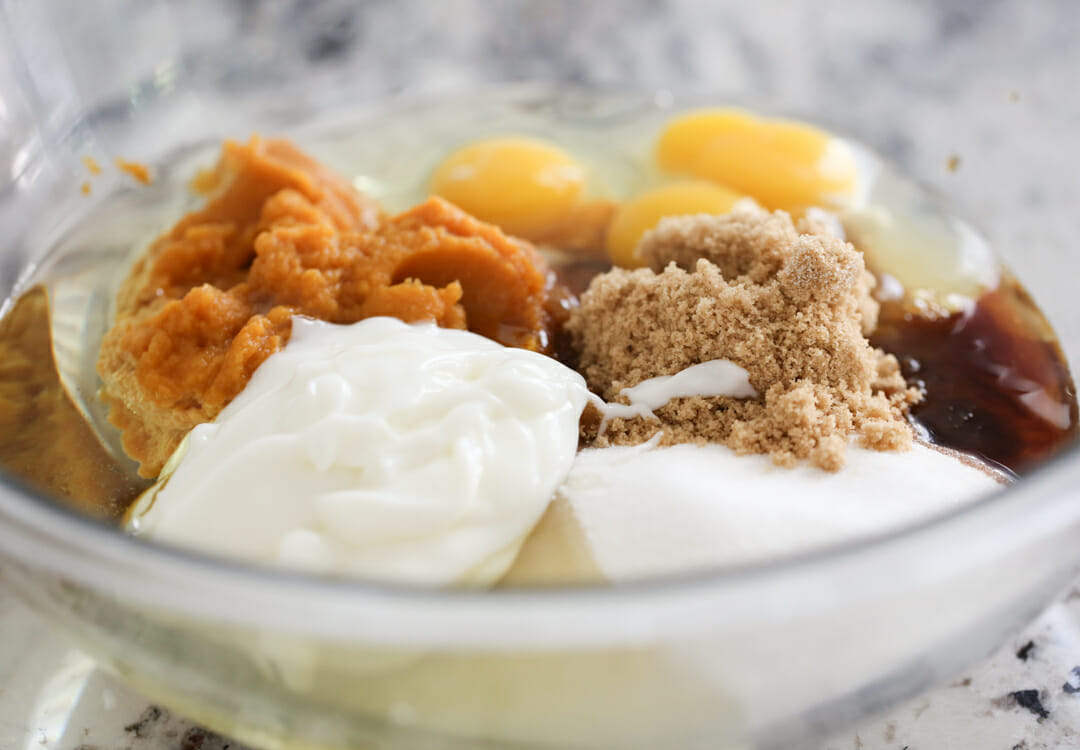 Another little secret in this recipe is some whole wheat flour.  It adds some fiber and creates some depth to the flavor.  I've also skipped that plenty of times and just used all purpose flour and it's fantastic as well.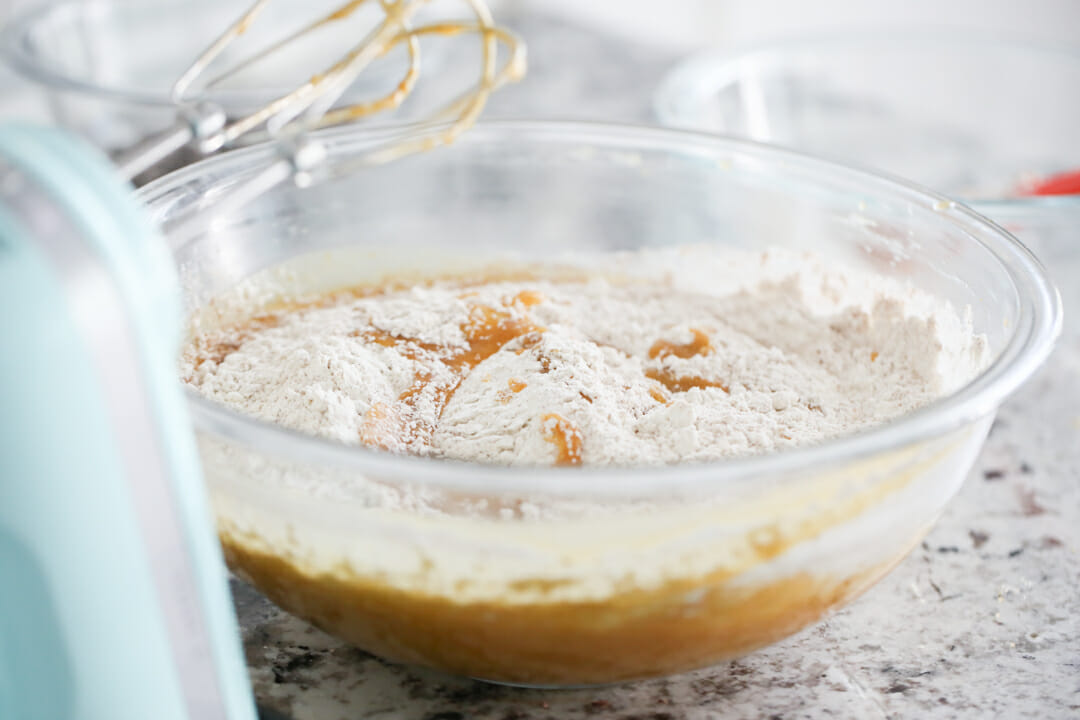 How do you keep chocolate chips from sinking in pumpkin bread?
TIP: If you've ever made quick breads (or muffins or cakes) with chocolate chips, you know they have a tendency to sink.  Before you add your dry ingredients to your batter, take a small spoonful and toss it with your chocolate chips. Then gently fold them into your batter.  The flour mixture helps keep them suspended in the batter so you'll have pieces of chocolate throughout!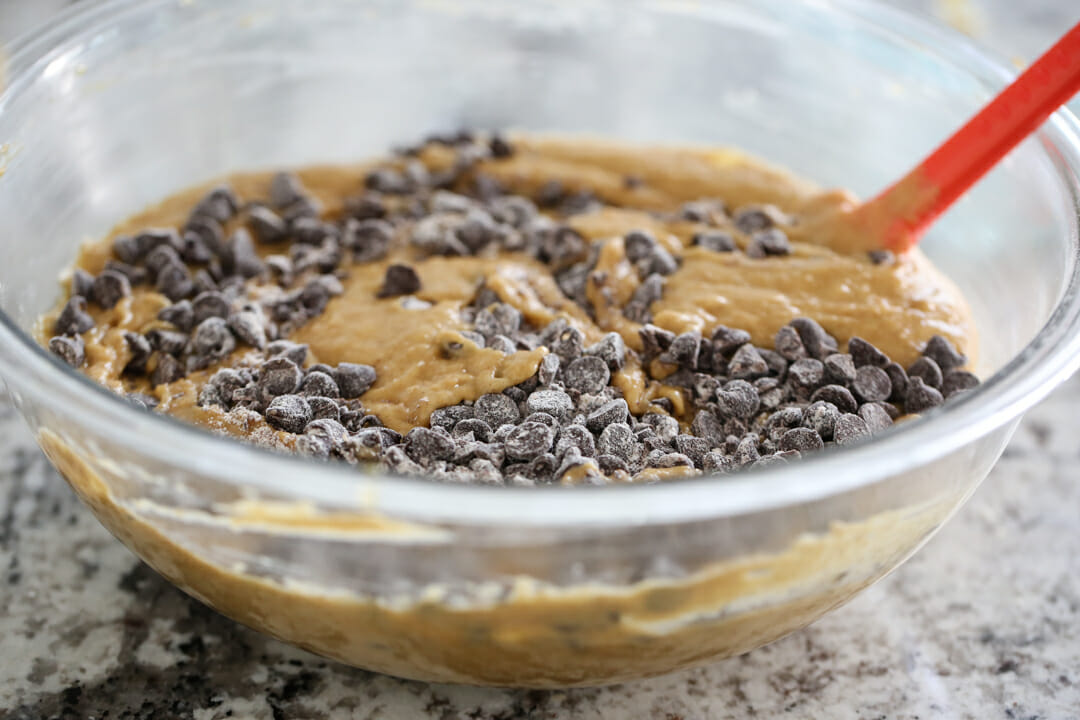 What topping can I use for my Pumpkin Bread?
You don't need any topping on this bread because it's so good as-is.  But just a little tip for any quick bread: sprinkle on 1-2 tablespoons of additional brown sugar on top, and a few extra chocolate chips in this case for an extra yummy top.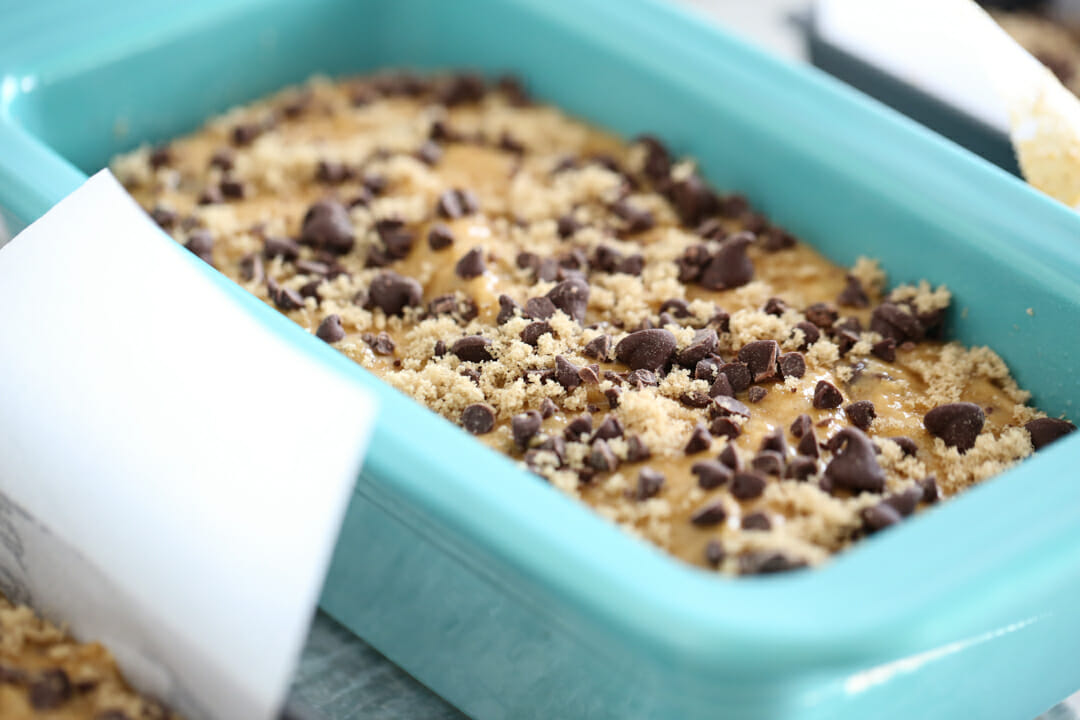 How many loaves does this recipe make?
I love that this recipe makes 2 loaves.  Most often I make 1 large loaf and 2 mini loaves.  TIP: I like to sling parchment paper as seen below for easy removal.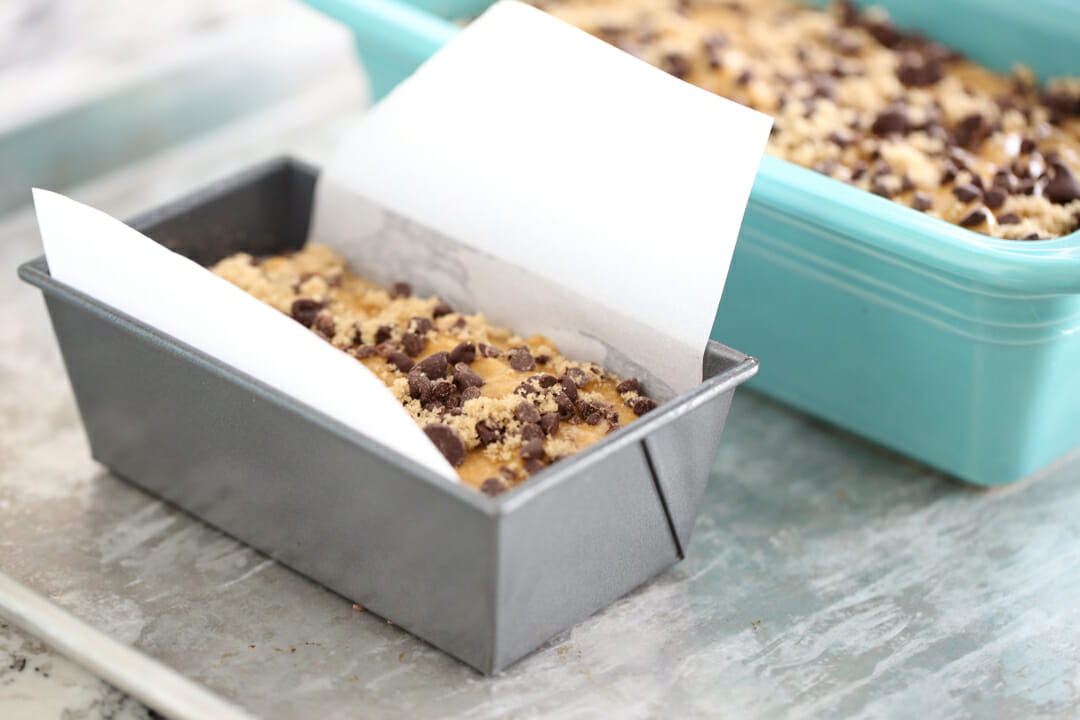 Bake it up and let it cool a bit before digging in. It's SO soft that it will probably fall apart on you if you try to pull it out while it's still hot!
This bread is amazing even the next day, and it will stay nice and soft.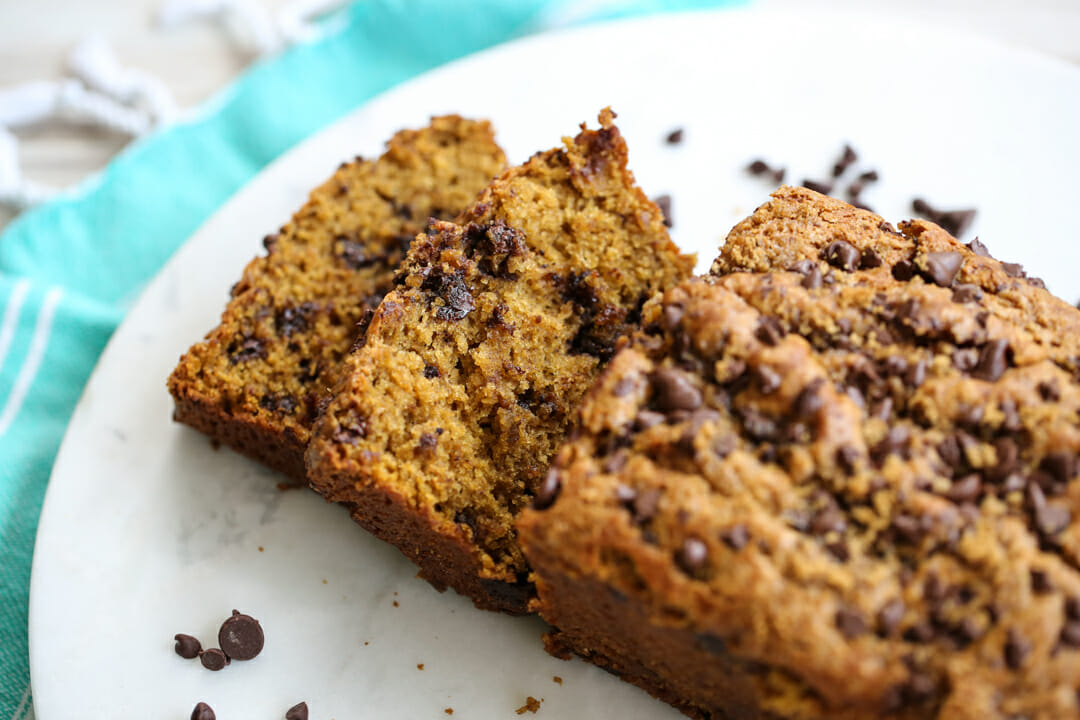 The chocolate bites make it extra decadent.  You might have noticed I used both regular and mini chocolate chips.  TIP: If I'm just using regular size chips, I like to run a knife over them and chop them just roughly.  I like how the little slivers of chocolate then disperse throughout the bread.  So great!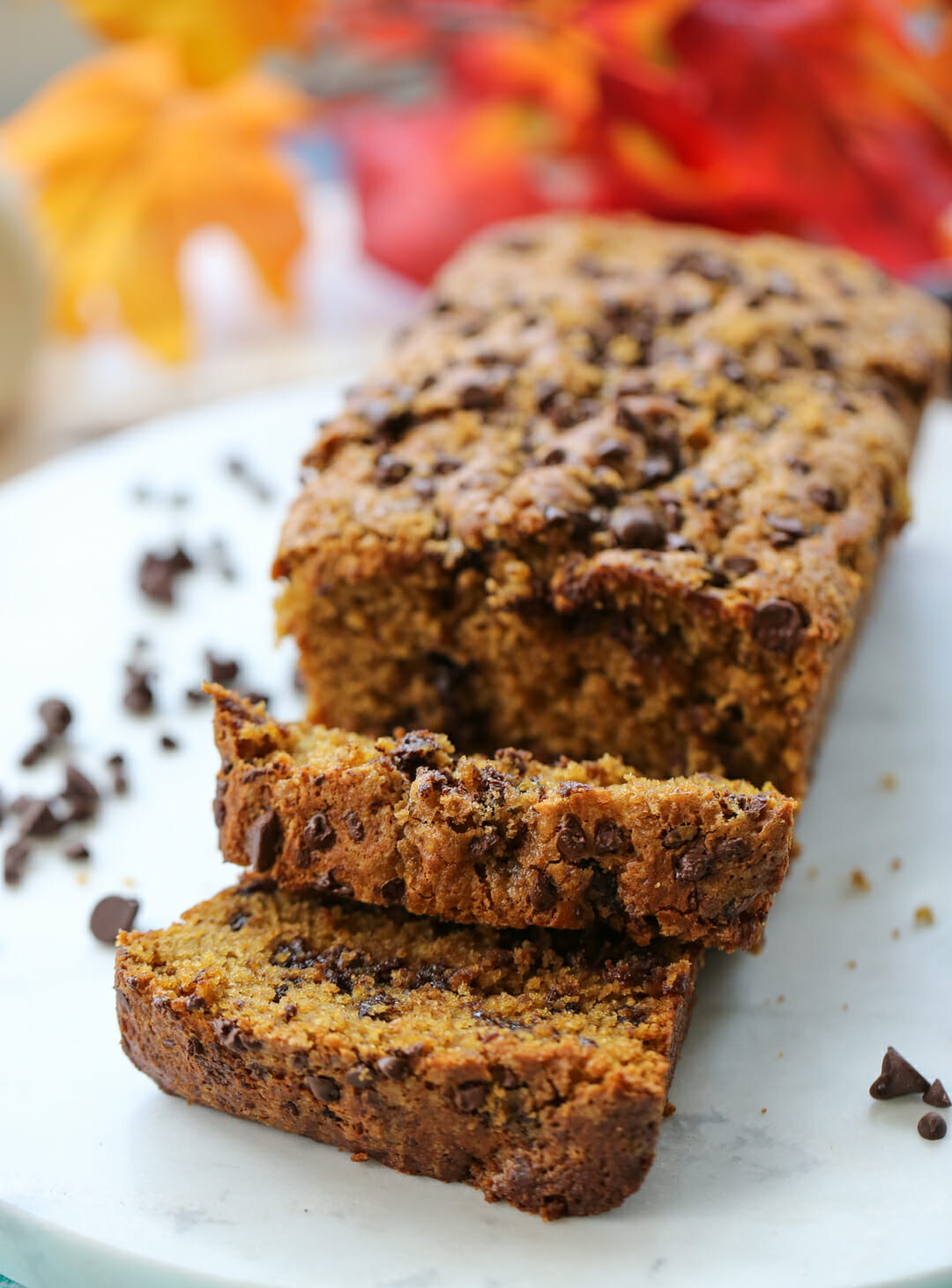 Print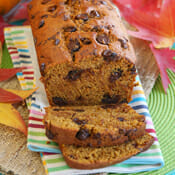 Chocolate Chip Pumpkin Bread
---
Description
Perfectly moist pumpkin bread with all of the spices of autumn. Studded with creamy morsels of chocolate, this is the ultimate pumpkin bread!
---
2 cups

all purpose flour, lightly spooned into measuring cup and leveled

1 cup

whole wheat flour (free to sub all purpose flour), lightly spooned into measuring cup and leveled

2 teaspoons

ground cinnamon

1/2 teaspoon

nutmeg

1/4 teaspoon

ground cloves

1 teaspoon

baking soda

1 1/2 teaspoon

baking powder

1 teaspoon

table salt

1/2 cup

brown sugar

1 1/2 cup

white sugar

6 ounce

container vanilla yogurt

3

eggs, slightly beaten

15 ounce

can pumpkin puree

1/2 cup

canola oil

1 teaspoon

vanilla extract

1 cup

chocolate chips (plus a few extra for the top of loaves)
---
Instructions
Preheat oven to 350 degrees. Spray 2 9×5 (or similar sized) loaf pans with nonstick spray and set aside.
Combine flours (after you put your flour in the bowl, just grab a teaspoon or two of it and toss with chocolate chips), cinnamon, nutmeg, cloves, baking soda, baking powder, and salt. Whisk gently to combine and set aside.
In a separate mixing bowl combine brown sugar and white sugar and whisk to combine, breaking up any clumps of brown sugar. Add yogurt, eggs, pumpkin, oil, and vanilla extract and whisk until smooth.
Slowly add dry ingredients to wet and mix together, being careful to not over mix. When combined, gently stir in chocolate chips. Divide batter between loaf pans and sprinkle a few extra chocolate chips on top. Bake for 50-60 minutes or until a skewer comes out with a few crumbs attached. All ovens are different, I would set your timer for about 45 minutes and keep an eye on it after that. Don't overbake!
Let cool for 10 minutes and then run a sharp knife around edge of pan and remove loaves from pan.
---
Notes
Great Tips
Don't get into it when it's still piping hot, or else it will fall apart. Wait until it's just warm – with a little bit of melted butter on top, it's like heaven!
A lot of times when you add chocolate chips to breads, cakes, and muffins, you're bread will bake up beautifully and all of the chips will sink to the bottom. To combat that problem, here's an easy fix: just toss a little of your flour in with your chips first. Once they're coated, the flour helps suspend them in your batter.