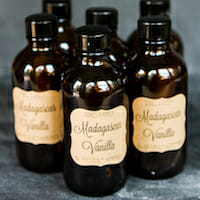 If you think you've seen this before, you're not wrong–I posted this last fall and it was our most popular recipe of 2013! It's not too early (or too late!) to get started on brewing your own homemade vanilla, so if this is something you've wanted to do in the past, today's your day!
Original Post
You guys, I have a confession. I'm kind of the biggest Grinch in the universe. I don't mean to be–I genuinely want to love the Christmas season. But see…when the 4th of July is over and then you go to Hobby Lobby and they're all decked out for Christmas, by the time the big day rolls around ALMOST 6 MONTHS LATER, I'm so done. I'm over it. Right now, I'm ambivalently pleased that Christmas is around the corner, but come December, I'll be ready to pack up my tree before I've even decorated it.
So in October, I'm all excited about Christmas cards and holiday goodies, so really, now is the key time for me to pounce on Christmas, because if I don't, I'm going to have a lot of half-filled treat bags, undelivered laundry detergent (yes, I give laundry detergent to friends and teachers for Christmas…I'm THAT friend), and Christmas cards that I post on Facebook 6 days after Christmas is over. Some of you may think I'm kidding or exaggerating. I'm so not. All of these things have happened.
Basically…I'm here to help anyone else who feels a little frazzled by the time December rolls around. If you've never made your own vanilla, it's amazing–the taste is incomparable (especially when you consider the cost of making your own vanilla vs. buying real vanilla extract), and if you make it for gift-giving, you can start now. October. Pre-holiday burnout. And when you give it as a gift, people can make their own dang cookies and your kitchen stays mess-free, which is pretty much the greatest gift you can give yourself AND your children during the busiest time of the year.
You're going to need some supplies–vanilla beans, liquor (yes, vanilla extract is made with liquor–I know people who were genuinely shocked to learn this), and bottles. And labels (eventually, but you can get them now if you want). If you're like me and live in a place where you can conveniently purchase large bottles of hard liquor in grocery stores and places like Sam's Club and Costco whilst buying baby food, milk, and eggs, the liquor purchasing is no biggie (unless you're trying to draw as little attention to yourself as possible and proceed to lose your Sam's Club receipt, so you're waiting in line to get a duplicate receipt so they'll let you leave, then you spill your entire 32-ounce Diet Coke and run into your ecclesiastical leader with a giant bottle of vodka and a giant bottle of white rum in your shopping cart…not that I know ANYTHING about this scenario…)
ANYWAY. I decided I wanted to try making vanilla with both vodka and white rum to see what I liked better. For the record, they both smell like death.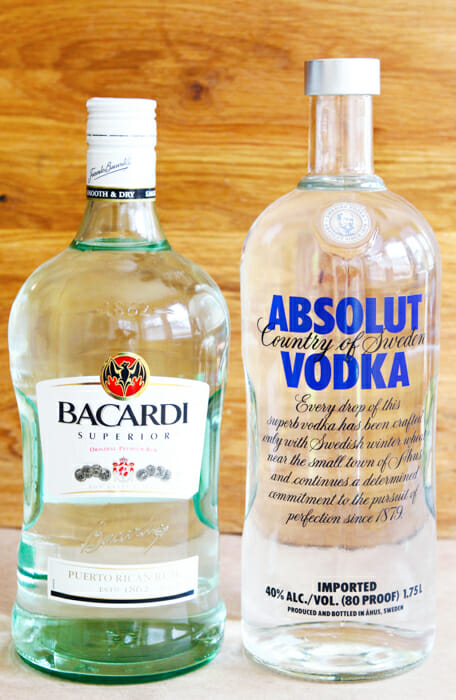 When it comes to booze, I pretty much know nothing from firsthand experience, so I was just going off what I was reading on the internet. Vodka is often the standard for vanilla-making, but a lot of people also recommended using rum. But…I don't like the flavor of rum–I find it sickly and overpowering. So I decided to try using white rum, which is just about as flavorless and straight-up alcohol-y as vodka.
I was actually pretty surprised to discover that even though the vodka and white rum smelled almost exactly the same before I added the vanilla beans, once they had brewed for awhile, they were very different. The vodka vanilla was similar to what you buy in a store, so if that's what you're after, go for the vodka. The rum vanilla was sweeter and more fragrant. After a few years of making this, I only use white rum to make vanilla because it's hands-down my favorite.
I bought my bottles and vanilla beans from Amazon. Don't even think about buying your vanilla beans in a grocery store–they're, like, $10/bean, plus 20% of your soul and a security deposit on your firstborn child. Think about how many bottles you want to make, and shop around for the best price according to your needs. These ones are great. OliveNation also has really great sales on them sometimes, so be sure to check them out and watch there, too. If this turns into "your thing" you're planning on doing every year like me, I'd recommend just kind of watching all of the time, so you can get a feel for how prices are fluctuating.
I use these 4-ounce glass bottles.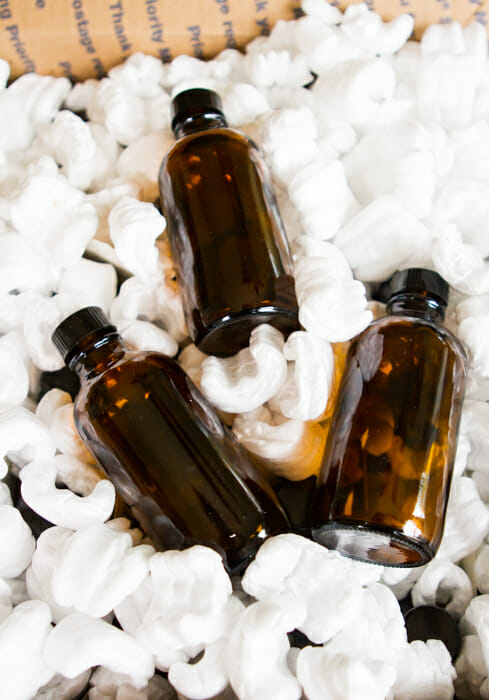 I think these are ideal because it's the perfect size for gift-giving and the dark-colored glass helps protect the flavor of the vanilla.
There are lots of different methods to making vanilla, but I like cutting the ends off.
This helps the brewing process go faster, so if you get a late start (like mid-November), you could still conceivably have enough time to get it done.
I divided up my beans equally into large mason jars…
and then covered them with the rum (or vodka…but really, it's all about the rum.)
You could also put the beans directly into the bottle, but I wanted to use the beans later for something else and I didn't want to risk them getting stuck in the narrow neck of the bottle.
Place the lids on your jars and shake them vigorously. Then place them in a cool, dark place (like a closet or a cupboard) and shake them once a week or so.
In about a month, the vanilla flavor will have started infusing the liquor and it will be darker and fragrant. It will never get as dark as commercial vanilla because they almost always use artificial coloring, but as long as it smells good, you're good to go.
It's usable at this point, and likely better than most stuff you can buy in the store. But if you can, I would let it brew for another month at least. This year, I started mine in July!
Finally, when you're ready to give these away, carefully (like…use a funnel. This stuff is precious) fill the bottles.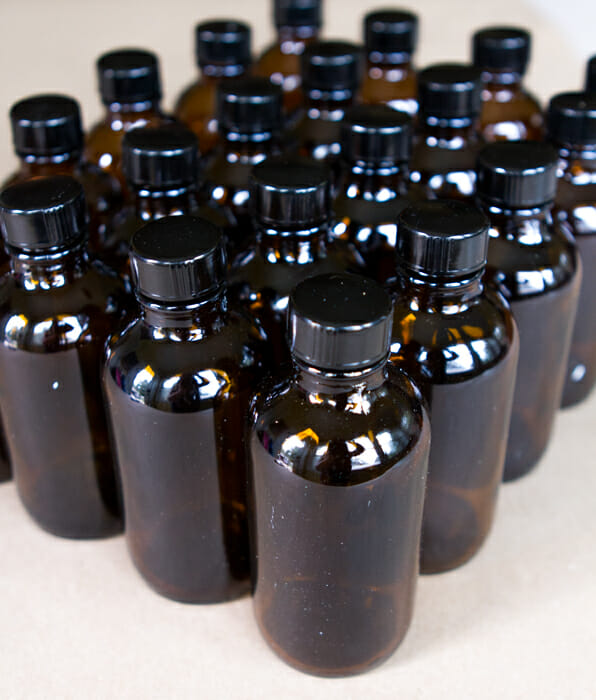 I also stick a bean in each bottle so the flavor will continue to get stronger (you may need to trim it down a little to fit).
If you have beans left over, be sure to squeeze out the bean paste from the beans
and save it in an airtight container. Use it in ice creams, sweet sauces, whipped cream, jams, jellies, etc. You can also allow the pods to dry out (after you squeeze out their insides) and then grind them up into a powder using a coffee or spice grinder and sprinkle it into anything that you'd like to add vanilla flavor to (or mix it with sugar to make your own vanilla sugar).
To make the labels, I used some Martha Stewart kraft paper labels that were once available at Staples, but they don't make them anymore. Here is what I've found that you might be able to use instead:
Also, I found this handy-dandy punch if you want to get creative.
I'm not including a printable because you might want them to say something different or more customized (plus, chances are your name is not Jones…and what if you use Tahitian vanilla beans? Or Mexican?). But I will tell you how I made them in the printable instructions below, so never fear.
Check out how cute they are on the bottles!
Also…remember these cookies? Giant oatmeal chocolate chip cookies? They call for a whole tablespoon of vanilla, which is part of what makes them so delicious. So if you really love someone, you could tuck a copy of that recipe in with a bottle of this amazing vanilla with a bag of high-quality chocolate chips (these Ghirardelli milk chocolate chips are my favorite for that particular recipe).
Excited?? I hope so! This is the only way our neighbor/co-worker gifts get done!
This is how I did things…please feel free to customize everything to your own needs/tastes.
---
Description
A practical, original, and yummy gift – perfect for the holidays!
---
2

1.75-liter bottles vodka or white rum

60

vanilla beans

4

-ounce glass amber bottles (between 30-40) washed (you probably won't use all of them at once)
Martha Stewart Kraft Labels, Flourish style
---
Instructions
Cut the ends off the vanilla beans and divide them evenly among 4-5 1-quart glass mason jars.
Cover with vodka or rum and close tightly. Shake vigorously.
Place in a cool, dark place and shake the bottles about once a week for at least 1-2 months (but you could do this forever if you wanted).
When ready to gift, carefully fill each glass bottle with vanilla extract and secure the lids tightly. If you'd like, you can include a vanilla bean (you'd likely have to trim it) in each bottle.
---
Notes
If you have beans left over, be sure to squeeze out the bean paste from the beans and save it in an airtight container. Use it in ice creams, sweet sauces, whipped cream, jams, jellies, etc. You can also allow the pods to dry out (after you squeeze out their insides) and then grind them up into a powder using a coffee or spice grinder and sprinkle it into anything that you'd like to add vanilla flavor to (or mix it with sugar to make your own vanilla sugar).
For the labels, this is what I did:
1. Use the template designs OR make your own to print using this Avery template.
2. The print font is Penelope Anne and the script font is Lavenderia. Everything is centered.
JONES FAMILY (Penelope Anne, 14 pt font)
Madagascar Vanilla (Lavenderia, 26 pt font)
ALL-NATURAL * HOMEMADE (Penelope Anne, 14 pt font)
If you'd like, you could include favorite recipes that use vanilla and a key ingredient, like a bag of chocolate chips.
*Disclaimer: This post contains affiliate links.