Several years ago I was at a holiday party and spied a pie plate full of bright crimson something-or-other.  I honestly thought it involved Jell-o and walked right past it to the double fudge brownies.  I was surprised however, when a little while later I noticed everyone at the party huddled around the red stuff trying to scoop it up before it was gone.  Peer pressure and curiosity got the best of me and I jumped right in there to see what all the fuss over this Fresh Cranberry Salsa Dip was about.  I ate it intently, to figure out what all of the ingredients were and quickly understood why it was the the belle of the ball.  It was sweet, yet spicy, tart and flavorful.  This recipe is a salsa made from fresh cranberries, served over cream cheese for the most amazing holiday dip!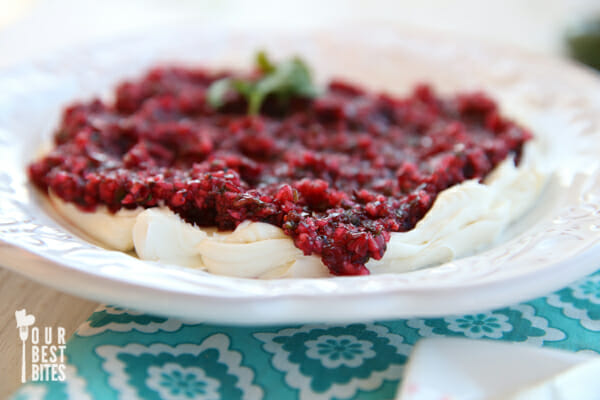 apparently i was living under a rock
A little googling and I realized it was a popular recipe, with lots of similar versions all over the web- most coming from friends, grandmas, and newspaper clippings.  If this is new to you, don't be turned off by the unusual combo; this is the perfect holiday appetizer dip recipe and I promise it will have everyone standing around the bowl scraping up the last bite.
You're basically making a salsa, with beautiful, tart cranberries.  It's poured over a plate of cream cheese and served with crackers.  Watch!
how to make it
Fresh cranberries are only in stores for a short window during this time of year and they're SO gorgeous that I love finding ways to use them in the kitchen.
If you have a large food processor you can pretty much throw everything in there together.  I have a smaller one, so I like to process a bunch of the cranberries on their own first, and then add the rest of the ingredients.
Pulse them until they're pretty fine,
and then place them in a mixing bowl.   Fresh cranberries are quite tart and bitter on their own, so sugar is added to sweeten them up.  You can adjust the amount of sugar to your liking.  Some recipes call for up to a whole cup of sugar.  I like mine with about a half of a cup.
Next, process the rest of the berries with a generous handful of green onions, cilantro, and jalapeno.  Like any salsa, you can adjust all of these ingredients to taste.
I'm not a fan of super spicy things, so I tend to cut way back on things that call for jalapeno, but this is an exception.  For the amount it makes, and the fact that everything is mellowed by the cream cheese, you can really add quite a bit of jalapeno and still not have it be too spicy.  I added 2 whole peppers and it wasn't spicy at all.
Mix everything together and let it chill for at least a couple of hours to let the berries macerate in the sugar.
In the mean time, spread out some cream cheese on a pie plate or dish.
Spread the salsa right over the top.
serving it!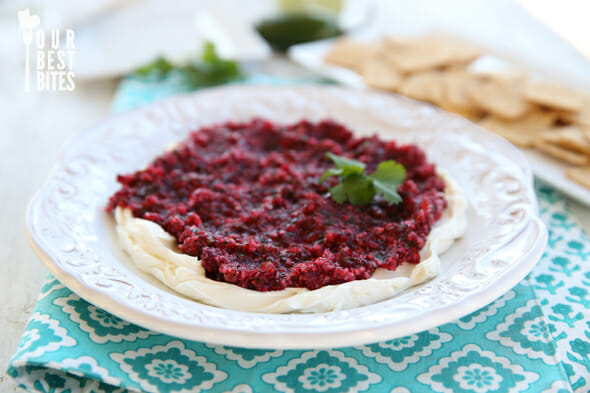 Serve it with crackers for dipping.  My favorite are wheat thins because they're strong enough to not break in the cream cheese, and those nice square edges make it really easy to grab the perfect bite.
It's also suuuuper delicious on Ritz crackers, but I often serve those with a little spreader.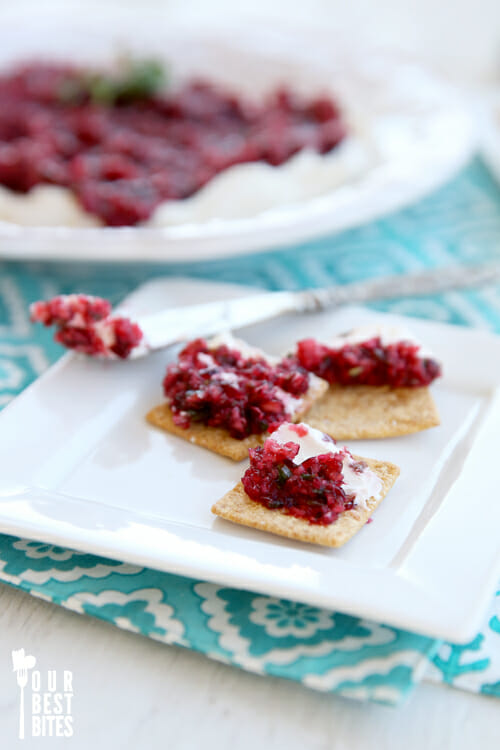 This is a great make-ahead dish you can keep in the fridge to pull out when holiday guests arrive.  It's unique, beautiful, and most importantly- tastes awesome.
Print
Fresh Cranberry Salsa with Cream Cheese Dip
---
Description
The perfect sweet & savory holiday appetizer: bright and tangy cranberries combine with spicy jalapenos and are cooled by creamy cream cheese.
---
12 oz

bag fresh cranberries, washed

2

jalapenos, minced (adjust according to taste)

1/2 cup

sliced green onions, roughly chopped

1/4 cup

chopped cilantro, roughly chopped

1/2 tablespoon

lime or lemon juice

1/4 teaspoon

kosher salt

1/2 cup

sugar, more to taste if desired

2

8-ounce packages cream cheese, at room temperature
---
Instructions
Place cranberries, jalapenos, green onions and cilantro in a food processor and process until fine. Transfer mixture to a bowl and stir in lime juice, salt, and sugar. Chill in fridge for about 2 hours or more. To serve, spread cream cheese evenly in a pie plate or other shallow serving dish. Spread salsa on top and serve with crackers.
---
Notes
Feel free to adjust this basic recipe to taste. I like to be heavy-handed with the onion and cilantro, and if you like a kick, add more jalapeno peppers! One recipe makes enough for 2 blocks of cream cheese. Often I'll just serve it over one block at a time and save the extra salsa for another night.
If you're looking for other delicious dips, give a few of these a try!
The Perfect Cheeseball
The Ultimate Queso
Garlic-Artichoke Dip