We certainly couldn't do a Retro-Week without a casserole, right??  You may have noticed we don't have many casseroles on our site.  And we kind of pride ourselves on having only have one (yes, one!) recipe that calls for cream-of-anything soup (don't mess with funeral potatoes.)  But there is something so nostalgically comforting about a nice warm casserole, and even more so if it involves a crunchy topping.  Like I'm sure many of you did, we ate a lot of casseroles in my house growing up, and some of my favorites are still major comfort foods for me.  But now that my tastes have matured a little, I see that many of the popular throw-together casseroles have the same problems that make them not so appealing to me now.  They often involve bland flavors, over-cooked chicken (from putting already cooked chicken in a casserole dish and then baking it more) and mushy noodles or rice.  And while I don't have anything against condensed  soups, I'd rather make something from scratch because it usually tastes much better.  This Chicken Noodle Casserole is a new family favorite, and it involves some tricks that solve the problems I was just talking about.  It's just a good, creamy, cheesy, comforting, dish with noodles, chicken, and veggies and topped with a buttery crumb topping.
Let's make this.   Bring some salted water to boil in a dutch oven.  We're only going to boil the noodles for about 3 minutes.  They should be just barely al dente at that point and that's how we want them.  By under-cooking the noodles here, we can add them into the casserole to let them finish cooking in the oven and avoid the mushy-noodle syndrome casseroles so often fall victim to.  As soon as they've cooked enough, we'll rinse them in cold water to stop the cooking process.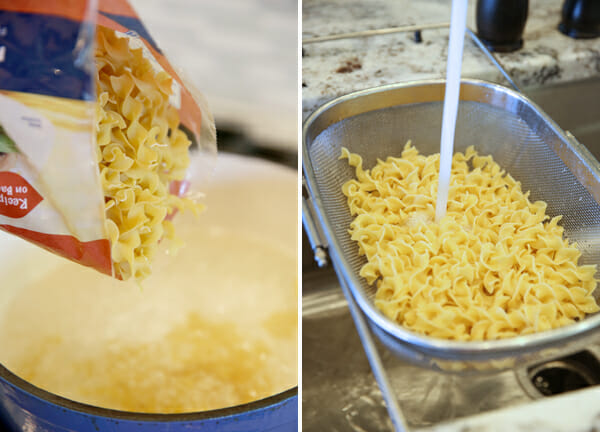 Now that our pot is empty, add a pat of butter and saute some sweet bell pepper and a finely diced onion.  Those will cook for about 5 minutes and then you can take them out and set them in a bowl to the side.
In goes a bit more butter for our roux.  (A roux is a mixture of fat and flour, used to thicken sauces.  Read more about making a roux, here.)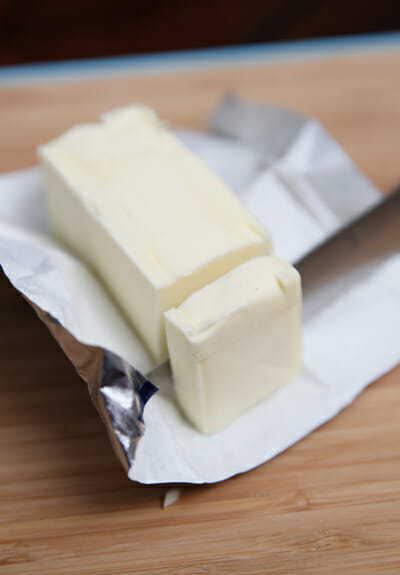 Toss in a few tablespoons of flour, and whisk it up for a minute.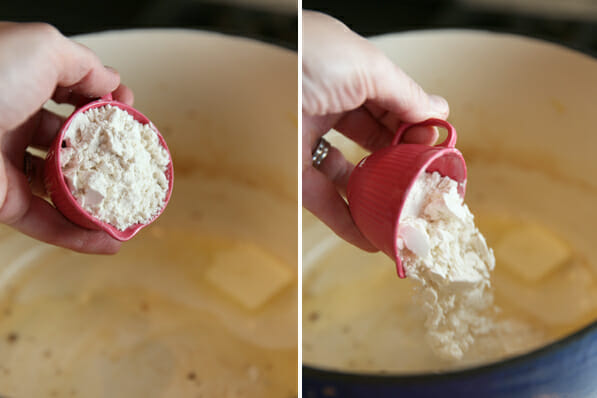 Then very slowly add a little bit of liquid at a time (we're using both chicken broth and half-and-half here) and whisk whisk whisk.  It will thicken immediately, and one of the secrets of a non-lumpy sauce is not to pour in all of the liquid at once.  Always add a little at a time, or a very slow steady stream as you whisk the entire time to incorporate the flour mixture.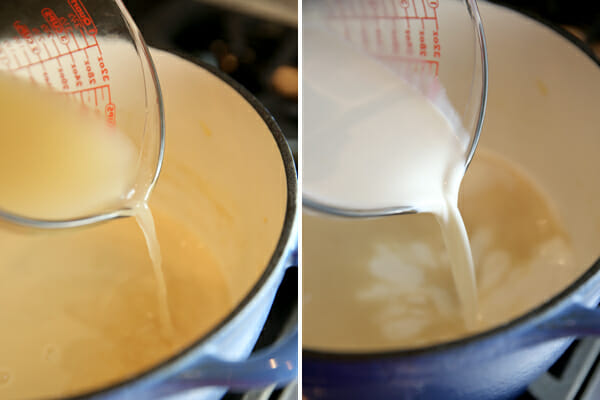 After that sauce boils for about 5 minutes, we'll add chicken directly to the pot. Gently poaching it will not only ensure juicy chicken, but it will flavor the sauce as well.  Another trick here is that we're under-cooking the chicken just slightly, as we under-cooked the noodles.  This allows it to finish cooking in the oven, as opposed to over-cooking in the oven and ending up dry and chewy.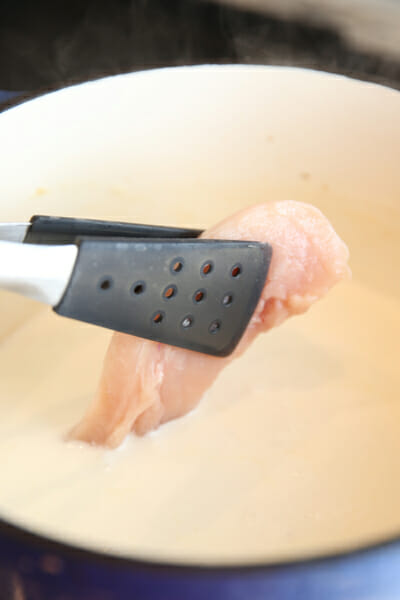 Pull the slightly pink chicken out and shred it into bite-sized pieces.
While you're waiting for the chicken to be cool enough to handle, you can whisk your cheese into the sauce.  Sharp cheddar provides great flavor, and American gives the sauce body and a creamy smoothness.  In addition, American cheese provides unique stabilizers that prevent the sauce from breaking so it stays creamy and smooth from start to finish.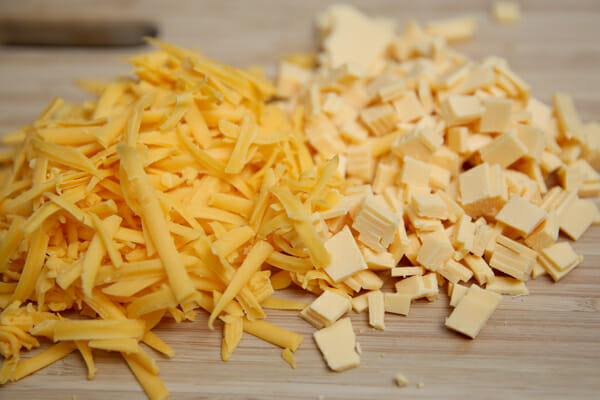 When you're shopping for American cheese, hit the deli counter for the best quality (aka: avoid the Kraft Singles, that's not what we're going for here.)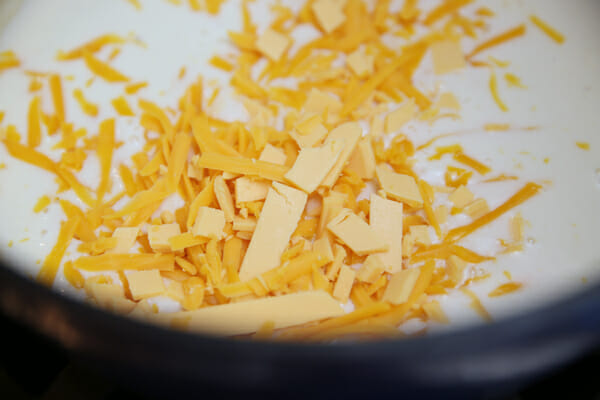 Before we throw this all together, you'll need some frozen peas.  I was just texting Kate the other day about how I don't like peas, but oddly enough I think they totally work here.  They just provide a mellow sweetness (and a pop of color) that just sort of blends in well.  To avoid extra moisture in the sauce, I run my peas under warm water, drain them, and then pat them dry before putting them in.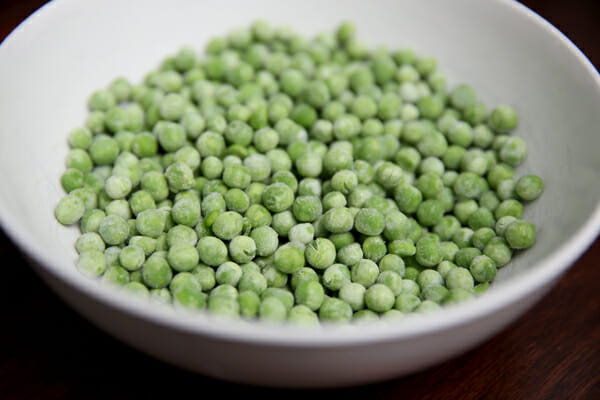 No just toss it all together.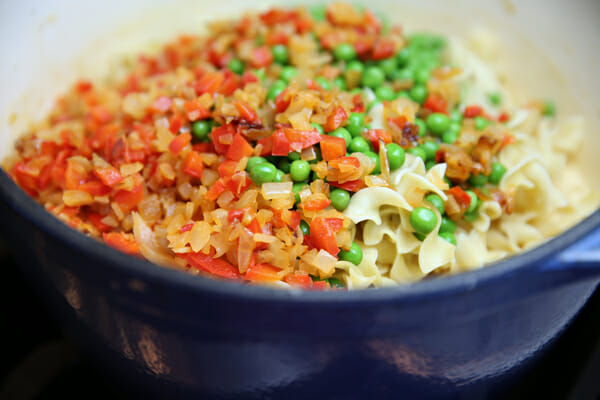 And put it in a 9×13 pan (or you could put it in individual baking dishes if you wanted)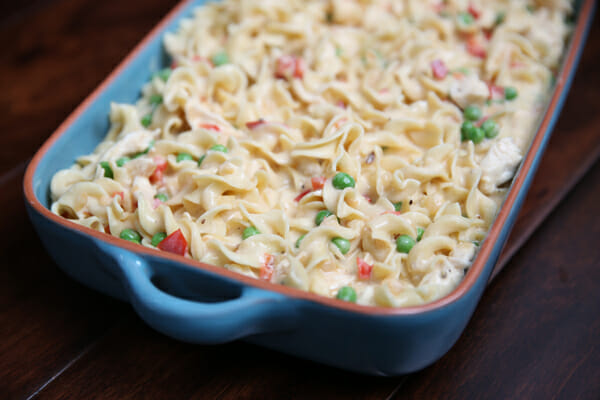 And you can't have a retro casserole without a retro topping.  Corn flakes and potato chips were on the list I'm sure, but the winner is buttery Ritz crackers.  They work like bread crumbs would, and make a crispy crunchy topping you'll for sure want to pull off and eat before it's actually time to serve this.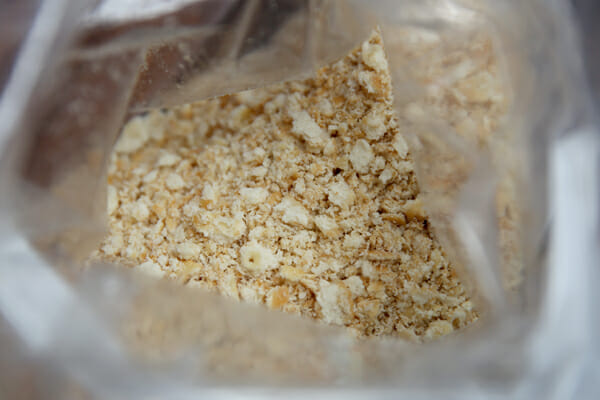 It all bakes up together for about 15 minutes.  That finishes cooking the chicken and pasta perfectly, and toasts the buttery crumb topping.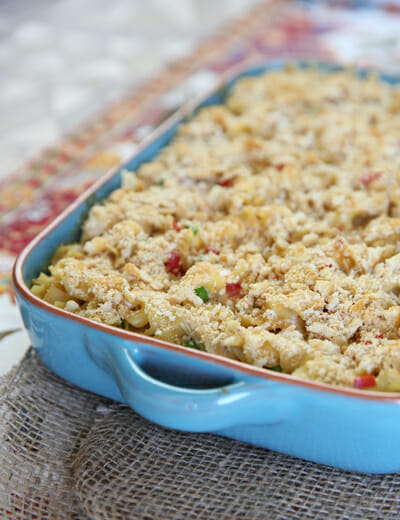 Make sure you let this sit for 10-15 minutes so the sauce can set up before serving.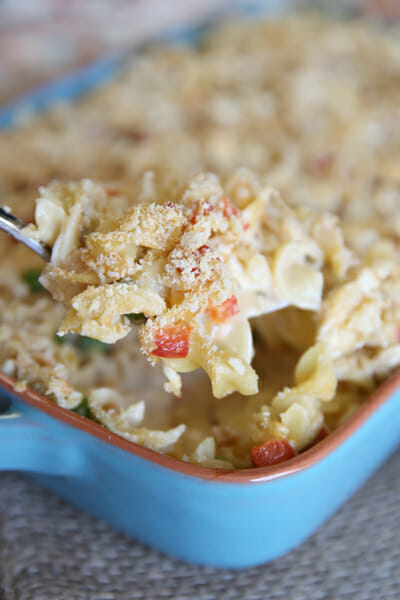 My kids devoured this, and my husband and I stuck our forks in the leftovers for the rest of the day.  New family favorite!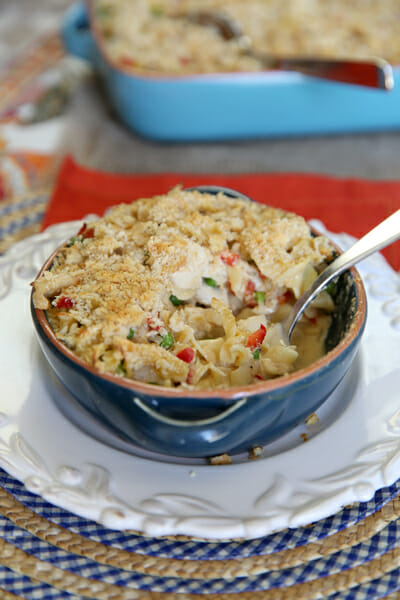 If you want to prep this ahead, you could definitely make it up to the point where you top with crackers.  I would put it in the pan and then cover and refrigerate.  Before you bake it, give it a stir to distribute the sauce, and then sprinkle the crackers on right before baking.
Chicken Noodle Casserole
Recipe slightly adapted from Cook's Country April/May 2013
12 oz wide egg noodles (7 3/4 cups)
salt and pepper
3 tablespoons unsalted butter
1 red bell pepper, stemmed, seeded, and chopped fine
1 small onion, chopped fine
3 tablespoons all purpose flour
2 cups half-and-half
2 1/2 cups low-sodium chicken broth
1 pound boneless, skinless chicken breasts, halved lengthwise and trimmed
4 ounces deli American cheese, chopped coarse
4 ounces sharp cheddar cheese, shredded
1 1/2 cups frozen peas, thawed and patted dry
25 Ritz Crackers, crushed coarse
1. Bring 4 quarts water to boil in a Dutch oven.  Add noodles and 1 tablespoon salt and cook, stirring often, until just al dente, about 3 minutes.  Drain noodles and rinse with cold water until cool.  Drain again and set aside.
2.  Melt 1 tablespoon butter in now-empty pot over medium-high heat.  Add bell pepper and onion and cook, stirring occasionally, until softened, about 5 minutes.  Transfer to bowl; set aside.  In now-empty pot, melt remaining 2 tablespoons butter over medium heat.  Add flour and cook, whisking constantly for 1 minute.  Slowly whisk in half and half, a little at at time as you whisk to incorporate flour mixture and smooth out lumps.  Add broth and bring to a boil.  Reduce heat to medium-low and simmer until slightly thickened, about 5 minutes.  Add chicken and cook until no longer pink, 8-10 minutes.  (Chicken won't be cooked all the way through, that's okay)
3.  Adjust oven rack to upper-middle position and heat oven to 425 degrees.  Remove pot from heat, transfer chicken to plate, and shred into bite-size pieces  once cool enough to handle.  Whisk American and cheddar cheeses into sauce until smooth. Stir shredded chicken, noodles, bell pepper mixture, peas, 1 1/2 teaspoons salt, and 1 1/4 teaspoons pepper into cheese sauce.
4.  Transfer mixture to 13×9 inch baking dish and top with crackers.  Bake until golden brown and bubbling, about 15 minutes.  Let casserole cool on wire rack for about 15 minutes.  Serve.