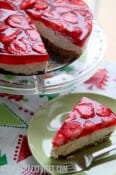 So before I left for my vacation over Thanksgiving, I did something stupid. Reeeeeally stupid. I made this recipe (that wasn't stupid, that was good planning with lots of forethought) and took pictures, but I wasn't happy with how the final pics (ummmmm…I've discovered that Jello is really hard to photograph). So I unloaded my SD card onto my computer, deleted all the pictures on the card so it would be nice and empty for my trip, and then figured I'd have the pictures when I got back.
I have no pictures (at least no pictures that I didn't take of the final product today).
I don't know what happened to them (along with the pictures of my kids at the zoo and my dog being creepily human-like), but they are gone and I am sad. At least we have Creamy Jello Pie, right?
In all reality, I'm willing to bet the vast majority of you have some variation of this recipe already. It is kind of like the No-Bake Peanut Butter Bars or Muddy Buddies–it just seems to be one of those things that everyone has at their holiday potlucks, which is a good thing because it is delicious. The primary difference here is that it's usually made in a 9×13″ pan, but it is prettier, easier to cut, and, dare I say tastier when it's in pie form. Heck, my husband claims to hate this dessert (or "salad" as you may sometimes find it called, which, sadly, doesn't make it healthier), but when it's in pie form, he thinks he's eating some fluffy strawberry cheesecakey treat with a salty-sweet crust and then he wants some more. This is one of the many ways that I mess with his brain.
For starters, preheat your oven to 350. Then you'll need about 3 1/2-4 cups of pretzels, sugar, and butter. Imagine placing the pretzels in a blender or food processor (I really love my Blendtec) if you have one and processing them into crumbs so you get about 1 1/2 cups of pretzel crumbs. In a medium bowl, mix the pretzel crumbs with 1/4 c. sugar and a stick and a half of melted butter. That's right. A stick and a half of butter is where we're heading. Gently press the crumb mixture into the bottom of a 10″ springform pan and place the pan in the oven. Bake it for 10 minutes, then remove it and let it cool completely.
When the crust is cool, combine 2 8-ounce packages of cream cheese, a small can of drained crushed pineapple, and 3/4 cup granulated sugar. Beat with an electric mixer until light and fluffy, then fold in a thawed 8-ounce container of Cool Whip or 1 8-ounce tub of Cool Whip or 8 ounces of sweetened whipped cream. Gently spread it over the cooled crust and then refrigerated for about 1 hour.
Bring 2 cups of water to a boil. When it's boiling, add 2 3-ounce packages of strawberry Jello and stir to combine. Add a 14-16 ounce package of frozen sliced strawberries and stir until the strawberries are thawed. Gently pour over the cream cheese mixture and refrigerate until the Jello is set or at least 2 hours.
When you're ready to serve it, gently run a butter knife around the edge of the springform pan and then gently release the sides of the springform pan.
Cut into wedges and serve.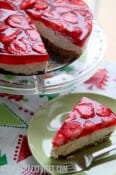 Pretend that because it's so light and fluffy and strawberry-y that it's also calorie-free because that's how these things work.
Creamy Strawberry Jello Pie
---
Description
Always a tried-and-true crowd favorite, this pie is fluffy and strawberry-y and creamy. Great for a summer party!
---
1 1/2 cups

crushed pretzels (about

3 1/2

–

4

cups small pretzels; they can be easily crushed in a blender or food processor)

1/4

c. sugar

3/4

c. melted butter

2

8-ounce packages cream cheese

1

small can crushed pineapple, drained (optional)

3/4

c. sugar

1

8-oz. tub thawed Cool Whip or

8 ounces

sweetened whipped cream

2 cups

water

2

3-oz. packages strawberry Jello

1

14-16-ounce package frozen sliced strawberries
---
Instructions
Preheat oven to 350. Combine the crushed pretzels, 1/4 c. sugar, and melted butter in small mixing bowl and then gently press into a 10″ springform pan. Bake in the preheated oven for 10 minutes, then remove and allow to cool completely.
When the crust is completely cool, place the cream cheese, 3/4 c. sugar, and pineapple in a medium mixing bowl and beat with an electric mixer until the cream cheese is smooth. Fold in the Cool Whip or prepared whipped cream and then gently spread over the cooled crust. Refrigerate for at least an hour.
When the creamy layer has cooled for an hour, boil 2 cups of water, then stir in 2 3-ounce packages of strawberry Jello. Stir in the frozen sliced strawberries and continue stirring until the strawberries have thawed. Gently pour over the creamy layer and then refrigerate until the Jello is set (at least 2 hours).
When ready to serve, gently run a butter knife between the edge of the pie and the pan and then slowly loosen the edge of the pan. Cut into wedges.
---
Notes
Important Note
This recipe can also be made in a 9×13 pan.
---
*Disclaimer: This post contains affiliate links.