I've shared some snippets on Instagram about the different things I do with photos, scrapbooking, and preserving our family memories, and each time I do I'm flooded with requests for a blog post with more information. So while this post isn't food related, it's happening at the request of you readers!
On to today's topic. You all probably know that Kate and I are members of the Church of Jesus Christ of Latter-day Saints (aka Mormons). In our faith, in addition to our loyalty and dedication to baked goods and pretend swear-words like frick and oh-my-heck, we have also have a huge emphasis on genealogy and family history. The LDS faith runs the most in-depth and state-of-the-art family history centers in all the world. Many members of our faith are descendants of pioneer ancestors and we place a lot of value on documenting our own history and studying the history of those who came before us.
In my home we have a weekly "Family Night" where we spend time together, play a game, have a treat, and also learn about something. Last week, we got onto familysearch.org. If you've never been on that site, I highly recommend it. It is the largest genealogy organization in the world and it's completely free to use. We showed our kids how a family tree works and then looked up our own family on familysearch. They were amazed to see our family line go back to the 1000's! And to see we shared genealogy lines with kings and queens (I've been telling them for years to treat me like a princess, it's about time they see some evidence of my linage.) We laughed about some of the silly names of our ancestors and showed them actual photos and stories. It was a great thing to do together.
So why am I even telling you this and what does it have to do with the giant mess of digital photos I've taken over the years and the guilt and failure I've felt for being completely behind on baby books?? Because it's all strung together. As someone who feels a strong connection to the history of those who came before me, I also very clearly see the importance of creating my own personal family history. Part of that is related to my own family situation.
Growing up we had boxes and boxes full of photos. Photos that were printed, but then stuffed into boxes that sat on counters and in cupboards. My Mom was constantly talking about how she needed to do something with them, but like so many of us today, there were just a million and one other things on her to-do list and sorting through hundreds of photos just fell down the list of things she had time for. I can completely relate to that. She finally just accepted that it wouldn't get done, at least not while her kids were young, and I remember as a child she would always say that would be her "empty nest" project. That she needed something to do when we were all gone from the house, so one day at that point she'd create beautiful photo books for all of us.
Sadly that day never came. By the time all her children were out of the house, my Mom was already suffering from fairly severe dementia (one of the least of her health problems.) Even if she had the physical capability of sorting through photos, her mind wouldn't even know who those people were.
Now, not to get all depressingly doomsday on all all y'all, but this strongly influences my motivation in this area. I never really got to ask my Mom much about her childhood, and just as importantly about my childhood. I would love to have more of her thoughts written down today, and see things from her point of view. And I'm not talking about just the big, important life events. Some of my greatest treasures are the little notes she kept with things like, "I love how Sara can't say the word 'helicopter,' so she calls them 'Ock-a-loo's'" and random photos of things like the blanket forts we used to make. It's those little things that I probably wouldn't remember if they weren't somehow recorded.
My oldest son has an amazing scrapbook for the first 4 years of his life. Back then, I had time to spend hours upon hours digital scrapbooking and capturing his every coo and smile.
Now, I'm at a stage in life where I have to have Siri remind me to shower regularly. My middle son has a fairly decent book for the first couple of years of his life. My youngest son? What's his name again? Is there even any evidence of his birth? Am I even really his mother?? After feeling like I was losing control and losing memories in that area of my life, a few years ago I made a New Years Resolution to get caught up. Over the years I've found a few things that have been helpful for me and I wanted to share just a few of them. These are just a few very basic things that I do, but things that I've actually been successful with. I'm not saying this is perfect (or even complete) system- it's simply a hodgepodge of things I love and some tips I think might help others trying to come up with their own personal system. And that's really the key. Find something that will work for your life and your family, and something you can actually keep up with and then do it!
**Please Note: This is not a sponsored post. I mention several organizations, brands, and products throughout this post, and it's simply personal opinion.**
One of the biggest headaches people face, and the thing that often prevents them from doing anything with digital photos, is that they're in a big digital mess. So if you want to get a system for doing something with your photos, you've got to get your photos organized and then keep them organized. If you come up with a system that makes sense for you, you'll be able to stick with it and keep everything tidy both from the past, and moving forward. It's kind of like how I can't start a cooking project until my kitchen is spotless. You've got to get organized before you can start. This is what I do.
On an external hard drive (and also backed up on Carbonite), I keep a folder titled "Family Photos." Inside I have my years organized like this (I should note I recently transferred all of these files to a new hard drive, hence the recent dates on the folders.) :
When I click on a year, my files look like this. I title them by year first, then the number of the month followed by the actual month. I do it this way because then it keeps them in order by month (instead of auto-alphabetizing them) and is more convenient for search functions. I also have a file for videos in each year file.
Now, within each month I sub-categorize into topics. I can't handle having everything all jumbled up into one file. This way I can see exactly what we did in any given month (obviously June was full of travel. Most months look more like, "Playing with legos" "football game" "playing outside" etc.)
Now if you're like me, you have a million photos for say, a family vacation to California. I always pull all of my "favorites" into a sub folder within each trip so all of the good ones are in one place. From there, I take any photos that I want to actually print and copy them in that "to print" folder for the month. That way, I'm always ready to print them out and I don't have to start sorting through folders if suddenly I'm headed to the store and want to upload photos before I go. I know right where are all of my print-ready ones are. I should add that I also don't usually edit my photos. We live in this age of mommy-photographers that has given the impression that before printing anything we need to photoshop oversaturated images where all little girls have scary doll baby eyes. Resist. They don't have to be worked on- just print them like they are, it will save you loads of time and your pictures will look better and more natural!
The key is unload your camera often– don't let your memory card stack up with 5000 photos it. Also, organize immediately when transferring them to your computer. Don't just throw them all in a folder on your desktop because chances are that's where they'll stay forever.
When it comes to printing photos, there are SO many options. I know that professional photographers freak out about places like Costco and Walmart, but guess what? (Plug your ears for a second, pros) I'm totally fine printing my every day prints there. It's convenient and affordable. So when I actually print photos for my Project Life albums (which I talk about below) that's what I do. Since I have my "To Print" folder always ready, when I have a trip to Costco planned I just send my photos over before hand. By the end of my sampling shopping trip, they're ready and it's easy peasy. Being organized keeps that process really simple. If you want to use a pro photo lab, I use both Persnickety Prints and MPix and I've been happy with both of those. If you're starting a big project and have tons of photos to print, check out places like Snapfish and Shutterfly where you can get often get large numbers of free prints when you place your first order (or with an on-line coupon).
So, the first thing I do is Photo Books. I use photo books to document events. Things like vacations, fun weekends, etc. I don't like to print photo books for say, my entire yeaar because I like to sit down and do them in one sitting. When I go on trip, I make a point to have a photo book done and ordered within a week or so of coming home, while it's fresh on my mind. Sometimes, if I have my laptop with me, I even get it done right on our trip, or on the flight or drive home or whatever.
There are endless options here. I've used Shutterfly, Snapfish, and many others. The one piece of advice I have with places like that, is to never pay full price. There is always a coupon code somewhere and regular sales occurring. That being said, ever since I got a Mac, I've been making my photo books using iPhoto and I love it. They have a built-in program, and while it's not the cheapest, and there are never sales or discount codes, I'm willing to pay more for convenience. There's no uploading to another site, it's all done right in my own photo program.
I also love that they're all stored there in my personal files and not on another website. That means if I ever want to print out a copy of a book I've made, it's right there. Or sometimes I'll print a book for my family and then go back and order paperback copies for other people. Other sites will do that as well, but I feel better knowing it's on my own computer in my own program.
The books are great quality, there are lots of themes to choose from, and it's very easy to use. When I do my photo books I do very little journaling. I want to showcase my photos, with some short descriptions so we remember what was going on.
One thing to think about is to consider consistency. I do all of mine using apple now because I love having a matching "set" of books. The ones pictured here are just a sampling- what I have now is like a whole book series, all about my family! They look great on the shelf and they're beautiful to look at. I love having our little book series, and adding to it, and we have so much fun looking back over them as a family. We travel a lot with our kids, and people sometimes think we're crazy to take them places that they'll never remember- but because of these books, all of our family adventures stay fresh in their minds.
Ironically, I have one of the nicest cameras available to consumers, yet so many of the photos of my daily life are taken with my little iPhone. The problem most people have is that it's a pain to do anything with them so they just sit there on your camera roll forever and eventually get forgotten, and some of my most favorite photos were taken with my phone!
Print from your Phone. If there's a cord involved, it's probably not going to happen (at least for me). There are several apps now that will allow you to simply upload directly from your phone to a printing service. I love this. One I use the most often is Persnickety Prints. I'll be honest, the actual app uploading part is not my favorite, however I won't blame that on Persnickety because it very well could be my personal data connection (does anyone else have that problem?). That aside, it's easy to select photos I want to print and upload them right on my phone. I can then hop on my computer and finish my order. Persnickety has impeccable customer service and their photos are out the door fast and shipped right to me; I've been really happy with them. One of the main reasons I use them is because of two things I'll talk about later in this post, the Collect App and Project Life. MPix also has an app where you can order right from your phone and I've loved my product from them as well. There are several others out there that you can research and check out, but the apps that let you just select pictures from your phone and send them to print from your phone will change your life. If nothing else, try to at least export your phone photos once a month and save them with the rest of your family photos so you have them all in one place.

Instagram Prints– If you post a lot of photos on Instagram, consider using one of the many services that offers Insta-Prints. You can turn them into posters, prints, or photo books. I merge all of my Instagram photos with those of my husbands and have them automatically sent to me in cute little photo books via ChatBooks. You can read my full review of Chatbooks, here, and get a code for a free book!
Collect Photo App. Alright, this is the second thing I do, regularly. If you follow me on Instagram, you've seen my daily photos. I love this little app. I have it set to remind me to take a photo every day, or you can choose multiple photos per day. It formats it on a nice little card (you can choose from several design formats, and see an example further down this post) with the date and a description and you can scroll through them by the month, or by the day. It's like a mini photo journal. This was my December. When you click on any of those days (on my phone, not your computer screen 😉 the little "card" opens up. Also, I just have to defend myself because I do NOT do selfies. The one you see is because after 12 years of being blonde- I moved to the dark side. That had to be documented. I feel better for telling you that, lest you think I was simply admiring my own face while driving in my car.
What I love about this is that it's captured the little moments. Like, for example, for no other reason would I have taken a photo of my kid in a cart at Target (or ever actually printed one out), but when I see this photo I just smile because it reminds me of a little ritual I have with my three-year old when it's just the two of us. Icees, popcorn, and red carts will always strike tender memories for me and that was captured by a simple cell phone photo.
Now, collecting photos is great, but what do I do with them? You can do lots with them, but what I do is just click on export and I can easily save them to my camera roll and upload them to Persnickety Prints right from my phone. (Here's a great how-to on that process) They show up on my doorstep in a nice little pile of 3×4 cards ready to slip into my Project Life Albums (which I'll talk about below). Within the app you can also choose to save them to Dropbox or Flikr.

I love that I have a little piece of every single day of my last year captured and printed out. I love scrolling through the calendars on my phone and watching our daily life unroll right in front of me. Check out that app in the app store, it's really the thing that started getting me motivated to be better at documenting and preserving the every day moments.
Project Life App. You can read below about Project Life and the paper version I use. I also use the Project Life App for my mobile photos to create pages that fit into my books. You can create and print directly from the app. Check it out, here.
Moral of the Story: Don't let your digital phone pictures stay lost in cyberspace forever!
It's funny. With the advances in technology and everything digital, the term "scrapbook" seems so…old fashioned. I'm not going to spend much time explaining what Project Life is, because a simple Google search will give you more info than you ever wanted, and most of you are probably already familiar with it. Check out creator Becky Higgins' website for info on her system, and I'll tell you why I have fallen in love with it.
While I adore my photo books for our family trips and events, I wanted something to keep up with and document the every day as well. A work in progress that I could continually add to and look back on. Lots of people have family blogs that work wonderfully for this purpose, that you can then print out and turn into a book. That's awesome. You can always create a private blog, that only you can see, and use it as a personal journal. I've tried that, and it just hasn't worked for me (probably has to do with the fact that I blog for a living.) I also love the fact that this is so…tangible. With everything digitized these days, there is something so wonderfully organic about actually printing out REAL photos! And writing with a REAL pen! I finally bit the bullet and started Project Life last year. I toyed with the idea for months but was very hesitant because I am NOTORIOUS for spending money on big projects I get super excited about and then lose interest in after about 4 1/2 days. But so far, so good. I am loving Project Life and I'm keeping up with it (so much so, that since I'm all caught up and current, I moved backwards and did our whole 2012, and now 2011). It's been an incredibly successful way for me to document the every day happenings in my family life, and it's given me so much satisfaction about accomplishing something! I can't stop looking at the pages. I do a single book for for our family (as opposed to separate books for each of my children.)
Project Life is easy. There's no cutting and gluing and embellishing. It's all pre-designed so you can just slip photos into pockets and fill in with stylish cards created by talented graphic designers. It's seriously so fast that I scrapbooked my entire 2012 in one week. You certainly CAN spend tons of time creating amazingly detailed pages (just do a Google image search for "Project Life" and you'll see what I mean. There are some amazing and inspiring pages out there) but I don't do that. I go for speed. I get photos in and I write quick little notes and I feel super accomplished.
It Captures the Little Moments. I feel like I have to have a significant event to create a hard-bound photo book (and I love that about my photo books), but with Project Life, I just document life as it happens.
It's Sturdy. This is so practical, but I'm a Mom so I think of these things. My photo books stay on the top shelf of a book case and my kids can only look at them with a grown up. But my Project Life Albums are free for browsing. My kids LOVE to look through them and the page protectors make them so durable that it's perfectly okay. It's so fun to look back through our previous months at the fun things we've done. My boys just pour over them.
It's a Family Affair. I love that I can have my kids and husband contribute. I sometimes have my kids fill out little cards or write notes. Or when we do things like New Year's Resolutions, I had everyone write them on cards meant for slipping into our family album.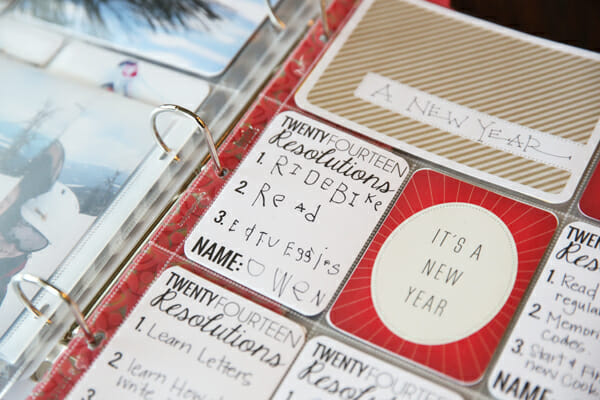 I try to print out photos at least every month, while it's fresh on my mind, and I like to pop them into albums while I watch TV, or on Sundays when my family stays home for the day. As I said before, whenever I have a trip to Costco on my schedule for the day, I shoot some prints over to be developed too. That way I have pictures on a very regular basis to work with and get documented. With Project Life, you can accommodate any size of photo and also combine things school papers, certificates, hand-written notes, pretty much anything.

My one piece of advice, if you want to get started on Project Life is to buy your items at a store like Hobby Lobby or Michaels, where you can use a 40 or 50% off coupon. Be patient and buy a piece at a time. That takes a BIG chunk out of the initial investment. Michael's stores don't carry very much (but that will soon be changing as it was just announced they're getting their own expanded line of product) and Hobby Lobby has a decent selection. I've found the best by far (at least in my area) is Craft Warehouse, so you might want to check that out so you can see thing in person first. You can find things on Amazon as well. To get started, you really just need a binder, a set of Project Life Page Protectors, and a "Core Kit." Check out the catalog to see all of the awesome kits you can get. I use the "honey" edition on page 38. And while it's a little pricey, there is SO much stuff in there. You can make a huge album (or even multiple smaller ones) with one core kit. I've completed 2 full years with my one core kit and I'm starting on my 3rd.
As I mentioned before, Project Life now has an App as well, where you can quickly create pages that look just like these ones in my book, directly from your phone. I just print those out on 12×12 photos and then slip them into my books.
So that's it. This massive post makes it sound like a lot of work, but I've found that creating photo books for my family adventures, using the Collect App to capture a small moment in each day, and keeping a Project Life Album for my family has really helped me document and preserve the things (and the people) I love. I hope this helps some of you, too! Feel free to ask questions in the comments, or leave tips of your own, or resources you love.
Tips for keeping up with your Family History
1. Organize your digital files. Be print ready
2. Have a schedule, or a time that you regularly dedicate to journaling, scrapbooking, photo editing, or whatever you decide to do. I do things on Sundays; it's just become part of my personal routine. You could journal for a few minutes before going to bed each night, spend the first Saturday of each month working on that month's photos, or schedule a phone reminder to help you remember to print out photos for albums. Find a schedule that works for you and commit to keeping up with it.
3. Choose at least one thing that you commit to finishing. Maybe it's completing a baby book for your youngest neglected child, maybe it's promising to document a family trip you take this year, maybe it's downloading the Collect App and at least snapping a quick phone photo on a regular basis. Choose one thing and stick with it!
4. Don't forget to write. Photos are great, photos are even the most important maybe, but don't forget to actually write your family stories as well. It doesn't have to be lengthy or complicated, but write your words. Write your thoughts. Write your memories. Write the funny things your little kids say or your thoughts about your older kids or spouse. Life moves all to quickly, and you will be so happy that you took the time to document, to remember, and to preserve your own family history.
Hover you mouse over the image below to Pin it!