I have this deep and abiding love for deli meats and cheeses. Growing up, we always knew something was a big deal when my parents got a deli tray. Now that I'm an adult, I realize my mom was probably stressed and she knew it was something that would make everybody happy. And when it comes to easy meals, one of my favorite favorite favorite things is a sandwich made with really great meat and really fresh veggies and really amazing bread. I'm pretty easy to please.
So when we had the chance to work with Dietz & Watson, we were all onboard. If you're not familiar with Dietz & Watson, they make premium deli meats, sausages, cheeses, and condiments. I snagged a bunch, and I didn't even come close to getting everything they had to offer. Mustards and horseradish:
Flavored mayos and spicy brown mustard:
Hoagie dressing (one of my very favorite things in the whole entire universe, no lie).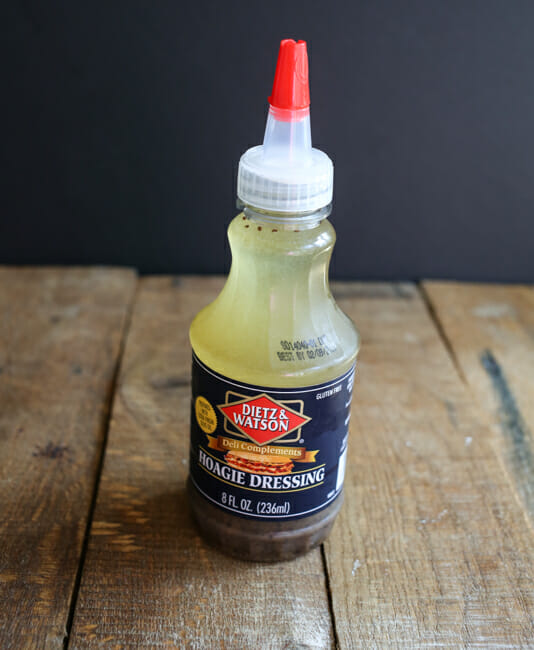 Pickles and sauerkraut (two more of my favorite things in the whole entire universe…wild guess about whether I crave sweet things or savory things when I'm pregnant.)
And provolone, creamy sharp cheddar, Swiss cheese, cheddar with roasted garlic, and white cheddar with horseradish (hello, roast beef):

Chicken andouille sausage, and Bratwursts.
I also got some thinly-shaved eye of round, honey-maple turkey, and honey ham from the deli counter as well as some pancetta and prosciutto ham.
Not only do they taste fabulous (they really taste and look like like real ham and turkey and roast beef and corned beef–sometimes, that can be hard to find), but they also have many healthy options like low-sodium, nitrate-free, and gluten free products. I found mine at my local Albertson's (where don't ever shop because it's hard to get to and it's on the other side of town, but between my excitement over the Dietz & Watson products and the fact that I found mung bean sprouts there, I've been back, like, 3 times in one week)–here's a link that will tell you where you can find them.
If you're looking for some entertaining alternatives to a typical barbecue this summer (once we hit July, it's way too hot to grill here. Unless it's the middle of the night. And even then…), I've got some quick and easy ideas using some of my favorite products.
The first thing I made was some prosciutto-wrapped honeydew melon. Just take a small piece of prosciutto (a little goes a long way here) and wrap it around a chunk of honeydew and secure it with a toothpick. Totally satisfies my salty-sweet tooth!
Sara and I both love pigs in a blanket, but I took it to the next level with these Andouille pigs in a blanket. I just cut each sausage in half cross-wise and wrapped them in dough (you could use your favorite refrigerator or freezer dough or use this breadstick and pizza dough recipe). Bake according to package/recipe directions for about 12-18 minutes (depending on the dough you use.) Serve with stone ground mustard.
 If you've never had hot ham and cheese sandwiches with some kind of sweet and tangy dressing served on soft rolls, you're kind of missing out. Everywhere I've lived, they've been staples of baby and bridal showers, usually with some kind of sweet poppyseed salad dressing.
For these, I used high-quality soft dinner rolls, sliced them in half, and spread them with cranberry mustard. Then I put Swiss cheese on each half, some ham torn into pieces that fit on the roll, closed them up, and wrapped all th
e rolls in foil in a single layer. Then I baked them at 425 for about 10-15 minutes or until they were hot and melty, but you could easily toss them on the grill for equally delicious results.
I could eat Reuben sandwiches every day if I could justify it. It's pretty much my go-to in any deli in any place in all the world. For these, I didn't want them to be very big because I wanted guests to be able to have a little taste of everything if they wanted, so to make three mini sandwiches, I spread spicy brown mustard on two large slices of rye bread, topped the mustard with Swiss cheese, and then piled on the corned beef and sauerkraut. I put the larger sandwiches on a pan (although a panini press would work) and popped it in a 400 degree oven for a few minutes until the cheese melted and the sandwich was heated through. Then I sliced them into thirds and vóila! Three-bite Reuben Sandwiches!
My parents lived in Germany for a year before I was born, so growing up, we regularly ate bratwursts and sauerkraut. Combine that with my love for pretzel rolls (many grocery stores sell them frozen or in their bakery department, or you can make your own from this recipe) and we have Bratwurst Pretzel Sliders. I just spread each side of the pretzel roll with spicy brown mustard, loaded up the bottom half with sauerkraut, and topped them with half of a grilled bratwurst, cut in half lengthwise. 
Finally, I used the maple-honey turkey and some more of the pretzel rolls to make hoagie sliders. I spread the rolls with mayo, added some provolone cheese, a leaf of crisp lettuce, a slice of tomato, a few red onion rings, shaved turkey, the Dietz & Watson hoagie dressing, and salt and pepper. Simple as these are, they may have been my favorite! It's kind of crazy how really great ingredients can turn something from fairly ordinary to really, really amazing.
Hopefully that gives you some easy entertaining ideas! I know a lot of people are traveling this week, so be safe and have fun in all your travels!
This was posted in partnership with Dietz & Watson, but all opinions, recipes, and ideas are our own.