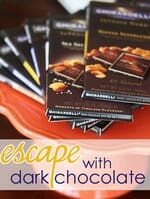 I think one of the hardest things for me to do is to remember to take time for myself. It's really easy to say, "I'm busy and stressed and my 8-year-old and 5-year-old have homework and school projects on a level that I seriously don't remember having until I was 13 and my husband is working 12 hours a day, 7 days a week and I haven't slept more than 5 hours in a row in the last 8 1/2 months, so I'm going on an online shopping spree and hitting up the drive through between dance class and the second grade musical." The problem is, no matter how fun it is to get a package in the mail or not clean up after dinner, I still kind of feel like I'm not actually doing anything for myself.
And since, in their own ways, pretty much all of my friends' lives are as hectic as mine, I decided that we needed a grown-up time out. With grown-up food and drinks and grown-up chocolate.
Sara and I are huge fans of Ghirardelli, so we jumped at the chance to try their Intense Dark chocolate. And then I was so excited that I made my friends try it, too (trust me, if you're ever having a hard time getting your group of friends together, mention the words "kid-free" and "chocolate party." Everyone's plans magically fall into place.)
To make the escape complete, I put together little gift baskets for everyone with some of my favorite things that make me happy.
I put in some cute reusable mugs, toe separators, nail polish, a mini candle, a pumice stone, bath salts, a mud mask, a headband to keep the mud mask out of their hair, lip balm, and a couple big bars of the Ghirardelli Intense Dark chocolate.
When they came over, I made our chocolate ganache by mixing 2 bars of the chocolate (I used the Midnight Reverie, which is super dark at 86% cacao, Twilight Delight, which is 72% cacao, and Cabernet Matinee, which is kind of fruity) with 6 ounces of heavy cream and heating it in the microwave for about a minute (in 20-30 second increments). I served the three pots of different chocolate with a big tray of fruit.
I think the general consensus was that Twilight Delight was the favorite for dipping.
I also had a cake stand loaded with bars of chocolate for us to try out.
Toffee Interlude was probably the favorite of the night, followed by Sea Salt Soiree.
No, this picture was not staged…they were genuinely staring at the square of Sea Salt Soiree in awe.
We had lots and lots of laughs.
and when my kids came home a few hours later, we were genuinely excited to see each other, which was a giant win for everyone.
Since we wish we could invite everyone to a chocolatey escape from reality, we're doing the next best thing–we're giving away 3 of the gift baskets from the party, loaded up with  big bars of Ghirardelli Intense Dark chocolate along with a whole bunch of our favorite things to make you feel special!
To enter, tell us what flavors you'd love to try–they are Midnight Reverie (86% cacao), Twilight Delight (72% cacao), Evening Dream (60% cacao), Cabernet Matinee, Hazelnut Heaven, Sea Salt Soiree, and Toffee Interlude. The giveaway will run now through April 2 and the 3 winners will be announced on April 3.

This post was sponsored by Ghirardelli Intense Dark Chocolate. Create your escape here.
The giveaway is sponsored by Our Best Bites. As always, all opinions are completely our own.