I've said it before, but Father's Day is one of the hardest holidays to shop for. My dad has everything, and if he doesn't have it but wants it, he'll buy it. And with my husband, when it comes to things like Star Wars Legos tools, he is very specific, to the point where if he doesn't send me a direct link or physically place the item in my hands, I'm probably going to get it wrong.
That said, I'm pretty sure the common ground for most dads (and dudes) is food, Man Food in particular. Pretzels. Bacon. Cheddar.

Now..if you're like me and a trip to the mall isn't complete without a visit to Auntie Anne's, you may have noticed that they've been innovating their menu.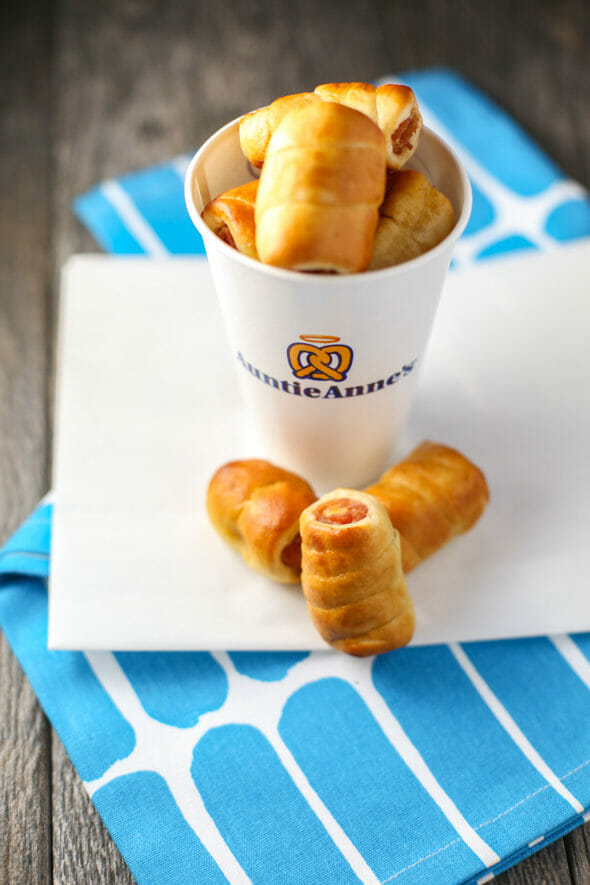 Last summer, they had cheddar-stuffed pretzel nuggets, and they were such a huge hit that they decided to up the ante (boooo, Kate!)  this year and add bacon to the equation. You heard me. All summer long, you can get soft, buttery, salty pretzel bites filled with smokey bacon and melty cheese.
And even though this is a Father's Day post and even though I called pretzels, bacon, and cheese man food, believe me when I say that I know from first-hand experience that ladies are just as capable of enjoying pretzels, bacon, and cheese, both separately and together in nugget form. These foods are equal-opportunity and non-discriminatory. Amen.
So if you're wondering what to get Dad (your dad…the father of your children…some dad who lives down the street who likes pretzels…) for Father's Day, here's your answer.
The great news about these nuggets is that they reheat beautifully, so if it's more convenient to buy them a day ahead of time, you can cover the container with plastic wrap and refrigerate them. When you're ready to eat them, get two paper towels wet and then squeeze out the excess water. Lay one towel on the bottom of a microwave-safe plate, spread the nuggets out evenly on the towel, and then lay the other towel on top, making sure all the nuggets are covered. Heat for 20 seconds at a time until the nuggets are heated through (just FYI, this method is also fantastic for reheating leftover pizza!)
Just to make gift-giving as easy as possible, I've included a printable card that you can give Dad along with his Bacon Cheddar Stuffed Pretzel Nuggets (and complete control of the remote control…although at this point at our house, my husband would settle for FINDING the remote. The remote in the above the picture is not the remote he's talking about.)
You can find the full high-resolution printable file by clicking here. Also, it's Friday, so you should probably go get yourself some Bacon Cheddar Stuffed Pretzel Nuggets as a way of congratulating yourself for making it through the week.
Auntie Anne's has been kind enough to offer 10 coupons for a free pretzel, so there will be 10 winners! To enter, leave us a comment below, just make sure the email you use on the comment line is one that you check regularly. Giveaway ends next Friday, June 17, 2016 at 11:59 pm.

ALSO.
While we're on the subject of Father's Day, stay tuned early next week–we'll be having a special, QUICK Father's Day sale in the shop with some brand-new items just for Dad (I'll just say if you remember how quickly the Mother's Day boxes sold out, we've upped the number of Father's Day boxes, but we also expect them to sell quickly!), so stay tuned and act fast!
<em>This post was sponsored by Auntie Anne's pretzels, but all opinions and ideas are our own.</em>