Guys.  Father's Day is NEXT WEEK.  I'm not sure how that happened, but as usual, it sneaked up on us.  I'll cut right to the chase here, because we're so excited to show you what's new in the shop!  If we learned anything from Mother's Day, it's that you better ACT FAST if you're interested here.  Everything flew off the shelves last month, and we anticipate that happening again!  Okay, check out what's new!
First of all.  THIS.  
We are so excited to have our first seasoning mix to share with you guys.  We've worked on this for a long time and this particular mix is so great to be launching around Father's Day because it is amaaaazing on anything you can throw on the grill. Honestly, this is magic right here.
It's sweet and savory and smokey.  I wish you could all smell it right now.  It has hickory smoke, orange peel, real maple syrup, chili powder, garlic, and lots of other delicious things.  You can do so much with it.  It's really a great all-purpose rub.  Try it on pretty much any meat: burgers, steak, chicken, fish, ribs, pork, you name it.  It's also amazing on veggies, last night I tossed it with baby red potatoes and garlic olive oil and roasted them in the oven.
You could also add it to olive oil and vinegar (or in place of the salt and pepper in this dressing) for an awesome salad dressing.  Honestly, if you have this great seasoning, and a great bottle of olive oil, you can seriously make anything taste amazing.  You can grab one for yourself, here!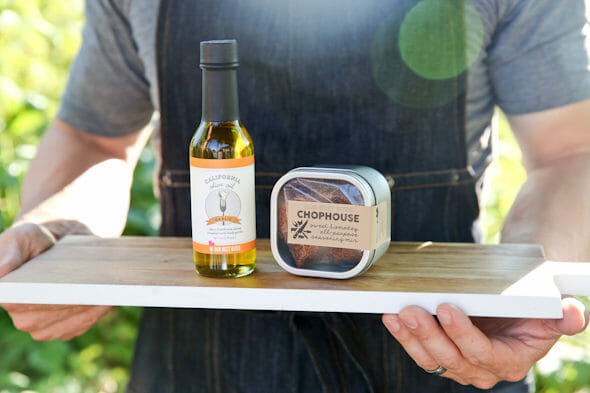 Since we have something savory, we thought we'd better give you something sweet, too.  Our caramels are baaaaaack.  This time, salted.  These sold out in about 20 minutes last time, so we have more in stock this time around, but they will be gone fast as well so hurry!
These caramels are made in small batches in old-world copper kettles with real butter, cream, sugar, and sea salt.  They're freaking amazing.  Buy one for your Dad, one for your husband, and 5 to hide in the closet for yourself, later.  Find 'em here.
Lastly, Kate and I have been so in love with this apron.  It's unisex, and we first stocked them because they're such a great man apron, but it turns out it quickly became our favorite too!  I personally wear this one all the time, and so does my husband.  It's great to have one that you both can use.  Those of you who spoke up about women's aprons being too small across the chest for some of you larger-chested, gals, you'll love this one too because it's a little wider.
It fits well on both men and women and has the perfect rugged, but stylish feel.  It's incredibly durable, and has really thoughtful details like attractive seaming, snaps, extra long ties, and utility loops.  It's a great gift for a guy who likes to cook, but doesn't so much like to throw on your ruffled apron.  It's also great for using while working in the garage or in the yard!
There's only one way to get this apron, and it's in our Limited Edition Father's Day Bundle.  Our gift sets were such a hit at Mother's Day and so many of you requested one for Father's Day, too!
We've made this as easy as it gets by picking out a great selection of gifts that come bundled together (with a savings, for you!)  We have limited quantities of this bundle so please please grab it quick if you want one!  This gift set comes with:  A Vintage Denim Apron, a 147m. bottle of our Extra Virgin Olive Oil in either Garlic, Jalapeno, Bacon, or Chili (you pick!) a container of our sweet and smoky Chophouse Seasoning, and a package of our amazing Salted Caramels.  All shipped right to that special man in your life.  This is a great gift for anyone (lady or gent!) who loves delicious things.  Grab one here!
Don't forget to use the discount code: POPS for 15% off your entire purchase.  Make sure you enter it under "view cart".  Now get shoppin'!