Trainer Jani is back with some thoughts about Protein- take it away, Jani!
Protein is such a big buzz word in the fitness and nutrition industry.  Are you consuming too much or too little and how much to you really need? Should you eat or drink your protein?   Do you really need to add protein to EVERYTHING you eat?  With all the hype about protein these days, you might think that we are at risk for a protein deficiency!  However, contrary to what many supplement retailers want you to believe, with all the easily available sources of protein and the majority of Americans being meat eaters, a deficiency is highly unlikely.  There are many different opinions on how much protein we actually need.  Most official nutrition organizations recommend a fairly modest protein intake.  The DRI (Dietary Reference Intake) is 0.8 grams of protein per kilogram of body weight, or 0.36 grams per pound. This amounts to approximately:   56 grams per day for the average sedentary man and 46 grams per day for the average sedentary woman.   This amount is surely enough to prevent a protein deficiency but the jury is out whether or not this amount is enough to ensure optimal health and body composition.  You need to take into consideration your activity level, age, muscle mass, physique goals and current state of health to determine how much protein you really need.
Karen Mangum, RD from Eagle, Idaho, recommends non-athletes need approximately 0.5 – 0.7 grams protein per pound body weight per day.  (For a 150 pound person = 75 – 105 grams protein per day.)  If you consider yourself an endurance or strength athlete, the recommendation is higher.  For a great article on protein myths and recommendations for athletes, refer to Karen's article here.
Luckily, protein is prevalent in many foods you already eat and therefore it shouldn't be a problem for most people to get in their daily requirements through a normal healthy diet.  If you walk through the grocery store you will see an assortment of protein enriched cereal, granola bars, protein bars, etc.  But the healthiest sources of protein are from whole foods, such as lean meats,  milk, yogurt, cheese, cottage cheese, lentils, nuts and nut butters. The following is a chart to give you an idea of how much protein is in some of these foods.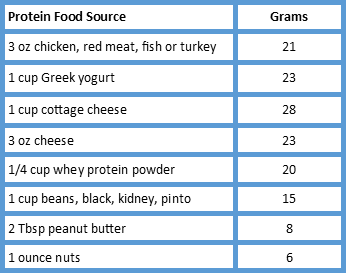 If you aim for a goal of 20 grams of protein per meal and include a protein source in your snacks (i.e. cheese stick, nuts, peanut butter) you should be easily covered.  While getting your protein sources through food is ideal, many people find that drinking a protein shake or adding protein powder to smoothies is a convenient way to help meet their daily requirements.  Also, studies have shown that consuming a protein shake within 30 minutes of completing your workout is highly beneficial to help your body re-fuel and aid in the repair and regrowth of muscle tissue.  I personally would not recommend more than one shake per day because you don't want to miss out on all the fiber and other important nutrients that are available in food.  Plus, getting your protein through food is more fulfilling and keeps you satisfied longer.
. . . . . . . . . . . . . . . . . . . . . . . . . . . . . . . . .
Thanks for the great advice, Jani!  We have another workout coming your way soon as well, so keep your eyes open for that one, coming soon!
Jani D. has over 20 years of experience working in the fitness industry.  She has a BS in Health Promotion and is certified in many disciplines including personal training, group exercise, yoga, Pilates, TRX suspension training, Insanity®, Zumba®, and water fitness.  She currently teaches a variety of group exercise classes for the Treasure Valley West YMCA in Boise, ID  and also owns her own personal training business, Body Balance Training.  As a busy mom of five kids she understands the challenge of finding a balance between  family , church, work, maintaining a home, and taking care of ourselves.  She believes that if we can make our own health and well-being a priority, we will be better equipped to handle the demands of a busy lifestyle and enjoy a better quality of life.