Welcome to our second Fit Club workout challenge! If you missed Week 1, you can check it out here! And if you're just getting started, be sure to check out this post and follow us here on Instagram!

We want to introduce you to our featured Fit Club trainer, Claire!
Claire graduated from BYU-Idaho with her BS in Exercise Physiology with an emphasis in fitness and training. After graduating, she was hired on as an adjunct Anatomy instructor where she taught for a year. Her training varies from geriatrics to High Intensity. She taught Senior exercise classes for the Public Health Department as well as CrossFit. Claire and her husband welcomed their first baby five months ago and she is just coming back into the fitness industry since her little boy was born. Her fitness philosophy is that we were blessed with high functioning bodies that were meant to move and not meant to suffer from aches and pains.  All persons, in every stage of life– from pregnancy to Seniors–can and should exercise to keep their bodies happy!
Hi, there! Today we are going to do a quick overview of two of the most basic but fundamental exercises. With my background in geriatrics I have found that EVERYONE can do both squats and push-ups, whether your are 8 or 88, pregnant, or postpartum, you just have to start somewhere practical, and build up to something more difficult. My goal with this post is to help everyone know that they CAN do more than walk. Our bodies are meant to be used, so don't be scared to do something you thought you couldn't do!
First, we are going to start with squats. As I started my training in Cross Fit a few years back, one of my trainers said, "Women, listen up. Squats are the best exercise that you can do for yourself. So do them well, and do them often".  I still believe every word. There is a lot of physiology behind why women have a tendency to suffer from hip problems compared to men, but simply put, as you strengthen the muscles around your hips your chances of suffering from a hip injury decrease dramatically. Better yet, if you can build up to doing weighted squats, you will actually strengthen the bones and really prevent injury.
We are going to start with the basics: proper squat stance. Think about when a basketball player goes to jump–do they have an extra wide stance? Nope. Jump up and down a few times like you are shooting a basketball. The way you land is going to be your power stance; this is the stance in which your legs are the most powerful and can lift the most weight. If you are worried about balance, go ahead and widen your stance for extra support.
Chances are growing up in PE, your coach always said "DON'T LET YOUR KNEES GO OVER YOUR TOES!". If you were like me, then you and your other seven year old pals really had no clue what exactly what he meant. So, we are going to make sense of that worn-out statement to make sure no one injures himself or herself. As you go down, make sure your are pushing your glutes backwards, and always put your weight into your heels, like you are trying to lift your toes off the ground. To get the full benefit, as you come up from a squat, push your hips all the way forward and clench your glutes together. If this is new to you, try to really dramatize pushing your hips forward; it may feel funny at first, but it ensures that you are getting the full benefit of the squat.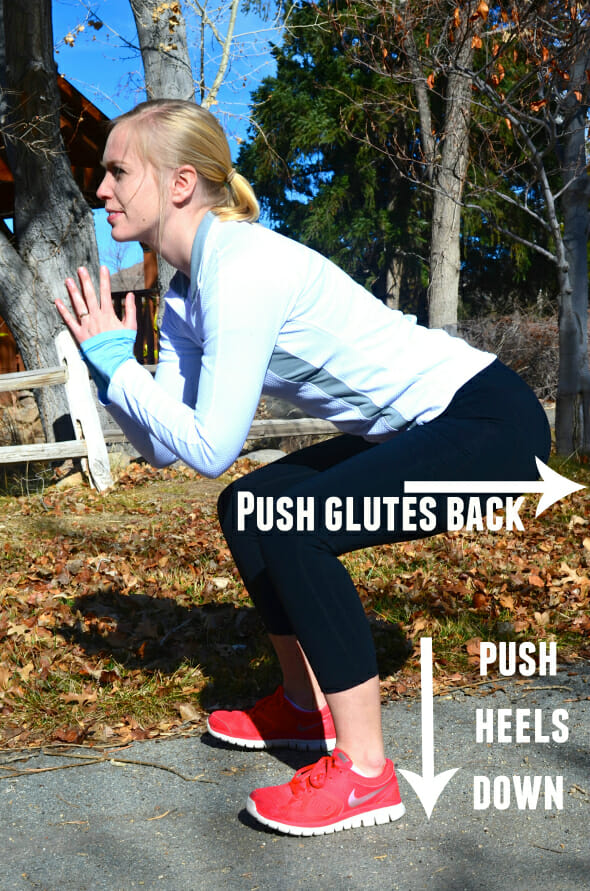 You can modify this squat a few ways. With every modification you are going to follow the same form as above.
Beginner: Chair squat.
This is perfect building block for anyone who may not have the strongest leg muscles and are worried about balance and falling. Start by finding where your feet should be placed. Do this by sitting on the edge of your chair with a straight back and your feet in "power stance." Stand up and perform your squats, barely touching your rear to the chair. If you need the extra assistance, you can sit all the way on the chair, but the goal is to do consecutive squats without resting on the chair.
Intermediate/Advanced: Air Squat.
 This is just your basic un weighted squat.  As you come down, make sure your thigh breaks parallel with the ground. If you were to put a marble on your knee, it should roll backwards towards your hip. This ensures that you are going down far enough in your squat.
Deep Squat (widely known as a third world squat): This squat is more of a stretch that will help the flexibility of your hips. If you are into Olympic weightlifting, or any weightlifting in general, this will really help your range of motion and flexibility, and thus helping you with gains.  Chances are if you look at any kid under the age of 5, you will see them doing this squat when they are playing with toys. As we age and use our hips less, we lose their flexibility and strength, and this stance becomes more and more difficult to do.
To perform, go down into a squat, but keep going down until your glutes are touching your ankles or calves. Keep your weight in your heels and don't come up onto your toes. If you need assistance, use a pole or your bed frame to help with balance. Try doing this for 1 minute a day, in 20-30 second increments.
Push-Ups
Chances are, if you are currently doing push-ups, you are probably doing them right. Below are the three variations of the push-up. For each push-up, lower down in 3 count, touch nose to ground/wall, and push yourself up to a full elbow extension, keeping your core tight. To get the full benefit of this exercise, you need to work towards touching your nose to the ground and coming up to a full elbow extension (straightening your elbows). If you are unable to do either of those, try to step down to one of the modified push-ups for a while.
Beginner: Wall Push-Ups
If you are currently unable to do a push-up or if you are uncomfortable getting on the ground try starting off with a wall push up.  The closer your feet are to the wall, the easier it will be. If you are new to this, start with your feet closer to the wall, and every few days, try stepping back a little bit!
Intermediate: Knee Push-Ups
 Similar to wall push-ups, the closer your knees are to your hands, the more difficult it will become. The key for knee push-ups is to keep a straight back. Don't let your rear stick in the air!
Advanced: Push-Ups
With a full push up, the goal is to keep a straight line from your heels to your head. Don't let that rear come up, we aren't doing a downward dog! 🙂
Variations: A regular "wide stance" push up is done with your hands slightly wider than your shoulders will primarily focus on your chest muscles. Since your chest muscles are bigger, it results in an easier push up. A "narrow stance" push up is done as you bring your hands directly under your chest, with your elbows close to your sides. This will focus more on your triceps (back of your arms), abdominals, and shoulders. You can do a narrow stance with all three types of push-ups!
Thank you, so much, Claire! Check out this week's workout (and don't forget to print out last week's workout as well!).  We're challenging you to do push-ups and squats every day this week.  Add them to your current routine, or start of slow with these basic moves for the week!  Print these out and add them to your collection!
Download the Printable Quick-Card Workout Here