Welcome to your first workout challenge!  Every weekend we'll be providing a new workout, in a nice printable format, for you to try during the coming week.  We'll be featuring different styles of workouts, geared toward people of all fitness abilities.  Some might be challenging for you, some might be a piece of cake.  Make sure to check with a medical professional first if you have any concerns about your ability to begin a fitness program and feel free customize to your level of comfort.
First, we'd like to introduce you to our featured Fit Club Trainer, Jani!
Jani has over 20 years of experience working in the fitness industry.  She has a BS in Health Promotion and is certified in many disciplines including personal training, group exercise, yoga, Pilates, TRX suspension training, Insanity®, Zumba®, and water fitness.  She currently teaches a variety of group exercise classes for the Treasure Valley West YMCA in Boise, ID  and also owns her own personal training business, Body Balance Training.  As a busy mom of five kids she understands the challenge of finding a balance between  family , church, work, maintaining a home, and taking care of ourselves.  She believes that if we can make our own health and well-being a priority, we will be better equipped to handle the demands of a busy lifestyle and enjoy a better quality of life.
I have personally had my butt kicked by Jani before, this chick knows what she's doing!  We're so happy to have her on the OBB Team, and you'll be seeing more of her in the weeks to come.  I will turn it over to her now to explain this workout she's designed for you.  If you have any questions, please feel free to leave a comment on this post!
Hi everyone! I am so excited to be on the OBB Fit Club team!  One of the best ways to stay motivated and on track with your exercise and eating is to have a strong support team and some accountability.  This club gives us an opportunity for both as we all cheer each other on and report our progress.  Lets do this!
The great thing about this weeks workout is that you can do it anywhere.  It takes up minimal space, and there's no equipment needed, so NO EXCUSES.
It is a total body HIIT workout.  HIIT stands for High Intensity Interval Training.  What I love about HIIT workouts is that you get the biggest bang for your time.  Most of us don't have the time to spend hours working out and these workouts are short and powerful.  And best of all, because we alternate between high intensity and low intensity (or rest) you burn MAXIMUM CALORIES…way more than you would by just hopping on a treadmill or a bike for the same amount of time.  The only equipment you'll need is your body and a HIIT timer app.  There are several options for timer apps for both iPhone and Android, and most are free.
Begin with a 5 minute warm-up of light jogging in place and a combo of body weight squats, lunges, and wall push-ups.  Or if you have access to a treadmill or stationery bike you can do that for 5 minutes.  Really, anything that gets your muscles warmed up and your joints ready to go!
There are 10 intervals so you'll set the timer for 10 sets; 30 seconds work; 10 seconds rest.  Aim to complete this workout 3-4 days during the week.
1. Squat Jacks– With feet hip width apart, squat down pushing booty to the back of the room.  Touch your toes, and as you come up, lift arms out to your  sides and over head into a jumping jack.
2.  Mountain climbers– Plank position, keep your hips down, core tight, and quickly alternate knees toward chest.
3.  Push-ups to alternating side plank– Push-up then rotate right arm and right hip to the ceiling, then repeat, push-up, rotate left arm and hip. (moderation:  knees on the floor for the push-up.)
4.  Jump lunges– Standing lunge position with both knees at 90*, jump switch.  (moderation:  You can take the jump out and just do alternating reverse lunges.)
5.  Tricep dips–  Hands and feet on the floor with fingers pointing toward heels.  Bend elbows, lowering hips to the floor.
6.  High knee run– Get those knees up!
7.  Plank Shoulder taps–  Plank position, alternating taps to opposite shoulder.  (moderation: keep knees on the floor)
8.  Single leg dead lift with hop, RIGHT LEG– Balance on the right leg, hinge from hips, left hand touches the floor, come up and hop.  All 30 seconds on the same leg.  (moderation:  just reach half way down and leave out the hop)
9. Side to side shuffle- quick feet shuffle right, touch the floor, shuffle left touch the floor.
10.  Single leg dead lift with hop, LEFT LEG– Same thing as #8, but balance on the left leg.
For those of you who are new to HIIT workouts or have not been working out on a regular basis, it can be pretty intense.  Start slow and use the moderation. Just do one round and work your way up to 2 or 3.  Take a 30 second to one minute break between each round…enough time to catch your breath, grab a drink of water and towel off your sweat!  For those of you who are intermediate or advanced exercisers, go for 3 rounds and work as hard as you can in those 30 second intervals.  You should be sweating up a storm in no time!  Be sure to stretch afterward and in 30 minutes or less you are done!!!
 Thank you Jani!
On the printable sheet, you'll find a mini workout card, like this:
You can punch a hole in the corner and start collecting them on a ring, or tape it to your fridge, or whatever.  How many of you bought that laminator last month??  You know I laminated mine!
There's also a half-sheet version with the exercise descriptions included for those of you who are less familiar with these moves and would like a little reminder.  In the future, we might provide a quick video run-through for you, but for now, if you're not sure what any of these mean, just do a quick google search and they should pop right up.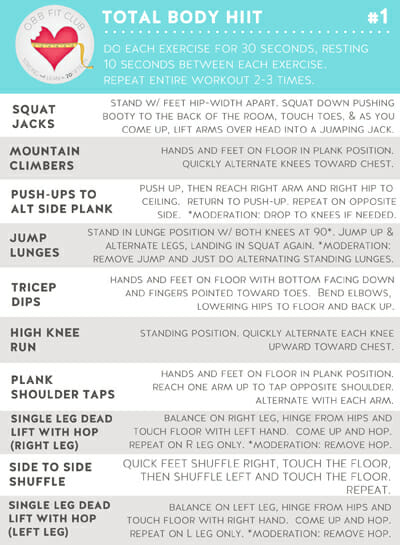 CLICK HERE to download the Quick Card Printable