Happy January!  If you haven't heard, we are hosting a Diet Bet that starts in a couple weeks!  Click here for all the info- it's such a fun way to stay motivated (and earn a little cash, too!)
The first week of the New Year is always a crazy year around here.  Everyone seems to be recovering from the holidays and Kate and I are always trying to re-group and get our kids back to school and get back into "blog mode" after being in Christmas-vacation mode.  For me that happens when I get my kids back to school and I can put all the holiday decorations away and then scour my house clean and try to vacuum up all of the residual glitter.  That was all about to happen on Tuesday when I happily sent my kids back to school and ramped up for a productive week.  And then the universe played a cruel cruel joke and decided to give us record snowfall in Boise that very day, cancelling school for the rest of the week!  My kids are more thrilled about this than I am, ha!
So instead of getting my life back together and cleaning and grocery shopping and cooking and writing blog posts, we've been hankered down inside staying warm and waiting for Elsa's great freeze to be over.
It's kind of the longest winter break ever but it's also kind of fun at the same time- and I won't lie,  you won't find me complaining about not having to set an alarm in the mornings!  We're enjoying the fun, lazy days while they last, messy house and all.  So on that note- I have a little flashback Friday recipe for you, that I was able to photograph before we got snowed in!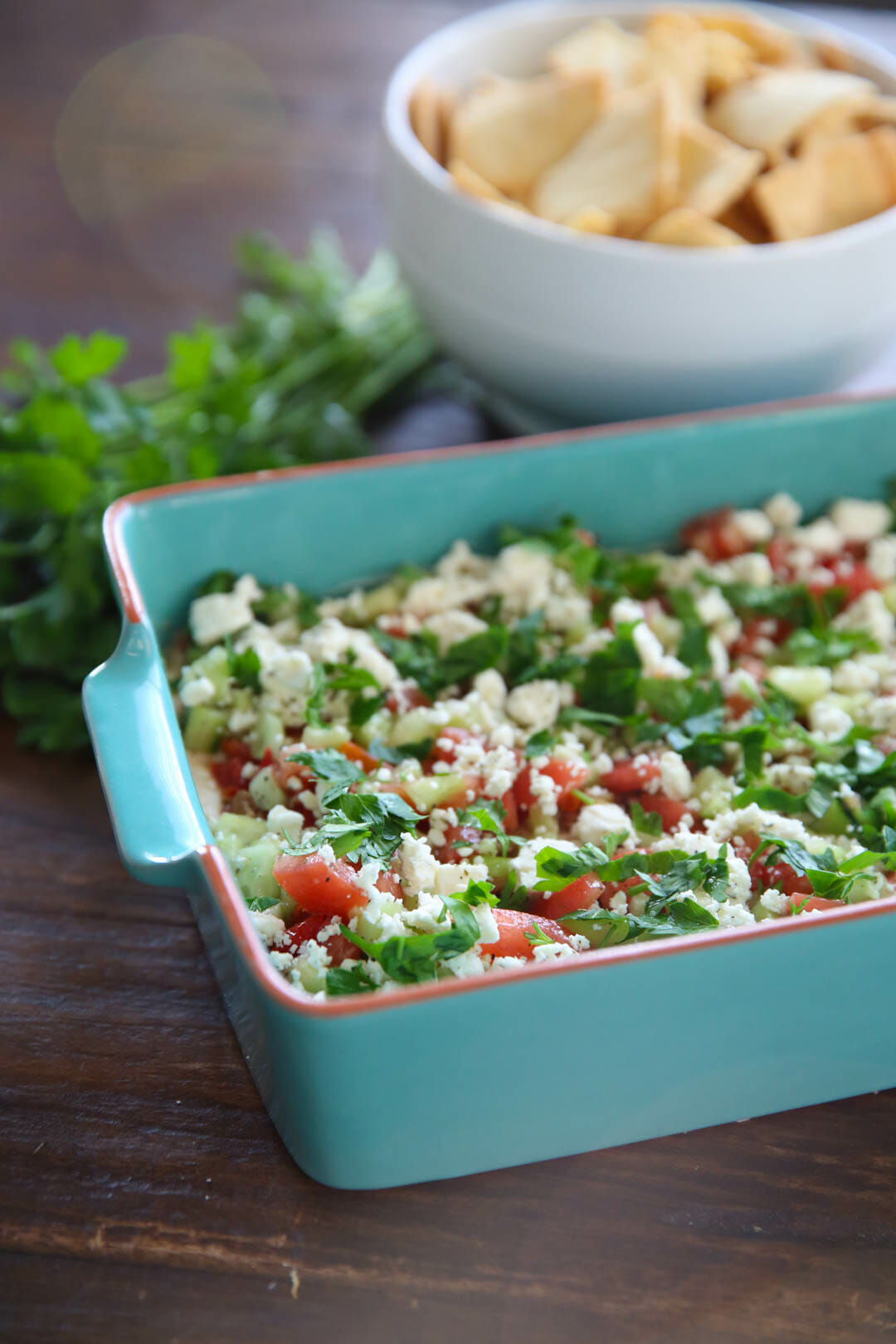 Kate posted this 7-Layer Greek dip years ago and it's one of my favorite recipes.  I updated the photos, and also added a bunch of my personal twists as options.  I made this for New Years Eve and it got rave reviews; it's one of my go-to dips for parties, but it also makes a great light dinner!  Serve it with pita chips or flat bread or veggies.  It's a fun thing to keep in the fridge and snack on during the day.   Check it out, and if you're stuck in the snow like me, stay warm!