Happy Friday!! It's almost Halloween! Is anyone else as exhausted as I am?? I feel like the week leading up to Halloween is busier, crazier, and more stressful (but less expensive) than Christmas. All the costumes. All the candy. All the parties. A new theme every day for Red Ribbon Week.
If you're still looking for party ideas, make sure you check out our Halloween Party Food post. It is an AMAZING resource for all sorts of spooky (and not-so-spooky) recipes, tutorials, and ideas that won't destroy your sanity.
Today we're Flashback Friday-ing to one of my all-time favorite childhood treats–Chewy Almond-Coconut Chex Mix!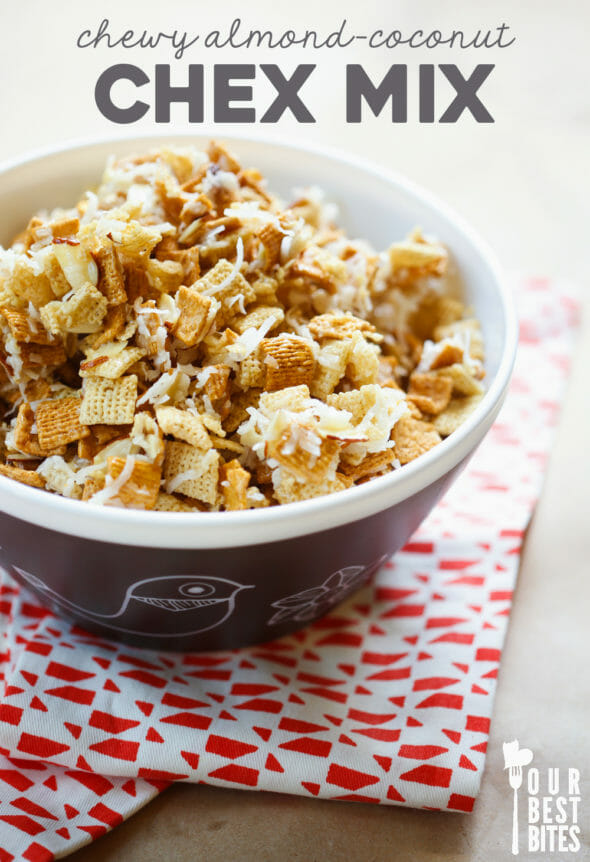 If you've never made this before, I have to warn you that it is highly addictive. It's perfect for a family movie night or for bringing to a party (I highly recommend divvying it up into individual portions because it's so sticky. And so addictive. Someone might just go all Gollum and grab the whole bowl and crouch in the corner.)
Have a happy, fun, safe holiday weekend!!