This is a big day, you guys. Chipotle Chocolate Chili has been on our blog since 2008, the very first year we started blogging. It has won chili cook-offs. It has been a perennial favorite. It is beloved and a favorite (and for good reason–it really is so good. If you haven't ever made, you really need to.) But. Y'all. The pictures. This is one of the oldest recipes that hasn't gotten any kind of update picture-wise in a long time. Sometimes when I want to make fun of myself and show what things looked like when we started our blog, I pull up this post (hey, I use self-deprecating humor as a defense mechanism, I can't help it.) Sometimes when I want to see how I've learned stuff and grown over the past 9 1/2 years, I pull this up. See?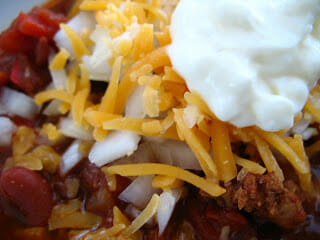 It's a work of art. I'm not even entirely sure what is what, but I'm pretty sure the sour cream is the feature.
So…it's about time this recipe gets the love it deserves. Click here or on the picture below to check out this recipe, just in time for all your chili cook-offs! Happy Friday, friends!