First of all, if you missed our post on Friday, we're teaming up with NuMe again, this time for their AMAZING flat irons! The deal runs for a few more days, so head over here and check it out!
If you follow Sara and me on Instagram, you probably noticed that we went to Philly on Friday and Saturday for an incredible whirlwind trip full of history and delicious food. We're going to post all about it soon, but while I was on my way home, I had a few hours in the Dallas which meant that even though I had spent the last two days eating amazing food, I needed to find some room in my life for some amazing Tex-Mex, because when in Texas for 2 hours, one must eat Tex-Mex. Pretty sure it's a law.
I can't even remember the name of the airport restaurant where I ate (Terminal B? Anyone wanna help a sister out?), but after basically inhaling chips and salsa, I had a salad that was very similar to this one (although I spent the entire meal trying to figure out how they cooked the chicken–it was definitely grilled, but the outside was incredibly crispy, almost like it had been fried. It. Was. Divine.) And on the salad was a dressing that tasted just like this Lime-Cilantro Vinaigrette, which we've had on the blog for forever and, back in the day, was one of our more popular recipes, but has kind of gotten lost in the shuffle over the years.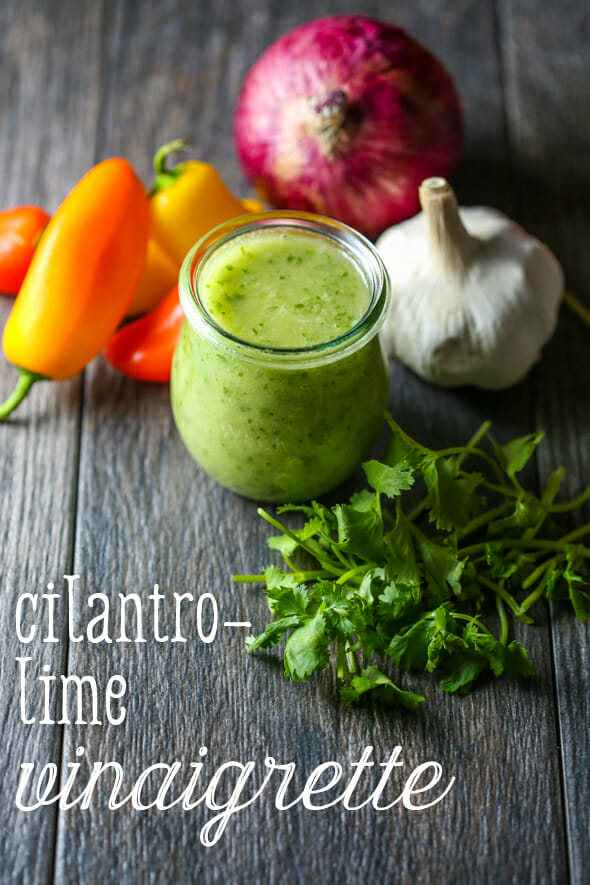 Normally we save flashbacks for later in the week, but last week was kind of a doozy–after launching the new site design, travel, and a little unexpected health-related bump in the road last week, it got bumped up to Monday this week. Hopefully if you've forgotten about this recipe, this will help you remember, and if you've never made it, now you'll want to you! You won't regret it, promise.