I had this idea in my head and I expected it to be good, but I didn't realize how good until I took a bite. It's so good! If you've never tried Naan, it's a Indian style flat bread. You can make your own, or do like I do and just buy it from the bakery section of a good grocery store. You could of course just use regular pizza crust, or a pre-cooked one, or a pita, or other type of flatbread as well, but I do really like it on naan. It has a naturally rustic quality about it that makes it taste a lot like grilled pizza, but with waaaay less work. And it's really the toppings that make it out of this world. This would be great as an appetizer, or a simple lunch or dinner. The sweetness of the caramelized onions paired with the tangy feta cheese is a-maz-ing!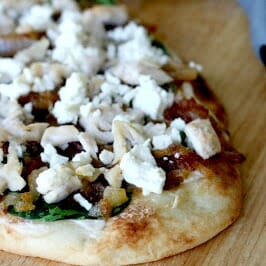 Flatbread Pizza with Spinach, Caramelized Onions, and Feta
---
Description
Sweet caramelized onions and tangy feta combine beautifully to make this easy and yummy flatbread pizza.
---
Naan or other flat bread
Alfredo sauce (either store bought from a jar or home made, but you only need a tiny bit)
Fresh baby spinach leaves
Cooked chicken, rotisserie chicken, fauxtisserie chicken, pre-cooked frozen strips, baked, etc.
Caramelized onions*
Feta cheese
---
Instructions
Layer the above ingredients on flatbread and cook in a 400 degree oven for about 10 minutes. Slice and serve!
---
Notes
Important Tip: I actually have been meaning to do a whole post on the different methods of caramelizing onions, because there are a few ways to do it. But for right here and now, if you've never done it before, just thinly slice onions and saute them in a skillet on med-low heat with a couple of pats of butter. After about 15 minutes when they're nice and soft add a sprinkle of sugar (either brown or white) if you want to enhance the sweetness. Continue cooking until they're caramel colored. It can take 20-30 minutes depending on the heat of your pan and the thickness of the onion. You could make them ahead of time and just store them in the fridge.