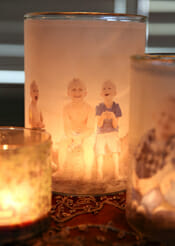 When I was growing up, we had a formal dining room that was only used on special occasions like Thanksgiving, Christmas, and Easter.  At one point I thought that was a really wasted use of space, but now looking back- because it was so special, that room was home to some of my most precious family memories.  It's the only room where we used  my great grandmother's gold-plated china.  And where we sat on fancy padded chairs and got to drink sparkling cider and use the fancy butter knives.  It's also the only room where every meal was eaten by candlelight- and it was magical.  My parents would dim the lights and right before we started our meal, they'd light tall candlesticks and the little flickering lights would reflect off the crystal goblets and make everything twinkle.  My family meals now, even on special holidays, are much more casual.  I purposely didn't build a formal dining room, and sometimes we even use (gasp) paper plates!  However the one thing that I still love, is having flickering candles on the table.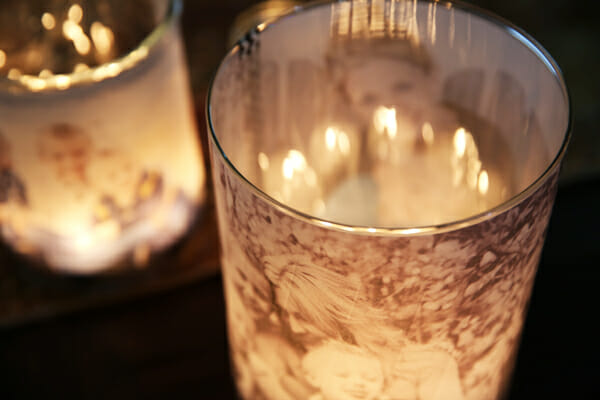 Recently I was cleaning my garage and came across a big pack of vellum from my drafting days in college.  I was showing my kids how fun it was to color on it and how when held up to the window, it became translucent and let the light through.  That's the moment I had the idea for this project, and I love how they turned out.  This is such a fun, easy, and inexpensive way to create a personalized decor piece that's perfect for a centerpiece during a special family meal, or just to enjoy at home.  These would make darling gifts, too!
To make these, I used my photo printer to print some of my favorite family photos onto vellum.  You  might have to experiment with your own printer to make sure it can print onto vellum, but most inkjet printers should work.  I'm using a Canon PIXMA photo printer and it worked beautifully.  I even used the coordinating PIXMA Printing Solutions iPhone app and printed some shots straight from my phone.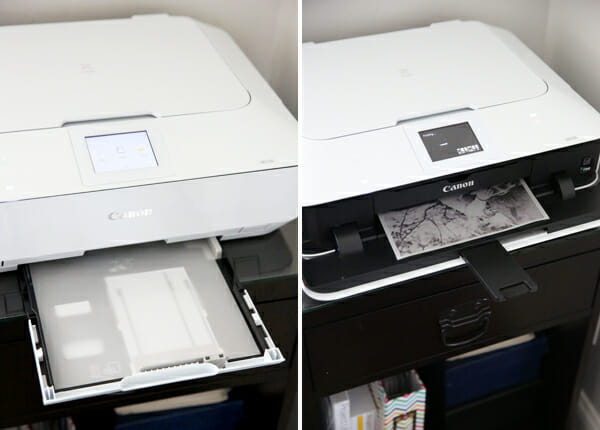 So just print out a variety of photos.  If you're using these as table centerpieces for a holiday meal, try highlighting your favorite moments from throughout the year.  Horizontal photos will work best since you'll need the width to wrap around your luminary.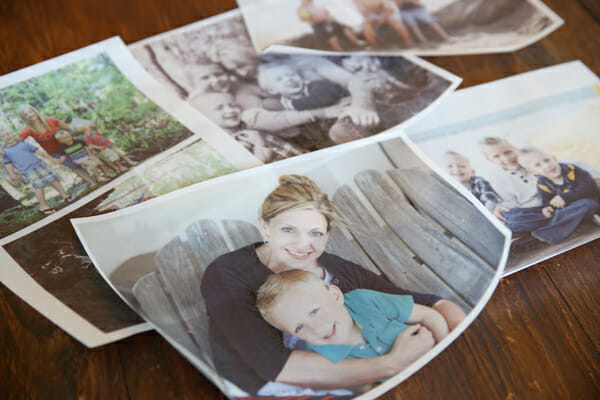 Next you'll need some glass jars or vases.  Since nothing happening here has to be permanent,  you can do what I did and poke around your house to see what you can round up.  Glass mason jars, flower vases, and hurricanes work great.  Try however, to avoid irregular shapes.  Squares will work, but the very best is smooth cylindrical shaped glass.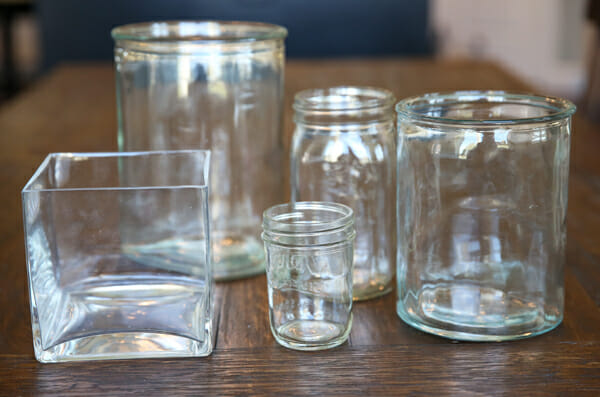 Trim your photos to the proper height of your glass.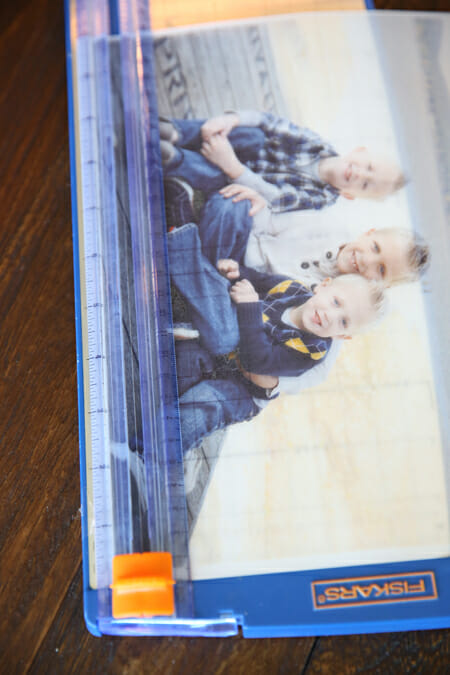 And then apply a piece of double-sided tape.  (I told you these were easy!)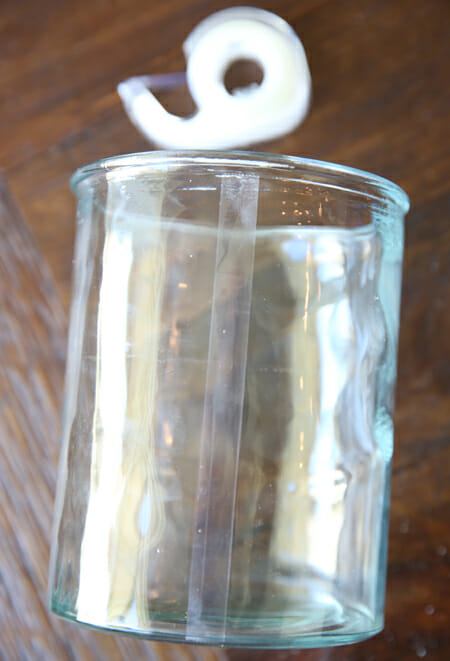 Simply attach your photo to the tape.  For larger containers, you'll need more than one photo to cover all of the sides.  Just have them meet right up in the middle of the tape for a seamless look.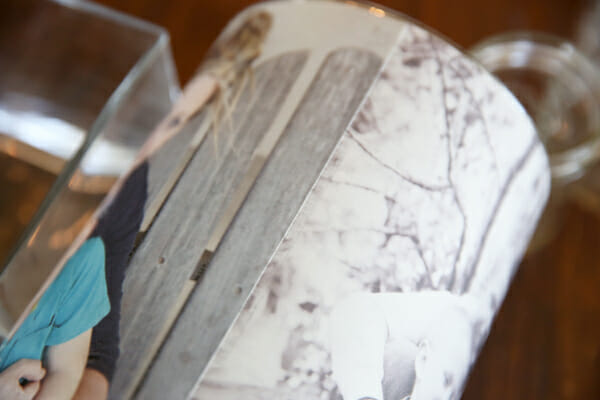 And if you want, you can even attach a piece of washi tape for decoration.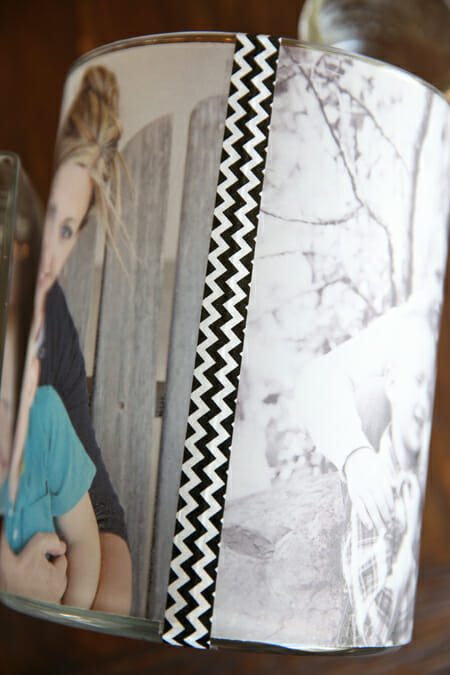 The fun part is that these little luminaries look beautiful in broad daylight.  Set on a windowsill, the light pours through them and naturally makes them glow!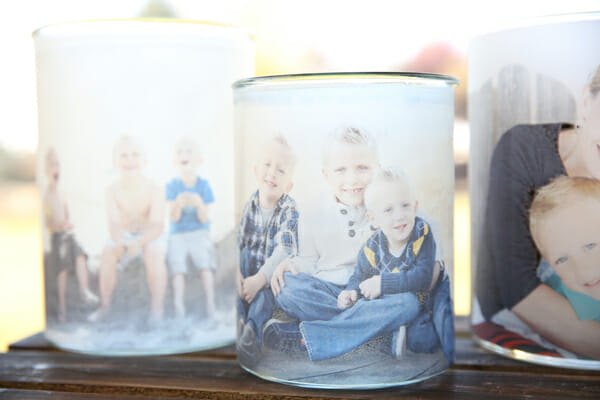 And if you're like Kate and me, and have a crazy obsession with scented candles, these little glass jars work beautifully for this project.  The lower the candle wax, the better, so if you've got some almost-empty ones, they'll work perfectly!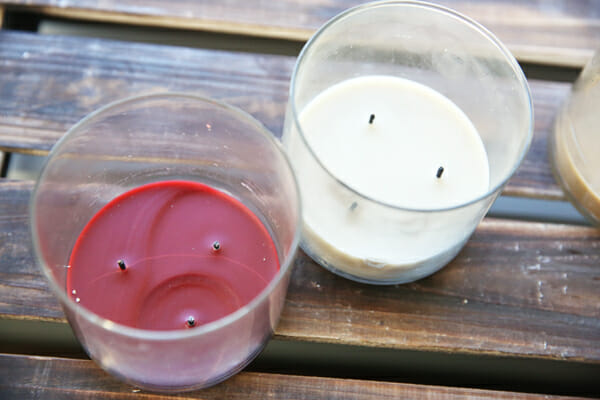 Play around with a variety of sizes and group them together for a fun display.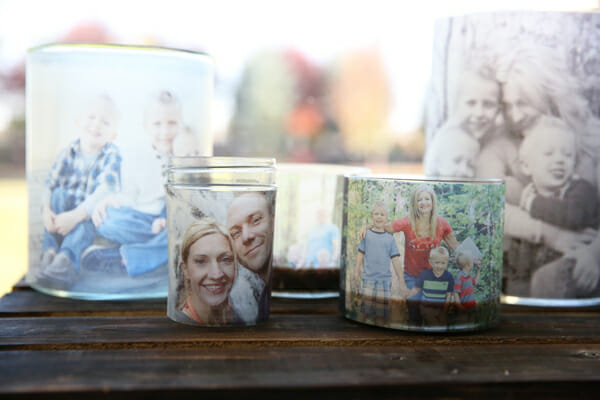 The real magic happens when the lights go dim, and the candles start burning.  Place a few tea lights in your glass containers (I put several in my really jumbo ones!)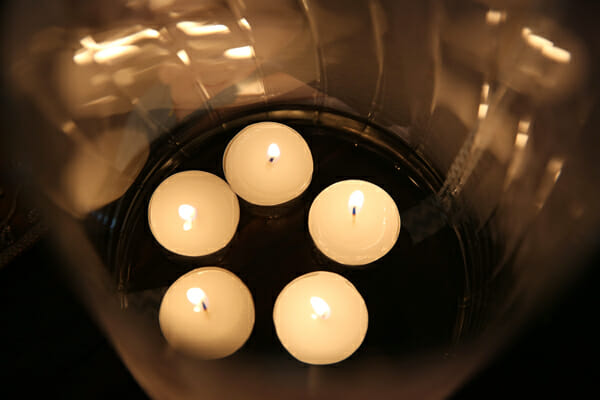 And everything will come alive with a flickering glow.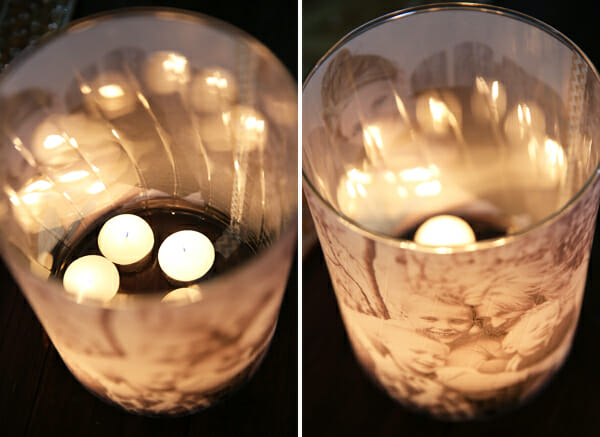 The soft light pours through the vellum and illuminates the photos, creating a beautiful work of art!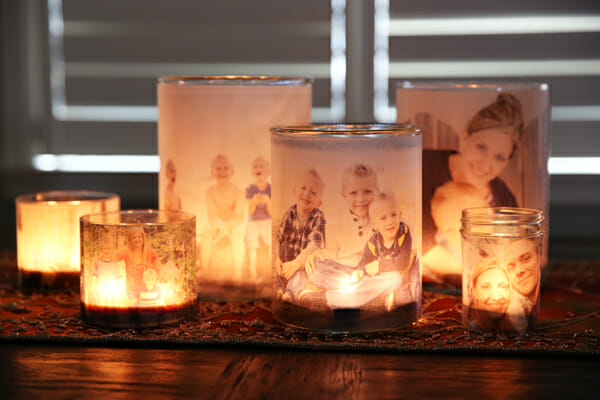 I used these at a dinner and they were the topic of conversation.  People couldn't stop looking at them, and wondered how on earth I made them, and my kids especially loved seeing their pictures on there.  The best part was hearing them say things like, "Hey, I remember that!  That's from our trip to the beach!  Remember when…."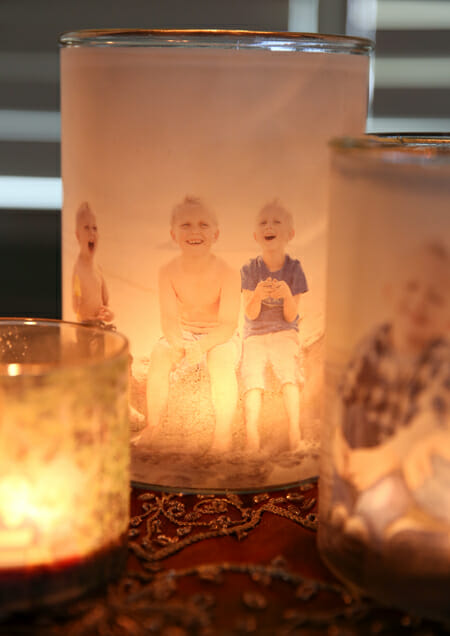 It's such a fun conversation starter.  I could see these being so beautiful for a wedding celebration as well.  Can you imagine photos of the bride and groom all lit up?  You can also use a battery-powered tea light and use these for night lights!  I let my boys put on in their room and they loved it.
Start thinking about your own family memories you could light up! (Hover your mouse over the image below, to Pin it!)
Glowing Photo Luminaries
Tutorial by Our Best Bites
Supplies Needed
blank sheets of vellum (available at craft stores)
photo printer (I used a Canon PIXMA)
double sided tape
round glass hurricanes, mason jars, etc.
tea lights or battery powered candles
Instructions
Use photo printer to print a variety of photos onto vellum.  Cut images to fit dimensions of your glass jars.  Use double stick tape to secure photos onto glass.  Place tea lights inside containers and light candles to make images glow.
Presented by Canon PIXMA Wireless All-in-One Printers. PIXMA Printing Solutions (PPS) lets you print photos or documents directly from select popular online Cloud services.