How was everyone's Fourth of July? Did you party it up for the day or extend the festivities for the duration of the week like I did? My family and I escaped to our home-away-from-home in McCall, Idaho.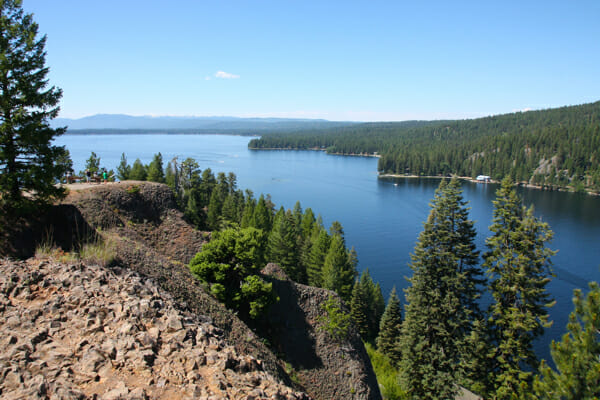 What was I escaping from, you ask? This: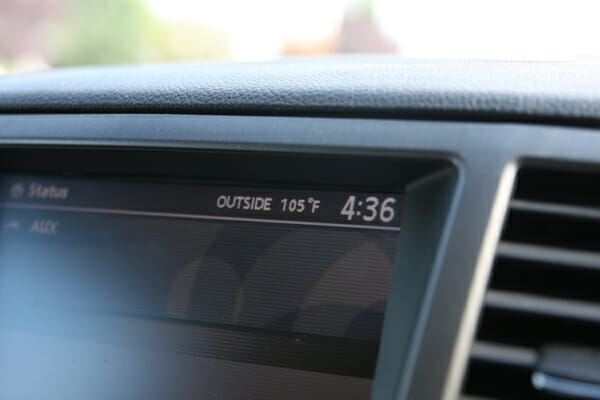 Sick.
This Seattle girl was not bred for triple digits, folks. I start getting grumpy once we get into the upper 80's and it just gets worse from there. One of the reasons I love McCall is because it's always about 15-20 degrees cooler up there in the mountains than it is in the valley where I live. My brother and his family came and met us up there and we had a week full of hiking, swimming, wild flower picking, boating, fireworks-watching, bonfire-making, and junk-food-eating.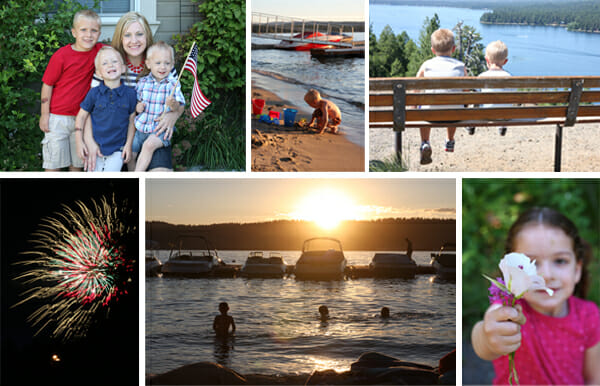 And after a week like that, plus our site crash last week, followed by a holiday and some catch up posts- I'm happy to feel like we're back on track again, starting off Monday with a recipe post!
You all know how much I love grilling pizza on my BBQ, especially during the summer months when I don't want to turn on my oven to 500 degrees. I also use my crock pot a lot, and one of our favorites is BBQ Pulled Pork. It's one of my go-to meals when we have people over because it's so easy, feeds a crowd, and is always a hit with both kids and adults. A few weeks ago I had to run to the store that very morning to grab a pork roast for dinner that night and they only had a TEN pounder. Needless to say, we had a lot leftover, and I had to be creative to find ways to use up the leftovers so my family didn't get tired of sandwiches. Hence, this pulled pork pizza, which ended up being the favorite!
Whenever you're grilling pizza it's important to have all of your ingredients prepped and ready. The cooking process happens very quickly and if you have to scramble to find things you can easily end up with burned pizza. And that's no good. I always place everything on a cutting board or tray.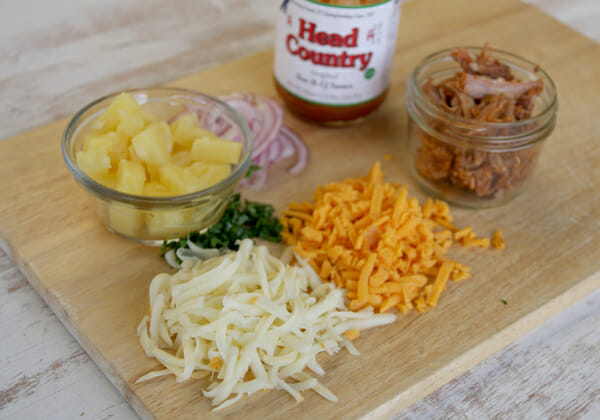 You'll need a little BBQ sauce; use whatever you used for your pork. When we went to Texas back in April for TOFW, a sweet friend wanted to make sure I went home with some real, southern BBQ sauce. I used it on my pork and it was indeed, delicious. You'll also need some thinly sliced red onion, diced pineapple, smoked cheddar cheese, mozzarella cheese, and a little parsley or cilantro.
Making your own pizza dough is actually super easy, and pretty quick. I love our recipe so that's what I use. However if you want a short-cut, you could certainly buy pizza dough and use that. Grilling pizza works best when you make several small pizzas; I keep them just a little bigger than the palm of my hand. You should be able to get 4-6 small pizzas from our dough recipe, so divide it accordingly and place on a floured surface.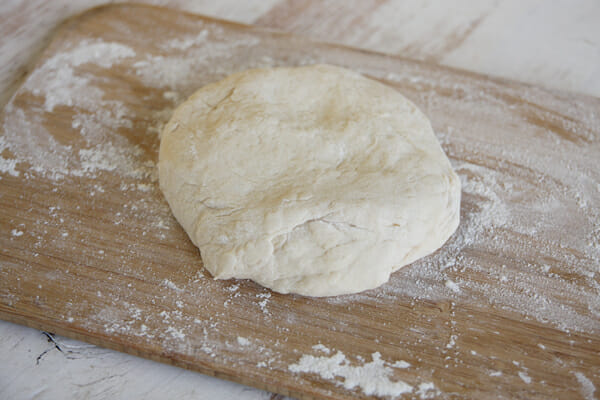 Roll and/or stretch it out to a little less than 1/2 inch thick. The dough will really puff up when it's grilled so keep it thin! You also don't need to worry about keeping the dough round. Even though the one in my photo happens to be perfect circle, note that once it's on the grill, it definitely isn't! Lightly brush the top of the dough with a little oil. Vegetable or olive is fine.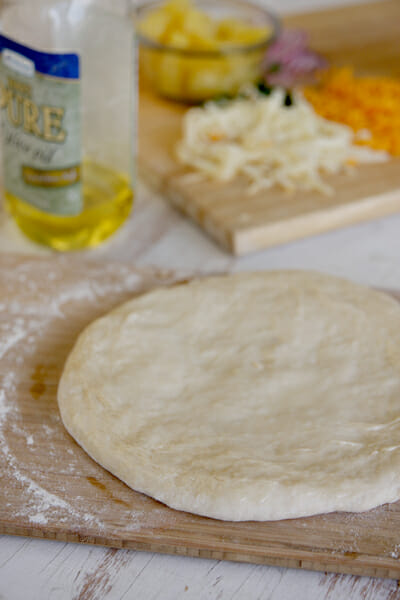 Place the dough oil-side-down on a hot grill. Once I put my dough on, I like to turn down the heat a little to avoid burning the bottom of the pizzas. Close the lid (See? Not a circle.) All grills are different, but it should take just a few minutes to puff up on top and get nice golden grill marks on the bottom. When you read that point, quickly brush the top side of the dough with oil and flip it. At this point you'll want to put toppings on immediately. Give it a quick brush of BBQ sauce.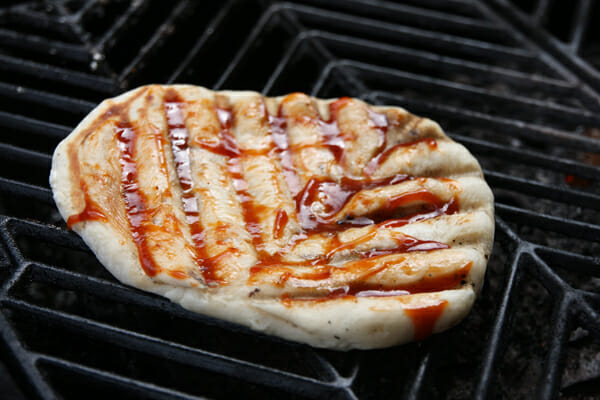 And then layer on all of the other toppings. I always put cheese on first, then toppings, then a little more cheese. For this pizza I'm using a combo of smoked cheddar, which adds awesome flavor, and creamy mozzarella (because you can't have a pizza without mozzarella!) I do about 1 part smoked cheddar to 2 parts mozzarella. Add the toppings fast and then shut the grill lid again. You need it to heat up like a pizza oven so it can cook both the dough and the toppings.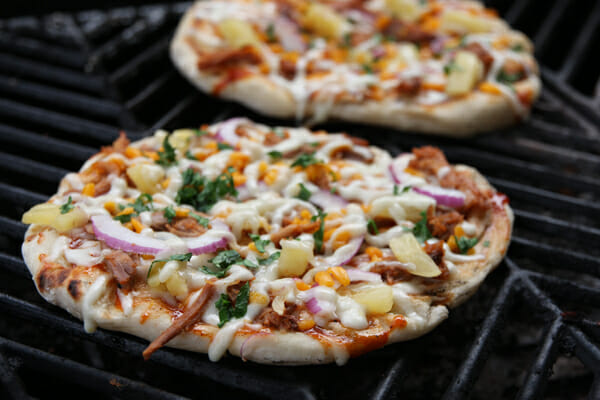 When you can tell it's puffed and a little charred around the edges, and the toppings are nice and melty, pull that bad boy off the grill.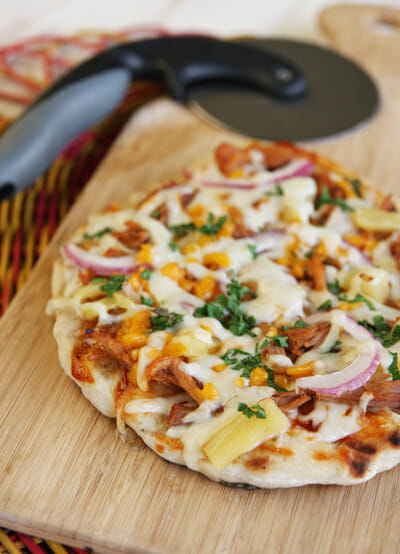 If you're timing is ever off and your dough cooks before the toppings do, you can always pop it under a broiler really quickly just to melt the cheese.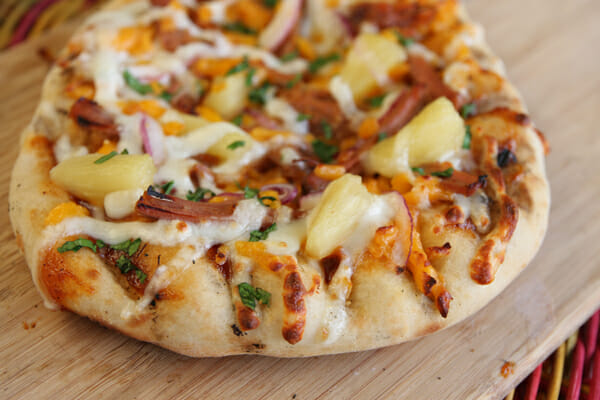 At our house we always just put all of the pizzas on a big cutting board in the middle of the table and just slice them into big chunks. Rustic style dining at its best.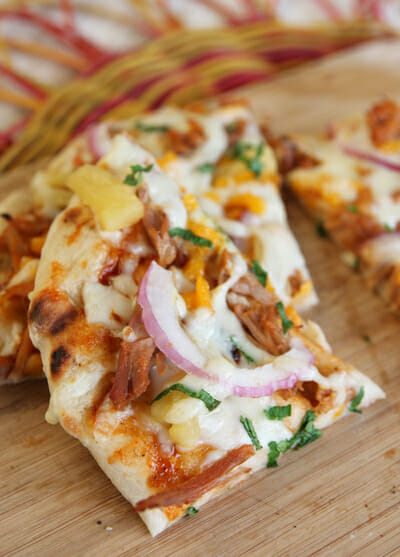 We love the sweet and spicy tang from the BBQ sauce, the tenderness of the pork, combined with the sweet juicy bite of pineapple and a little crunch of red onion. The cilantro or parsley adds a really fresh, bright flavor at the end and the combination of smoky cheddar and mellow creaminess of mozzarella is the perfect accompaniment.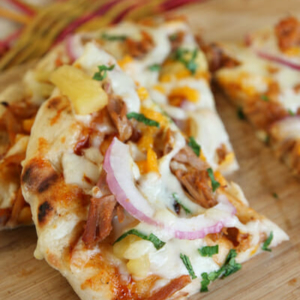 Grilled BBQ Pulled Pork Pizza
---
Description
This is one of my go-to meals because it's so easy, feeds a crowd, and is always a hit with both kids and adults.
---
Pizza Dough, either homemade or store-bought
vegetable or olive oil
Leftover BBQ Pulled Pork (Click Here for Recipe)
BBQ Sauce (Use the same one you used to cook your pork)

1

part smoked cheddar

2

parts Mozzarella cheese
thinly sliced red onion
diced pineapple, fresh or canned
chopped parsley or cilantro
---
Instructions
Prepare your pizza dough. When it has just 5-10 minutes of rising left, preheat outdoor bbq grill to medium-high heat. Place all other prepped ingredients on a tray so they're ready to go and easily accessible.
Divide dough into 4-6 pieces. Roll out each piece on a floured surface to about 1/3 of an inch thick. Lightly brush with oil.
Make sure grill grates are clean, and lightly grease them. (Tip: An easy way to grease grill grates is to dip a few folded paper towels in vegetable oil and use a pair of tongs to hold them and lightly rub them along grill grates.) Place dough oil-side down on grill. Lower heat just a bit and close the lid. Cook for a few minutes, checking for the dough to look puffed, and golden brown on the bottom. Lightly brush top side of dough and flip.
Immediately drizzle top of pizzas with bbq sauce and spread out evenly. Sprinkle with cheeses, pork, red onion, and pineapple. Close BBQ lid and cook for a few more minutes until crust is cooked and toppings are melted and bubbly and then sprinkle on cilantro or parsley. If bottom crust is getting too done, place on top rack, or turn off heat directly under pizza to let center of dough and toppings continue to cook. If needed, you can always pop pizzas under the broiler to brown tops.
---
Notes
Notes
As pizza is an easily adaptable dish that can be customized to the creators liking, exact measurements are not given here. Eyeball it for the specific size pizza you are making.
Hopefully the thought of grilled pizza gets your week off to a good start. Another thing that will help is that we have a giveaway on The Scoop tomorrow. We're actually going to have a bunch of giveaways this month, so keep an eye on
The Scoop!