I think I've mentioned before that although I've always loved to play around in the kitchen, I didn't really start exploring my inner foodie until I moved to an apartment my sophomore year of college and had my own (well, shared with 3 other girls, but not my parents) kitchen for the first time. This is literally one of the first dishes I made on a regular basis that wasn't 100% from a cookbook. And I mean, it's really not rocket science, but believe me, marinating and grilling vegetables was a long, long way from Some-Kind-of-Browned-Meat-in-Cream-of Something-Soup-Over-Some-Kind-of-Starch-ville where I grew up.
learning to cook
I had completely forgotten about this recipe and then I reconnected with one of my former roommates on Facebook and I remembered that this was one of her favorite things to eat. I feel like I really have come so far in the years since we lived together that it may not be "my thing" anymore, so I decided to try making it again. After pulling these off the grill, I was genuinely surprised that not only was it "my thing," but it was ultimately "my thing"–fresh and flavorful, a slight twist on something a little more classic. It really kind of…I don't know…gave me more faith in myself that my initial foodie instincts were so true to who I am now.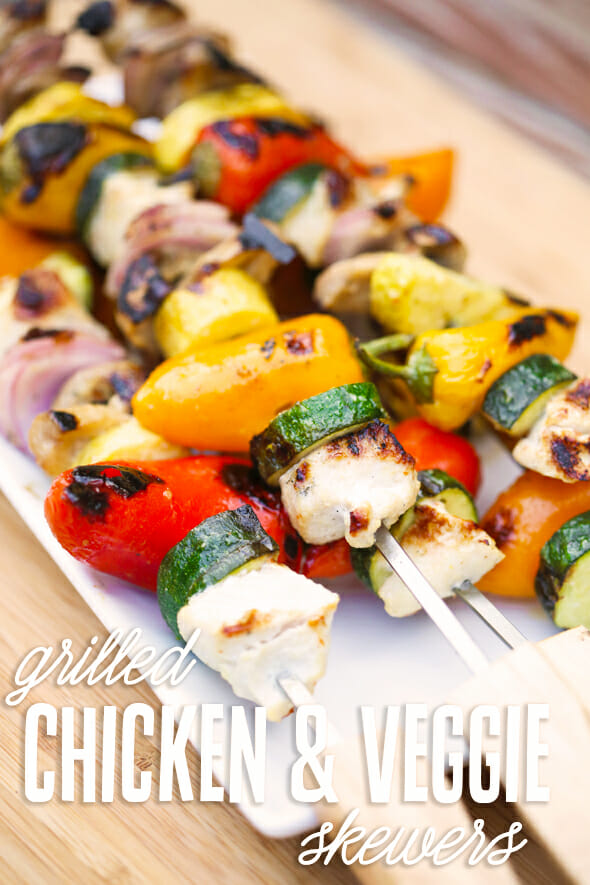 mixing things up
You can mix this up a little–use steak instead of chicken or throw in some eggplant and nix the onions if you want.  Also, I am totally and completely in love with mushrooms anyway, and I'll tell y'all…after they've marinated and then been grilled, they are absolutelydivine. But I also (very sadly) get that mushrooms aren't everyone's thing. I really, really, REALLY encourage you to keep them (even my pickiest eaters love these mushrooms), but I definitely don't want to trigger any gag reflexes out there, so leave them out if you absolutely must.
how to make them
as well as pound of boneless skinless chicken breasts…
 cut into bite-sized pieces.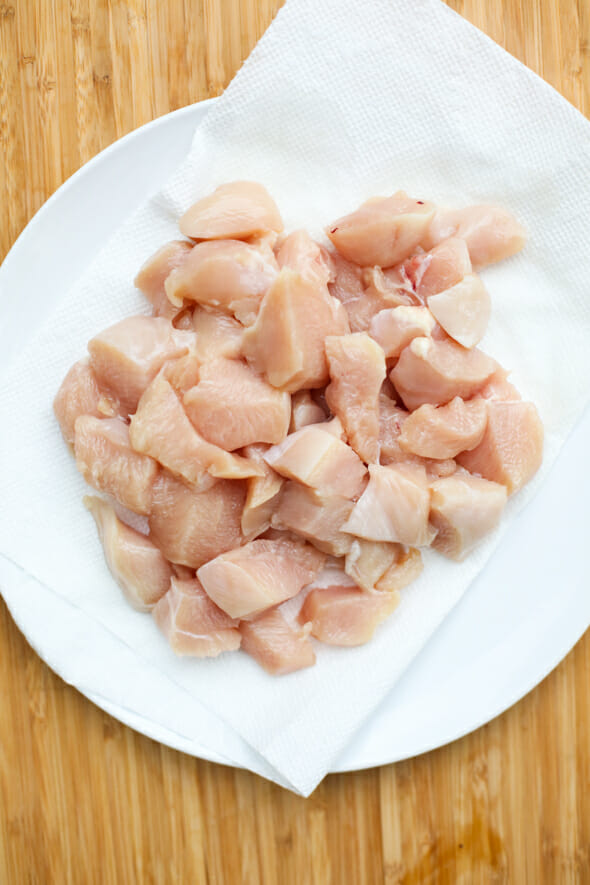 You're also going to need an assortment of cut-up veggies–I love the mini sweet peppers, red onions (try to keep them together as much as possible while you're cutting them up), yellow squash, zucchini, and whole mushrooms cut in half.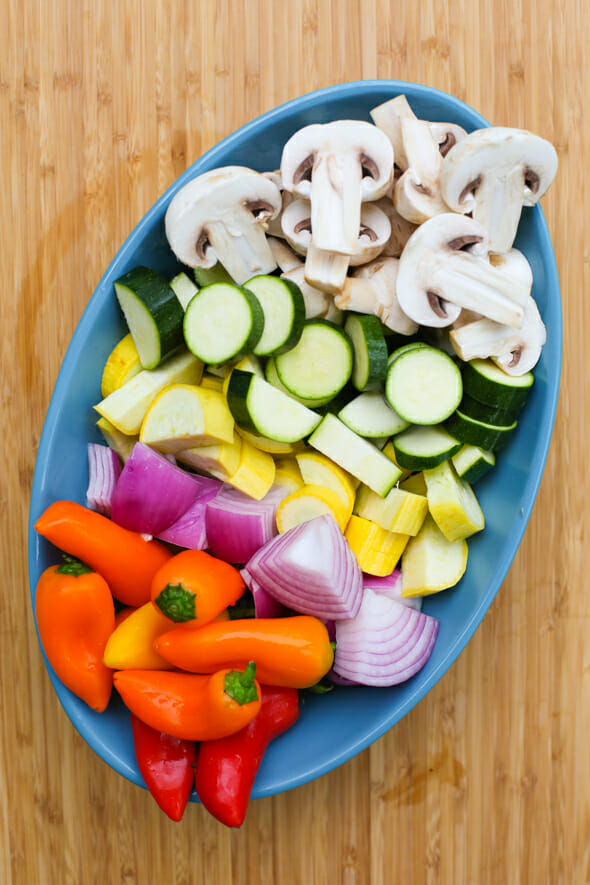 Place the veggies in a gallon-sized Ziploc bag and drizzle about 3/4 of the dressing over the vegetables.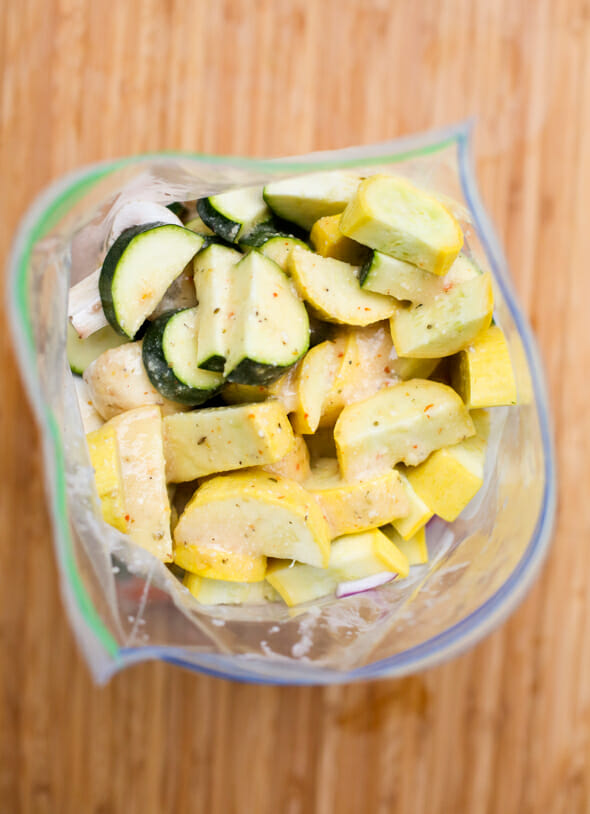 Place the cut-up chicken in another large Ziploc bag and pour the remaining dressing over the chicken. Seal and refrigerate both bags for at least 4 hours, no more than 24 hours.
Now…I have a complicated relationship with cooking skewered stuff on the grill. I love it–some of my favorite recipes are recipes cooked on sticks over open flame. But. The bamboo skewers have to be soaked (which is another dish to clean and also another thing to think of at least 30 minutes in advance) and mine always end up burning, anyway. Also, have you tried turning meat on a burning wooden stick (yes, that was supposed to be read Joey Tribbiani-ly)?? It's hard. I've tried those metal skewers a few times, too, and while we don't run into the burning issues, we still run into the turning issues.
I ordered one set and ended up loving them so much that I ordered another. You leave the handle on the outside of the grill (the lid still closes just fine) and then you can easily turn your skewers, no soaking, no fires, no burned fingers (this totally isn't sponsored, I just really love them.)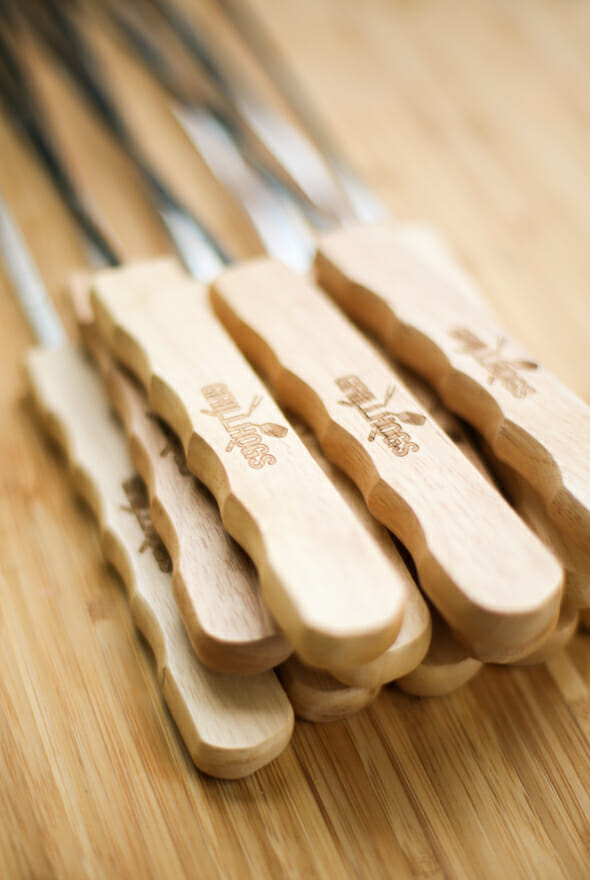 Anyway.
When you're ready to cook, preheat your grill over medium heat to about 425 degrees. Thread the meat and veggies onto the skewers.
You guys…this meal makes my heart go pitter-pat.
Lightly oil the grill grates before adding the skewers and then grill for 4-5 minutes…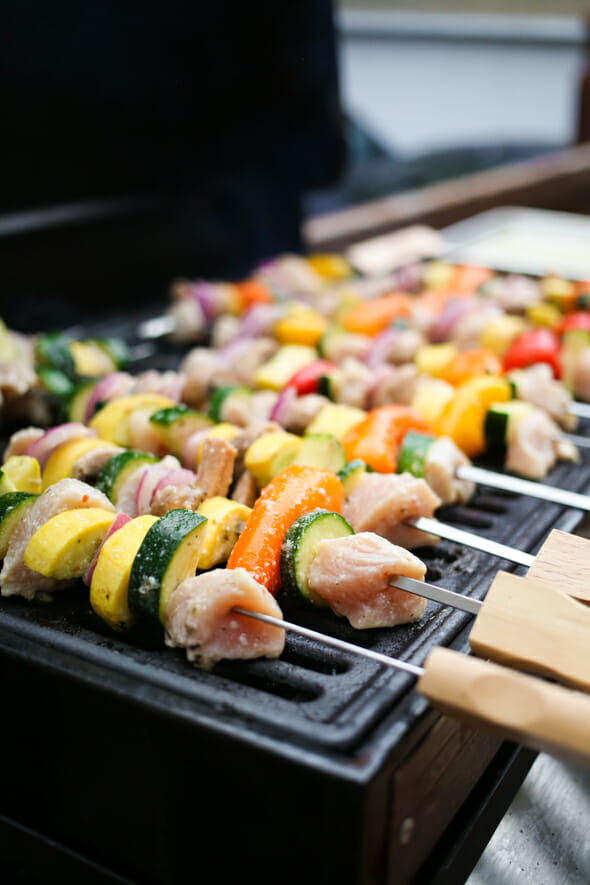 flip the skewers and grill another 4-5 minutes on the other side.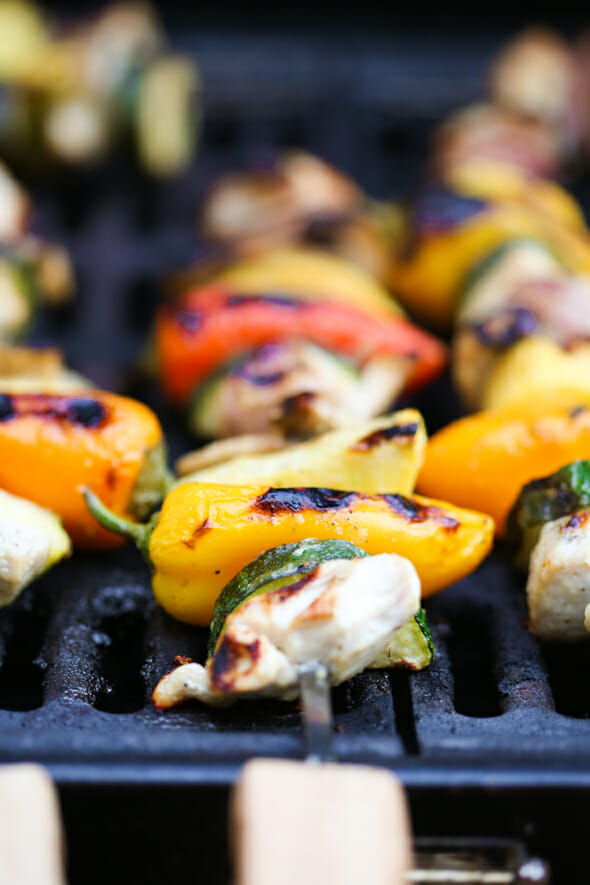 And voila! You have one of my most favorite meals of all time!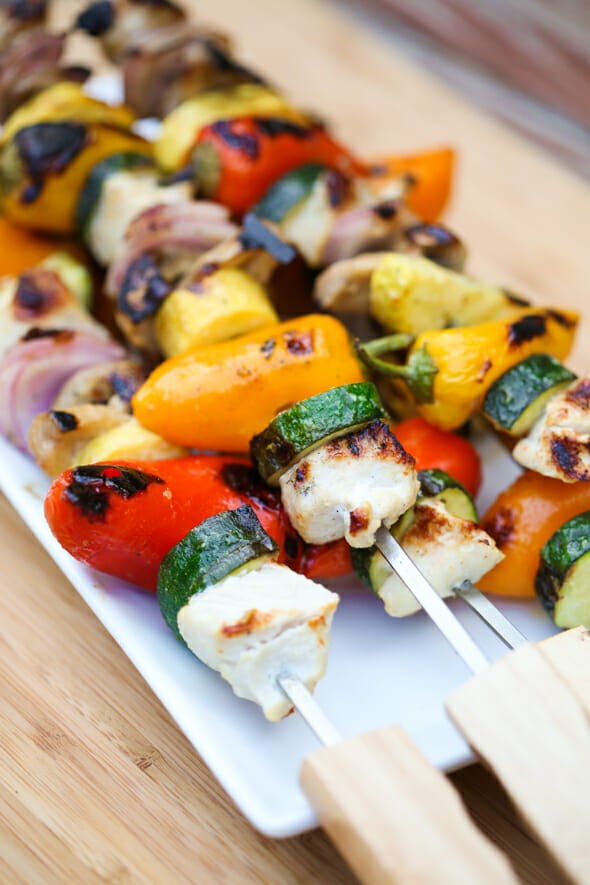 They will smell fantastic–the smell and flavor, strangely, is actually very reminiscent of Churrasco restaurants like Tucano's or Rodizio grill. Pop off one of those GLORIOUS mushrooms as soon as they're cool enough to handle and serve with some cubed watermelon and Brazilian Lemonade for a fabulous summer feast!
Print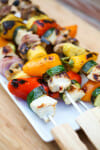 Chicken and Veggie Skewers
---
Description
These skewers will be a surefire hit, whether it's for a weeknight family dinner or if you're serving them to guests!
---
1

pound boneless, skinless chicken breasts, cut into small, bite-sized pieces

1

each yellow and green zucchini squash, cut in half (if large) and sliced

8 oz

. small whole mushrooms, sliced in half

2

–

3

cups mini sweet peppers

1

small red onion, carefully cut into bite-sized chunks (try to keep as much of the pieces in tact as possible, but don't stress it if they start to fall apart)

1

recipe Homemade Italian Dressing (see link; this can be made up to several days in advance)
---
Instructions
Place the veggies in a large Ziploc bag and drizzle about 3/4 of the dressing over the veggies. Seal and place in the refrigerator.
Place the chicken breast pieces into a large Ziploc bag and add the remaining dressing. Seal and place in the refrigerator. About 30 minutes before serving, remove both bags and skewer the chicken and vegetables onto the skewers (if using bamboo skewers, be sure to soak them in water for at least 30 minutes before skewering the food.) I usually try to get about 3 pieces of chicken plus as many vegetables as I can onto each skewer.
When ready to cook, preheat the grill to about 425 degrees F. Lightly grease the grill grates, then add the skewers. Cook for 4-5 minutes on one side, flip, and cook for another 4-5 minutes. Remove from grill and serve immediately.
---
---
 *Disclaimer: this post includes affiliate links, which just means that when you purchase items through our links, we earn a small commission, which helps us keep working hard to create recipes for you!