So you know this 7-Layer Greek Dip that I posted around the beginning of the year? Yeah, that recipe and I kind of have an unhealthy, co-dependent relationship. The good news is that it's loaded with things that are good for you, so it's not like having an unhealthy, co-dependent relationship with, say, a tower of doughnuts or bricks of Velveeta, but still. Don't think I wasn't a little ashamed to spoon the dip into a little ramekin and snack on it on the sly.
Well, I had that dip on my mind the other day as I was dreaming up this Greek dressing and, having read about Greek Tacos in the latest issue of Taste of Home magazine, I thought that maybe, just maybe, it would be a little more socially acceptable to put all my favorite Greek-ish things into taco form than eating it with a spoon.
If you start totally from scratch here, this meal could be pretty work intensive, but if you work in leftovers and maybe a tub of store-bought hummus, it comes together in a matter of minutes. I started out with marinating some chicken in our super-easy Greek Vinaigrette…
After a few hours, I popped it onto the grill.
At that point, you can either serve it right away or refrigerate it until you're ready to serve it. Whatever works, right?
Then, aside from the tortillas, I swapped out all of the typical Mexican taco ingredients for more Greek-inspired ingredients:
Shredded lettuce=chopped or shredded Romaine
Cheddar cheese=crumbled Feta cheese
Black olives=chopped Kalamata olives
Guacamole=Hummus
Jalapenos=Sliced or chopped pepperoncinis
Sour cream=Tzatziki
Pico de Gallo=Greek-ish Tomato Salad
Wondering what Greek-ish tomato salad is? Um, what planet have you been living on? Just kidding–I totally just threw a bunch of stuff together and gave it the very technical name of "Greek-ish Tomato Salad." What goes into Greek-ish Tomato Salad? Roma tomatoes, minced red onions, any combination of fresh basil, oregano, and/or parsley, and Greek Vinaigrette to taste.
Chop up the tomatoes…
and then toss in some minced onions and chopped herbs…
and toss the mixture with enough Greek dressing to taste. You might need to add little kosher salt and freshly ground pepper as well.
So anyway, how do you put this all together? Super, super easy. Fill individual tortillas with your favorite toppings and enjoy–a perfect family-friendly, guest-friendly healthy summer meal!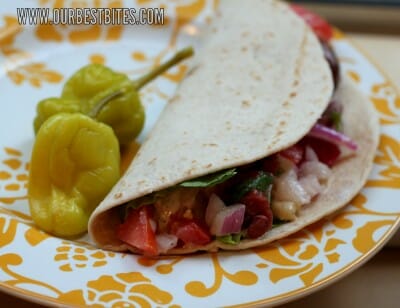 Also, for those of you in the Seattle area, please come see us today and tomorrow!
June 10th
1-2:30 pm
Beehive Books & More
10213 24TH STREET E
EDGEWOOD, WA
*Bellevue, WA*
June 10th, 5pm
Deseret Book
3080 148TH AVE SE STE 108
BELLEVUE, WA 98007
*Seattle, WA*
June 11th
Costco 12-1:30pm
Aurora Village
1175 North 205th St
Seattle, WA
*Seattle, WA*
June 11th
Barnes & Noble
3-5 PM
2675 NE University Village Street
Seattle, WA 98105
Greek Tacos
Recipe by Our Best Bites
1 lb. boneless skinless chicken breasts or white fish like cod or tilapia
Greek Vinaigrette
Your choice of toppings:
*Chopped or shredded Romaine lettuce
*Crumbled Feta cheese
*Tzatziki
*Hummus
*Chopped or sliced pepperoncinis
*Greek-ish Tomato Salad (recipe below)
*Small whole-grain tortillas
Marinate chicken or fish in Greek Vinaigrette for at least 4 hours. Grill and then cut into slices for serving. Fill warmed tortillas with desired toppings and enjoy!
Greek-ish Tomato Salad
3 Roma tomatoes, seeded and diced
1/2 small red onion, diced
1/4 c. (total) of any combination of fresh, chopped basil, oregano, and/or parsley
Greek Vinaigrette to taste
Kosher salt and freshly ground black pepper to taste
Toss the diced tomatoes, diced onions, and chopped herbs together until combined. Toss with the Greek Vinaigrette (to taste) and season with salt and pepper to taste. Serve on top of the tacos or add Kalamata olives and feta cheese for a side-dish.