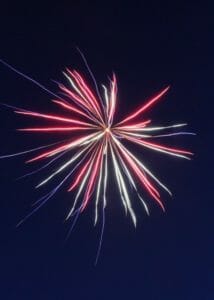 Our sincerest apologies for the crazy week we had with our site down.  I feel like I'mplaying catch-up a little.  We had to cancel some posts, obviously, so we're rearranging a bit!  Everyone has been begging to sneak a peak of Kate's new little one, so you'll get that Friday (yay!) and then we'll be back to yummy food next week.  We also have several giveaways going up on the Scoop this month- first one heading your way on Tuesday, so make sure to check there often during the next few months!
I'm guessing a lot of you are already out enjoying the holiday today, but for anyone who's around and looking for something to take to a BBQ today, here's a few of our favorite red, white, and blues!

You could probably still pull off this fun, striped Jell-O if you start it asap so it has time to chill!  I've seen lots of people cutting it into stars and it looks sooooo cute.
One of my kids' favorites- layered Red, White, and Blue drinks!
Super, duper easy.  If all else fails- whip up some patriotic Strawberries!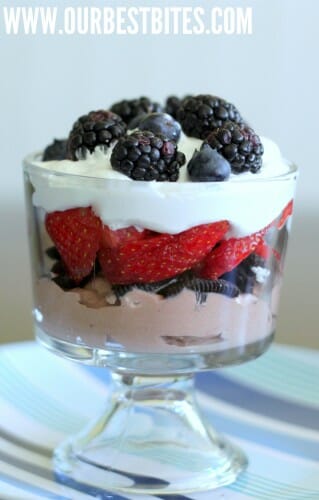 Kate's gorgeous Chocolate Berry Trifle looks stunning on a holiday table.

These little snack bowls are a great DIY for older kids, and made from paper plates!

One of my all-time faves (and on my menu this year) Cookie Fruit Pizza.
One of the first Fourth of July posts I ever posted, and still one of my favorites.  Everyone loves a mini pie 🙂
This is one of our favorite holidays, and we hope you all have a good one too!  Remember, we have tons of great BBQ recipes in our Grilling Section, great salads for potlucks in our Salad Section, and tons more treats!  What's everyone making to eat??