Many people have commented that we should write a cook book containing nothing but popcorn recipes.  Heaven knows we could fill it!  We've got Kettle Corn, Caramel Corn, Fruit Flavored Candy Popcorn, Peanut Butter Cup Popcorn, Cinnamon Cookie Crunch Popcorn, Peppermint Bark Popcorn, Cinnamon Bun Popcorn, and more.  But one thing we haven't posted?  Savory popcorn.  Which is actually quite surprising since I make savory popcorn mixes as often as sweet.  Okay, not really as often.  Sort of often.  Only when I'm out of sugar.  But still.  Parmesan popcorn in particular, reminds me of my Dad.  I grew up in a movie family; we loved watching movies, my Dad in particular, and no home movie night was complete without a giant bowl of air-popped popcorn drizzled with melted butter, and often sprinkled with Parmesan cheese.  I used to rummage through the big bowl and try  to pick out all of the butter-soaked pieces, the way my kids rummage through the Lucky Charms for the marshmallows.  My husband and I love movies too, and lucky for me, I have a mother-in-law who buys almost every new release the day it comes out and is kind enough to share them with us.  So pretty much every night is movie night around here.  And movies are so much more fun with popcorn.  It's true.  If you're craving something crunchy and savory, this is a fun snack that just takes a few minutes to whip up.
Just put a few pats of butter and a drizzle of extra virgin olive oil in a pan with fresh garlic.  I let it sizzle for a few minutes so the garlic softens and infuses the butter, which will in turn coat the popcorn.  Then sprinkle in a few herbs.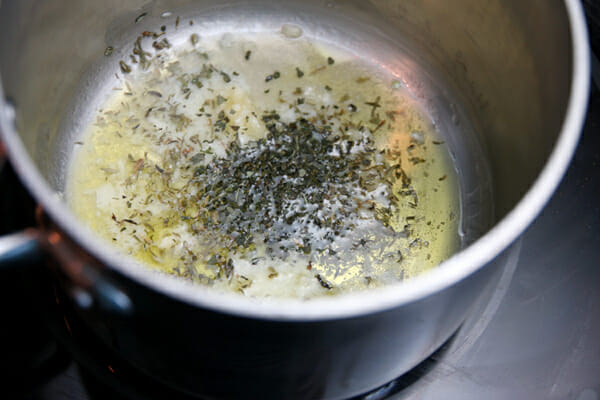 Pour the garlicky, buttery mixture over a bowl of fresh popped popcorn.  I make the butter mixture first and then set it aside while I pop my popcorn because it's extra yummy when the popcorn is still warm.
Make sure you stir it right before you pour, and then gently drizzle it over the popcorn (while stirring if you can manage) so you don't end up with all the butter and/or herbs in one spot.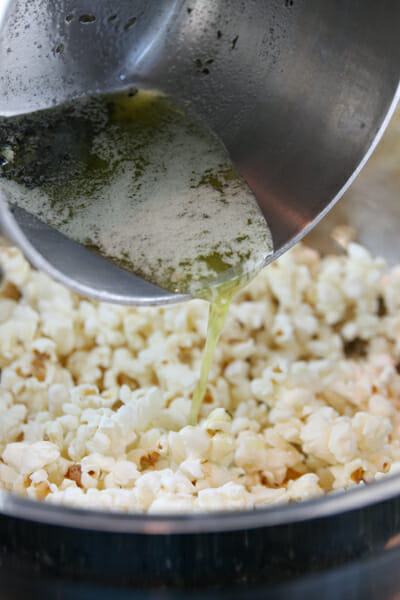 Immediately after pouring, stir stir stir.  You want to toss it all together and attempt to get a little glaze of butter on as many pieces as you can.
After it's tossed together, sprinkle in the Parmesan cheese.   You can finely grate it (I use a microplane) or used crumbled (store-bought or crumbled in a food processor.)  Just avoid big thick shreds, or the pre-shredded Parmesan in bags.  It's best to use a crumbled or freshly grated.  If your popcorn is still a little warm, the tiny cheese shreds will melt onto it and stick.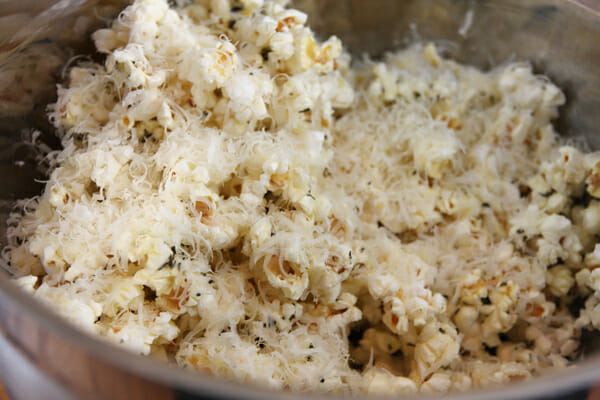 Give that a quick toss and you're done!  Hopefully your popcorn is still warm and you can start munching away.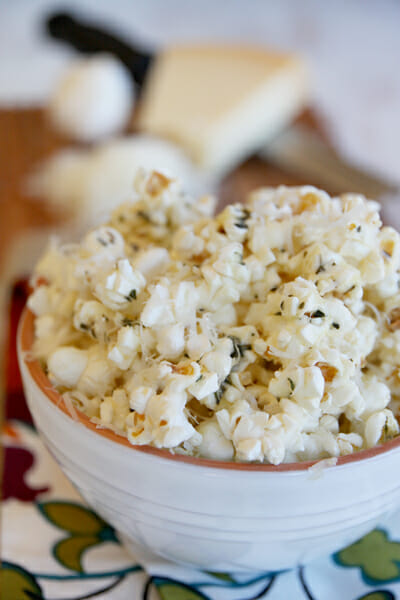 Print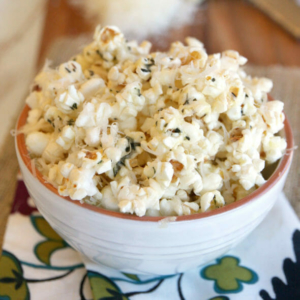 Herbed Garlic-Parmesan Popcorn
---
Description
If you're craving something crunchy and savory, this is a fun snack that just takes a few minutes to whip up.
---
1 tablespoon

butter 1 tablespoon extra virgin olive oil

1

large clove garlic, pressed through garlic press

1/2 teaspoon

dried thyme

¼ teaspoon

dried basil

8

–

10

cups popped popcorn (or

1

bag natural, unsalted microwaved popcorn)

¾ cup

finely grated Parmesan cheese, more if desired
---
Instructions
Place butter, olive oil, and garlic in a small sauce pan over medium-low heat. Heat until butter melts and starts to lightly simmer. Cook while stirring with rubber spatula for 1-2 minutes, until garlic is softened and fragrant. Add thyme and basil and stir to combine. Remove pan from heat and set aside.
Prepare popcorn if you haven't already. Place popcorn in large mixing bowl. Drizzle butter mixture over popcorn while stirring with large spoon or spatula. Quickly toss to coat. Add Parmesan cheese and toss until well distributed. Top with additional Parmesan if desired and serve immediately.
---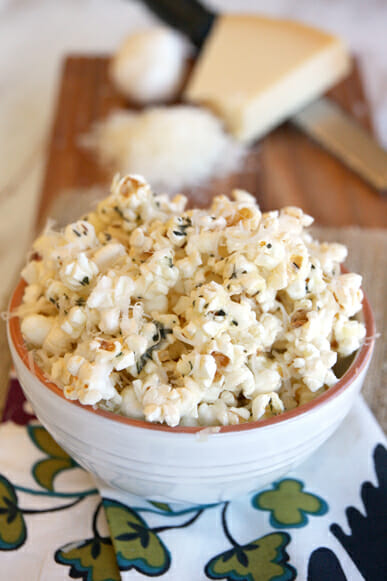 I came up with this recipe for Whole Foods, who is all about Parmesan this month!  Catch a live streaming event, tonight (2/27) at 6pm central here!
*Disclaimer: This post contains affiliate links.