I have vivid memories from my childhood of running errands with my Mom, often at Bellevue Square Mall (oh how I miss that mall!) in my hometown. It seems like we were always there doing something or other and even with my toddler-sized memories I can still recall the exact section of the parking garage we always parked in. I think it had less to do with the layout of the stores we were going to and more to do with the fact that it was the closest entrance to Mrs. Field's Cookies. I can't remember a single mall trip when we didn't take a break for either a cookie (we both always chose White Chocolate Macadamia Nut) or a Cinnabon Cinnamon roll (always with extra frosting!) Taking my own children to the mall with me is something I try to avoid at all costs, but sometimes it's inevitable. And when I do, we always stop for a treat. Partly for nostalgia purposes and partly to keep their little hands and minds occupied in the stroller for more than 4 minutes so I can walk them into a store without them destroying it. Mrs. Fields is a regular on our route, until recently when my kids discovered the pretzel shop. And of course I'm super smart and let their first discovery of the soft and chewy carb dream be bite-sized ones covered in gobs of cinnamon sugar so now that's the only kind they want. Which means they're covered in gobs of cinnamon sugar. Any sane person would stop that habit right away, but not me. Because I like to steal their pretzels. My husband suggested we make them at home, so here we are.
These actually require very few ingredients and the payoff is huge. It's a perfect weekend baking project, so have fun! Start by combining warm water, yeast, some sugar, and some salt in a bowl and let it sit until it gets foamy. Remember, if your yeast doesn't foam- it's better to start over now, then ruin a whole batch of pretzels!
When the yeast is ready, add some all-purpose flour and melted butter.
That's all! You'll mix and knead and then let the dough rise until it's nice and puffed.
Now you have a few options. Obviously you can make traditional pretzels. Creating a pretzel shape isn't complicated,
but don't feel bad if it takes a few tries to get it right. I should post a photo of my out-takes, they were sort of hilarious. I kept my dough possibly a little too soft which made it hard to shape! Don't worry though, they don't have to be pretty to taste amazing. I'll show you another shaping option down below.
One step I admit I've skipped in the past is the boiling step. Traditionally pretzels are given a quick boil in baking soda water, and it might sound like a hassle that you just want to skip over. I've changed my ways after realizing that boiling step is what gives the pretzels not only their signature flavor, but also that perfect chew. It doesn't take long at all to fill up a pot of water and bring it to a boil, so don't skip that step (you know, like I apparently skipped the pictures of it…)
The pretzels go straight from the water to a baking sheet where you can give them a little brush of egg wash and, if you're going to leave them plain, a sprinkle of salt. After they cook up golden brown I like to brush them with melted butter.
annnnd then dump them in a big bowl of cinnamon-sugar.
Holy smokes these are good.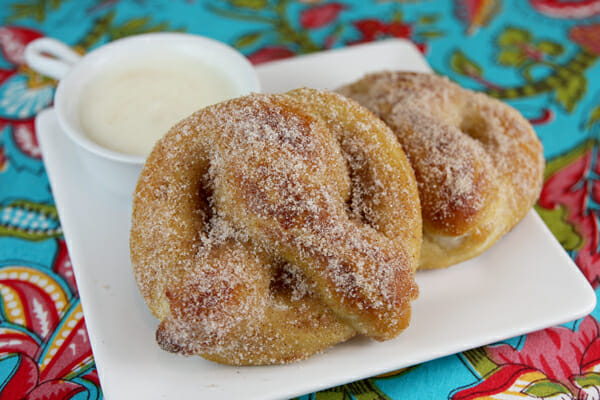 You must, must eat at least one (and possibly all) while they're still warm. The outsides have that slightly tangy chew and the insides are so tender and soft. Perfection.
Now. All that being said, I very rarely make these in big pretzel shapes. At my house we make pretzel bites. They're quicker, easier, and more fun to eat. Instead of forming those ropes into pretzels, just slice them into 1-2 inch pieces. Follow the same baking process and then make a "dip" (aka frosting) for dunking.
---
1 1/2 cups

warm water (

110

–

115

degrees F)

1 tablespoon

sugar

2 teaspoons

kosher salt

1

package active dry yeast (I used rapid rise yeast)

22 oz

all-purpose flour, about

4 1/2 cups

2 ounces

unsalted butter, melted
Vegetable oil for pan

10 cups

water

2/3 cup

baking soda

1

large egg yolk beaten with 1 tablespoon water
optional: additional melted butter and cinnamon-sugar
optional: powdered sugar, milk, melted butter for dipping
---
Instructions
Combine the water, sugar and kosher salt in the bowl of a stand mixer and sprinkle the yeast on top. Allow to sit for 5 minutes or until the mixture begins to foam. Add the flour (tip: don't add all the flour at once, just in case you don't need it all. Reserve a small amount and add as needed for a soft dough) and butter and, using the dough hook attachment, mix on low speed until well combined. Change to medium speed and knead until the dough is smooth and pulls away from the side of the bowl, approximately 4 to 5 minutes. Remove the dough from the bowl, scrape the bowl clean and then oil it well with vegetable oil. Return the dough to the bowl, cover with plastic wrap and sit in a warm place for approximately 50 to 55 minutes or until the dough has doubled in size.
Preheat the oven to 450 degrees F. Line 2 half-sheet pans with parchment paper and lightly brush with the vegetable oil. Set aside.
Bring the 10 cups of water and the baking soda to a rolling boil in an 8-quart saucepan or roasting pan (non-aluminum pot.)
In the meantime, turn the dough out onto a slightly oiled work surface and divide into 8 equal pieces. Roll out each piece of dough into a 24-inch rope. Make a U-shape with the rope, holding the ends of the rope, cross them over each other and press onto the bottom of the U in order to form the shape of a pretzel. Place onto the parchment-lined half sheet pan.
Place the pretzels into the boiling water, 1 by 1, for 30 seconds. If you're making pretzel "bites" put in as many as will fit without crowding. Remove them from the water using a large flat spatula (a metal spider works great). Return to the half sheet pan, brush the top of each pretzel with the beaten egg yolk and water mixture and sprinkle with pretzel salt or kosher salt. Bake until dark golden brown in color, approximately 12 to 14 minutes. Transfer to a cooling rack for at least 5 minutes before serving.
---
Notes
Cinnamon Sugar Version: Prepare as directed but don't sprinkle with salt before baking. Immediately after removing pretzels from oven, brush with melted butter and toss in a bowl of cinnamon-sugar.
Cinnamon Sugar Dippers: Instead of shaping pretzels into the traditional shape, roll dough into ropes and cut into 1-2 inch pieces. Continue preparing as recipe instructs, brushing with butter immediately after removing from oven and tossing in cinnamon sugar. Create a dipping glaze by mixing about a cup of powdered sugar with 2-3 tablespoons melted butter and then add milk as needed, whisking until smooth. Serve warm.