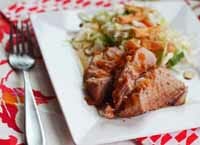 Whether or not I'm trying to eat healthy, one of my very most favorite things to eat is pork tenderloin. It's super lean and no matter how you cook it, it's done in a matter of minutes. When cooked right, it's super lean, flavorful, adaptable to all sorts of flavors, and something quick and easy for a weeknight but also fancy enough to serve for company.
I saw this recipe in last month's issue of Cooking Light and I knew when I read it that it would be amazing. I finally got around to making it last week and not only did I have all the sauce ingredients in my kitchen, but it was possibly the best pork tenderloin I'd ever eaten. My husband loved it. My kids loved it. It was a New Year's miracle.
Luckily, pork tenderloins are almost always sold in pairs, so I happened to have another one handy for a repeat performance, which, even though I had eaten it only 3 days earlier, was just as incredible the second time around. My dog thought so, too–my tiny canine who, about 50% of the time, whines and cries because she "can't" get up onto the couch leapt on top of my table and ate my beloved tenderloin after I took pictures. However, I would take her endorsement with a grain of salt; she subscribes to the "eat first, think later" philosophy. Unless it applies to her actual dog food, which she refuses to touch.
Preheat the oven to 400. One of the changes I made was increasing the oven temperature–I felt like it had to cook too long at 350 and didn't come out browned on the outside and juicy on the inside.
You're going to need 1 pork tenderloin (the recipe says a 1-pound tenderloin, but really, it could be quite a bit bigger or smaller and it would be fine), orange marmalade, soy sauce, garlic, honey, cider vinegar, salt, and pepper.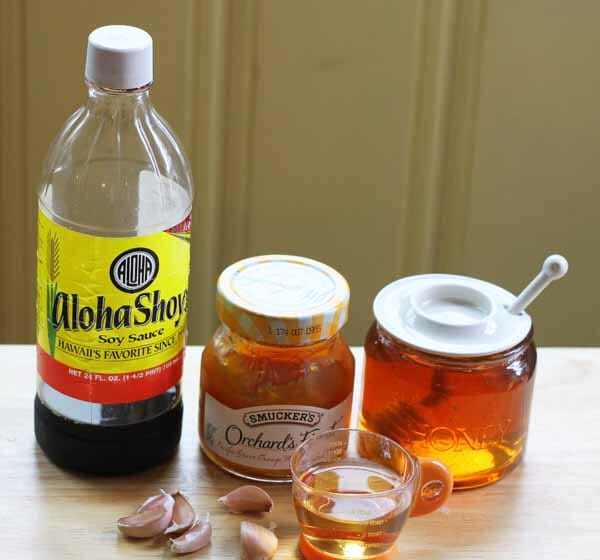 Whisk together the sauce ingredients. Reserve 2 tablespoons of the sauce and set aside.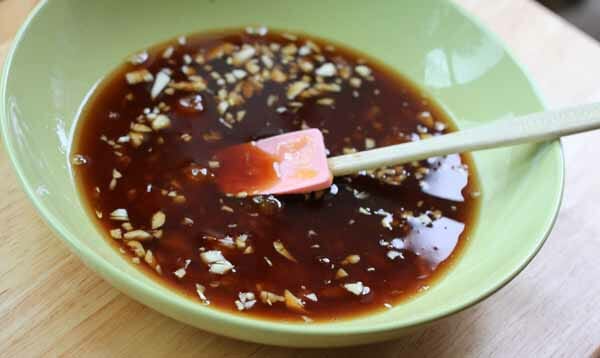 Place 2 tablespoons of vegetable or olive oil into an oven-safe skillet and heat over medium-high. While the oil is heating, sprinkle the tenderloin with kosher salt and black pepper.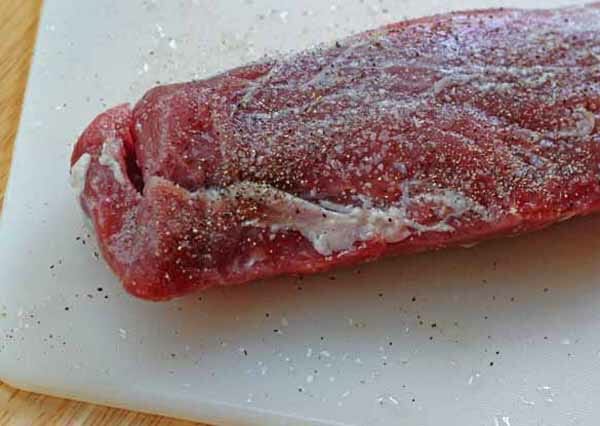 When the oil is hot, place the tenderloin in the pan and sear each side for 1-2 minutes until the tenderloin has a golden brown crust on both sides.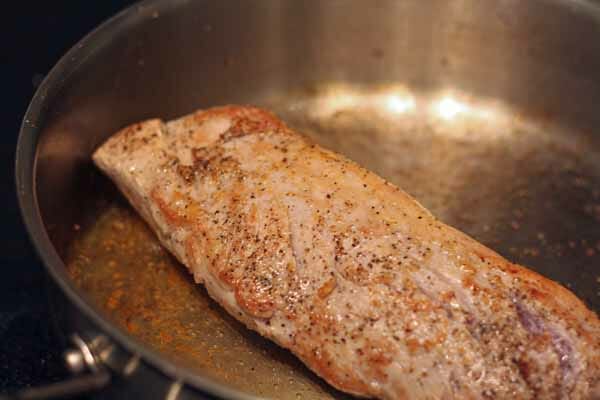 When the roast has finished searing, remove from heat and drain excess oil. Drizzle about 1/2 of the sauce over the tenderloin…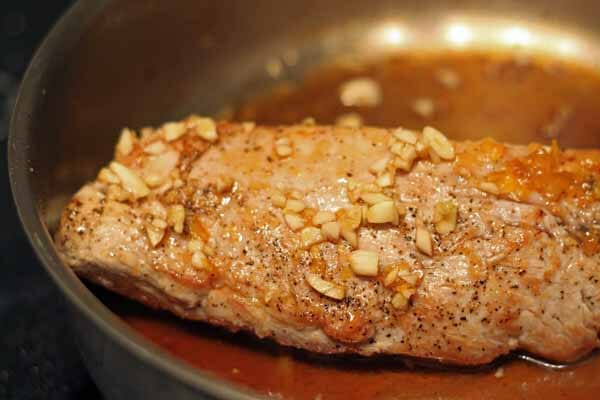 and place the pan in the oven. Cook for 10 minutes.
Remove the pan from the oven and flip the tenderloin. Word to the wise: Toss a hand towel or place a potholder over the hot pan handle. It's easy to forget it's hot. Sara and I have NO first-hand knowledge of this.
Pour the remaining sauce (except for the reserved sauce) over the tenderloin and place the pan back in the oven. Cook for another 10 minutes or until a meat thermometer registers 155 degrees. Remove from oven and allow to stand for 10 minutes. Drizzle with reserved sauce and slice.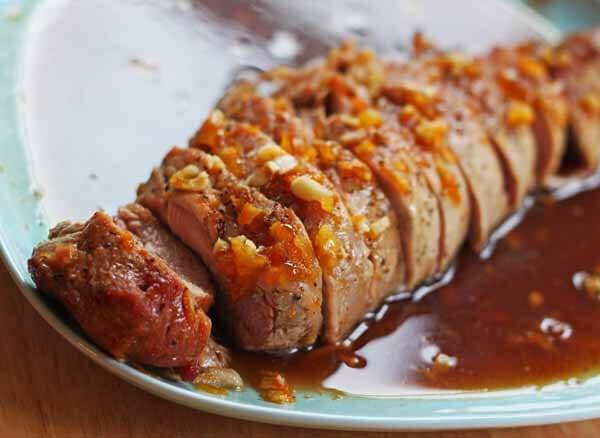 I served ours with a produce-department salad very similar to this salad and it might be my new favorite meal. Be sure to drizzle the sauce over the individual slices!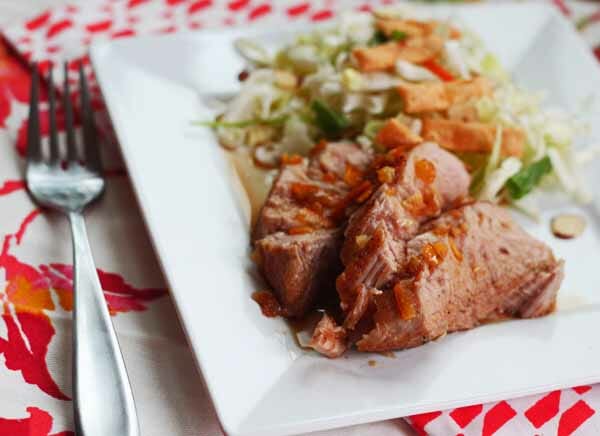 I think the nutritional information is a little high–most of the calories/fat come from the oil used to sear the roast (which I drained, but the Cooking Light recipe doesn't include that step) and with the assumption that the sauce will be divided among 4 servings. My first tenderloin was pretty big, serving at least 6, and we didn't even come close to using all the sauce. I'm not lowering any of the nutritional info, though–I figure it isn't too bad to begin with and it's better to overestimate than to underestimate, right?
Nutritional Information:
Calories: 275
Fat: 9.5
Carbs: 21.9
Protein: 24.8
WW Points Plus: 7
Honey-Orange Pork Tenderloin
Recipe lightly adapted from Cooking Light
Ingredients:
1/3 cup orange marmalade
3 tablespoons cider vinegar
3 tablespoons soy sauce
1 1/2 tablespoons minced garlic
1 1/2 teaspoons honey
2 tablespoons vegetable or olive oil
1 1-pound(ish) pork tenderloin
Kosher salt and black pepper
Instructions:
Preheat oven to 400 degrees. In a small mixing bowl, whisk together the marmalade, vinegar, soy sauce, garlic, and honey. Reserve 2 tablespoons and set the sauce aside.
Heat the oil in an oven-safe skillet over medium-high heat. Season the pork tenderloin with salt and pepper. When the oil is hot, add the tenderloin and cook for 1-2 minutes or until a golden brown crust starts to form. Flip the tenderloin over and cook for another 1-2 minutes or until the entire tenderloin is golden brown. Remove from heat. Pour about 1/2 of the sauce over the pork. Place the pan in the oven and cook for 10 minutes. Remove the pan from the oven and flip the tenderloin over. Add the remaining sauce (not the reserved 2 tablespoons) and place the pan back into the oven. Cook for another 10 minutes or until a thermometer reads 155 degrees. Remove from oven and allow to stand for 10 minutes. Drizzle with reserved sauce and cut into 1/2″ slices. Serve immediately with a salad or vegetables. 1 1-pound tenderloin serves 4.