When I was 21 I packed my bags and spent 18 months living in Southern Brazil.  It was one of the greatest adventures of my life, and the culture definitely influenced my culinary loves (hello lime, coconut, and black beans.)  One thing I quickly learned was how to use a pressure cooker.  Everyone in Brazil has a pressure cooker; it's pretty much standard kitchen equipment.  I lived in some extremely poverty-stricken areas, and even when families could fit everything they owned into a single box, there was a pressure cooker in that box.  It's the standard way of cooking the unofficial national food, beans, among other things.  I ate black beans for lunch every single day for 18 months (and actually never tired of them!) and they cooked up in mere minutes because of those handy pressure pots.  Upon returning home and preparing to head back for my final year of college, my Mom bought me this little Kuhn Rikon Pressure Cooker, so I could make all of the foods I had fallen in love with down there.
I've never written about pressure cooking, or shared any pressure cooker specific recipes, because I never saw a huge market for it, until recently!  In recent months, pressure cooking has gained steam (see what I did there?)  and it seems it's be all the rage all of the sudden!  We are getting so many questions and emails and requests, so we thought it was about time we tackled this topic.
A pressure cooker is a pot with a sealed lid.  Normally when you cook in a regular pot, heat causes moisture to produce steam and it evaporates out the top.  With a pressure cooker, as liquids start cooking, they produce steam.  The steam is trapped inside, creating an environment of extremely high pressure and temperature.
Lots of reasons, but some of the most popular:
Time: Because a pressure cooker increases the temperature and pressure, things cook in the fraction of the time they would cook in a normal cooking environment, such as on the stove or in the oven.  For example, a tough roast and potatoes that would normally take hours in the slow cooker or braising in the oven can be fork-tender and on the table in an hour.  Brown rice and dried black beans take about 15 minutes.  Rice, 3 minutes.  And quinoa? One minute.  One.
Results:  The high pressure environment forces liquid into foods quickly, tenderizing at an impressive rate.  Tough cuts of meat turn out tender and moist, and things like potatoes (one of my favorites to do in the pressure cooker) and vegetables are perfectly cooked.
Flavor:  Less liquid is required, and everything is trapped in the cooking environment, so foods turn out more flavorful and concentrated than other cooking methods.
Energy and Savings: Foods don't take as long to cook, so it's less time burners are on and appliances are running.  It's also a great option for the summer when you want that slow braised roast without having your oven, or even the steaming crock pot on for hours.  It also allows you to buy less-expensive cuts of meat (the tough stuff) and tenderize it quickly.

Just about anything!  I use mine a lot for meats, potatoes, and stews.  You can also cook desserts and sweets, like sweetened condensed milk, flan, and cheesecake.  Kate and I both have new electric pressure cookers, so be on the lookout for upcoming recipes!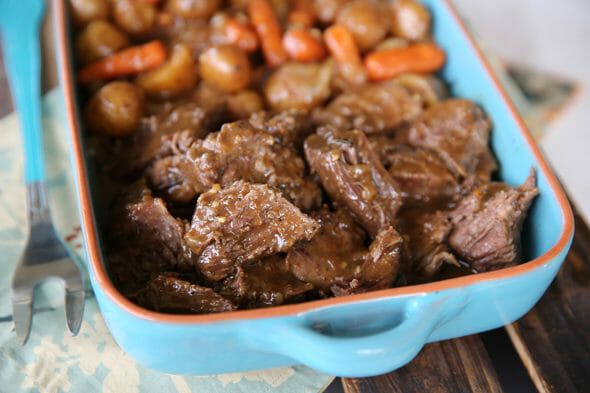 In the pressure cooking game there are 2 main players: Traditional Stove Top and Electric.  A traditional pressure cooker sits on the stove top like a normal pot.  You control the heat just like you would with any other pot.  You can sear meats and vegetables, then add liquid and seal on the top to cook.  You control the pressure inside the pot by adjusting the heat on the stove and watching the gauge on the top display the intensity of the pressure (high or low).
An electric pressure cooker has its own heat source, it works similar to a slow-cooker (many electric pressure cookers function as slow cookers as well) and often has a variety of pre-set settings you can choose for different foods.  You can push a button and the whole thing runs, and regulates pressure, by itself.
There are pros and cons for each option.  The stovetop varieties heat up quicker for less overall cooking time, but I also feel like I have to babysit the pot carefully and keep adjusting heat.  Although the electric styles take a little longer to heat up, I love the ease of just being able to push a button and walk away.   You also have more control over the heat on the stove top if you want to brown vegetables, sear meat, etc.  before pressure cooking.  That being said, I'm impressed at the high heat my Electric Instant Pot provides for sauteing.  It's plenty hot. Stove top models vary in size and generally are available in larger capacity than electric models, which are usually 6 quarts.  However, I have yet to have my 6 quart pot feel too small to cook anything.

There are a lot of options, and I can certainly tell you what I have experience with, and what I've heard from other friends with pressure cookers.
Kuhn Rikon:  I feel like these are the BMW's of traditional pressure cookers.  Mine has lasted a good 16 years now.  They are expensive, but have incredibly  high ratings and are exceptionally well made from a very reputable brand.  They tend to be available in larger sizes than the electric versions, and their stainless steel construction makes them ideal for heavy duty use, assuring excellent browning and heat conduction.
Instant Pot:  I don't know how these guys revved up their marketing campaign, but whatever they did, it worked.  With over 5,000 reviews and a 5 1/2 star rating, they are Amazon's #1 Seller.  I bought one last fall, and from what I hear- lot's of you did, too!  It's pretty affordable compared to some of the other big name brands out there (even moreso during their sale last fall where it was about $80.)  Here is one of their models that is on sale right now for about $90, and this bluetooth version for a good deal as well. After several months of use, I really love my Instant Pot.  It has a lot of settings you can default too, and once you get the hang of things, it's really easy to just set it manually as well.  I really love how it sautes at a high heat as well, so you can do one-pot cooking.  For example, start a soup by sauteing the onions and garlic, and then adding the rest of the ingredients to pressure cook, or cooking a roast and then bringing the sauce up to a boil to cook some gravy.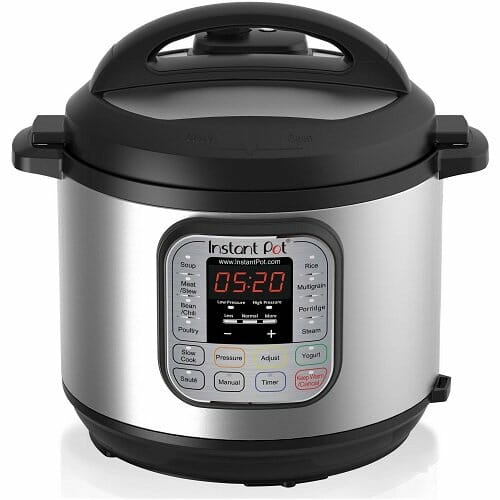 Other pressure cookers that I do not own, but have heard good reviews about (all of these are top-rated from America's Test Kitchen) are:
Emeril 1000-Watt 6-Quart Electric by T-Fal
Cuisinart 1000-Watt 6-Quart Electric
Fissler Vitaquick 8.5-Quart
Fagor Duo 8-Quart Stainless Steel
Presto 8-Quart Stainless Steel
Tramontina 8-Quart Heavy Duty
I also recently bought the America's Test Kitchen Pressure Cooker Perfection Cookbook and I'm loving it so far!
Click Here to see all of our Pressure Cooker Recipes!