I know, I know…by the title you're expecting the most exciting blog post, EVER.  Right? Stick with me.  To pump up the excitement factor, I'm giving away something super cute, too.  You'll want one.  But let's talk brown rice for a minute, shall we?  Brown rice is a whole grain.  It's a plain grain of rice with only the outer husk removed.  To produce normal, white rice, the next 2 layers (the bran and the germ) are removed, leaving just the starchy white center.  While brown and white rice have similar amounts of calories and carbohydrates, brown rice has considerably more nutrients, including fiber, magnesium, healthy fatty acids, and much more.  It's a little chewier than white rice and has a mild, nutty, flavor.  It's definitely a great way to add healthy grains to your diet.
The problem is that it can be a little tricky to cook.  It's not hard, by any means.  You can certainly just follow the instructions on the bag,  but I find the results are incredibly varied.  Sometimes it's still crunchy when it's done, other times it's really gummy and sticky.  I almost always have a layer of rice stuck like super glue to the bottom of my pan.  For me it's really hit and miss when I cook it in a pot on the stove.  However, using this method, it's perfect every single time.  The grains are perfectly textured and fluffy, and I don't have to think about it since it's just sitting in my oven.  Here's how it's done:
Place your dry brown rice in an 8×8 pan.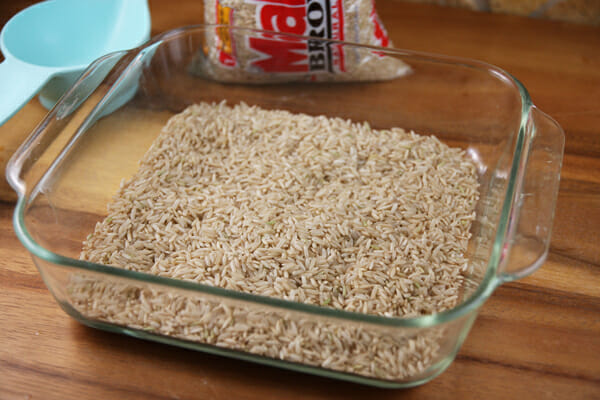 Combine 2 1/3 cups water with just a couple teaspoons of oil.  Bring it to a boil, and then add a little salt.  You can also use broth for a little extra flavor.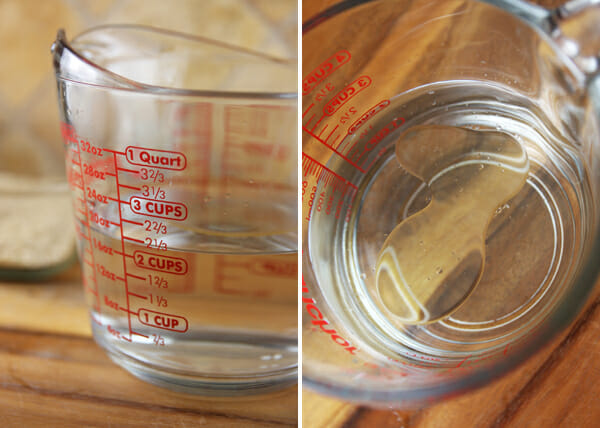 Pour it over the rice and give it a mix.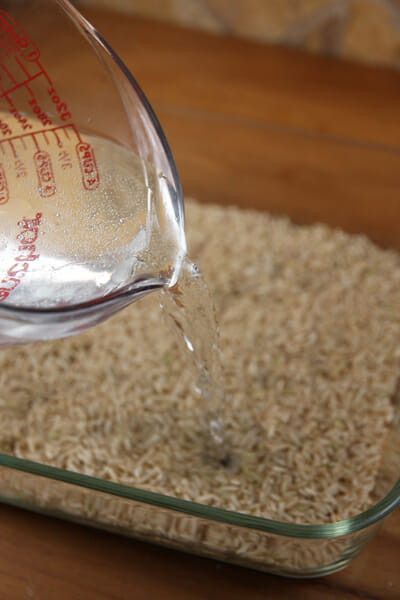 Cover the pan tightly with foil.  You don't want any of that moisture escaping and evaporating during cooking, so wrap it down tight.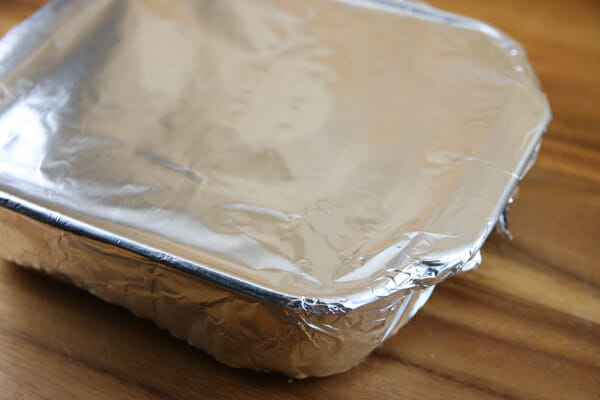 Pop the pan in the oven and leave it there for about an hour.  When it comes out, remove the foil,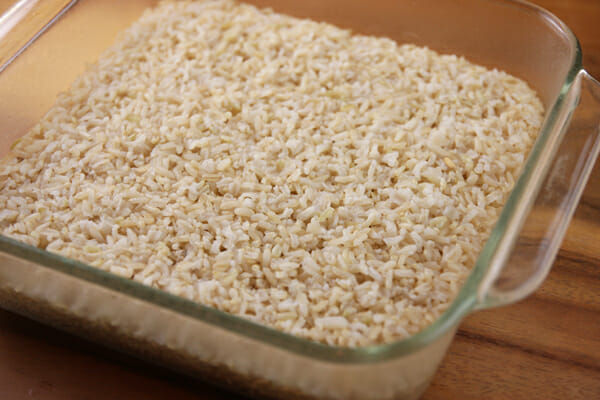 and give it a quick fluff.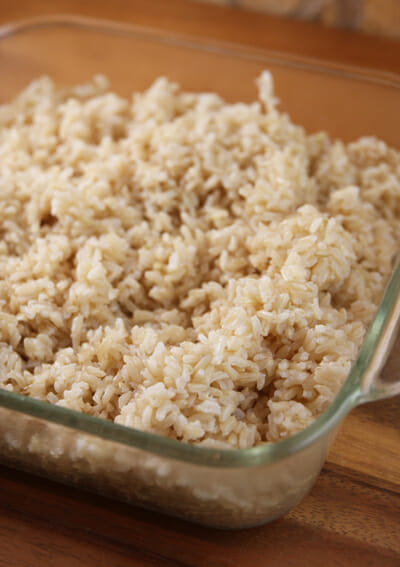 Immediately cover the pan with a clean kitchen towel.  Notice how I pulled the towel tight over the top and tucked the edges underneath the pan.  That's so the towel doesn't actually sit on the rice and just stick to it.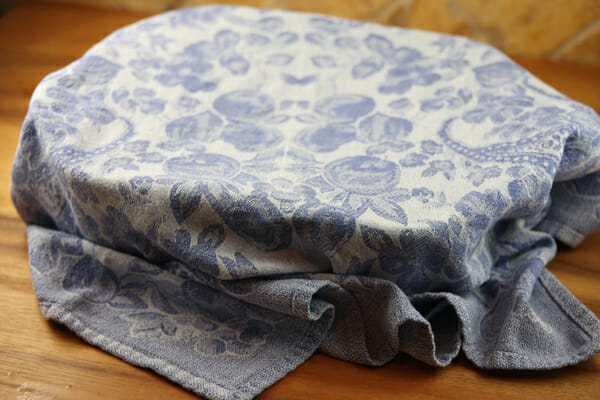 Normally, you'd just leave a pot of rice with the lid on, but what happens is that all of that hot steam evaporates and has nowhere to go.  So it collects on the underside of the lid and then falls back into the rice, making it sticky and gummy.  The towel allows the moisture to stay in the pan, keeping the rice moist and fluffy, but excess steam is absorbed into the towel.
The result is simply, brown rice perfected.  Sometimes simple tricks are the best.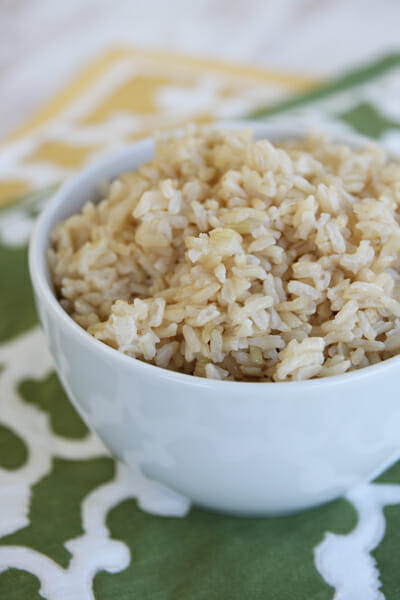 This is a great little recipe to print out and tape to your rice container, or on the inside of a cabinet for easy reference.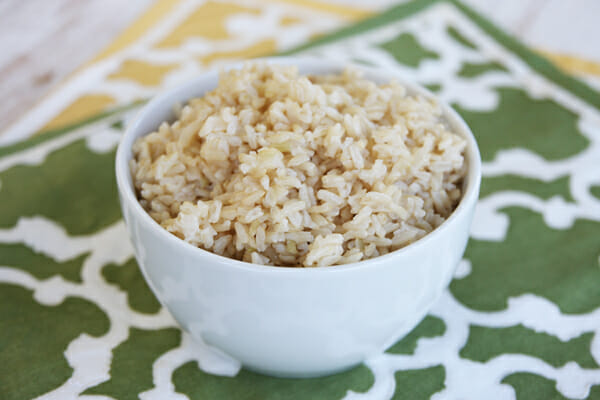 And if you want to double it, just use a 9×13 pan, and the baking time remains the same.  You can also use a ceramic pan with a tight-fitting lid.
Foolproof Oven-Baked Brown Rice
Perfected by America's Test Kitchen
Ingredients
1 1/2 cups brown rice
2 1/3 cups water
2 teaspoons unsalted butter or vegetable oil
1/2 teaspoon salt
Instructions
1. Adjust oven rack to middle position.  Preheat oven to 375 degrees.  Spread rice in an 8-inch square baking dish.
2.  Bring water and butter or oil to a boil, either in a saucepan or in the microwave.  Keep an eye on it and take it off heat immediately after it starts boiling.  Immediately stir in salt and pour water over rice in baking dish.  Cover baking dish tightly with 2 layers of foil, or heavy-duty foil.  Transfer baking dish to oven and bake rice until tender, about 1 hour.
3.  Remove baking dish from oven and uncover.  Fluff rice with fork, then cover dish with kitchen towel and let rice stand for 5 minutes.  uncover and let rice stand 5 minutes longer.  Serve immediately.