Have you ever lived in and worked on a house and wondered who's lived there throughout the years–if it was someone's "forever house" or if it was just a stopping point? What memories were made there? What you would do if you ever found the person who walled off the hallway leading to your kid's bedroom and then created a new doorway into the bedroom directly off the kitchen, but it wasn't a normal-sized doorway and couldn't accommodate normal-sized doors, so every time you did the dishes after they were in bed, they would wake up? And then, imagine sitting at your 6-year-old's soccer game and, through the course of a conversation with another mom, you discover that she and her husband not only used to own the house, but they were responsible for the extra-wide regular door/extra-small double door.
It's actually kind of fun.
Especially when you realize that you're still getting their mail that was never forwarded and, after opening it based on the return address, you can start piecing together what kind of people they are. No, I really wouldn't open someone else's mail (although I do really, really wonder what the IRS and the multiple collection agencies want with the guy who lived here right before us).
A kitchen remodel has kind of been on my bucket list, whether I realized it or not. My parents remodeled several kitchens during my existence, so I just kind of figured it was something everybody did at some point in their life. It was expensive and exhausting and dirty and stressful, but, after living on my own for almost 12 years, I actually, finally feel like I'm home. And that's kind of cool.
If you're just joining us (or if you want a refresher) and you want to check out what our kitchen looked like before, check it out here. The kitchen actually wasn't our #1 priority when we bought this house–there are a couple of bathrooms that need a lot of love, and the kitchen, while not particularly cute, was not horrible and it was functional. I'm not 100% sure why we decided to start with the kitchen, but I'm glad we did because after this, anything seems possible and easy.
When we started this, we knew it was going to be more than a little facelift–it was going to be a complete gutting. Take a look at our checklist:
Take everything down to the studs. Wall over weird door openings and go back to how the house was before, with the hallway leading to the kids' room.
Get the washer and dryer out of the kitchen
Rearrange the plumbing and electrical and install a gas hookup and vent for the range
New cabinets and countertops
Paint
Crown molding
Subway tile backsplash
Rip out fluorescent tube lighting and install new and more lights
But then…I ran into a problem. Our dining room was a dark, dark red. I actually really liked the color, but it was super intense and, when you got back near the kitchen where there weren't any windows, it felt so small and cave-like. Not only that, but red can be a tough color to coordinate with because it's so dominating, so I wanted something else to lighten and open up the room. Enter…Valspar Homestead Resort Tea Room Yellow.
Then we painted all the trim Valspar Bright White (which is just that–white white white) and the ceiling Valspar Betsy's Linen (which is my new favorite neutral white color–it's a very soft, nice shade of white that coordinates with lots of different tones).
Then we enlarged what used to be our linen closet and turned it into a closet for a washer and dryer.
The front loaders weren't exactly in the plans, but a) they were a steal, b) they were purchased when we were at the money-hemorrhaging, hey!-what's-another-appliance point in the project, and c) by the time we sold our old washer and dryer, we came very, very close to breaking even. So it was all good. And they make doing laundry delightful. Doors are in the works, but we're not quite there yet.
One little touch that I'm really excited about is this light fixture.
It was in one of the bathrooms when we moved in and I always thought it was so cute and retro, but we couldn't use it in there. We were able to re-purpose it in our little laundry closet and it adds just a little personal, homey touch.
This room has vexed me since we moved in because there is so much unbroken wall space. I've been fighting for wainscoting since we moved in, which my husband has been staunchly opposed to, but once we I made the decision we were painting the dining room, I decided to go big and do wainscoting while we were at it. It has helped break up that wall space so much and makes the whole room just feel more complete and cozy.
I've been hauling some of my mom's china all over the country and through many, many moves, and I finally have some place to put it, so I finally got a chance to unwrap it and maybe actually use it from time to time.
Little-known Kate fact: I'm a sucker for glass jars and bottles. I keep all my glass pickle/mayonnaise/olive/ banana pepper/roasted red pepper jars and when I find those little glass milk bottles or those green apothecary bottles, I can't help myself. It's a disease. I got these ones at Bake It Pretty, which I love because they have a flat shipping rate, so when you order something heavy like glass bottles, it doesn't cost any extra.
I'm a little excited for fall, even if it's still 90 degrees here…
The two biggest problems I've had with this room are a) all the wall space and b) balancing a nice, pretty room, but keeping it comfortable and fun because it's one of our main living areas. Since the china hutch side of the wall was on the formal side, I wanted something a little more homey and whimsical on the other side.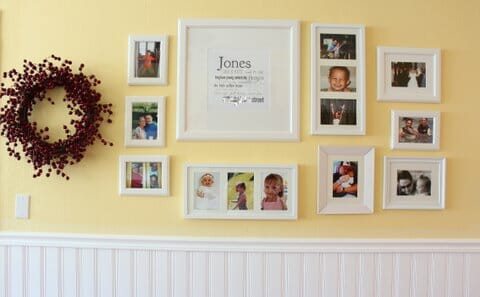 I got a bunch of different white frames in different sizes from Ikea and just picked a bunch of my favorite family snapshots. I didn't include any professional pictures on purpose–I wanted it to be our story, our lives, from our point of view. Then in the big frame, I Photoshopped a little word cloud/subway art with words that are significant to our family–our last name, anniversary, kids' first and middle names, the names of our pets, towns we've lived in, places that are special to us, a meaningful quote, and our current address.
I've gotta say that if you're sticking with me here, you're a rock star–this is already longer than an average blog post and I haven't even gotten to the kitchen. Need an intermission? Diet Coke? Now's your chance! Ready to move on? We're walking, we're walking, from the dining room…
into the kitchen.
I do have to add a little disclaimer on the kitchen–we're not 100% done, but I couldn't wait to share this with you guys, so hopefully we can still be friends if I'm showing you the incomplete package. We have the subway tile for the backsplash, we just haven't put it up yet. We also need to replace a few cabinet doors that were damaged when we got them, which means another 4-hour each way pilgrimage to Ikea, and we've got wires for undercabinet lighting, but we haven't put it up yet. Oh, and we still have to do the crown molding. So just imagine all of those things in your brain and if anyone gets on my case about how suckily unprepared I am to be posting this today, they can come and put the subway tile up for me.
One thing I knew I wanted was a little workspace, someplace safe I could keep my laptop while I was cooking or a place where my kids could sit and do their homework while I was cooking.
We also added a shelf with some hooks so I could hang cute little aprons and remember to wear them instead of splattering spaghetti sauce all over myself.
Remember my glassware fetish? The jars? Well, that's not all. I also have a thing for binder clips, Sharpies, and Sharpie pens. I filled the other jars with paper clips, colored pencils, pens, and pencils, so we always know where to find a pen or a pencil and doing homework (or doodling when I should be doing dishes) is a breeze.
I knew we needed more pantry and overall storage, so we put two of the tall Ikea pantries on either side of the fridge. They have several drawers inside at adjustable heights, so they're very customizable depending on what you need and/or want.
Honestly, we're still kind of in the polite dating stage–trying to figure each other out and if my pantry ingredients are ready to move in for good. But I really wanted a "baking center," so I kept all my baking ingredients in the cabinet closest to the countertops and then have all my baking supplies in the drawers and lower cabinets.
And then I have those pretty glass upper cabinets so I can pretend all the insides are as nice and neat as those ones are.
One thing you can't see is that all the doors and drawers have dampers on them so they close softly no matter how hard you slam them, which is awesome until you forget that not all doors and drawers close that way…
I have a very complicated relationship with Ikea, but one thing I can totally give them is that they make the very most of every single space. I have these deep corner cabinets, and normally, it would be really awkward to get into the back of the cabinets, but in these, we have these pull out lazy susan-ish things. So here, I have my pots and pans in the cabinet…
Then I can pull them out part of the way if I need to…
Or if I need something in the belly of the beast, I can pull the rack all the way out and then swivel it to where I need it. And it rocks.
The only time I've ever had a gas stove was when my husband and I were newlyweds living in a semi-ghetto student apartment and one of the burners melted and stopped working the first time we turned it on. But I knew gas was the way I wanted to go, so we fired it up and I'm loving it.
We agonized about the floors and the countertops. Ultimately, we decided on a tile floor, and I have to say that my husband rocked it. It's one of those times that being married to someone who's a little OCD has its perks.
The hill I was willing to die on here was the apron sink. If I got nothing else I wanted, I was going to get an apron sink and I love it on both practical and aesthetic levels–it's so roomy and when the water splashes out, I like that it just hits the outside of the sink rather than the countertops.
I'm also loving that when I do dishes, I don't have to stare at the wall anymore–I can look out into the dining room and watch my kids play and think about how glad I am that I won the great Wainscoting Battle of 2011.
I've gotten lots of questions about the paint (Valspar Winter in Paris for the walls, Betsy's Linen for the ceiling) and about our decision on the butcher block countertops. If you guys are interested in a Q&A post, I'm totally game (we could talk Ikea kitchens, appliances, wood countertops, what I've learned and what I'd do differently, etc.) Since I've already broken a record, like, 3 times over for the longest OBB post ever, I'm not going to get into it too much right now, but, like I said earlier, I agonized about the countertops. The oak countertops were inexpensive (like about $300 total for the countertops) and I love how they look, but I was worried about durability and germs. I don't (and never have) planned on cutting on them, which helps with both of those issues (germs like to hide in the cuts). Also, studies indicate that wood can have antibacterial properties as long as they're properly cared for, which means keeping them clean, dry, and oiled. I figure if, in another year or so, I decide that I hate them, I can replace them. If another owner doesn't want them in the future, everything else in the kitchen is already done, so it shouldn't be a big deal to replace them.
So there you have it! It's been an adventure for sure, but I learned so much and have so many fun, crazy memories of these last few weeks! I hope it's been a fun little visit! Here's one last little peek for now, but keep your eyes peeled for subway tile and undercabinet lighting soon!
Disclaimer: No part of this post was sponsored by any company in any way–unfortunately, I paid Ikea, Valspar, Lowe's, and Home Depot rather than the other way around. But even if they did pay me, I'd be completely forthcoming in my opinions. I did pay the tiling guy in kisses. Hopefully that's not breaking any ethical standards.