So we'll get to Italian Beef Stew with Noodles soon. Here's a picture to keep you excited.
In case you missed my little announcement on Instagram the other day, I have accepted a job teaching 7th grade ELA (English Language Arts) at my daughter's middle school. No, OBB isn't going anywhere. Sara and I have been doing this for a long time (12 1/2 years!), which is a long time for any gig, especially one where we're kind of isolated and solitary. When my kids were smaller, it was a great balance between having a life outside of being a mom and having a career, but as they got older, and as the blogging world shifted (constantly, as it does), I found myself kind of feeling like I needed something a little bit more. More structure, more socialization, a new challenge…I don't know. Maybe all those things. I have always wanted to teach–like that was the job I was putting down in 1st grade (well, being a teacher and being Vanna White. And I don't mean the girl that turns the letters on Wheel of Fortune, I mean literally being Vanna White.) I nearly changed my major to English teaching in college, but I was so far along that the counselor told me just to graduate and then get an alternative certification so I didn't have to start over. It's one of the things I keep coming back to .
So I started putting my ear to the ground and putting out feelers. I narrowed any potential jobs down to two schools–1 middle school and 1 high school–neither of which had regular job openings. But I kept my eyes out and options open.
And then, in May, an English teacher job opened up at BOTH schools. And it felt like a sign. I ended up being offered the middle school job, which is perfect–my daughter is there, my youngest son is across the street, I have quite a few friends who are already teachers there, and it's a small school where I can learn a lot. It has felt nothing but right, which is big, because very little in my life has felt right lately. In fact, I feel like I've been treading water, stuck and unable to make any decisions, and I didn't know how to move forward. And this kind of feels like the first step forward.
You've probably noticed that Sara and I have scaled back a little on our posting. The decision to do that came long before me even thinking about teaching, but it helped make this decision easier. In fact, everything about Our Best Bites, from how Sara and I met to where we are now, feels like a lot of divine intervention or fate or whatever you want to call it. We are rarely not on the same page, even if it's something we don't think the other person wants to hear. Sara has a lot of her own stuff going on the side (like her personal blog and her candles and the shop and a lot of exciting things she has planned for the future). But this will always be such a special place for both of us, and it's not going anywhere. So don't worry. We'll still be here with snark and giant cookies and family stories and everything that has made the last 12 1/2 years so special to us and so many of you.
But. If you want to take a little peek at my classroom, this is it (these are little snaps with my phone…I didn't exactly bring out the big guns for a hot and sweaty photo shoot on the tail end of a 60 hour work week ????).
We jump into school this morning and if this week is anything like last week, I am d-e-a-d by the time I come through the door at the end of the day. So even though it's eleventy million degrees outside, I don't care if I'm having Italian Beef Stew with Noodles, which feels more like a Fat Pants February kind of meal, because a) I didn't have to prep much in the morning and b) I don't have to prep much at dinner time. I. Will. Take. It. Hell, I'll take a Carnation Instant Breakfast and a can of tuna if someone else fixes it for me. Luckily, this is far, far tastier than a Carnation Instant Breakfast and a can of tuna, so we're just winning all over the place.
Anyway. Just wanted to update y'all. I'm so, so, so beyond excited. And scared. And happy and peaceful about it all. I hope this dinner helps you get this new (very, very, very, crazy) school year off to a great start–we all need those recipes we can dump (a word I hate in food blogs, but alas, sometimes it works) and go! And thank you for all the VERY SWEET messages and comments on my IG post…I feel like I have the world on my side with all of you. ❤️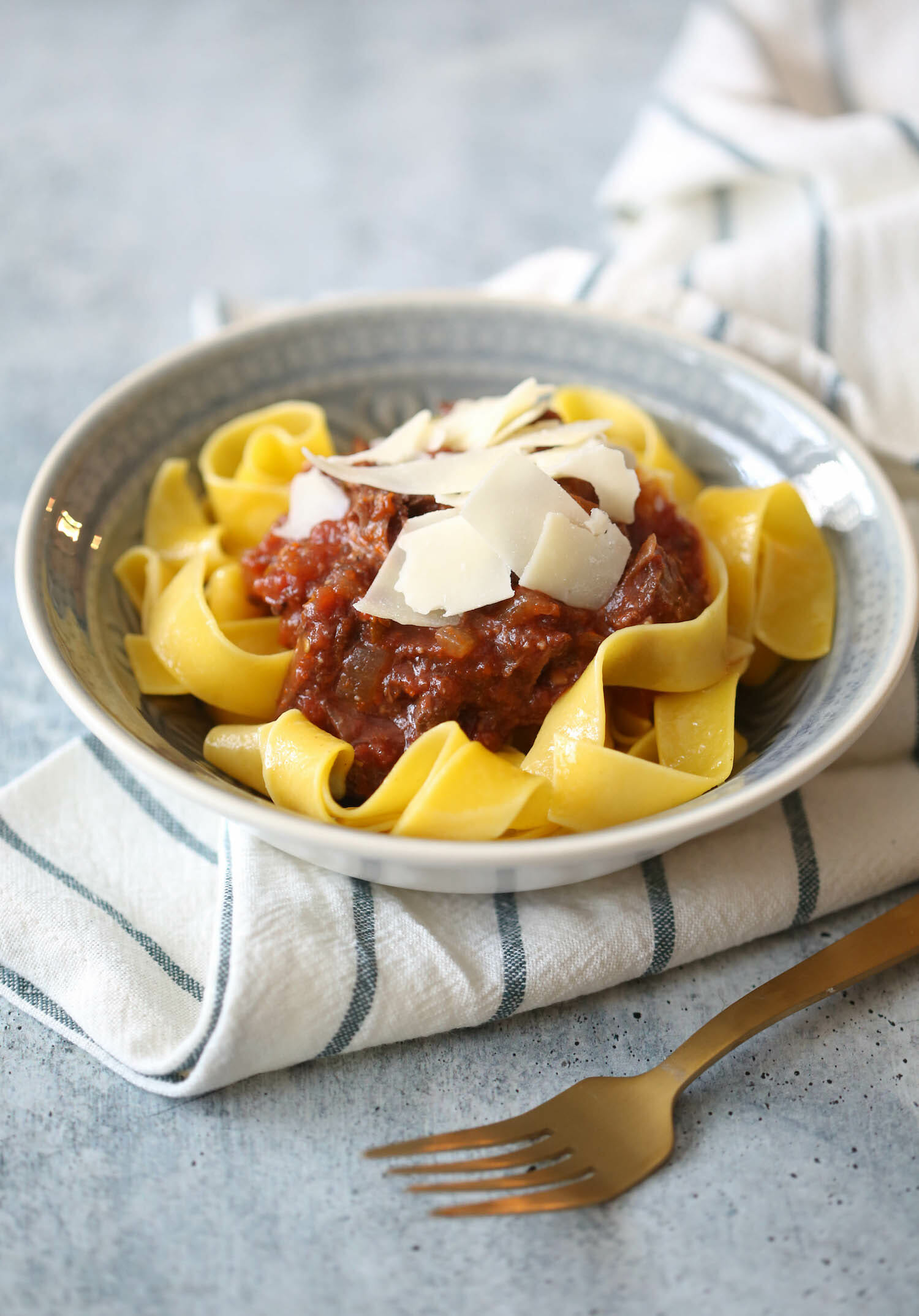 Print
Italian Beef Stew with Noodles
---
Description
This recipe for Italian beef stew with noodles is hearty, satisfying, and you don't have to pre-cook any ingredients before adding to your crock pot–just toss it all in and then dinner will be ready when you get home!
---
1 ½ pounds beef stew meat
Kosher salt and freshly ground black pepper
1 large white onion, chopped
6–8 cloves garlic
1 28-ounce can crushed tomatoes
1 cup mushrooms, chopped
2 carrots, peeled and chopped
1 cup beef broth
2 tablespoons red wine vinegar
1 ½ teaspoons Italian seasoning
¼ heaping teaspoon red chili flakes
Optional: 1/2 cup half and half
12 ounces pappardelle noodles
Parmesan cheese for serving
---
Instructions
Place beef in crock pot and season generously with salt and pepper. Add onion, garlic, carrots, mushrooms, tomatoes, beef broth, vinegar, red chili flakes, and Italian seasoning. Cook on low for 6-8 hours or until meat is fork tender (if you'd like, you can shred the meat into smaller pieces before serving). If you'd like to add cream, stir in after turning off heat. Season to taste with salt and pepper.
When ready to serve, turn off heat and stir in cream (if using). Prepare noodles according to package directions, drain, toss in olive oil, and divide among bowls. Top with stew and Parmesan cheese if desired.
---