So Sara and I have had The Scoop section on our blog for awhile and we've been trying to think of the best way to use it. While we often post on things other than food, up until now, we haven't had a dedicated area for all our non-food posts, and we also haven't really had a place to share things that we want to share (more life-y things). So now, every Thursday, we're going to take turns posting a "life" post over here on The Scoop. These posts could be anything–favorites, what we've been up to, thoughts on life. We hope you guys will pop in over here on Thursdays and see what we've been up to!
This week, for our very first post, I'm sharing 10 of the things I've done or discovered, recipes I've tried, and stuff I pretty much think you need in your life. Ready? Here we go!
So this guy is coming to live at our house tomorrow. It all started with this cat that adopted us way back in September, and he befriended our neurotic little dog. We got him "tutored" and loved on him and then on Christmas, he disappeared and our dog has been a mess ever since. So I suggested another cat, and my husband countered with a big, manly dog (because that's the same thing), and here we are. I'm actually reallyreallyreally excited–I've wanted a big dog since I was a teenager. Because, you know, I need more chaos in my life.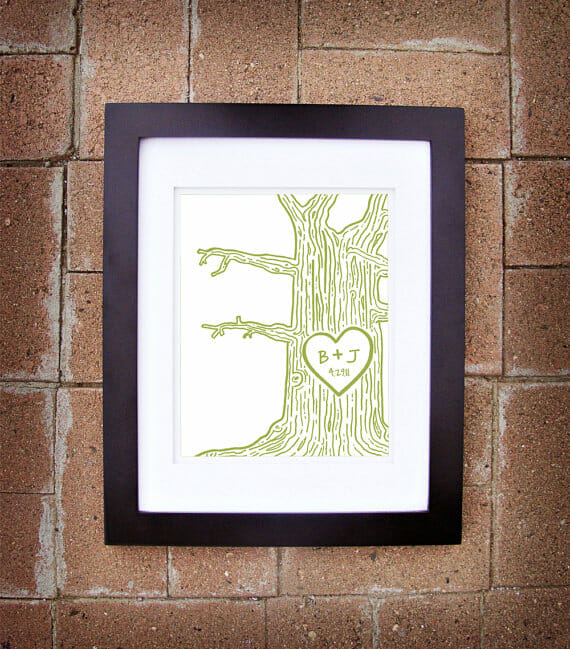 Their whole shop is AMAZING, but I totally want to get my husband this print for Valentine's. Or our anniversary. It will be way easier (and cheaper) than a puppy.
Last year for Sara's birthday, I got her these hand-stamped garden markers for her garden (I don't see any in the shop right now, but I did a few days ago). I've been addicted to her shop, Etsy shop, and Instagram ever since, coveting every adorable piece of hand-stamped silverware.
I bought this at Sam's Club at the end of last week. Then it sat on top of my fridge and stared at me for a few days and then, well, then something terrible happened. I'm glad it's gone. Until I go get some more. Salty-sweet kettle corn is drizzled in white and dark chocolate. Popcorn and dark chocolate are good for you, right? That's what I tell myself.
This is my favorite new show of the season–so hilarious, so I was pretty excited when it won the Golden Globe for best comedy. It's on Fox on Tuesday nights, which equals whenever on your DVR or Hulu, right?
These are the best pants in the universe for working out and also for sitting on your couch, watching Brooklyn Nine-Nine and eating popcorn drizzled in white and dark chocolate. Flattering, ultra-comfortable, and way less than those Lulu Lemons.
So these Pot Roast Tacos from Mountain Mama Cooks are have pretty much changed my life. They are AMAZING and you need to go make them. NOW. Not trying to be bossy here.
True story: I have two (2) squeezy Benefit lip glosses that I got from Sephora and both of them (same color) have made it through the wash. Thankfully, they were both gifts (although I was quite fond of both the lip gloss and the color), but whether I bought them or not, it was an embarrassing amount of money pretty literally down the drain. So I decided since I can't handle my lip gloss responsibly, I'd try this Cover Girl version. Guess what? I kind of liked it more and it was a tiny fraction of the cost. Tastes great, shiny, pretty colors, lightweight and non-sticky. Awesome, right?
I posted about this on our Facebook page yesterday, but I've always been really, really careful about keeping my personal Facebook page private–photos, status updates, maps, locations, everything was supposed to be on lockdown. So the other day when someone who should NOT be seeing my statuses commented on something, I checked my privacy settings and guess what? EVERYTHING had been changed to public! I don't remember the last time I messed around with my settings, so it wasn't something I did. After I posted it, tons of people said the same thing, that they thought they were private but Facebook had changed their settings to public. So if you think your Facebook profile is set to private, go check and make sure! 
And finally, I kind of hate doing the dishes more than any other thing in the universe, but this dish soap makes it a tiny bit better. Funny thing: I'm not the biggest fan of grapefruit, but I LOVE grapefruit-scented and flavored stuff. And this is no exception. It's frequently on sale at Target and it makes me not want to harm myself whilst doing the 10 million dishes I do every day. Maybe I'm stretching the number there a little, but it feels like 10 million.
So there you go! Happy Thursday! If you want to keep up on what we're doing throughout the week, you can follow us here and here on Instagram! If it were 10 years ago, Friends would be on tonight and I wouldn't have stretch marks, but alas, I have to make the best with what I have…