One of the questions we get a LOT is how we come up with recipes after almost 6 years of blogging about food. Which is a great question, since, at least for me, my own personal stash of favorite recipes I had collected over the years was used up about two years into this little adventure.
For me, the recipes that I post come from a few different places.
1) A friend or family member's recipe that they've shared with me (with credit and permission…I'm not going to sneak into your house and steal your granny's top secret banana pudding recipe or anything.)
2) A recipe that we post exactly or almost exactly as it was written.
3) A recipe that has been slightly adapted, either to match my personal taste or to improve on something that was problematic.
4) A recipe that has kind of been changed beyond recognition or blended together with one or more other recipes.
5) A recipe that I made up.
Once upon a time when I was an English major, the rule was kind of if you wanted to be a better writer, you should a) practice and b) read more. Same thing goes for cooking–experience and looking at recipes are great inspiration for making up your own stuff and being more creative in the kitchen.
I really, really love food magazines because they are fresh and fun and up-to-date on food trends. Yeah, it's kind of a gamble–I think with every magazine I subscribe to, there have been a few issues where I only bookmarked one recipe, or maybe not any at all. But there have also been other times when I mark the heck out of the magazine and it gets me excited to get into the kitchen.
This is by no means an exhaustive list of magazines. These are pretty much all I can handle without getting crazy overwhelmed (plus church magazines and Entertainment Weekly–you know, the essentials). As always, these posts are never sponsored in any way; I just want to share a few of my favorites!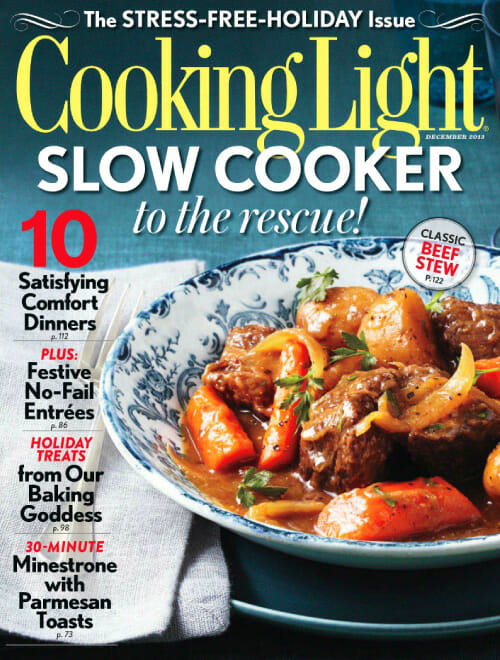 This has long been one of my favorite magazines. One thing I love is that they tend to use real food–no sugar substitutes, no black bean brownies. This is food you could eat for the rest of your life, just a little more reasonable (I think of it more as "cooking lighter." To be completely honest, sometimes they go through phases where I feel like they're heading in a direction that doesn't match my style (like the last few months) and then bam, an issue comes out that knocks my socks off and it feels like they get back on track (at least back on track for what I'm interested in) for a long time.
If you're unfamiliar with Cook's Illustrated/America's Test Kitchen/Cook's Country, you should familiarize yourself. Whether you're just learning to cook or you're an old pro, there's always something to learn in from their meticulous testing and research. I've learned more about the science of cooking and how to be a better cook from Cook's Illustrated than from any other source; in fact, I have a whole bunch of their all-purpose cookbooks and also a lot of their more "methodology" cookbooks. I'm a junkie. I'll be the first to admit that not every single recipe they share has been a hit for me (the "just okay" pot roast comes to mind), but I appreciate the painstaking research that goes into each recipe.
If you love good food, but you're put off by pretentiousness, Cook's Country is for you. Like Cook's Illustrated (so all the recipes are subject to the same rigorous testing), it's put out by America's Test Kitchen and is full of all sorts of delicious, homey, family-friendly recipes.
Even though I'm live in the South, I'm not from the South, but I still love Southern Living. It all stems back to my very first, favorite all-purpose cookbook being The Ultimate Southern Living Cookbook (which is out of print, sadly; I learned how to cook from that bad boy). Even though it's not strictly a food magazine, I love ogling all the southern homes and gardens before I get to the updated southern classic recipes.
5. Food Network Magazine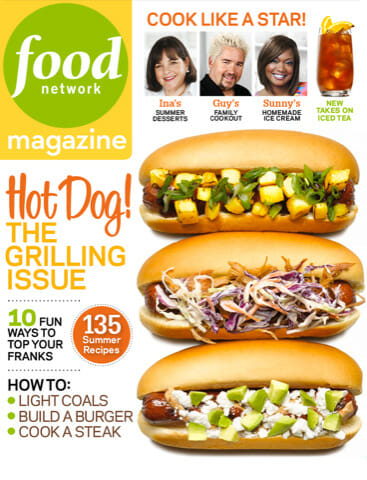 I am actually not a huge watcher of The Food Network (with the obvious exception of Next Food Network Star, which I watch with rabid obsessiveness even though I have absolutely NO desire to ever be on the show, and Chopped, which I always seem to watch primarily late at night in hotel rooms.) But. I love the magazine. Right now, it might be my favorite food magazine. It's fun, fresh, the recipes are often designed to be customizable, it has a nice balance of recipes, and it just strikes a nice balance of celebrity and great food (which is lots of great food and a little celebrity).
So how do I order magazines? I actually recommend going straight to the source. It seems like I have major problems with any other outlet (let's not talk about the time I subscribed to a magazine through Ebay). Even magazines.com, which has the nicest employees on the planet, cannot figure out my very complicated magazine situation and I probably wouldn't order from them again.
Anyway, hopefully that gives you some ideas for food magazines if your'e in the market! Have a happy Thursday and stay safe if you're in the midwest!