I know Kate already mentioned in her Scoop Post yesterday, but it's been so fun for us to see the response to Wednesday's post. We had no idea the interest would be so huge so we are now working like crazy to pull something awesome together while we're all motivated! If you haven't left feedback on that post, head over and do so. We're going through all of the comments getting lots of awesome ideas. Give us about a week and we are hoping to launch something amazing for you all!
I'll cut to the chase on today's recipe. It's a pretty simple chicken dinner, and a good example that shows healthy food can still involve things like potatoes and whole milk. It caught my eye in this month's Cooking Light because it's a one-dish dinner (love those!) and as I was flipping through the magazine I realized I had all of the ingredients on hand to make it (love that too!) Now, I will admit that while I adore Cooking Light Magazine, this recipe had a few issues, and after checking some online reviews I realized I wasn't the only one who thought so. So I made a few easy changes to the cooking method to thicken the sauce and add a little more flavor and I loved the end result. This recipe is nice for those of you with smaller families because it's made for four. Most of you already know that I'm a sucker for any recipe that involves lemons.
To start, you'll slice some baby red potatoes in half (yes mine are in quarters- what can I say, I'm a rebel).
While those are simmering away, heat up a big skillet. The biggest you have. Do you all have a big giant skillet? Everyone needs a huge skillet. Check out this one- it's on sale right now for about $20, down from $50! That's the pan I use more than any other in my kitchen. It's a must-have if you ask me. You could do this in an electric skillet as well. Brown up some chicken breasts and then pop them in the oven to finish cooking. You can make this whole dish in an oven-proof skillet, but I found it much quicker to transfer my chicken to a baking sheet so I could prep the rest of the recipe while the chicken cooked. That change made this meal super quick to make- under 30 minutes.
Back to our potatoes. Once those are done boiling and drained, you'll cook them in the same pan you started the chicken in. You'll need to drizzle the pan with a little olive oil first. I used our Lemon Extra Virgin, but Garlic, Rosemary, Basil, or even Bacon would be great in this recipe.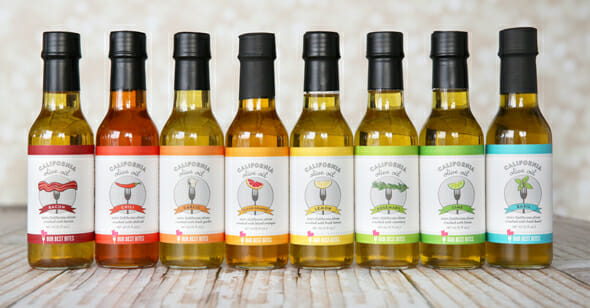 The potatoes go in face down so they can get browned and caramelized,
and some mushrooms go in there, too. The olive oil combined with the browned bits from the chicken makes for such great flavor.
While those are browning, whisk together some milk and flour. We're using whole milk, which you really need in order for the sauce to have body. When I need whole milk, I don't buy a big ol' carton, I grab one of these little bottles, which is usually just enough for a recipe.
Here's one area where the original recipe went tragically wrong. It called for almost 2 cups of chicken broth, leaving a thin soupy mess of a sauce. I cut that down by half – just 3/4 cup and whisked it in the pan to thicken before adding everything back in. Since I was eyeballing here, keep the rest of your broth close by, and if you need more to thin the sauce a little, go ahead and add in a little more. Add in some green beans and simmer those in the sauce to start cooking. Then you'll add in the rest of the potatoes and mushrooms, and also the chicken.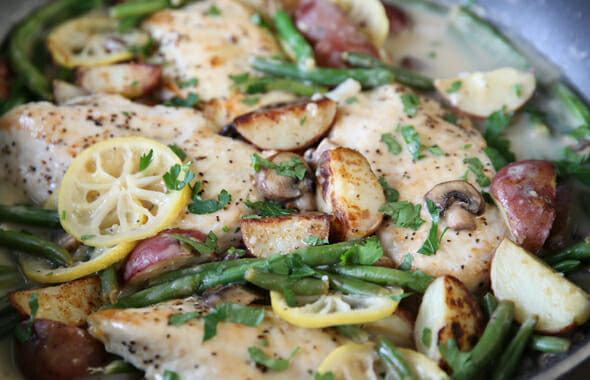 If this looks like something you'd love, but that your kids wouldn't touch, you can do what I did and just dice up the finished chicken for them and drizzle some ranch dressing on the potatoes. Gottta do what you gotta do!
Lemon Chicken Skillet Dinner
Adapted from Cooking Light January 2015
Ingredients
12 ounces baby red potatoes, halved
1 tablespoon olive oil, divided
4 (6 ounce) chicken breast halves, pounded to 3/4-inch thickness*
3/4 teaspoon kosher salt, divided
1/2 teaspoon freshly ground black pepper, divided
4 ounces cremini mushrooms, sliced or quartered
2-3 cloves minced garlic
1/4 cup whole milk
5 teaspoons all-purpose flour
1 tablespoon chopped fresh thyme, or 1 teaspoon dried thyme leaves**
1 can low-sodium chicken broth- divided
6 very thin lemon slices
8 ounces trimmed haricots verts (French green beans)
2 tablespoons chopped fresh flat-leaf parsley
*If your chicken breasts are particularly thick, consider slicing them in half instead of pounding.
** If you are using ground thyme, start with 1/2 teaspoon and add more to taste
1. Preheat oven to 450°.
2. Place potatoes in a medium saucepan; cover with water. Bring to a boil, and simmer 12 minutes or until tender. Drain.
3. Line a baking sheet with foil and set aside. Heat a large skillet over medium-high heat. Add 1 teaspoon oil to pan. Sprinkle chicken lightly with salt and pepper. Add chicken to pan; cook 5 minutes or until chicken is browned. Turn chicken over and cook for 1 minute. Transfer chicken to foil-lined pan and place in oven for 10 minutes or until chicken is done.
4. While chicken is cooking, add remaining 2 teaspoons oil to skillet. Add potatoes, cut sides down to one side of the skillet, and the mushrooms and garlic to the other. Cook for 3-5 minutes or until browned, stirring mushrooms and garlic. Remove vegetables from pan and set on a plate to the side.
5. Combine milk and flour in a small bowl, stirring with a whisk. Add flour mixture and 3/4 cup of the chicken broth along with a sprinkle of salt and pepper to the skillet and whisk until smooth. Bring sauce to a simmer, and add beans. Simmer 2-3 minutes or until sauce starts to thicken. Add lemon slices, potatoes and mushrooms, and chicken. If sauce is too thick, add small amounts of chicken broth to thin. Reduce heat and simmer 3-4 minutes or until beans are crisp-tender. Season with additional salt and pepper to taste and then sprinkle with parsley.
Nutritional Information: 1 chicken breast and 3/4 cup potato and bean mixture: Cal: 342, Fat 8.6g, Protein: 46 g, Carb: 23g, Fiber 4g