First of all, in VERY exciting news, guess what Sara and I got on our doorsteps on Wednesday? This.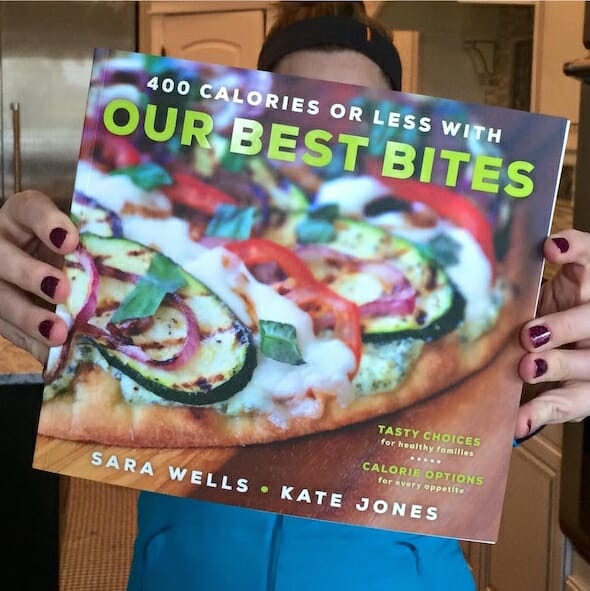 It's really, really happening! The book won't be released until the beginning of April, but you can pre-order it now and it will be shipped to you as soon as it's available!
We've had a lot of questions about the soft cover. Yes, it is different from our last two books, but this is a good thing for a few reasons. First, it costs a little less than hardcover books. Also, a lot of people had problems with the spiral binding coming off of the hard covers, so that won't be an issue here. The book is designed to stay open (think like a nice coffee table book), so the margins coming from the binding are wide and the book naturally lays open. The book just feels like a good size, the paper and the covers are super thick, and the pictures are huge and look fantastic. So I promise, this isn't a cheap, throw-away soft cover book; we're hugely proud of how it came out and absolutely love it. In fact, both Sara and I and our publishing company feel like it's our favorite.
Anyway. Back to business as usual where I didn't want to hug the FedEx guy.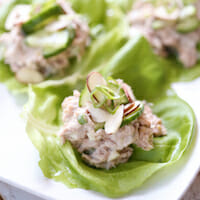 In my dream world where I would have hair like the Duggar girls, I would also have someone to plan, shop for, and make me lunch every day. Mom lunches are the worst. Especially when I'm eating healthy and a handful of Cheez-Its and a juice box isn't going to cut it.
When I'm really making a conscious effort to eat healthy, I usually have leftovers from the night before or a salad. But sometimes the thought of another green, leafy salad is enough to send me over the edge and into the arms of my chocolate stash. I'm a girl that has to mix it up, at least a little bit, or I lose my motivation.
This Lemon-Dill Tuna Salad recipe is fantastic because it is super quick and easy, it's cheap, it's not the straight-up tuna-and-Miracle Whip concoction of your childhood (just mine?), and it's completely packed with protein. It's a little low in calories, so if you want to bulk it up a little, you can serve it on a leaf of lettuce on top of a slice of whole wheat bread or inside a whole grain tortilla.
To get started, round up one of those 2.6-ounce pouches of chunk white or light tuna, 2 green onions, some dill (I use fresh, but dry dill will work fine, just reduce the amount a little), and a clove of garlic.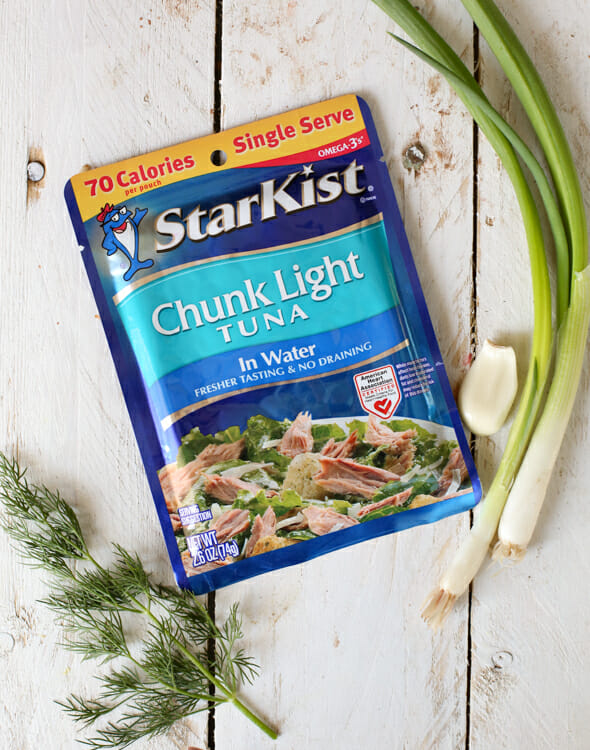 In a small bowl, combine the tuna, chopped green onions, garlic, dill, and the zest of 1 lemon.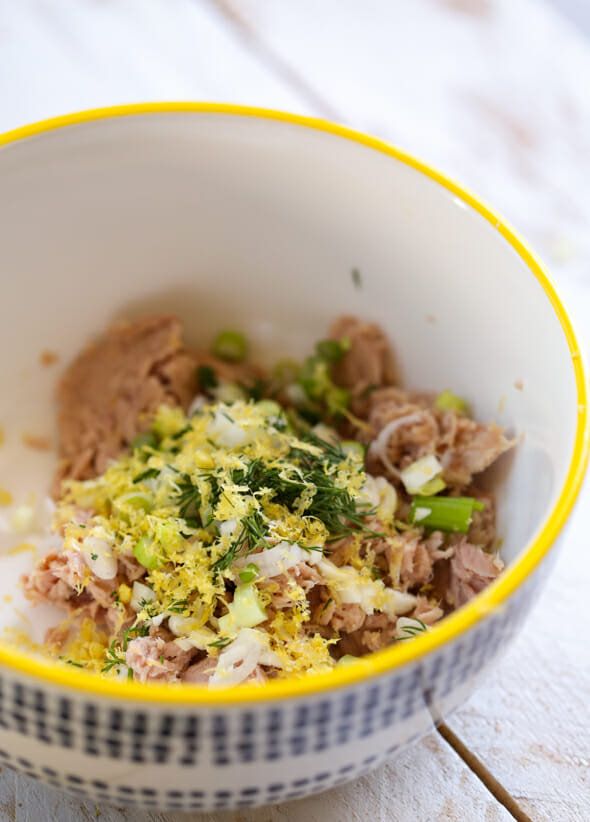 After you've mixed it, add in 2 tablespoons of light mayonnaise…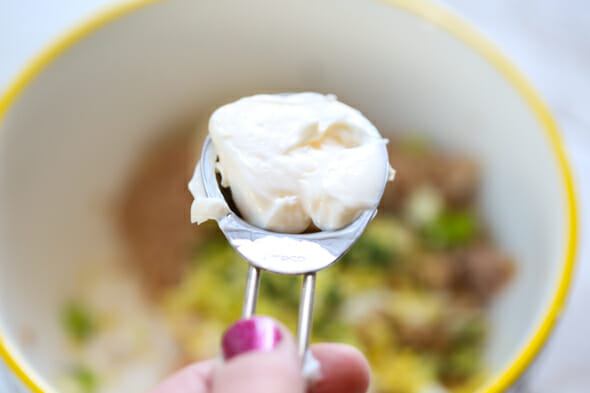 a little white wine vinegar, and some salt and pepper to taste. Divide the tuna salad evenly among the lettuce leaves, then top with sliced cucumbers, sliced almonds, and a few chopped green onion tops.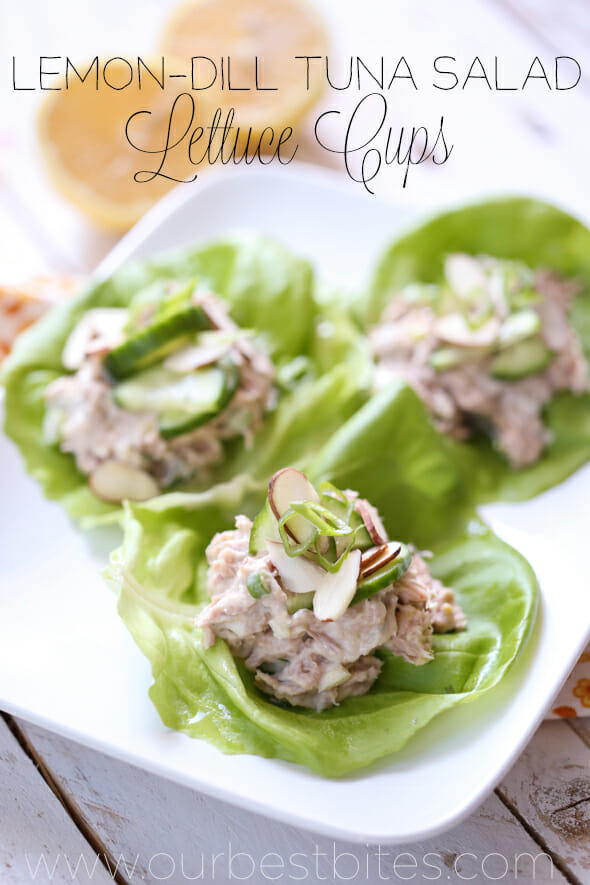 Lemon-Dill Tuna Salad Lettuce Cups
Recipe by Our Best Bites
Ingredients:
1 2.6-ounce pouch chunk white tuna
2 green onions, chopped
1 teaspoon chopped fresh dill (reduce to 1/2 teaspoon if using dry dill)
1 clove garlic, minced
Zest of 1 lemon
2 tablespoons light mayonnaise
1/2 teaspoon white wine vinegar
Salt and pepper to taste
3 mild, foldable lettuce leaves (like butter or Boston bibb lettuce)
1/2 cup cucumber, peeled and sliced (baby cucumbers don't have to be peeled unless you want to)
1 tablespoon sliced almonds
Instructions:
Combine the tuna, green onions, dill, garlic, and lemon zest in a small bowl. Add the mayonnaise, white wine vinegar, and salt and pepper to taste. Divide evenly among the lettuce leaves, then top with cucumbers, sliced almonds, and additional thinly sliced green onion tops (if desired). Serves 1.
Nutritional Information:
Calories: 214
Fat: 13
Carbs: 11
Fiber: 4
Sugars: 3
Protein: 19