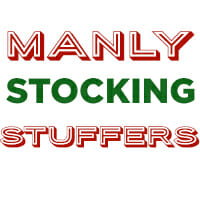 After I posted last week's stocking stuffer guide for pre-tween girls, the #1 request was for manly stocking stuffers. And I totally get it. My husband Sam and I have very different gift giving (and receiving) styles, so there have been lots of times where we've both kind of missed the boat; we give each other the kinds of gifts we would want ourselves, so really, I should have just bought myself that personalized keychain and he should have bought himself that meat slicer.
So I enlisted his help in compiling this list. This list probably won't suit all men–my husband is an engineer, a nerdy guy who loves electronics. And movies. And tools. So basically, what I'm trying to say is that if you're looking for sports-related stuff, my husband is not the man for you. But hopefully his interests are varied enough that maybe something on this list will speak to your dude.
1. Band of Brothers. I asked a bunch of guys from different walks of life, guys with varied interests and personalities, what boxed movie/TV set they would like and this was the immediate and unanimous answer (plus, the BluRay set is a STEAL at $24.99 right now-the DVD set is almost $100). This is one of our all-time favorite series; we watch it every summer around the anniversary of D-Day and we're reduced to teary messes by the end, no matter how many times we've seen it. Yes. I do know that this aired on HBO and that there is mature content in it and that you're disappointed in my personal choices. That's cool. In the true spirit of Christmas, I'm going to suggest that maybe you explore those feelings all you want and then let them go. And not via email or comment to me.
2. Maglite XL200. My husband has quite an array of flashlights, so when he says that this one is his favorite, he knows what he's talking about (I prefer the one with the little laser pointer on the end that we use to play with our cats and our 2-year-old.) He says he loves it because it's small, super bright, and it has a bunch of different signal modes that can be used in emergencies.
3. Leatherman Rebar (and Leatherman Wave). When I asked Sam why someone should get a Leatherman instead of another multi-tool, his reply was that he didn't know because he's never used a different brand. So…that was super not helpful. He did go onto say that they were the first multi-tools, they're American-made, and he's never had any problems with them.
4. Beats In-Ear Headphones. I buy headphones solely based on how cute they are, so I'm the wrong girl to ask about headphone advice. He bought these for me last year for Christmas, but I tend to lose earbuds and I didn't want to lose an expensive pair of them, so I gave them to him. His report: He likes that they have a microphone so you can use them for talking on the phone, the sound is crisp, the bass won't blow you away, but it's respectable, the ear inserts create a good seal, and he likes the controls on the cord.
5. Manly Hand Soap. You guys know that I have a small obsession with hand soaps, but we had a near mutiny this fall when my Sam told me he'd had it with the girly hand soaps, that he didn't want to go back to work smelling like Cinnamon Vanilla Moonbeams. So I promised him some manly hand soaps and the Bath and Body Works Winter Citrus Wreath was hands-down his favorite (and, actually, the favorite of my kids). It smells a little pine-y, a little orange-y, so like Christmas, but not so overwhelmingly Christmas-y that you couldn't use it year-round. I've stocked up on it so when we've had a few too many pear berry sorbets in a row, he can find it in his heart to forgive me.
6. 64 GB Keychain Flash Drive. Sheldon Cooper would have never forgotten his flash drive if it had been on his keychain the whole time.
Maybe if I put one on my keychain, I wouldn't always be desperately looking for one. Sam, if you're reading this, I don't want a flash drive for Christmas. Spend the money on hand soaps.
7. Obscure Collectibles. My husband is a collector, and one of his latest obsessions has been The Simpsons Lego Minifigures (which is kind of weird because we haven't watched The Simpsons in probably 10 years, but whatever. I don't ask questions anymore.) Anyway, he searched and searched for Mr. Burns (if you're unfamiliar with the Lego Minifigures business model, they package the toys in sealed, opaque packaging, so you have no idea what you're getting, but they throw a promise of Mr. Burns in there, so people like my husband will keep trying to find Mr. Burns, thus winding up with a plethora of Homers and no Mr. Burns. It's great.) So, yes, you're paying, like, 5x the amount of a regular mini figure for the Mr. Burns, but that sounds like a great deal considering what he spent trying to find him.
So. If someone you know is looking for Mr. Burns, just go buy him on Amazon. If they're not looking for Mr. Burns but they are looking for something else that's been notoriously difficult to find, see if you can track it down.
8. The Forbidden Fruit (Potted Meat Food Product, in our case). When Sam and I were dating, we were in the grocery store and stumbled across some Potted Meat Food Product and I made fun of it. So he bought a can of it and it turns out that he really, really likes Potted Meat Food Product (he served a mission for our church in Norway and apparently there are similar concoctions there, only I'm pretty sure in Norway those concoctions are called pâté, which at the very least sounds fancier. Also, the word "pâté" doesn't have to specify that it's food.)
9. Tickets. Growing up, we always got tickets or passes in our stockings and those were the most exciting things–tickets to movies, tickets to plays, ski passes, tickets to sporting events. Is your husband into sports? Get him tickets to a game or event. Symphonies, the theatre, a movie he's been dying to see–he's pretty much guaranteed to love it!
10. Funny shirts. Sam has a vast collection of funny t-shirts and is always on the lookout for more. Places like Snorgtees, Threadless, Busted Tees, and even Old Navy have lots and lots of cultural-reference t-shirts that make me giggle. That said, you're going to have to hustle if you want these before Christmas, at least without paying crazy shipping prices.
And thus concludes the Manly Christmas Stocking list. Or…Christmas Stocking According to One Woman's Husband List. I do what I can…