Today is the day!!  If you're reading today's post via email, make sure to click over to the site today!  We'll cut right to the chase here and tell you what's going down! (Insert confetti cannons, here.)
First of all, we are very excited to be starting a regular (and very awesome) weekly newsletter.  Some of you have been receiving just our blog posts to your inbox for years, but this is different.  In addition to our new blog posts for the week (all wrapped up in one handy email) in this weekly email you'll get exclusive recipe content, new features, discounts,  behind the scenes info from both Kate and me and more!  It's going to be awesome and you don't want to miss it!
After signing up we'll be sending weekly newsletters (no junk, promise!) but as a thank you gift, you'll get a brand new newsletter-exclusive recipe every day for a week (starting immediately)!  These are family friendly dinner recipes that aren't available anywhere but in the newsletter.  And they are GOOD.  After the 7 days you'll just receive our normal weekly newsletter.
Now for what you've all been waiting for…. our new eBook!  Let me show you exactly what you get with our amazing new Grill Bundle!  We've worked so hard on this (like, it was supposed to launch in May but we kept wanting to add more and more content and it turned into a HUGE thing) and we know you'll love it!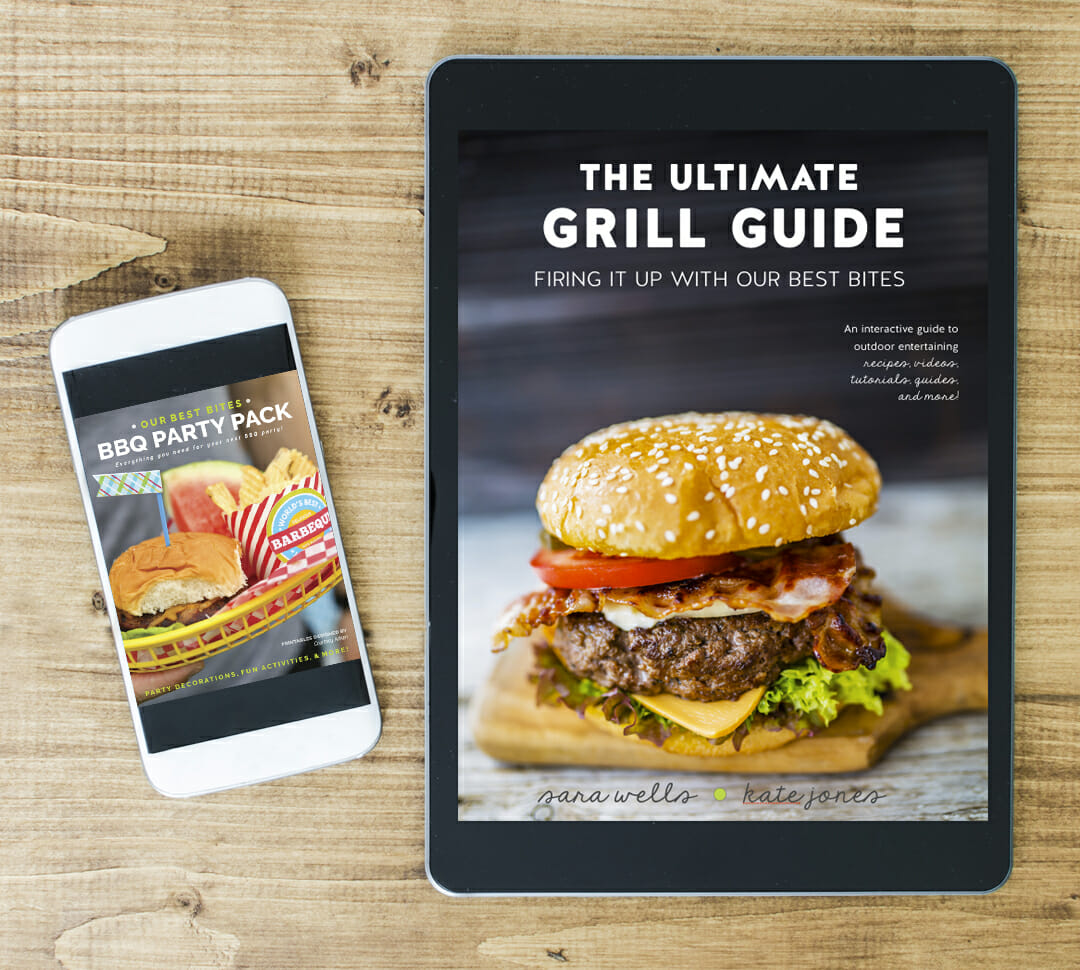 This is not just an ordinary cook book, it's a nearly 100 page  full-feature guide with tons of recipes, information, tutorials, video links, and more.  AND we have an amaaaazing (and enormous) Printable Party Pack as well.
The Ultimate Grill Bundle includes:
EXCLUSIVE RECIPES: To-die-for recipes for creative and unique spreads, delicious entrees, gourmet burgers, grilled sides, and tons more.
HOW-TO's: Ever wondered how to deliciously grill asparagus? Avocado? Sweet potatoes? We have great and easy-to-understand how-to's on everything from A-Z!
VIDEOS: If you're a visual learners like we are, we've got you covered.  We've included 4 instructional videos (or video links depending on what format you have)  in The Ultimate Grill Guide so we can teach you in your very own kitchen any time!
MUST-HAVE PARTY PRINTABLES: Throwing a great backyard bash is a breeze with our gorgeous party pack printables! This professionally designed 30 PAGE printable PDF includes darling invites, games, food labels, place-mats, photo booth props, and tons tons more!
Here's a sneak peek of the book content!
Our drink section contains master recipes and then tons of add-ins and ways to mix them up for endless combinations.
You are going to step-up your burger game BIG TIME.  You can make those restaurant quality gourmet burgers right at home with our guide of master recipes and nine different sauces.  We give you tons of ideas on how to mix them up to create specialty burgers.
We get so many questions about what cuts of meat to buy for different recipes.  We have some amazing interactive resource guides that cover every last cut of beef, pork, and poultry and all the different ways you can (and should) cook each one.  We've also included our very popular tutorial (and a video!) about how to cook the perfect steak.
Yep, dessert on the grill.  These photos speak for themselves!  There's more where these came from…
We've got all of our favorite sauces and marinades right in one place, plus great ways to use them.
We'll show you how to grill really unique things you may not have thought to grill before.  Honestly, the price of the book is worth it for this Smokey Grilled Guacamole alone.  For real.
This is really just a small sampling of what's included.
And in addition to ALL that, we also have this awesome BBQ Printable Pack.  Guys, this is so fun!  These pictures below are only a teeny tiny part of it.  We're talking 30 pages of labels, flags, custom art, huge game posters (that only cost about $3 to print at your local copy store), party favors, wraps, placemats…the list goes on and on.  This is all exclusive to Our Best Bites; designed by the talented Courtney Aitken, you won't find it anywhere else!   I can't even tell you how awesome this is.  I threw a BBQ party and got SO many compliments on all of this fun stuff.  You will be the hostess-with-the-mostest for sure!
Here's the fun news, for you.  We're offering this deal only to Newsletter subscribers:
That's right- when you sign up for our newsletter, you'll have the option of purchasing our new book and when you do, you'll get this Party Pack for FREE!  Our book (without the printable pack) will also be available in the iTunes store very soon if you'd rather purchase that way, but this bundle is only available via the newsletter sign-up.  Easy peasy!  So don't waste time- this is a ONE TIME deal, just click below to get started!  Once you enter your email for your 7 days of recipes, you'll be able to get the Grill Guide and Party Pack!
(If you are reading this via email, hop on over to the site first, by clicking here!)